On this date (July 19) in 1974, Dick Bosman turned in arguably the greatest accomplishment ever by a Kenosha athlete.
Forty-eight years ago today the Kenosha native fired a no-hitter in the Cleveland Indians' 4-0 win over the Oakland Athletics at Cleveland Stadium.
The rarity has to rank as one of the town's greatest sporting feats along with Alan Ameche's sudden death touchdown in the "greatest game ever played" (link here), Ameche's Heisman Trophy (link here), Melvin Gordon's monster game for Wisconsin (link here) and Nick Van Exel's trip to the NBA All-Star Game (link here).
While this was the zenith of Bosman's 11-year big-league career, he entered this gem with a resume chock full of accomplishments. Among them, Bosman:
Led the American League with a 2.19 ERA for the 1969 Washington Senators
Won a career-high 16 games for the 1970 Senators
Made four Opening Day starts, including an 8-0 complete game six-hitter vs. the A's in the Senators' final opener in 1971
Topped American League pitchers with a 1.000 fielding percentage for the 1970 Senators
Started the Senators final game in Washington D.C. in 1971 and the Texas Rangers' inaugural game in Arlington in 1972
Fired six complete games of three hits or less
Bosman was coming off a rough 1973 campaign where he went 3-13 for Texas and Cleveland while being dogged by a sore shoulder and a blood clot in his leg.
"I had a horrendous year the year before the no-hitter," Bosman said in a July 19, 1994 Baltimore Sun article. "I had been written off by everyone. I dedicated the winter to getting myself back in shape, went to spring training and had a good spring but still had to scuffle to make the staff. We made a deal with the Yankees at the end of spring training and picked up three or four more pitchers, so I started the year in the 'pen."
By July 1, the gritty right-hander was back in the starting rotation and 17 days later he was ready to take on the big, bad Oakland A's.
Well on their way to a third consecutive World Series championship, the A's, winners of six in a row, faced Bosman with a 6.5-game lead in the A.L. West at 54-39.
Making things even more bleak was the fact that Bosman entered this one 2-7 lifetime and winless in five consecutive starts against the dynasty of the day.
No worries.
The Bradford graduate was in command the entire way.
He needed only 79 pitches and 1 hour, 56 minutes to complete his magnum opus.
"I wasn't nervous, not a bit, because it's not up to me to do it," catcher John Ellis said in the Cleveland Plain Dealer. "I just called up the pitches, and it was up to 'Bozzie' to hit the spots which he did, every time."
Said teammate and future Hall-of-Famer Gaylord Perry: "It was a masterpiece. He missed the strike zone with only 19 pitches, and that's amazing."
Bosman got in his own way of making this gem a perfect game.
A Bosman throwing error in the fourth inning on a check-swing grounder by Sal Bando accounted for the visitor's only baserunner.
This is believed to be the only time a pitcher's error was the only thing preventing a perfect game.
"It was a mistake on my part," Bosman said in the Plain Dealer. "I had enough time, but because I had to go a long way to get the ball, I thought I had to hurry. My throw just sailed away from (first baseman Tommy) McCraw."
Bando ended up on second but Bosman retired future Hall-of-Famer Reggie Jackson with the third of his four strikeouts to end the threat.
"He threw nothing overpowering," Jackson said in the Plain Dealer. "The best thing he had was a strike. I didn't have a bad swing all night. I can't swing any better than I did tonight and he no-hit me."
While Bosman was plowing through the final 15 batters in order, the tension mounted in the Friday night crowd of 24,302.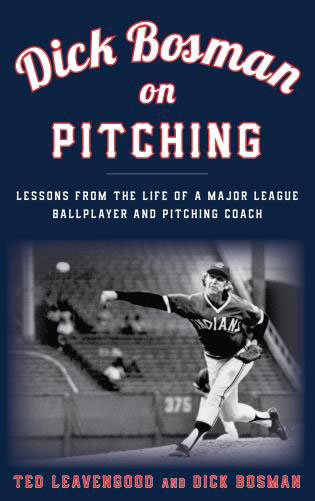 The two most nervous people in the stands were probably Bosman's parents, George and Nella, who were in from Kenosha for their annual visit. They were sitting with Bosman's wife, Pam, and 2-year-old daughter Michelle.
"My wife and I always visit him for one week every summer, wherever he's pitching," George said in the Plain Dealer. "This just happened to be the week."
When Bosman struck out Bill North to secure the 12th no-no in Cleveland history, the tension snapped, touching off a wild celebration with George being a big part of it.
"My dad steamrolled six cops to get into the dugout," Bosman said in the Baltimore Sun.
The crowd was overjoyed and demanded a curtain call by chanting Bosman's name and he obliged.
"It made my career a little more special," Bosman said in the Sun. "It's something you always aspire to do. You never forget something like that. I always dreamed what it would be like to be on the mound for the third out."
A well-respected baseball lifer, Bosman, 78, retired after coaching stints in the Baltimore, White Sox Texas and Tampa Bay organizations.
In 2018, he collaborated with Washington D.C.-based writer Ted Leavengood on his biography, "Dick Bosman On Pitching."
Note: Send comments and suggestions to dmarran359@aol.com