Less than a decade after he was running the courts of Kenosha, Nick Van Exel was running the floor of the world's most famous arena with some of the most iconic names in the history of basketball.
And the St. Joseph graduate more than held his own.
On this date (Feb. 8) in 1998, Van Exel, representing the Los Angeles Lakers, played for the Western Conference in the NBA All-Star Game at Madison Square Garden in New York City.
It was the first and only All-Star appearance for "Nick the Quick" in an NBA career which saw the 6-foot-1 guard average 14.4 points and 6.6 assists per game over 13 seasons.
He entered the game averaging 15.3 points and 7.7 assists per game in his fifth campaign.
The honor was such a stunner that upon hearing the news, Van Exel's roommate called the Lakers to confirm the berth. Even then he repeatedly asked if it was real, according to the Los Angeles Times.
"It's definitely a dream come true," Van Exel said in the Times when he made the team as a reserve. "It hasn't sunk in yet. … When you get voted in by coaches, it means you're doing something special."
Van Exel joined teammates Eddie Jones, Shaquille O'Neal and 19-year-old Kobe Bryant, who was playing in the first of his 18 All-Star Games, at the NBA's 48th annual mid-season showcase.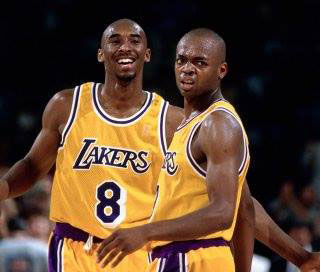 Some of Van Exel's teammates that Sunday afternoon included Karl Malone, Tim Duncan, Kevin Garnett, David Robinson and Jason Kidd.
Among the left-handed sharpshooters' Eastern Conference combatants were Grant Hill, Dikembe Mutumbo, Reggie Miller and some guy named Michael Jordan, who captured the last of his three All-Star Game MVP awards.
The NBC broadcast crew was star-studded as well with Bob Costas, Bill Walton and Isaiah Thomas calling the game.
There were also plenty of big names in the stands.
Among the notables who watched Van Exel in this one were Magic Johnson, Matthew Broderick, Sarah Jessica Parker, Bette Midler, Spike Lee, Jack Nicholson, Donald Trump and Muhammad Ali.
With that as a backdrop, Van Exel put in a productive 20 minutes in the West's 135-114 setback before 18,323 in Manhattan.
Van Exel scored 13 points with three rebounds and two assists coming off coach George Karl's bench. The University of Cincinnati product was 5-of-14 from the floor (1-of-6 on 3-pointers) and 2-of-2 from the free throw line.
Van Exel was the first player introduced in pre-game ceremonies while Jordan was the last.
After the national anthems, Van Exel retreated to the bench and while he didn't play in the first quarter, he was a topic of conversation on NBC.
"I think the most overlooked All-Stars who are finally here are (Indiana's) Rik Smits and Nick Van Exel of the Lakers," Walton said. "The last couple of years Van Exel and Smits have really deserved to be here. It's about time."
Van Exel got into the game midway through the second quarter and soon after recorded his first assist on Duncan's first All-Star basket.
Coincidentally it was Duncan who would be on the receiving end of Van Exel's final NBA assist.
On May 22, 2006, Van Exel dished to Duncan, who converted a layup with 4 minutes, 26 seconds left in the third quarter of the Spurs' Game 7 loss to Dallas in a Western Conference semifinal in San Antonio.
Van Exel's first All-Star bucket came on his third shot attempt. Late in the second quarter, Gary Payton collected a Jordan turnover and passed to Van Exel who received the ball on the move just beyond the 3-point arc. He drove left and got by Boston's Antoine Walker before avoiding Cleveland's Shawn Kemp with a twisting lay-in. The hoop pulled the West to within 62-51 with 2:20 left in the half.
Van Exel's 3-pointer came less than two minutes later. Payton found Van Exel in transition on the left wing and Van Exel took the pass and sank the shot. The West's first 3-pointer of the game made it 67-56 with 36.4 seconds left in the second quarter.
Van Exel's best shot in the contest, though, was something he was not known for — a dunk.
In fact, in the LA Times article on his selection, Van Exel cracked that his inability to jam hindered him in the balloting where he finished eighth among Western Conference guards with 232,274 votes.
"The fans like dunks, and I can't dunk with my leg," said Van Exel who was felled by knee issues throughout that season.
But he had one dunk in him in this game.
With about 90 seconds left, Van Exel blew by Miami's Tim Hardaway and threw down a dunk with his left hand.
It was the last dunk of the game for the Western Conference and it was nearly missed by NBC because it coincided with Jordan's exit from what many believed was his last All-Star Game.
Note: Van Exel, 49, is a pro personnel scout for the Dallas Mavericks
Direct suggestions, comments, and questions about this feature to dmarran359@aol.com