What's in a name?
For Kenosha native Riki Tagliapietra, the answer is a restaurant.
Quite literally.
While on a trip to Venice, Italy, Riki and his wife, Jandel, did a little research on the Italian heritage of Riki's last name – which, by the way, rolls off the tongue beautifully.
It also has a very literal meaning.
"'Tagliapietra' is the name they gave to the masons who built the City of Venice," Riki says. "So it's 'stone cutter.'
"But it literally translates to 'cut stone.'"
And there's your perfect restaurant name and the reason why Riki and Jandel's downtown restaurant, Cut Stone (Taglia = Cut, Pietra = Stone), is called what it is.
It's also for brevity's sake.
"We knew if we put 'Tagliapietra' on the door, nobody was ever going to be able to find us," Riki said with a laugh during an interview this week at the restaurant, located at 5925 Sixth Ave. A, as he and Jandel prepared for opening that evening.
If anyone has ever fit the definition of "foodie," it's Riki Tagliapietra, and he's been connected to Kenosha's fantastic food scene for years. He writes the popular "Kenosha Eats" column for Kenosha.com, in which he has quite a way about turning phrases to describe the city's many unique culinary offerings.
Cut Stone, which marked its one-year anniversary just last week after opening in November 2022, is Riki and Jandel's brick-and-mortar complement to their popular food truck, Il Marzocco. More commonly known around town as "Engine 4," since the Tagliapietras use an old fire truck to deliver their offerings, Il Marzocco preceded Cut Stone.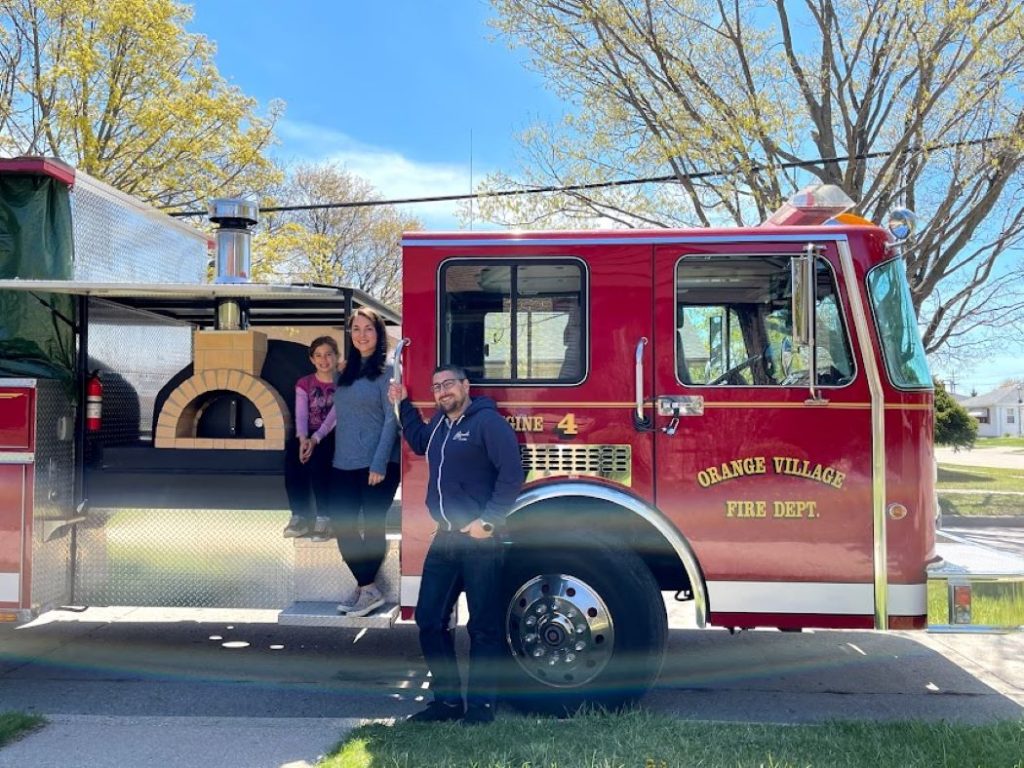 Now, the Tagliapietras are hoping to make sure their Il Marzocco customer base is eager to come into Cut Stone, and vice versa.
With its popularity growing, the Tagliapietras have expanded Cut Stone's hours to four nights per week, Tuesdays through Fridays, from 4:30 to 9 p.m. Tuesdays feature a special calzone menu, while Wednesdays feature a scratch-made pasta special. For more information, visit Cut Stone's website or its Facebook page.
"We have two sets of customers," Riki said. "We have people who only know us here (at Cut Stone) and people who only know us as a truck.
"We'd just love to get people to come to the door. We do such a different menu here than we do as a truck."
For all his efforts over the years to make Kenosha a special culinary city, and to celebrate Cut Stone's one-year anniversary, Riki Tagliapietra has been named this week's Kenosha.com Kenoshan of the Week.
A career in food
If not for one fateful decision, Riki Tagliapietra would be a police officer.
Born in Kenosha and raised in the Holy Rosary neighborhood, Tagliapietra – whose grandfather emigrated here from Italy – says his family's upbringing was similar to many other Italian families in Kenosha.
"We just lived in kind of a standard Kenosha Italian neighborhood," Tagliapietra said.
And though you may assume his love of food was instilled at a young age, being Italian and all, Tagliapietra says he really didn't become some type of "foodie" while growing up. That came later in life.
"I think it took me way longer," Tagliapietra said. "When I was a kid, I didn't eat anything that exciting. It was just whatever was around. And then all of a sudden, later as an adult, I was like, 'Man, onions are dope,' and everything changed."
Tagliapietra attended McKinley Elementary School and McKinley Middle School before being part of one of Indian Trail High School and Academy's first full graduating classes, in 2003.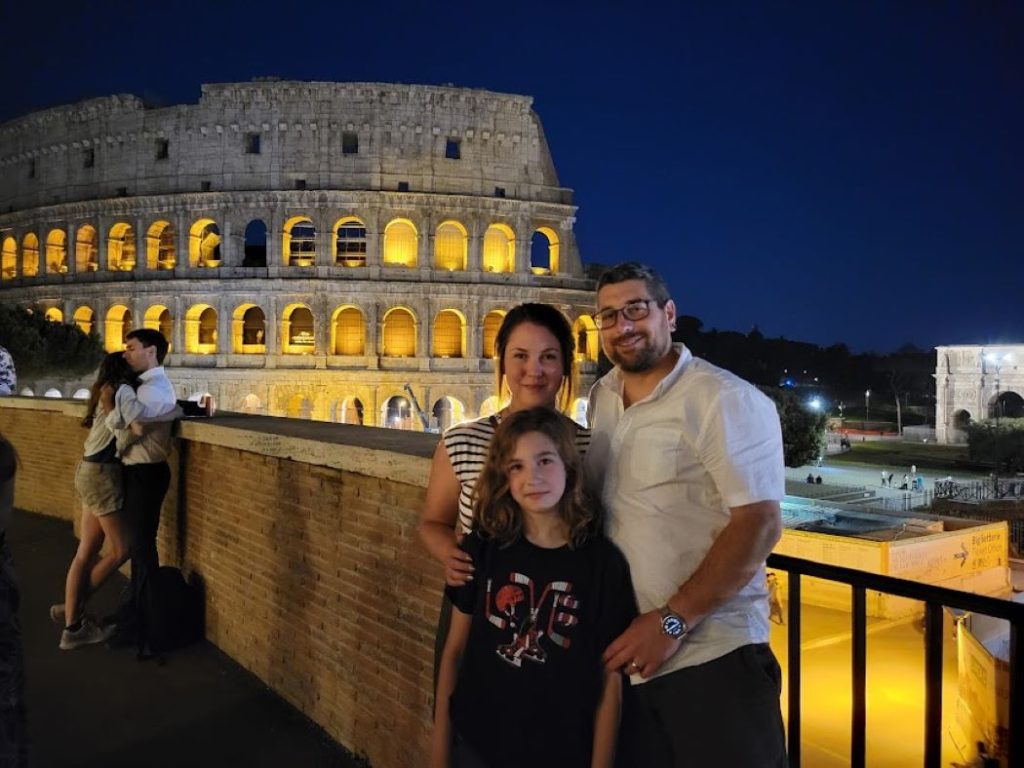 It was while working in the emergency room at the Kenosha hospital downtown that Tagliapietra was guided to a potential career in law enforcement.
"While there, some Kenosha officers talked me into trying to become a police officer," he recalled.
Tagliapietra attended the Gateway Technical College criminal justice program – "That applied really effectively to restaurants," he notes sarcastically – and was in the final interview process with the Kenosha Police Department, ready to start his career in law enforcement.
But then fate intervened. Tagliapietra's favorite local cafe closed down, and he felt compelled to purchase it.
Thus began his career in restaurants.
"I stupidly bought it," Tagliapietra says of that fateful decision. "And it turns out all the things I liked about law enforcement … (were part of) the restaurant business. It's pretty chaotic, so it fit me pretty well."
Tagliapietra says he learned a lot from both success and failure while operating his cafe, The Nook, which was located at 5703 6th Ave. The Nook eventually closed, but some of Tagliapietra's regular customers there were the owners of the restaurant group Grease and Honey, which now owns Sazzy B, The Buzz Cafe and The Garage.
So after The Nook closed, Tagliapietra had another job in restaurants right away, working for Grease and Honey. That kept him plenty busy.
"Unfortunately, I have a sickness where I just take on more things," Tagliapietra said. "So I started managing Sazzy, then The Buzz opened, started managing that.
"Eventually, by the time I left, I was kind of the district manager (for Grease and Honey), overseeing all the locations."
In 2020, the COVID-19 pandemic hit, which obviously devastated the restaurant industry. Tagliapietra said that kind of broke up the Grease and Honey group and sent people on their separate ways.
But the pandemic also presented a whole new opportunity for Riki and Jandel, who started making homemade pasta in their kitchen during pandemic times. Riki worked for Kenosha.com for a time, but as the cooking became something he and Jandel did more and more for others, the chance to start a restaurant business was too tantalizing for both of them to turn down.
"My wife's also a lifelong restaurant industry (expert), so we kind of had the bug," Riki recalls. "We started making pasta at home as, like, this little side hustle, making pasta for people."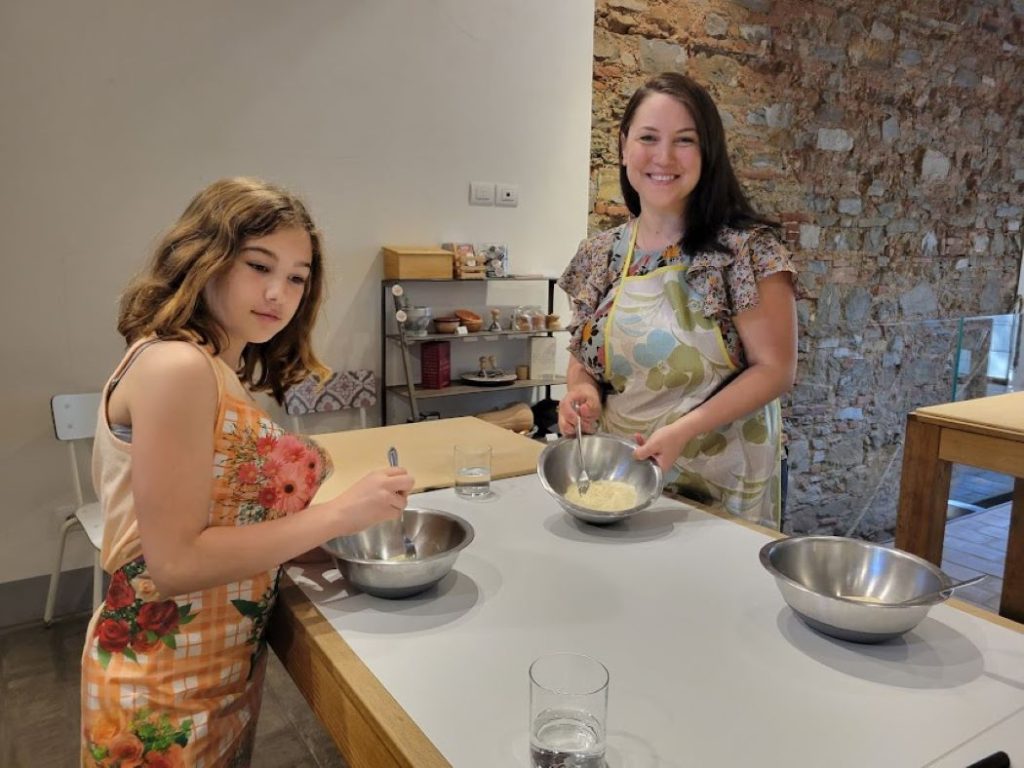 Now, from those humble beginnings, the Tagliapietras are running a food truck and a brick-and-mortar restaurant. It all happened quickly.
Riki says he and Jandel's 10-year-old daughter, Rhyen, sums it up best.
"Our kid says it best: 'Remember when we made pasta for ourselves, and then we started making it for other people, and now we have a fire truck that makes pizza?'" Riki says. "I'm like, 'Yeah, I don't really know what happened either, to be honest.'"
'Kenosha-politan' pizza
Originally, Riki and Jandel took over the location that houses Cut Stone in February 2022, using it for storage and as a prep kitchen for Il Marzocco. They soon recognized the potential of the space for an actual brick-and-mortar restaurant to complement the food truck, so they opened Cut Stone later that year.
"Eventually, this building is on the chopping block for some development, and that keeps getting pushed," Riki says. "So the longer it got pushed, we decided to invest a little bit and put a couple tables in, clean it up, and kind of just continued to expand."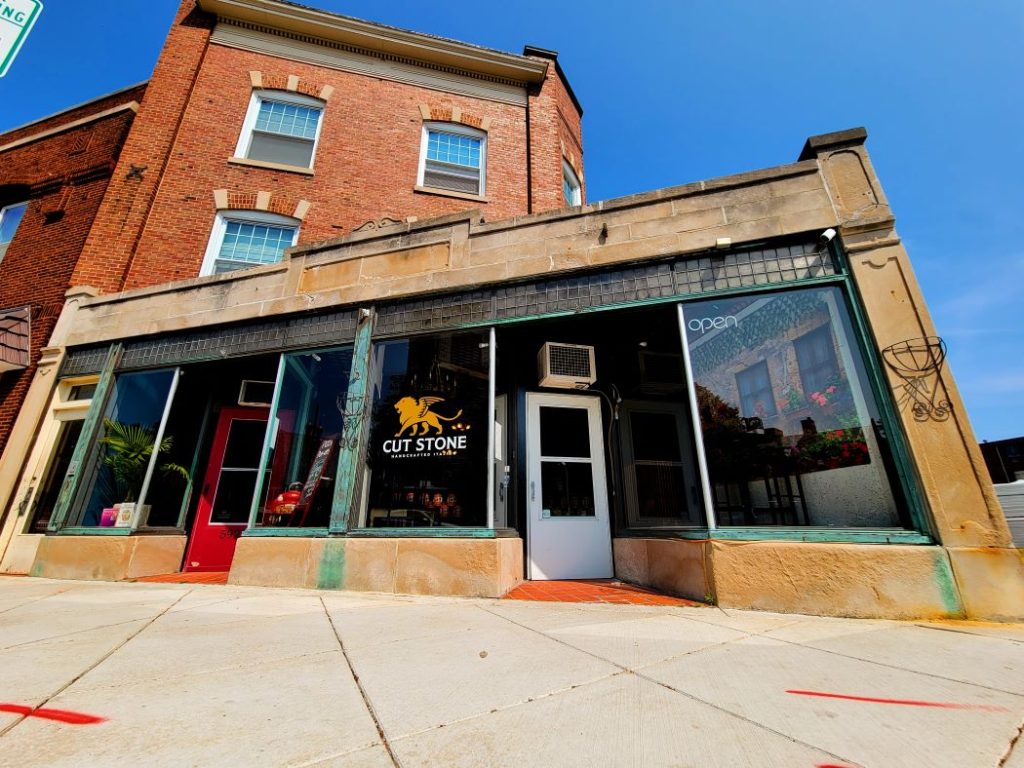 The concept for Cut Stone is very unique compared to a more traditional brick-and-mortar sitdown restaurant.
The space is very open, with tables arranged in what can best be described as a coffee-shop manner. There is an employee stationed in the center of the restaurant who takes and places your orders and serves alcoholic and non-alcoholic beverages.
Whenever you're ready, you can walk up and place your order. After that, a server brings it to your table. The entire idea is for Cut Stone to feel like an informal gathering place, not as a traditional sit-and-order restaurant.
The food, however, is not light, quick coffee-shop fare. It's a full, high-quality meal.
"You can choose your seat, have a glass of wine, have a pizza," Tagliapietra said. "Our biggest compliments, I think, are from smaller groups. People like to come in a lot because they can come in and enjoy their time together.
"When they want something, it's real easy to get. There's no pressure. There's no, 'Hey, entree, appetizer, dessert.' Whatever you want to eat, whatever you want to drink, we'll get it for you whenever you want."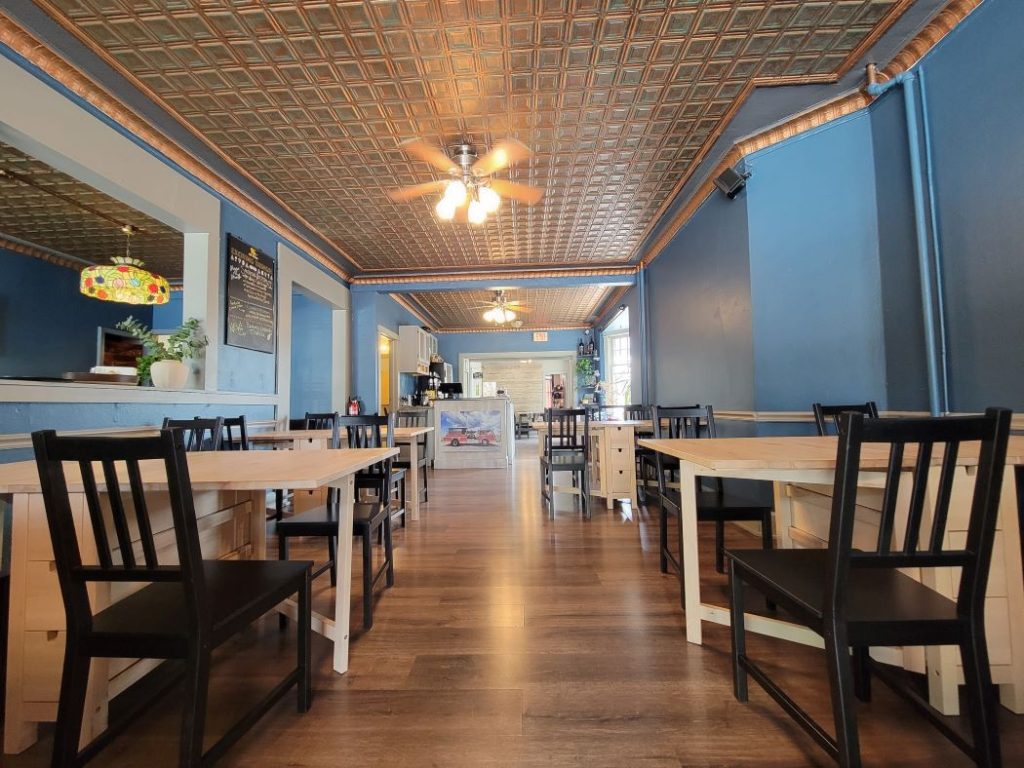 Along that line, at Cut Stone, you can place orders via QR code instead of going up to the central counter, should you choose.
Riki says he and Jandel love to travel and experience different restaurants, so they've tried to incorporate different elements of what they love about such places into Cut Stone's menu and style. Food trucks are more popular than ever, so the Tagliapietras have essentially brought some of the same things that have made Il Marzocco successful inside Cut Stone.
"I guess we just kind of got to a point where it was, 'If it works this way on the truck, then let's give it a shot,'" Riki says of Cut Stone's style. "I would say, 'Design by function.'
"… I think that's just why it worked. People get to come in and get high-end food, but (with) more of a cafe-style of service."
Cut Stone's signature offering is pizza, obviously a longtime standard dish around Kenosha. But Cut Stone does pizza in its own way, which Riki calls "Kenosha-politan."
"My wife bought me a pizza oven for Christmas a long time ago," he explains. "We were making pizzas at home for us and the neighbors, and it just developed into experimenting.
"… It's a Neapolitan-style pizza, but not, I would say, super traditional. Traditional Neapolitans, you're going for the goal of (being) as floppy as possible. And we try to combine that with what people expect from a Kenosha thin-crust. So you're going to get that puffy, warm, baked-bread outer crust, impossibly thin bottom, and you're still going to get some crispness to it instead of just the 'fold it up and put it in your wallet' Neapolitan."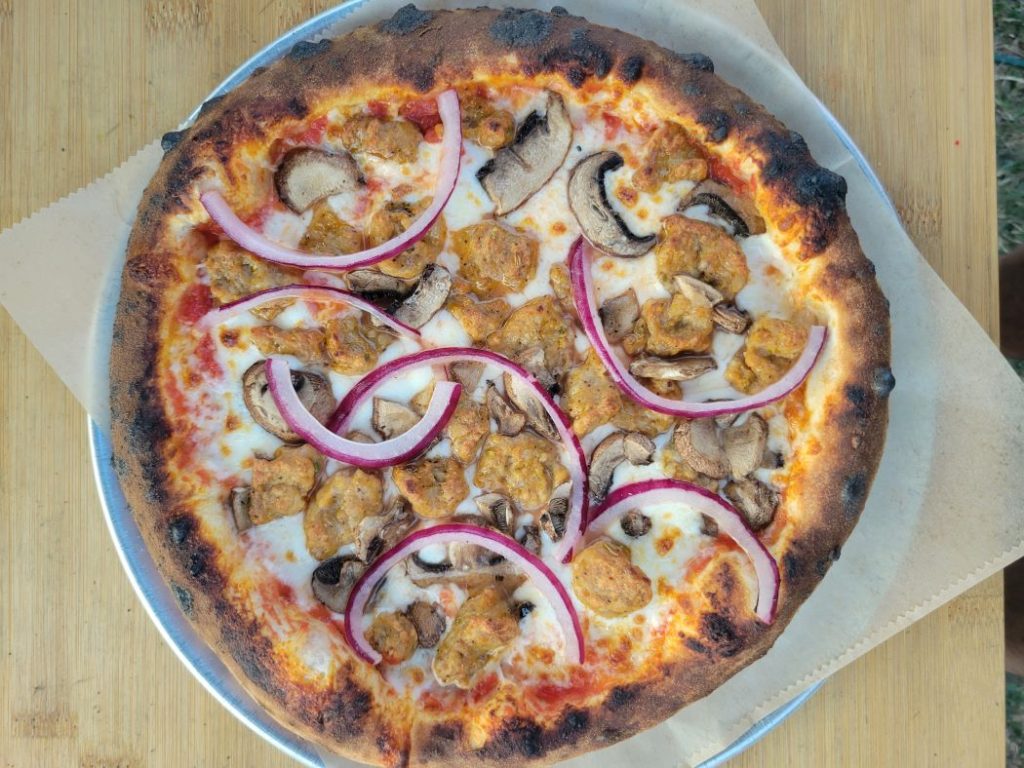 As far as toppings, Cut Stone will go traditional or exotic. That, Riki says, caters to Kenosha's rich and diverse food culture.
"We do super traditional, classic Neapolitan recipes, and we like to get super weird and make a French onion soup pizza and get as creative as we want," Tagliapietra says. "There are enough people here to be like, 'Yes, I eat the same sausage/mushroom pizza every day,' and then someone who's like, 'What's the weird thing you're working on?'
"We get to give both experiences in this community. I think many cities are one or the other."
A food town
In that regard, what Tagliapietra and other "foodies" love so much about Kenosha is its considerable status as a great culinary town.
Yes, there are plenty of chain restaurants to choose from now, but Kenosha – especially in the downtown area – still maintains a huge variety of locally owned and operated restaurants with unique tastes you just can't experience anywhere else.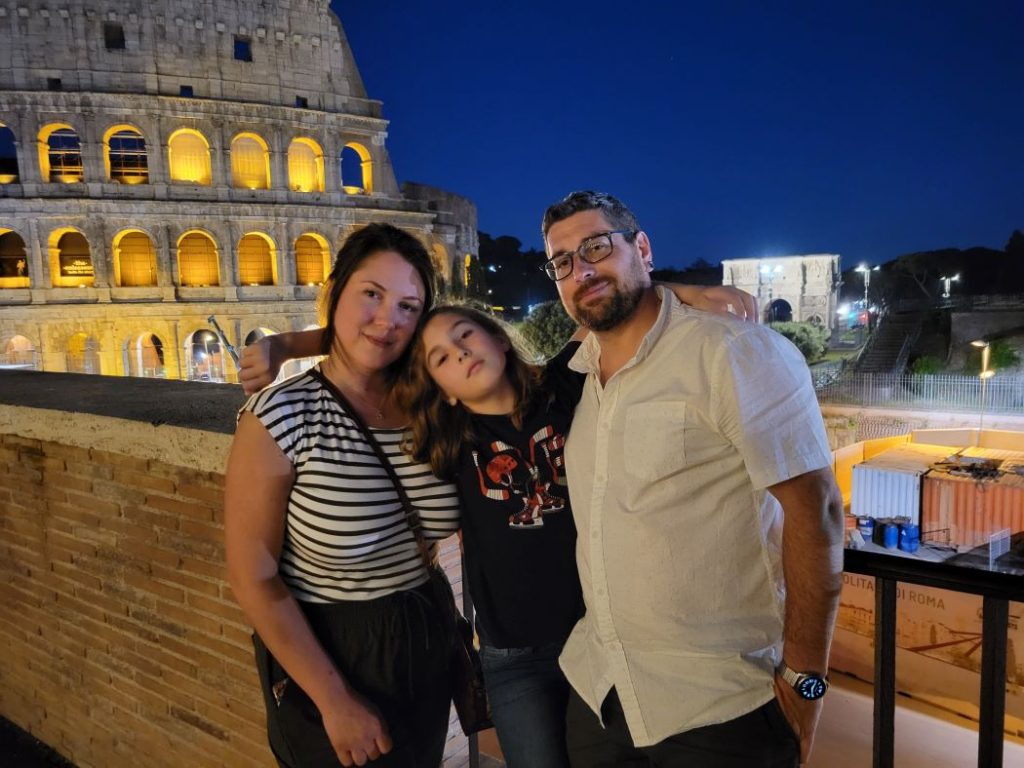 Cut Stone and Il Marzocco, of course, are now part of this tasty tapestry.
"I think we have one of the highest densities of independently-owned restaurants in any city I've ever been to," Tagliapietra says. "That's what's cool. You can get pretty much anything you want, and you can get it from somebody who lives here and somebody who actually cares about it. It's been a huge growth for our community.
"COVID was rough, but so many people came to our community from Illinois, (which) was shut down further. They came up here, and they were like, 'Whoa, this is pretty cool.' And now we have so many people coming back, which is awesome."
Like other local restaurant owners, Tagliapietra loves to support local events and venues with his services. Whether during his time with Grease and Honey and now with running Il Marzocco, Tagliapietra has always made it a point to bring food and beverages to the Washington Park Velodrome on summer nights, helping to make Kenosha's rich tradition of bike races even better.
"We always make sure we make it there for some of their events, to be able to drive some traffic there," Tagliapietra said. "We have the oldest operating velodrome in the country.
"… It's a cool thing. Just like 'Kenosha Eats,' it's like, 'How do we teach everybody in the community about these cool things?'"
The Tagliapietras also love to bring their food offerings to local elementary school students who may not be able to make it downtown often to get into Cut Stone.
Food, as Riki points out, is central to any community's identity and is typically crucial to the nostalgia one feels for his or her hometown. Tagliapietra wants kids to remember this as part of their youth in Kenosha.
"I have this fun pleasure of just imagining this time in everyone's lives where they're like, 'Remember when we were kids and there was this fire truck pizza?'" he says.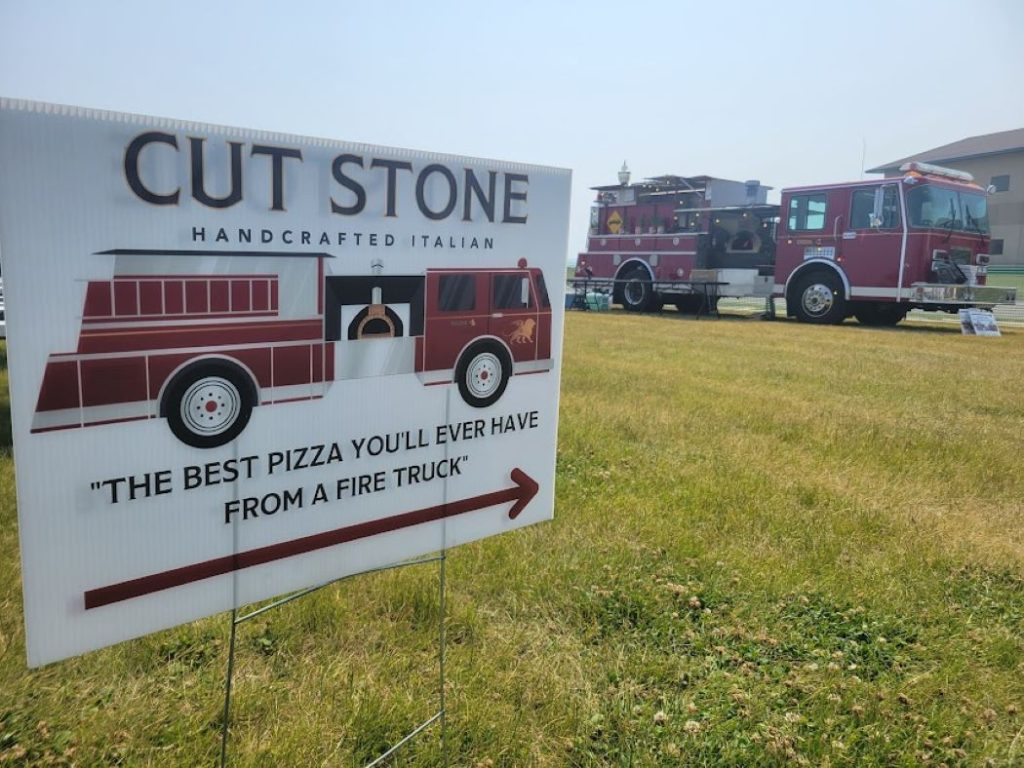 As you may expect, Riki and Jandel Tagliapietra spend a huge part of their lives in restaurants, either in their own or others' venues. If not there, you can likely find them at an ice rink, since Rhyen is a hockey player.
"Our daughter plays ultra-competitive hockey, so the rest of our life is spent in an ice rink," Riki says with a laugh. "We're either at this restaurant, one of our friends', or at an ice rink."