It has been a historic season for the Westosha Central High School boys tennis team, and the Falcons are in the process of wrapping it up with a pair of big weekends in Madison at the University of Wisconsin's Nielsen Tennis Stadium.
For the first time in program history, Central won the team title at a Wisconsin Interscholastic Athletic Association Division 1 sectional to advance to the WIAA Division 1 State Team Tournament, scheduled for next week Friday and Saturday (June 9-10) at Nielsen Tennis Stadium.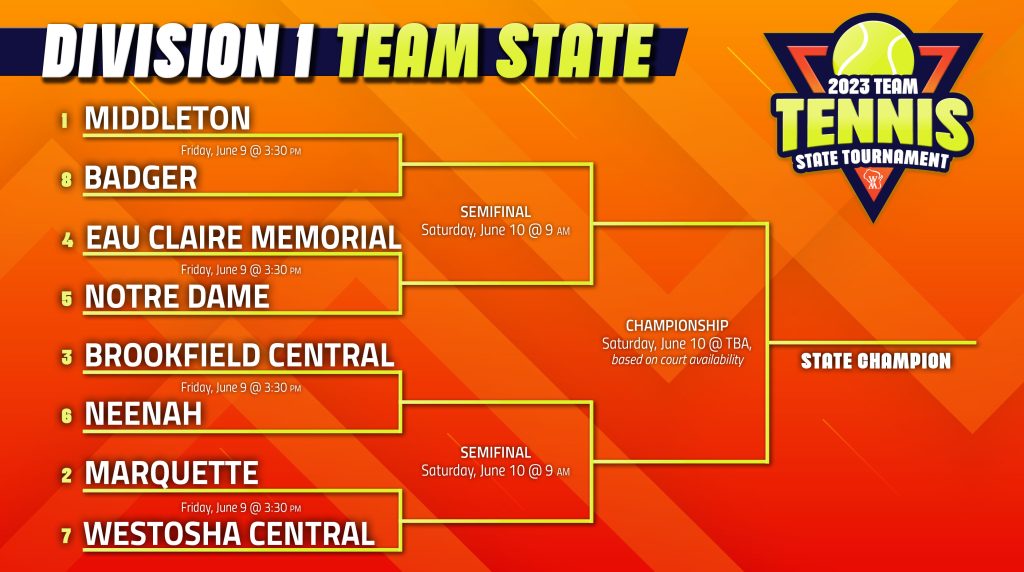 And beginning Thursday morning (June 1), five Falcons were competing in the WIAA Division 1 State Individual Tournament at Nielsen Tennis Stadium. That continues on Friday (June 2) and concludes on Saturday (June 3).
For its historic success this season, the entire Central boys tennis team has been this week's Kenosha.com High School Athlete of the Week.
Sectional success
Along with wrestling, tennis is one of two WIAA sports to have separate state tournaments for teams and individuals.
Central has sent plenty of boys tennis players to the State Individual Tournament over the years. This season, the Falcons sent junior Christos Dovas, their No. 1 singles player, to state in the singles draw, while their No. 1 doubles tandem of senior John Kinzler and junior Brett Hanke and their No. 2 doubles team of junior Owen Sweeney and freshman Camden Oppenneer reached state in the doubles draw.
Also from Kenosha County, Indian Trail's team of sophomores David Porut and Will Murawski reached state in doubles.
First-round matches in the State Individual Tournament began Thursday morning in the singles bracket and Thursday afternoon in the doubles bracket.
While reaching the State Individual Tournament certainly displays the talent and success of certain players on a boys tennis team, reaching the State Team Tournament requires depth and talent throughout the roster.
Which is what makes Central's season so remarkable.
In the WIAA boys tennis postseason format, schools compete first in a sub-sectional, then two sub-sectionals are merged together for a sectional. Players advance first through their sub-sectional brackets in each flight — there are four singles flights and three doubles flights — to reach sectionals, then from there they can advance to the State Individual Tournament.
However, team scores are also kept throughout sub-sectionals and sectionals, based on how a team's players do in each flight. The points a team earns in sub-sectionals are carried over to sectionals, then whichever team finishes with the most points in each sectional advances to the State Team Tournament.
So, to put it simply, the more success you have in each flight, the more points you can accumulate in the team standings.
Central competed in a WIAA Division 1 sub-sectional on May 22 at Burlington High School and in a sectional on May 24 at The Village Club in Greendale.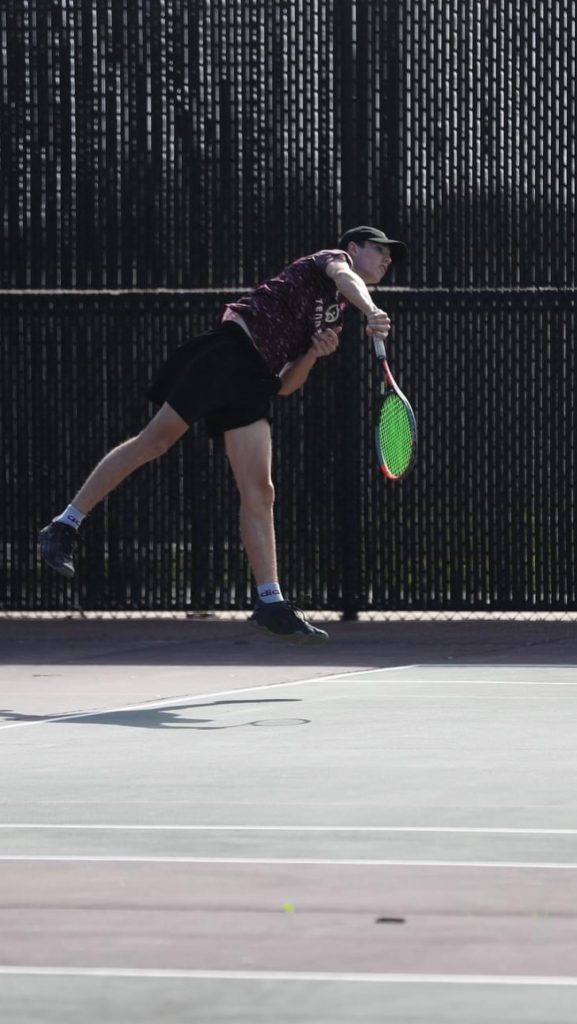 In their sub-sectional, the Falcons finished with 24 points and advanced all seven flights to their sectional. Carrying those points into the sectional — which was tied for the most with Oak Creek after sub-sectionals — Central finished the sectional with 44 points, five more than Oak Creek, to advance to the State Team Tournament for the first time in program history.
Competing in the postseason for Central are Dovas at No. 1 singles, senior Reid Glassen at No. 2 singles, junior Jordan Oppenneer at No. 3 singles, junior Karn Toor at No. 4 singles, Kinzler and Hanke at No. 1 doubles, Sweeney and Camden Oppenneer at No. 2 doubles and freshman Paxton Ferruzzi and sophomore Owen Goergen at No. 3 doubles.
Only players in the top two singles flights and top two doubles flights are eligible to advance automatically to the State Individual Tournament. Dovas did so by placing fourth in sectionals at No. 1 singles, while Kinzler and Hanke were second at No. 1 doubles — they lost in the sectional title match to Porut and Murawski — and Sweeney and Oppenneer won the sectional title at No. 2 doubles to also advance to state as individuals.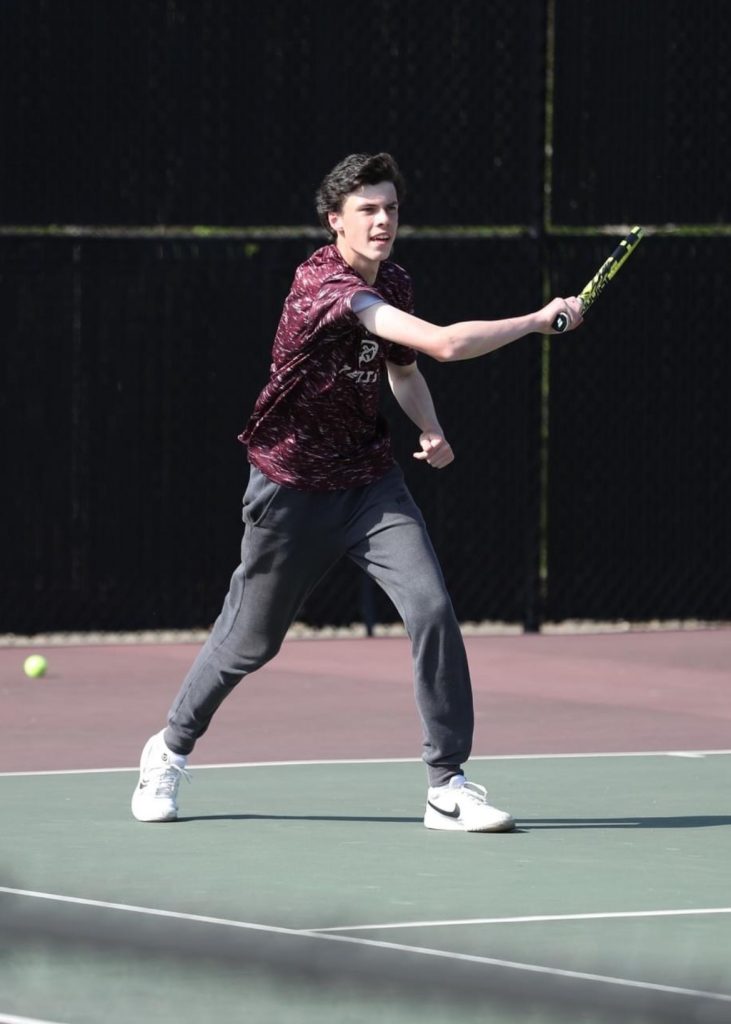 Additionally, Jordan Oppenneer won an individual sectional title at No. 3 singles for the Falcons.
By advancing all seven of its flights from the sub-sectional to the sectional, Central gave itself a great shot at advancing to the State Team Tournament for the first time ever, and the Falcons sealed the deal.
"What really helped is, in our sub-sectional, for the first time ever … we advanced all seven flights," fifth-year Central head boys tennis coach Alex Ferruzzi said in a recent phone interview. "We got all 10 players through. That was key. We did really well in our conference (Southern Lakes), and we did really well out of conference this year, so all of our players got either the one- or the two-seed out of seven teams in our sub-sectional. 
"Therefore, we had some matches that were a little bit easier than some other teams had through those first couple rounds. So that was key. But we were cognizant and aware of Oak Creek, on their side, had all the one-seeds, except for one flight (No. 1 singles).
"… It was basically who was going to, I guess, really show up (in the sectional). We just happened to edge them out by a little bit. It was tight. It wasn't like we won by a landslide. It was definitely tight."
Building a program
For Ferruzzi, leading the Falcons to an appearance in the State Team Tournament is a wonderful testament to both him and his family, which has built a strong legacy of tennis in the western part of Kenosha County.
Ferruzzi's father, Bob, is the president of the nonprofit Western Kenosha County Tennis Association. Founded in 2008, the WKCTA was formed, as its website states, "to support and promote tennis in western Kenosha County for all ages and abilities." Alex Ferruzzi is also a WKCTA Member-at-Large.
The Ferruzzis, of course, grew up on the tennis court. A two-time WIAA Division 1 State Individual Tournament qualifier and All-SLC Player of the Year as a senior during his playing career for the Central boys tennis team, Alex Ferruzzi went on to play four years of college tennis in Kenosha at NCAA Division III Carthage College.
The middle Ferruzzi brother, Cooper, was also a two-time WIAA Division 1 State Individual Tournament qualifier at Central and like Alex went to Carthage to play college tennis. Cooper recently finished off a fantastic junior season with the Firebirds, playing primarily at No. 4 singles and No. 2 doubles and helping them to the program's 12th College Conference of Illinois and Wisconsin championship and a trip to the second round of the NCAA Division III Tournament.
And the youngest brother, Paxton — 14 years Alex's junior — is being coached by his older brother this season as a freshman while playing on Central's No. 3 doubles team.
For the Ferruzzis, reaching the State Team Tournament proves how much the WKCTA has helped the game grow in that part of the county.
"It definitely does (mean a lot to our family)," Alex said. "It's really nice, too, because a lot of our kids who started through either our association, or even just their freshman year of high school, are on this state team."
As a specific example, Ferruzzi said Dovas, his No. 1 singles player now, began playing tennis at age 9 with the WKCTA.
"He learned just the basics of tennis from our organization, and it's just cool to see him as (No.) 1 singles now playing at the very elite state level," Ferruzzi said.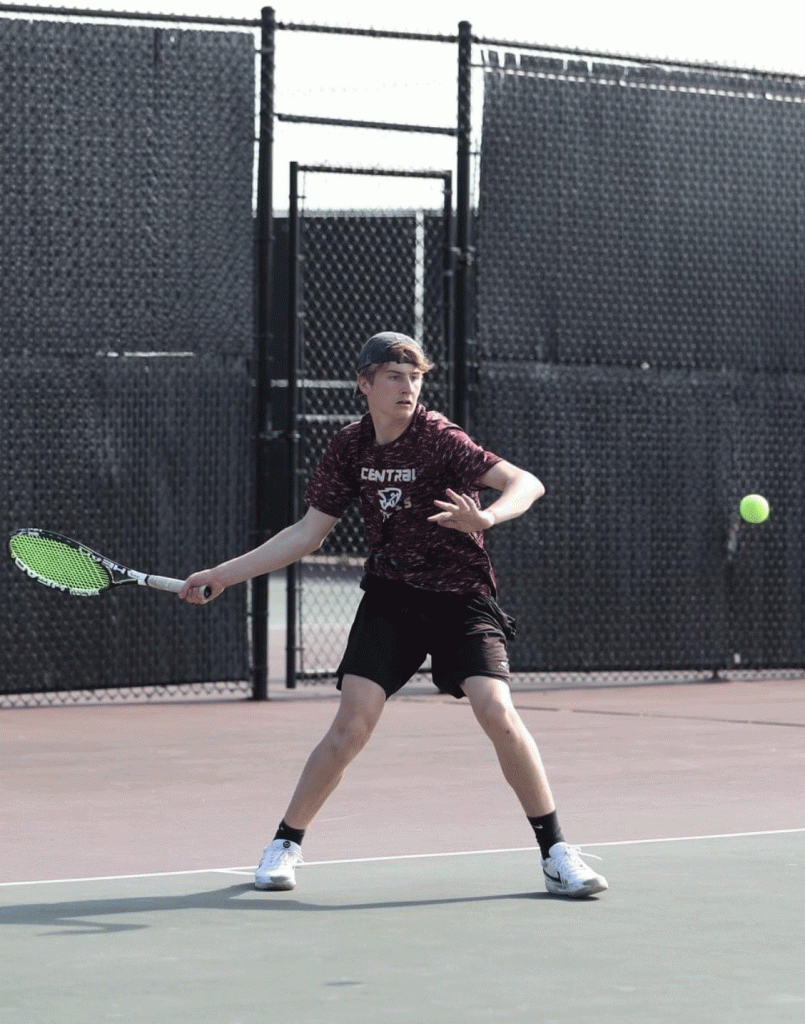 Ferruzzi also talked about the rapid improvement of other players on his team from last season to this one, such as Sweeney and Camden Oppenneer at No. 2 doubles. Camden is the first Central freshman boys tennis player to advance to the State Individual Tournament.
"Owen Sweeney was a JV player for us last year and came this year with so many improvements," Ferruzzi said. "His ground strokes are so much more solid, his placement was excellent, he knew what he can and can't do on the court. He really has his strengths and weaknesses down.
"And Camden (is) a freshman whose brother, Jordan, basically hit with him a little bit in the offseason. Camden basically just started tennis just right before the season."
Speaking of Camden's brother, Jordan Oppenneer went 19-1 this season in winning the sectional title at No. 3 singles.
"He hasn't really lost a set in over a month-and-a half," Ferruzzi said. "… In the beginning, I had him at doubles, and making the switch with him and Brett (Hanke) was both something the boys wanted and my assistant and I both agreed on.
"There could not have been a better switch for those guys."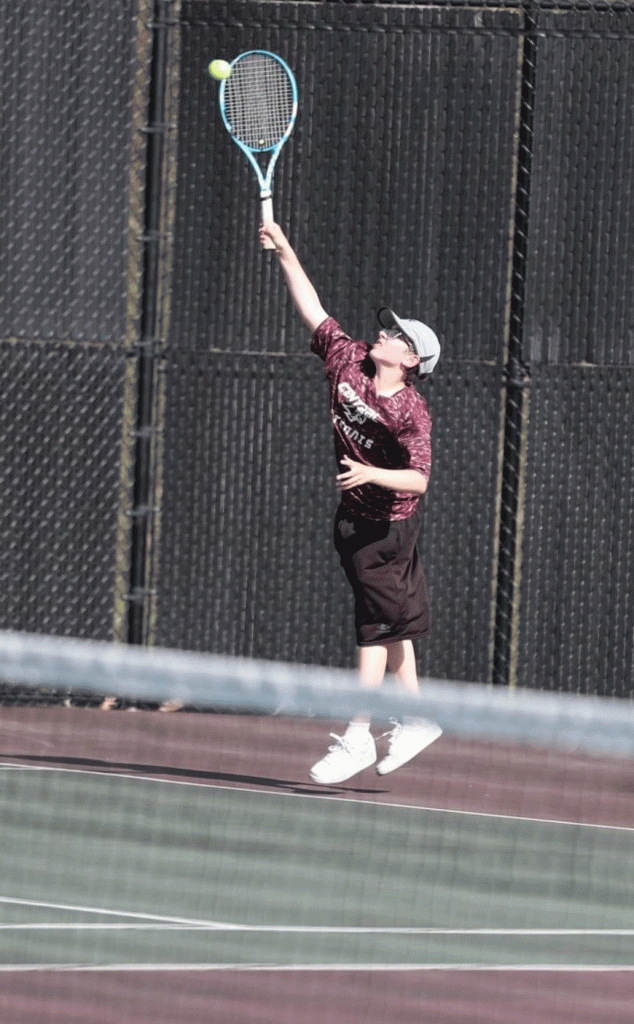 That meant Hanke moved to No. 1 doubles to pair up with Kinzler, a standout for the Central boys basketball team who earlier this school year was named the Kenosha.com High School Athlete of the Week for that sport.
Last spring, Kinzler reached the State Individual Tournament doubles draw with partner Ben Marecek, then a senior. This year, he got back by teaming with Hanke.
"He had a great season this year, too, with Brett," Ferruzzi said. "They just instantly clicked chemistry-wise. They both play the net very well. They're very aggressive players, too. It's really exciting watching them hit volleys and overheads."
Overall, it's a love for tennis that's prompted the Central players to keep working together in the offseason to improve, an essential ingredient to reaching the State Team Tournament. The WKCTA has provided the major groundwork for that.
"We're kind of lucky, but we did have a couple kids start when they were younger," Ferruzzi said. "Some of the kids have really been taking it upon themselves to hit a lot more in the offseason during the summer. Even some of the guys and girls are carpooling to the tennis clubs, specifically Lake Geneva Tennis, because that's one of our more proximal clubs around (for) a lot of the kids in the western part of the county.
"So a lot of kids are starting to reach out and carpool with each other. My assistant coach — Renee Bobula — and I have really tried to build an atmosphere where it's more of a team sport instead of just an individual (sport). So we try and get the kids to hit with each other and enjoy that atmosphere more than just, 'OK, I'm going to compete by myself.'"
In the State Team Tournament, Central received the No. 7 seed out of eight teams and will face No. 2 seed Milwaukee Marquette in the quarterfinals on Friday, June 9. Quarterfinal matches begin at 3:30 p.m. The winner faces either No. 3 seed Brookfield Central or No. 6 seed Neenah in the semifinals at 9 a.m. on Saturday, June 10, with the semifinal winners squaring off for the Division 1 state team title at 2 p.m. on Saturday, June 10.