John Kinzler doesn't have time for a "rebuilding season."
So, if you thought that description would be fitting for the Westosha Central boys basketball team in 2022-23, then Kinzler has a message from himself and the other five seniors on the Falcons' roster, who aren't about to accept too much losing in their final high school campaign.
"I think that we have the talent to win now," Kinzler said in a phone interview Thursday night. "I think we have just as much talent as anybody else in this county (and area)."
And, boy, did Kinzler and Central ever back that confidence up on Wednesday night with a 57-43 non-conference home win over perennial small-school state power Racine St. Catherine's, which had entered Wednesday's game with an 8-0 record and was ranked No. 5 in Division 3 in this week's WisSports.net state coaches poll.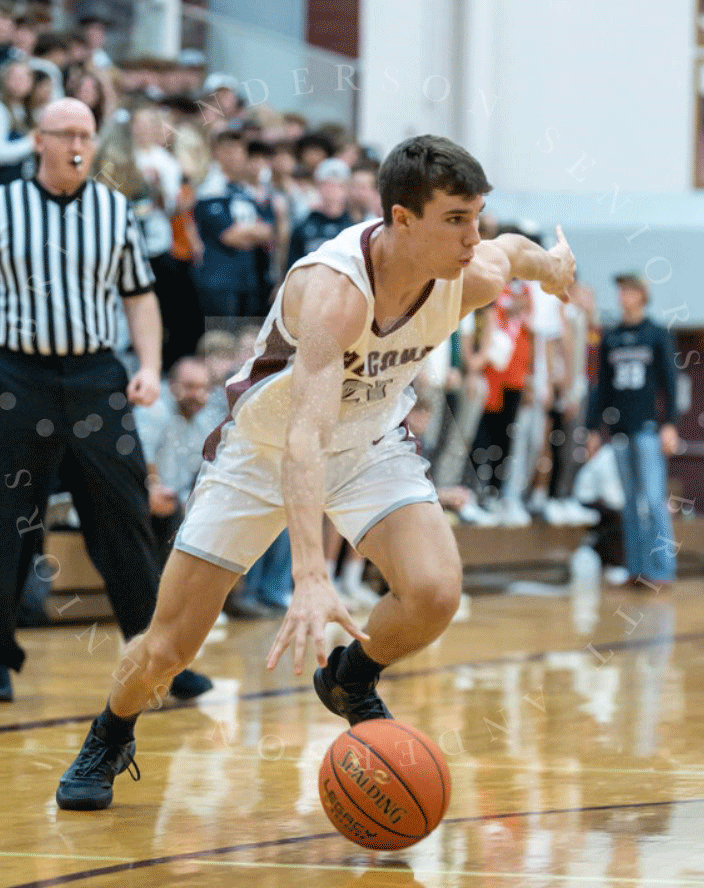 With its win over the Angels, Central improved to 7-2 overall and is 3-1 in the Southern Lakes Conference as it prepares to re-enter SLC play in 2023 with a home game Friday night against Delavan-Darien.
A steady senior presence at guard in his third season on the Falcons' varsity roster, Kinzler has stepped into a main scoring role this season and enters Friday's SLC contest averaging about 11.5 points per game.
Kinzler, a three-sport standout who played on Central's boys volleyball team for four seasons and has another season left this spring with the boys tennis team, scored 17 points in a win over Racine Case last week Friday in the Doctors of Physical Therapy Holiday Classic at Carthage College and reached doubles figures in the second half alone Wednesday against St. Catherine's to help Central pull away.
For his performance in recent games and his high school athletic career overall, Kinzler has been named the Kenosha.com High School Athlete of the Week.
A bigger role
The reason people may perceive this as a rebuilding season for Central is simply because of all the scoring and high-level talent the Falcons graduated from last year's team, which reached the Wisconsin Interscholastic Athletic Association Division 2 State Tournament semifinals.
Graduating after last season were Jack Rose, the program's all-time leading scorer and now a freshman guard at NCAA Division I UW-Green Bay, along with fellow varsity stalwarts Devin Griffin and Kenny Garth.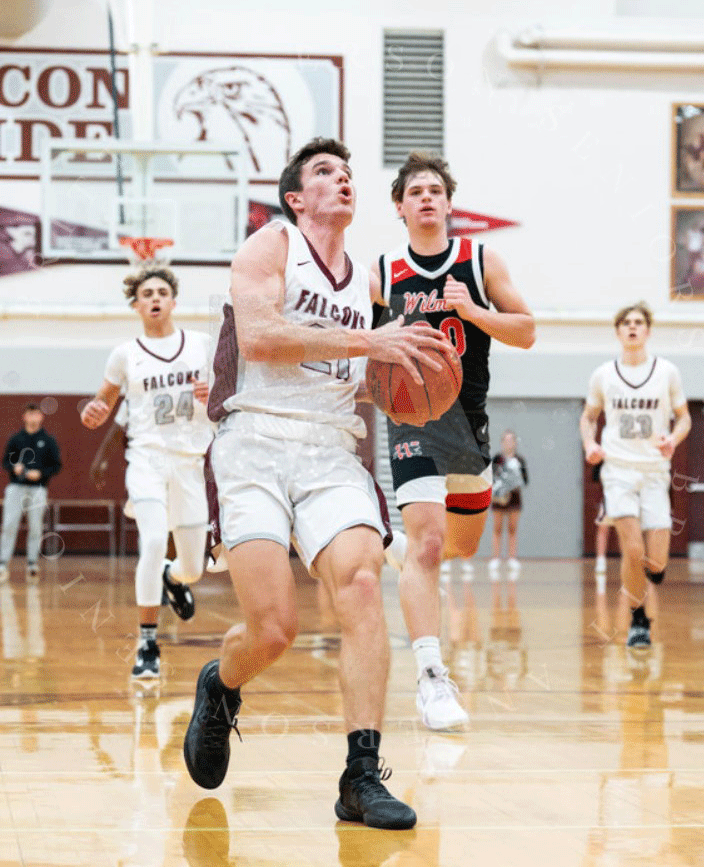 This year's team features some extremely promising and highly-regarded sophomores in Liam Lubkeman, a 6-foot-8 forward, Daniel Turner, a 6-3 forward, and point guard Elijah Griffin, Devin's younger brother and one of the more talented young players in the area.
But those young players need someone to lead them, and that's where Kinzler and fellow seniors Alex Sippy, Wyatt Anderson, Tony Wegel, Nate Smothers and Ian Witt have excelled.
Great leadership has been a theme for the Central boys basketball program under head coach James Hyllberg, who's in his eighth season leading the program and has guided the Falcons to six SLC titles and the only two State Tournament appearances in program history.
Kinzler is another example in that succession of leadership for Hyllberg's program.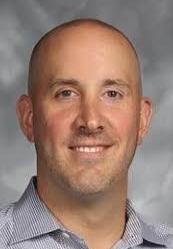 "We've been fortunate to have these types of players," Hyllberg said in a phone interview Thursday night. "They're really the kind of players that every coach wants to have. They work hard, they're coachable, they have a good attitude, they're great in the classroom, they're respectful to other teachers. We've been really fortunate that we've had a lot of kids similar to John, because that's what every coach wants. If you have that type of hard work and belief and coachability, you can do a lot of things with those guys.
"Every time you challenge John, you push him to do something, he accepts it, takes it on. He takes criticism. He knows we're trying to make him better, so he never is going to talk back and makes no excuse. When he makes a mistake, he knows it. But he's the last one to leave the gym, and he's a winner."
In addition to providing senior leadership, Kinzler has been asked to do much more on offense this season. He did play some big minutes and scored some important baskets as a junior last season, but with Rose, Griffin and Garth all on the team, Kinzler's role was basically to be a spot-up 3-point shooter.
This season, he's scoring in a variety of ways and carrying the torch for a great lineage of Central guards under Hyllberg that includes players like Rose and 2019 Central graduate Jaeden Zackery, who's now excelling in the Atlantic Coast Conference with Boston College.
"Last year, I think (Kinzler) was just a shooter," Hyllberg said. "Now, he's more of a basketball player, which is a better compliment to John. Because shooters can have hot and cold nights, and the defense can also kind of influence shooters. John's now more of a player and a scorer.
"He's worked on his game. He's created some nice moves off the dribble. He's very quick to the basket. He's had some great drives, and he finishes strong at the rim now. Those are things that we challenge all of our guards to do."
Added Kinzler of his role this season: "Last year, we had some very great scorers on the team, top talent in the county, with Kenny, Jack and Devin. My role, I basically went in there, and my coach said, 'Go shoot some 3s.' So I'd go in there, and I'd wait in the corner for one of those three guys to kick it out to me, and that was kind of my role on the team.
"So this year, I'm obviously driving to the basket a lot more. Defense is the biggest thing on our team. Our coach always says, 'I'll keep you in the game if you're playing good defense,' so that's probably the most important thing to me."
Hates to lose
Perhaps most significantly, Kinzler shares another trait with all those standout players at Central during Hyllberg's tenure: He hates to lose.
"JZ (Zackery) hated to lose in practice, Jack Rose hated to lose in practice," Hyllberg said. "These were guys that would almost fight other players for a loose ball in practice. They just hated to lose. You can try to instill that in guys, you can try to tell them that we want you to hate to lose, but some guys don't have that in them.
"… John's been one of those guys, too, that works hard and has that same mindset. So guys see how hard John practices, and that's what a coach wants to have happen. You want to see guys lead by example, and that's what John does every single night."
With that will to win, perhaps that's why Kinzler and his fellow seniors might take exception to those who say Central won't be a State Tournament-level team for another season or two.
"It's kind of been fuel, especially for the seniors on our team, when we read the newspaper and stuff," Kinzler said. "They're like, 'Oh yeah, Central's lost a lot of guys. They're not going to be the same this year.'
"But we know what we've got."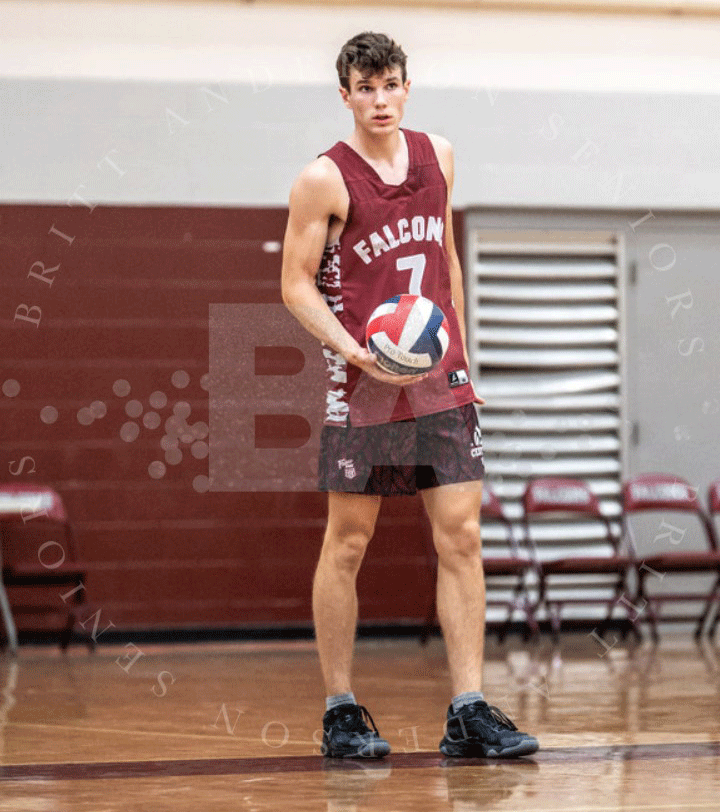 The Falcons have certainly proven that this season.
Their two losses were a 20-point road defeat at SLC foe Burlington on Dec. 16 and a five-point loss to Indian Trail on Dec. 27 in the Doctors of PT Holiday Classic. Burlington is a deep and experienced team that enters this weekend undefeated and ranked No. 4 in Division 2 in the state coaches poll, while Indian Trail is a Division 1 team that enters the weekend with a 7-2 record and alone atop the Southeast Conference.
Central's seven wins, meanwhile, have all come by double figures, except for the eight-point win over Division 1 opponent Case. On Wednesday, the Falcons held St. Catherine's 26 points below its season scoring average.
That's why, when asked if his team has displayed the typical inconsistency of young, inexperienced rosters, Hyllberg didn't necessarily think so. He feels the Falcons have played well for the most part each game, and on Feb. 2, they'll get a big home rematch with Burlington.
"It's fun to see, because they're kind of forming their own identity," Hyllberg said of his young roster. "We're learning what certain guys can do and what certain guys can't do. So that's what's fun, but also challenging, because every team we play is going to present a different matchup."
Three-sport standout
Kinzler is certainly making the most of his senior season on the basketball court as he wraps up what's been an outstanding athletic career at Central.
He attended elementary and middle school in the Kenosha Unified School District, going to Stocker Elementary and Mahone Middle School, where Hyllberg is a Dean of Students. But Kinzler's family moved to the county when he was in eighth grade and now resides in Paddock Lake, about five minutes from Central.
Kinzler started playing basketball as a kid and also played flag football and baseball through eighth grade. While he has stuck with basketball through high school during the winter athletic season, Kinzler said he got burned out with baseball and his parents didn't want him to play tackle football, so he was looking for other sports to play in the fall and spring.
For a spring sport, Kinzler began taking tennis lessons as an eighth-grader and loved the sport right away.
"It was one of those sports where I didn't really feel the pressure to go out there and (be) a great player," he said. "It was just completely for fun. So that's something I've always looked forward to."
But Kinzler's not just out on the tennis court to knock the ball around. He excels in that sport, too, and last spring as a junior reached the second round of the doubles draw in the WIAA Division 1 State Individual Tournament with his partner, then-senior Ben Marecek.
For the fall, meanwhile, Kinzler decided to join the Central boys volleyball team, for which he went on some fantastic postseason runs with the Falcons in that sport, too. Central reached the WIAA State Tournament in 2020 and 2021, finishing as the state runner-up during Kinzler's junior season in 2021.
This fall, as a senior, Kinzler wrapped up his high school volleyball career by being named first-team All-SLC at outside hitter.
"That's become probably the sport that I really enjoy the most, even more so than basketball at times," Kinzler said of volleyball.
As far as his academic and future plans, Kinzler already has a strong focus on that path.
He's been accepted to and plans to enroll at Liberty University, a private Christian university in Lynchburg, Va., where he plans to major in finance and may also play on the school's club volleyball team.
"I first looked at it in eighth grade," Kinzler said when asked what drew him to Liberty. "My parents kind of talked about it a little bit, and we were going on a spring trip out there, so we went toward it.
"We really liked the Christian presence on the campus, the quality of people out there. We took a tour. The students were all just super excited to be there. It just seemed like a really nice place to be and the kind of people you want to surround yourself with, so that's what really brought it to the top."
"5 QUESTIONS WITH" JOHN KINZLER
Favorite food? "I'll have to say chocolate-chip cookies."
Favorite movie? "I'll go with 'Hacksaw Ridge.'"
Favorite musical artist? "I'll go with Elton John."
Favorite athlete? "I'll say Jose Abreu (former White Sox first baseman who signed this offseason with the Astros)." … You'll still root for him? … "Absolutely."
Where do you see yourself in 5-10 years? "I hope to attend Liberty University, which is out in Virginia. I'll be majoring in finance, so hopefully I can do something in the financial advising world going forward."