One of Kenosha's signature family-owned businesses just continues to thrive.
And now, in a new, much bigger location.
Despite big challenges facing all small businesses in recent years related to the pandemic and other factors, Chiappetta Shoes — a Kenosha institution since 1921 — has enjoyed fantastic growth during that time and is now settling into its new location at 4820 75th St.
It took months of remodeling work and about three weeks of moving 20,000 pairs of shoes — in boxes, of course, not on feet — but Chiappetta Shoes is now celebrating its fourth week in its beautiful new location, which is about three times larger than its previous location, not far away from the new one, at 6821 39th Ave.
From the much bigger floor space, to the new 48-space parking lot, to a workshop with interior windows that customers can look right into to watch the Chiappetta Shoes staff work its skilled trade, the new building is primed for growth.
Tony Chiappetta, a fourth-generation owner, says the business has taken some time to settle into the new location, but a grand opening sale is scheduled for the first two weeks of April, which will include giveaways and food trucks from Thursday through Saturday.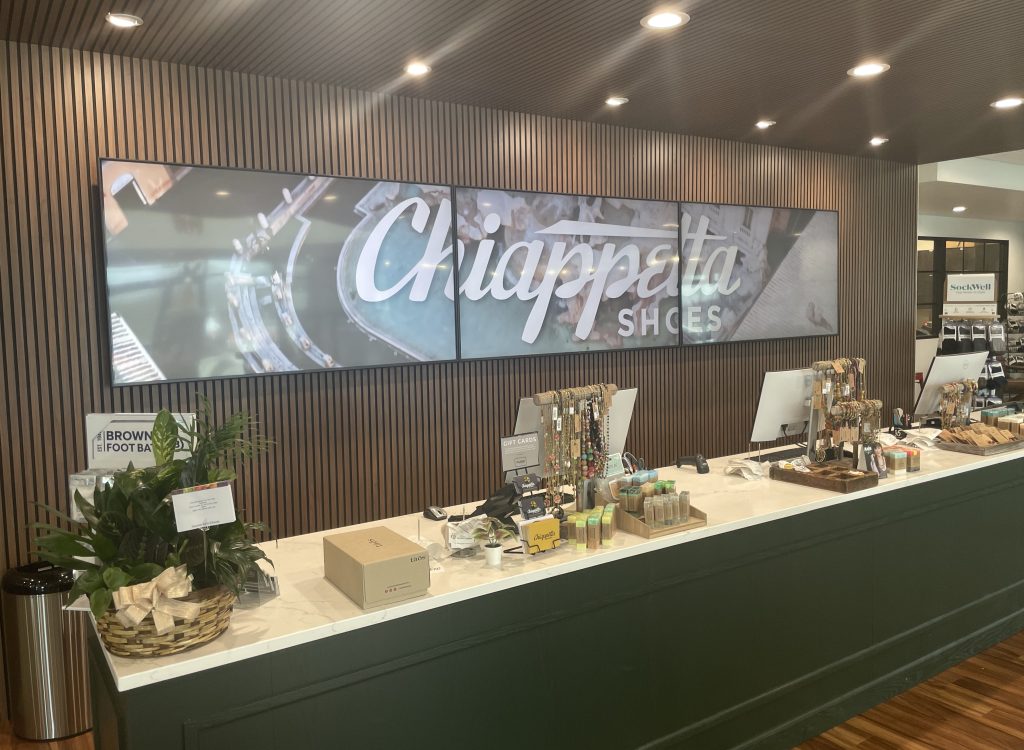 "Customers have been great," Chiappetta said of the early response to the new location. "Everybody from Kenosha's been awesome, and everybody's kind of checking us out. We really didn't do any advertising until this week. We're kind of kicking things off yet. A little of that was just getting to know the environment and everything.
"But the customer response is, No. 1, 'Oh my gosh, you've got so much more space compared to the old shop! You can move around.' We can be busy and not feel like you're on top of people. So that's been a great thing. Just having a fresh start. A lot of people from Kenosha, Racine, northern Illinois, everybody's happy to see a small business making an investment in the community, growing, and we've been happy about that."
Record growth, award winner
On March 1, Chiappetta Shoes was honored by Footwear Plus magazine with the Comfort Speciality award in the publication's 24th annual Plus Awards.
According to the Footwear Plus article, Chiappetta Shoes enjoyed the biggest year in its 102-year history in 2022. Footwear Plus reported the business "registered record sales of 19.2 percent year-over-year growth and a 48.2 percent increase since 2019."
One big factor for that last year was Chiappetta Shoes' annual tent sale, which took place in July. The outdoor sale was held in a tent of 2,700 square feet, and Chiappetta told Footwear Plus that sales jumped 35.7 percent over 2021 for the 2022 tent sale.
Chiappetta Shoes also continues to tap into ever-growing customer bases, like a burgeoning market from Illinois, and generates about half its sales from its strong pedorthics business. It also features high-end comfort brands, giving the store a product quality, sales and footwear experience that you can't get by simply walking into a store and buying whatever shoe looks to correspond roughly to your foot size and walking out.
Chiappetta said a responsible growth strategy has also allowed Chiappetta Shoes to continue to steadily build sales while other small businesses may have struggled in recent years.
"We've been around for 102 years," he said. "My pops (Fred Chiappetta) took it over from his mother, and we've always kind of had the idea of responsible growth. We've always targeted about 12 to 13 percent growth. That's like what our target is. We want to keep plugging away and doing things.
"A lot of that is kind of operating in the moment, doing well, offering the right products. Day-to-day, retail's all about, every single day is an opportunity to help people out. You've got to do that, but also making big projects like this (the new location), planning things out over the years. It's been steady growth and just coming to work every single day and being able to help every single customer as best as possible. That's really the crux of what we do."
Chiappetta Shoes is also willing to keep up with the times regarding sales strategies and marketing campaigns. The company is super active — and creative — on social media, has a great website and uses what's referred to as "channel diversification" to sell its product, including using such tools as Amazon Marketplace without taking too much time or money away from the in-store experience.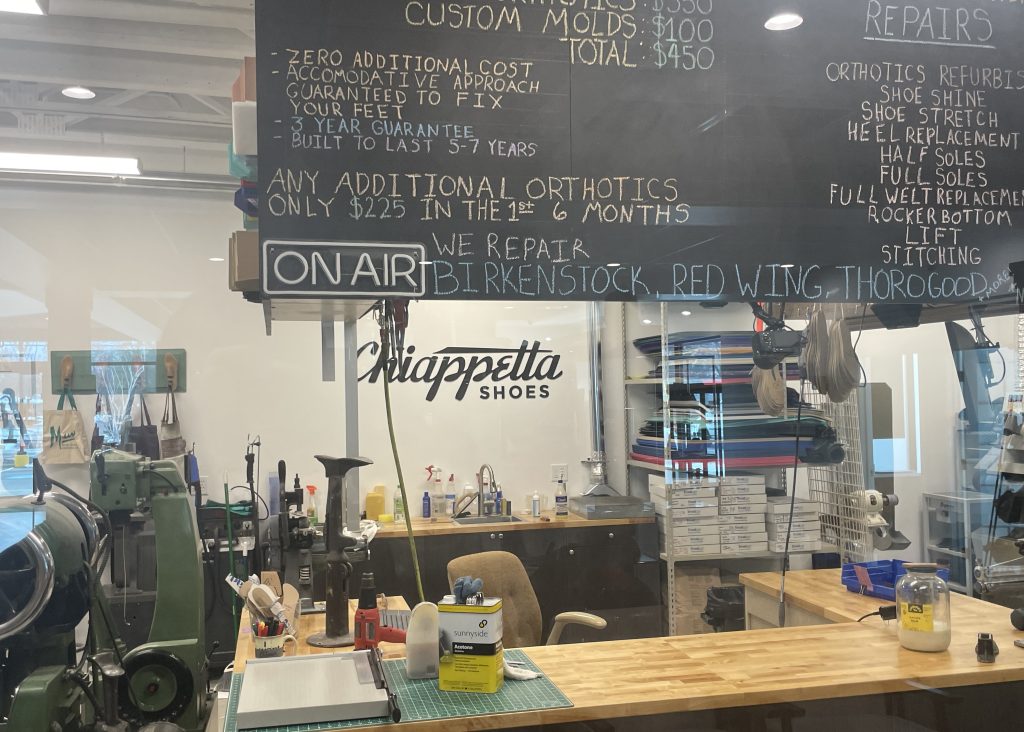 The new repair shop also offers a chance for more growth, and Chiappetta says the new location contains opportunities to potentially hold more events.
"You've got to be everywhere," he said. "With us, our speciality is shoes, custom orthotics, figuring out problems. The opportunities to continue that — whether it's on Facebook, or we're probably going to try TikTok and give (customers) a little bit of that — either way, it's about offering the right products.
"… Full repair's going to be a big thing, so we're trying to leverage that, and working with all the different businesses in the community and getting some voucher programs, that kind of stuff. That's a big part of it, too."
Chiappetta Shoes can be reached at 262-657-9142 or info@chiappettashoes.com.