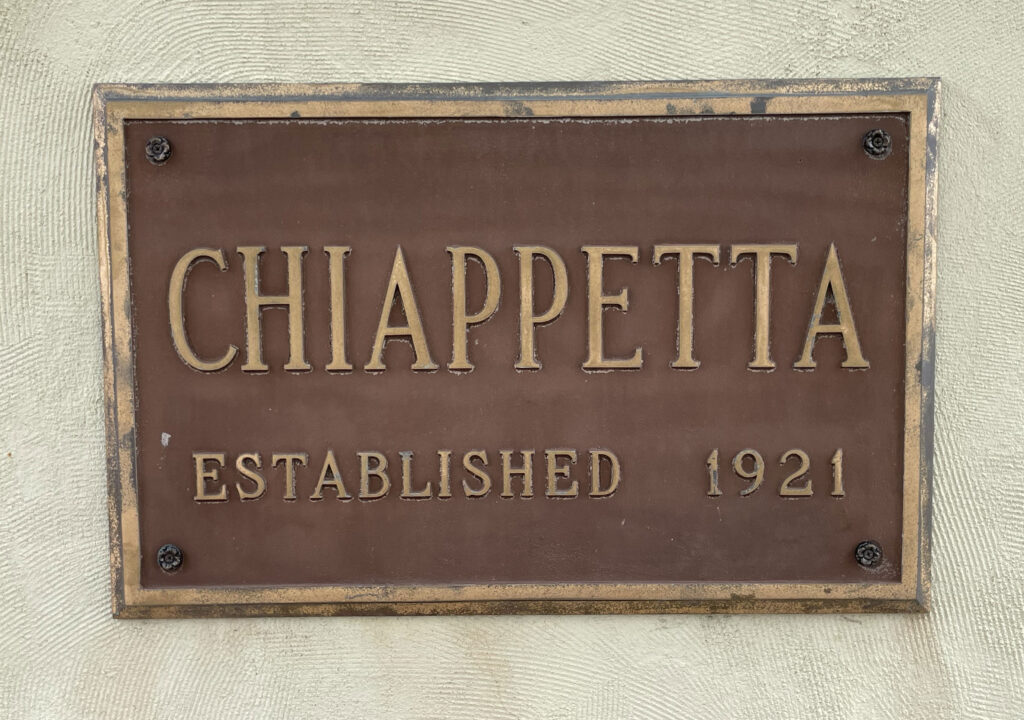 While shopping with his wife, Kathy, on Wednesday morning during the first day of the Chiappetta Shoes Moving Sale, Mike Bradtzke offered up a succinct observation on what family-owned businesses like Chiappetta Shoes mean to Kenosha.
"It's that type of town," Mike said.
Indeed it is, and there's few family businesses in the history of Kenosha that have stood the test of time quite like Chiappetta Shoes, 6831 39th Ave., which is now in its 101st year of operation after being founded in 1921.
Surely, the footwear industry has changed a lot since then, but the basic premise is the same, according to Tony Chiappetta, a fourth-generation co-owner of the store who now operates the business with his brother, Nick, and their mom and dad, Fred and Lori.
Chiappetta Shoes is a full-service shop. Yes, they sell lots of shoes — high-quality ones, too — but they also do repairs and specialize in pedorthics, which focuses on the biomechanics of the body and how that affects a person's interaction with footwear.
In other words, it's not the type of place where you just walk in, pick out your shoes, try them on yourself, pay for them and walk out without getting any customer service.
"My great-grandpa came from Italy, knew how to make shoes," Tony said Wednesday morning. "The beauty of what we do is we've been doing the same thing for 101 years. So I take that very much to heart. It's cool to be able to do that.
"At the end of the day, we're just about helping feet and keeping people happy. We've stayed true to the game the whole time."
Moving Sale
Wednesday morning marked the start of Chiappetta Shoes' annual sale, which this year has been called a Moving Sale. That has something of a double meaning.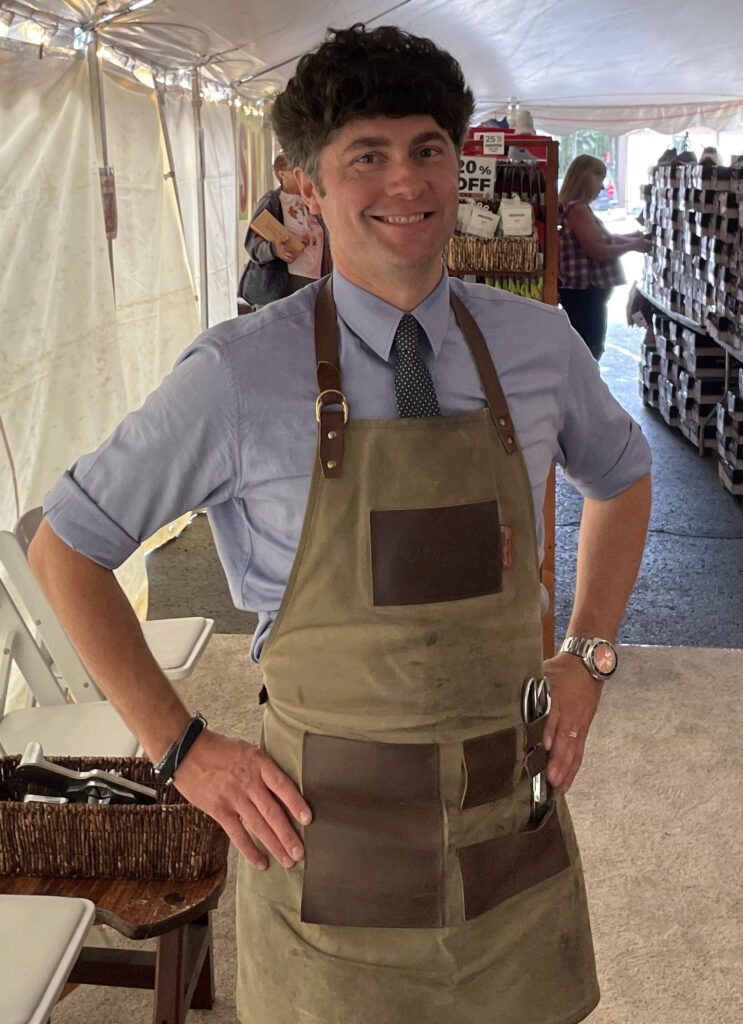 Yes, they're trying to move as much merchandise as they can with a clearance sale, but the business is also literally moving to a new and bigger location at 4820 75th St. Tony said the business hopes to complete the move by November.
The Moving Sale, which runs through July 23, is set up in a large tent in the store's parking lot, right next to the main store on its south side. Customers can receive up to 75 percent off on items in the tent.
"We've got a ton of different brands out here, a lot to select from," Tony said. "We're around, I think, 7,000 pairs in the tent right now."
Tony also said the clearance inventory is particularly large right now. With businesses currently facing supply-chain issues, stores have had to purchase inventory whenever they can. According to its website, this is the biggest sale Chiappetta Shoes has ever had, and it includes brands like Saucony, New Balance, On-Running, ECCO and many more.
"As a small-business retailer, we've had to buy a lot more up front," Tony said. "So the inventory's a little weird and inflated, but it works out great, because we've got some excess inventory. Good deals for customers."
So what's the best way to capitalize on Chiappetta Shoes' Moving Sale?
"The best deals are early, so shop early, shop often," Tony said. "There's some really good deals to be had."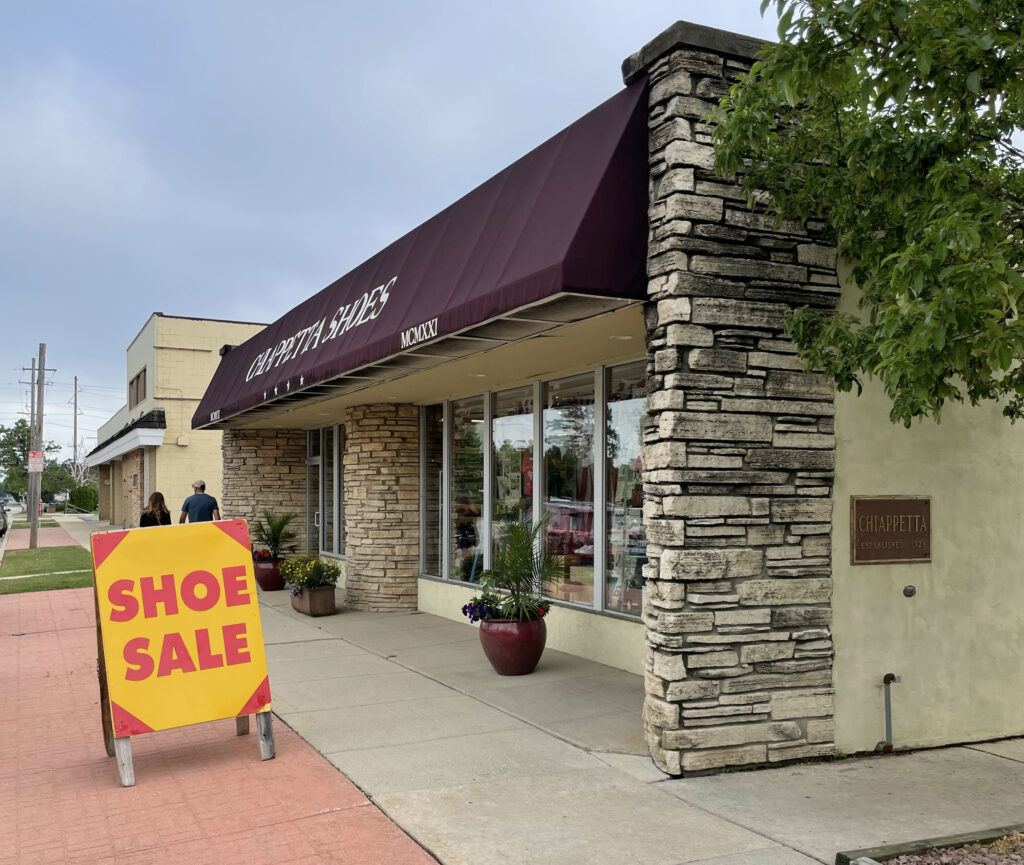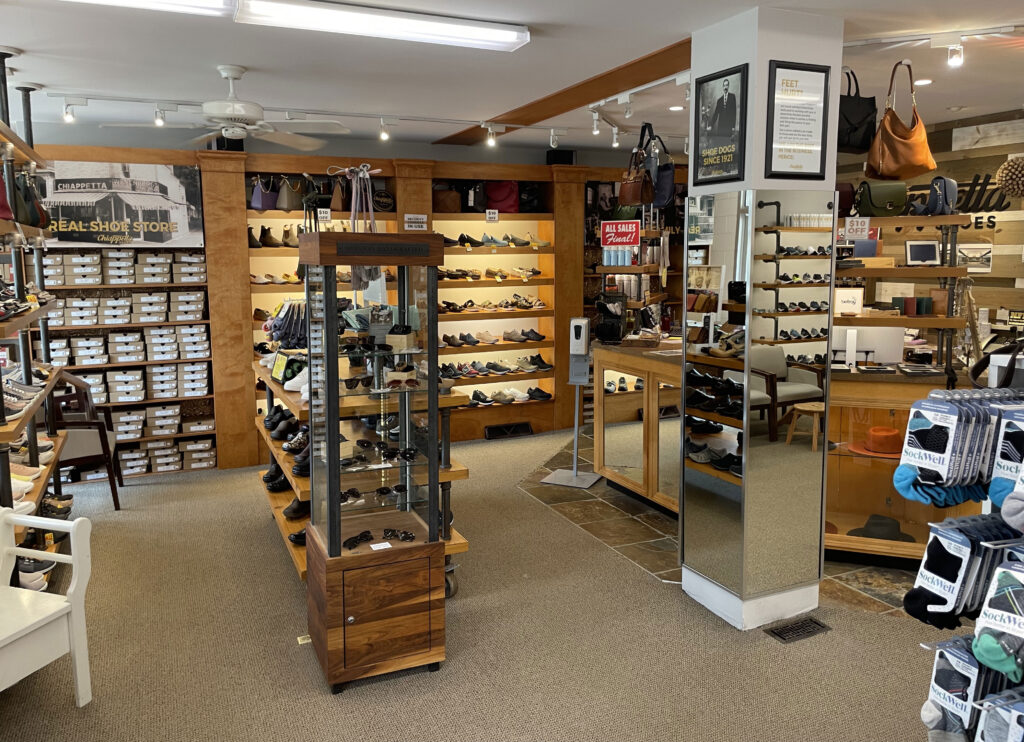 To accommodate the Moving Sale, Tony said the store has extended hours. It'll be open from 9:30 a.m. to 7 p.m. through Friday and from 9:30 a.m. to 5:30 p.m. on Saturday, with the same hours scheduled for next weekend.
And the main store is also open, of course.
"In-store, we also have some really good deals, as well," Tony said.
Customers can park along 39th Avenue or behind the store.
Happy customers
Tony's advice to get to the Moving Sale early made sense Wednesday morning, as the tent swelled with customers already eager to choose from the available inventory.
While many of Chiappetta Shoes' customers are long-time patrons, considering the business has been around for a century, there's always room for more.
Like Mike and Kathy Bradtzke, whose trip to the Moving Sale on Wednesday was their second visit overall to the store.
"I had to have some shoes repaired, so I knew that they had a great person that did that," Kathy said when asked why she and Mike began shopping at Chiappetta Shoes.
"… They have great shoes. They really do have a lot of nice name-brand shoes."
One of those brand names is Haflinger, makers of extremely comfortable slippers. That's a big reason why Susan Downs of Wind Lake drove into Kenosha on Wednesday for the sale.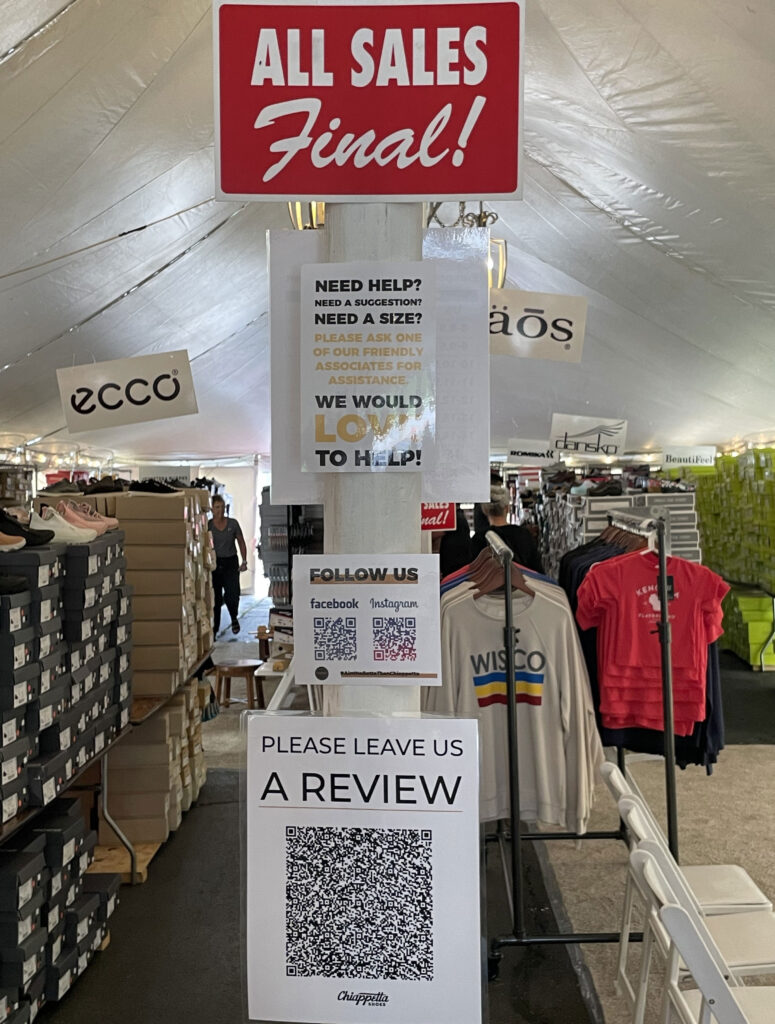 "I always come from there to shop here," Susan said.
"… The Haflinger slippers, because I've got my husband hooked on them now, and I like the variety of shoes. Especially New Balance."
But Susan also emphasized that it's more than just the brand names that keep her coming back to Chiappetta Shoes after she began shopping there five or six years ago.
"Tony and his dad are excellent," Susan said. "Any time we have problems with orthotics, we just come here, and they take care of us."
For the Chiappettas and their staff, that's what it's always been about.
"We're here to help," Tony said.