In serving as the emcee for Holy Rosary Sports Night for the second consecutive year on Sunday, Greg Matzek of 620 WTMJ and 94.5 ESPN radio asked the audience at Holy Rosary's Corinne and Frank Petretti Gymnasium to consider where they were in 1954, which for many, of course, wasn't on this earth at all.
Matzek reminded everyone that 1954 was the year that featured the first-ever color TV broadcast — the Tournament of Roses Parade — the year in which Joe DiMaggio married Marilyn Monroe and the year in which a massive road project began through downtown Milwaukee. That project is now known as I-94.
In other words, 1954 was a long, long time ago. And it was also the year in which Holy Rosary Sports Night debuted.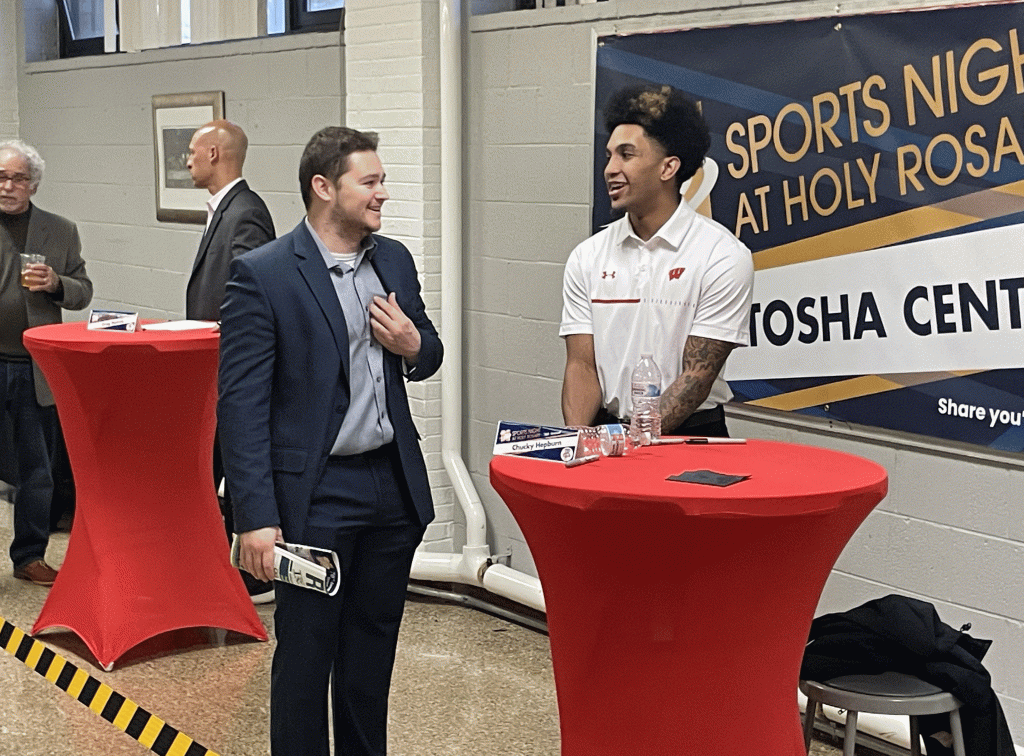 This was the theme Matzek used to kick off the awards ceremony portion of Sunday night's program, which was the main event of the 70th annual Holy Rosary Sports Night. When you're celebrating a seventh decade, that shows some impressive durability and longevity.
Matzek thanked those who have made Sports Night happen, specifically Greg Pawell and Tony Geliche, Sports Night co-chairmen for the last 23 years. Matzek also highlighted how many athletic greats, locally and nationally, have graced Holy Rosary with their presence over that time, counting 120 scholar-athletes that have been honored and 315 Celebrity Guests of Honor that have appeared in the event's history.
"The likes of Hank Aaron, Bart Starr, Alan Ameche, Joe Montana, Gale Sayers — Hall of Famers have made Sports Night and Holy Rosary a part of their day," Matzek said. "That is incredible."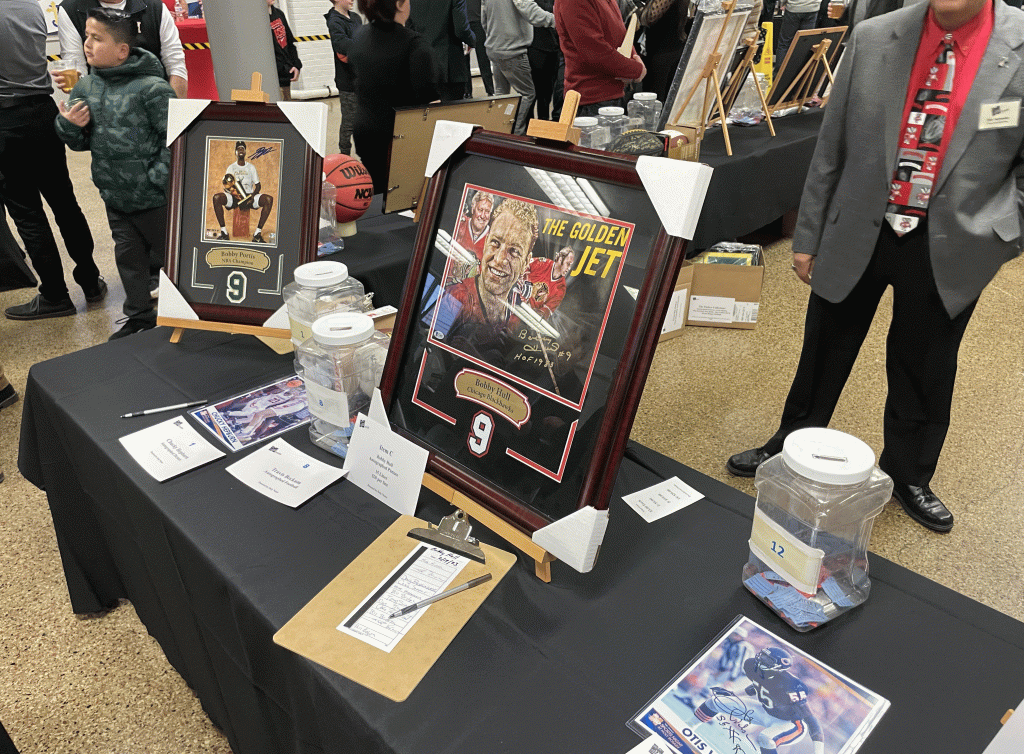 Sunday's Sports Night festivities were as spectacular as always. The night started with a meet-and-greet autograph session with the Outstanding Male and Female Athletes of the Year, Bradford seniors Keany Parks and Nevaeh Thomas, respectively (read more about there HERE), as well as the three Celebrity Guests of Honor — Wisconsin Badgers sophomore point guard Chucky Hepburn, former Oak Creek and Badgers football star Travis Beckum, who won a Super Bowl ring with the 2011 New York Giants, and former Chicago Bears linebacker Otis Wilson, a member of the legendary 1985 Bears defense that spearheaded a Super Bowl XX victory. 
The traditional Italian dinner of chicken and spaghetti, with cannolis for dessert, was then served before the awards ceremony.
In addition to Parks and Thomas, who each gave a speech and received the Alan Ameche Award and the Turco/DeSimone Scholarship — given annually to the Outstanding Male and Female Athletes of the Year — the awards ceremony recognized Kenosha bowling legend Lennie Boresch Jr. and Tremper head baseball coach/athletic director John Matera for their contributions to local athletics. 
The awards ceremony also recognized Kenosha County state champions from the last year. That included St. Joseph sophomore Co'ji Campbell, who won an undefeated Wisconsin Interscholastic Athletic Association Division 3 state wrestling title at 113 pounds as a freshman last season and is back at the State Tournament in Madison this weekend as the top-ranked wrestler in the Division 3 120-pound draw, and the Westosha Central girls golf team, which won its second straight WIAA Division 1 state team title last fall.
Here are some highlights from both the speeches and a fun question-and-answer session conducted by Matzek during Sunday's Sports Night awards ceremony:
Thomas thanked her parents and said they always instilled in her the importance of education, first and foremost: "Although sports are a huge part of my life, education comes first. My parents have made that apparent from the beginning. I remember one day in elementary school, I told my parents I wasn't feeling (well), so I didn't go to school. I figured I'd still be allowed to go to soccer practice later that day, but I was wrong. I knew from that day on, in order to participate in any sport, my education came first."
Parks talked candidly about how he's had two friends and a cousin die as a result of gun violence, including a cousin on July 21, 2021. He said he's motivated to make his cousin proud and said that football and athletics have helped him stay focused on getting into college and staying away from a life of crime: "No matter where you come from, you always have a choice to make a difference in your community and in your life. The choice may not always be easiest, and you might not always make the right choice, but (you can) learn from your mistakes, and subsequently, you can turn those mistakes into life lessons, not life habits. We are all writing our own books, so it's up to you how yours will end."
Hepburn also lost someone close to him – Vincent Burns, who he calls his "godbrother" – to gun violence outside an Omaha, Neb., bar on Jan. 24, 2022. Getting choked up and then composing himself, Hepburn said watching the casket close on his friend was the most painful experience of his life and that he promised Burns he'd always give his best effort in his memory: "He's my 'reason why.'"
Boresch, a Tremper graduate, said his first try at professional bowling, when he was just 19 years old, didn't go the way he planned. But he built up a successful Pro Shop business and kept working hard on his bowling. He broke through later in life, winning two PBA50 titles, including the 2022 U.S. Senior Open, and achieving his greatest professional success after age 50: "When I turned 50, it was like a second chance. I got a chance to chase my dream again. I got to compete at a high level, and it's been surreal. I've been blessed to be able to bowl against some of the legends of the game. … In closing, I just want to say: Chase your dream. Work hard. It just might come true. It did for me."
Matera thanked the many members of the Tremper community he's worked with over the years and said helping kids, not earning accolades, is why he coaches. He also said the slogan "KenoshaStrong" is more than just a motto for T-shirts: "Kenosha is a great place to grow up. I developed a love for my city, Tremper High School, it's amazing staff, students and coaches, the game of baseball, the kids I coach, because of many people who served as difference-makers in my life. … It's the difference-makers that help make Kenosha strong. Kenosha is strong because of its people."
Beckum said he relished the chance to speak on Sunday night because he wants to tell young student-athletes just to keep working hard and giving maximum effort. Don't give up just because people tell you the chances are slim:  "When I was offered this, to come and speak with regards to these amazing, outstanding high school athletes, I had to take this. Because I remember when I was in high school, there (were) less than 1 percent of people playing in the NFL. … People looked me in the face and said that I wasn't going to do it. … Never give up. You've got to play every snap like it's the last."
While starting his speech, Wilson told the audience that he suffered a stroke two years ago, so he sometimes has difficulty speaking still. But he said two years ago, he couldn't speak at all, and now here he was, giving a speech. After he finished, the audience gave him a standing ovation: "Now look how far I've come. Stay in the game, whether it's football, basketball, baseball, and in life. Stay in the game. You've got to get a gameplan, and know what you're doing, and stay hungry. I'm fighting this thing, and I'm staying hungry."
The funniest moment of the 70th annual Sports Night came at the end, during the question-and-answer session. Matzek mentioned how after many NFL games now, the players all get together to take pictures, share hugs and exchange jerseys. But the NFL was different back in the 1980s, and Matzek asked Wilson if the 1980s Bears would ever consider exchanging jerseys with the hated Green Bay Packers back then. Wilson's answer elicited a howl of laughter from the mixed audience of Packers and Bears fans: "I wouldn't take a jersey from them to save my life. I'd burn it!"