Some great student-athletes have walked the halls of Bradford High School over the years.
Keany Parks and Nevaeh Thomas are in that lofty group of the most talented Red Devils ever, and they're both set to receive an honor commensurate with that status.
This past Saturday (Dec. 10), Parks and Thomas were selected as the Holy Rosary Sports Night Male and Female Athlete of the Year, respectively, when the Sports Night Committee met to decide the honors at DeSimone Hall in Holy Rosary Church.
The Holy Rosary Sports Night Athlete of the Year honor is given to one male and one female senior student-athlete, chosen from among the eight Kenosha County high schools with full athletic programs, who demonstrates outstanding achievement in athletics, scholastics and extracurricular/civic activities.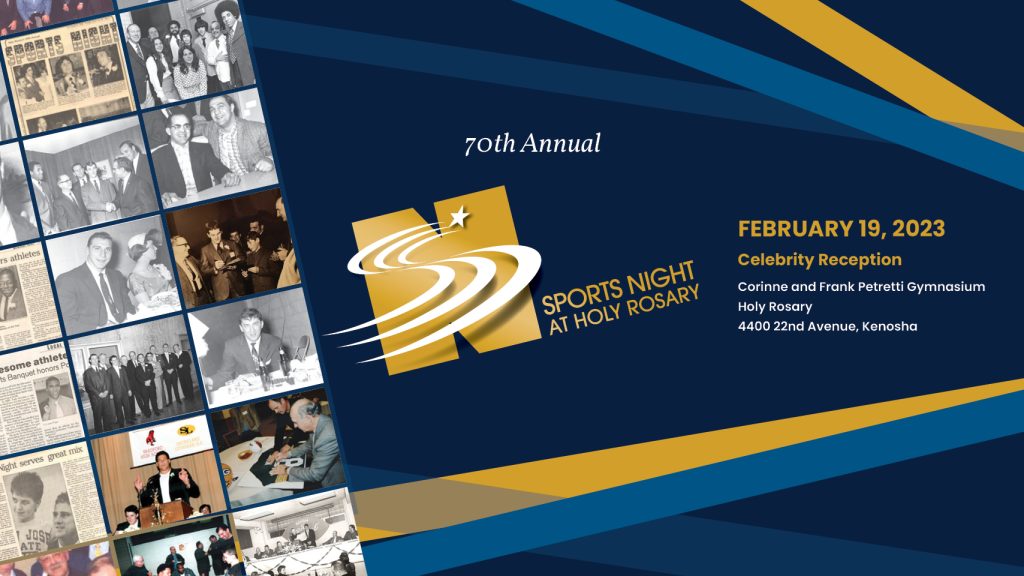 Each of the eight high schools submits one male and one female candidate to the Selection Committee. This year, the Selection Committee consisted of Kenosha.com Associate Editor Mike Johnson, Kenosha television and radio personality Larry Rightler, former Kenosha Unified School District Athletic Director Scott Lindgren, former Kenosha News Managing Editor and longtime sports reporter Mike Larsen, Bradford graduate and 2015 Holy Rosary Sports Night Female Athlete of the Year winner Jackie Baldwin, former Boys and Girls Club of Kenosha Athletic Director Steve Milkie, The Prairie School Athletic Director/head boys basketball coach Jason Atanasoff — who was a student-athlete at St. Joseph Catholic Academy and Carthage College — Kenosha News Sports Editor Mike Ramczyk and Carthage College Athletic Director Nate Stewart.
That committee chose Parks and Thomas among a standout field of student-athletes as this year's winners, and they will be honored during the 70th annual Holy Rosary Sports Night Dinner of Champions in the Corinne and Frank Petretti Gymnasium on Feb. 19. They will also each receive the Alan Ameche Award and the Turco/DeSimone Scholarship, given annually to the Male and Female Athlete of the Year.
For more information on Holy Rosary Sports Night, visit hrsportsnight.com.
Here is a bio on this year's Male and Female Athlete of the Year winners.
KEANY PARKS
Parks has been one of the most electric performers in the county in recent years on both the football field and the track and has also been a solid varsity basketball contributor for Bradford. He received a scholarship to play football and run track next season at the University of Wyoming, which competes in the NCAA Division I Football Bowl Subdivision, the top level of college football in the country.
Parks moved up to the Red Devils' varsity football team for the final two games of his freshman season in 2019 and quickly became one of the best players in the Southeast Conference, earning first-team All-SEC honors at running back as a sophomore and junior and at defensive back as a senior this past fall.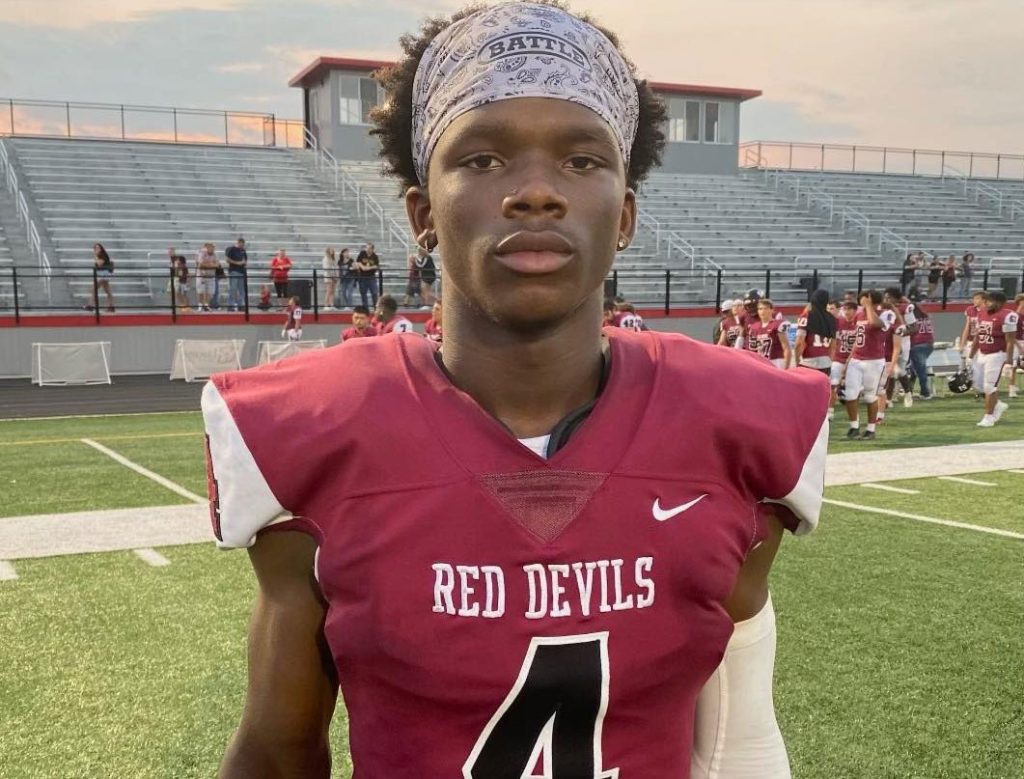 After gaining 986 all-purpose yards and scoring seven touchdowns in just seven games during the COVID-shortened 2020 season as a sophomore, Parks was named second-team All-Region by the Wisconsin Football Coaches Association. He followed that up with a monster junior season in 2021, totaling 1,498 all-purpose yards and 13 touchdowns in being named first-team All-Region and the SEC's Back of the Year.
Parks was named to the Elroy "Crazylegs" Hirsch Award Watch List, awarded to the top senior running back in the state as part of WisSports.net's Senior Player Awards, prior to his senior season in 2022. Unfortunately, Bradford graduated a huge chunk of seniors following the 2021 season, so Parks was heavily keyed on all season by defenses around an inexperienced offensive line and was held to 670 total yards and three touchdowns.
But showing what a versatile athlete he is, Parks also started at defensive back and totaled 43 tackles, including four tackles-for-loss, in earning first-team All-SEC honors on defense.
On the track, meanwhile, Parks has had a standout high school career as a sprinter and jumper, with his senior season yet to come this spring.
In the spring of 2021, Parks became the first Bradford sophomore to qualify for the Wisconsin Interscholastic Athletic Association Division 1 State Meet in four events, placing seventh in the long jump and fourth as part of the Red Devils' 400-meter relay team. He also broke legendary Bradford graduate Melvin Gordon's Kenosha County record in the long jump for the first time, posting a mark of 23 feet.
As a junior last spring, Parks posted a mark of 24 feet in the long jump, a school record that was the top mark in Wisconsin and the No. 22 overall mark in the entire country for the 2022 high school outdoor season. He was also part of Bradford's 400 relay team that broke the County Meet record with a time of 42.4 seconds and notched a second straight fourth-place finish at the State Meet.
Though a foot fault led Parks to a disappointing 12th-place finish in the long jump at the State Meet last spring, he'll be on the short list of contenders to take home a state title in the event this season as he wraps up his well-decorated high school track career.
And, not to be forgotten, Parks is currently in his second season as a varsity starter on Bradford's basketball team and contributes valuable minutes as a top defender for the Red Devils.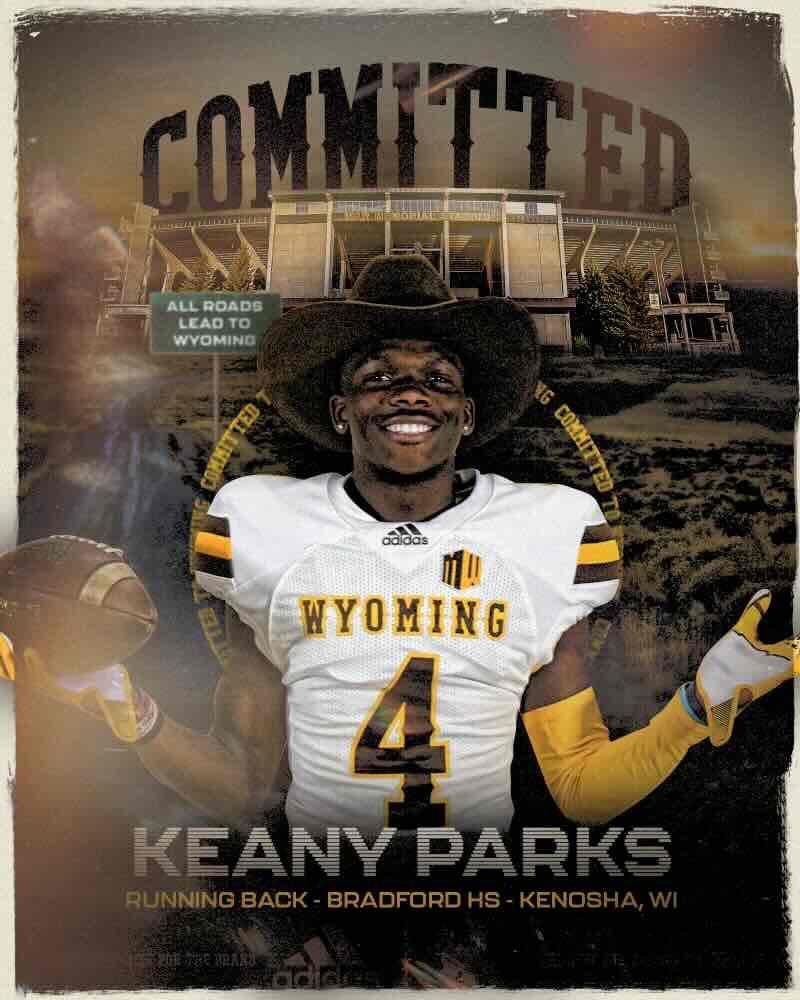 Outside of Bradford, meanwhile, Parks was named the MVP of the prestigious Under Armour All-American Camp in Obetz, Ohio, in the spring of 2022, for which he earned an invite to the Under Armour All-American Game and the Ray Lewis Camp and was named the Kenosha.com Kenoshan of the Week. To read that full story, CLICK HERE.
Additionally, Parks has completed over 100 hours of community service, was selected as Bradford's Homecoming King in 2022, is on the Youth Executive Committee for KUSD's African American Youth Initiative, is President of KUSD's African American Male Initiative, is a DECA team member and business competitor and has been a Student "Link Leader" from his sophomore through senior years at Bradford.
But it is scholastically where Parks has perhaps done his most impressive work, because that hasn't always come as naturally to him as athletics. He admits that he struggled in the classroom his first two years at Bradford, but he used the academic resources necessary, including after-school tutoring, to improve his grades and get onto a solid academic path.
Parks has challenged himself as much in class as on the field. He's completed four Honors classes and is enrolled in an Advanced Placement course, which has helped push his weighted grade-point average up to 3.7 and put him on track to compete in college athletics.
The oldest of four siblings on his mother's side and in the middle of 11 siblings on his father's side, Parks plans to major in criminology and/or architectural psychology at Wyoming and lists his career goals as to become either an FBI agent or a Secret Service agent for the President of the United States.
"Life is full of obstacles, and people are defined by how they handle them," writes Bradford head football coach Gaz Osmani, also part of KUSD's educational support personnel, in a letter of recommendation for Parks for the Male Athlete of the Year award.
"Keany has had his fair share of obstacles that would have demoralized many of his peers, from injuries on the field to life-altering events in his personal life. Keany is by far one of the best student-athletes I have ever had the pleasure of knowing."
Writes Mona Sykora, Director of Education at Sylvan Learning: "Keany has grown as a student and now will take challenging courses, even when it was uncomfortable. He understands the need to push himself to new limits on and off the field, always preparing for his next challenge.
"There is no doubt he will be successful in college and life. He has been preparing for these moments for many years. He has the strategies, heart, knowledge and passion for succeeding in whatever he chooses to take on."
Nevaeh Thomas
If you were to make a list of the best girls basketball players in county history, there's no doubt Thomas would be near the top.
She's been a major force on the court at Bradford since her freshman season in 2019-20, racking up three consecutive first-team All-SEC honors, which will certainly be a fourth once Thomas completes her senior campaign later on this season.
Thomas is coming off a dominant junior campaign in 2021-22 in which she averaged 20.2 points, 12.2 rebounds and 3.8 steals per game and racked up 90 blocks and 75 steals. She was named the SEC's Player of the Year, as well as Associated Press All-State high honorable mention and Wisconsin Basketball Coaches Association Division 1 All-State honorable mention.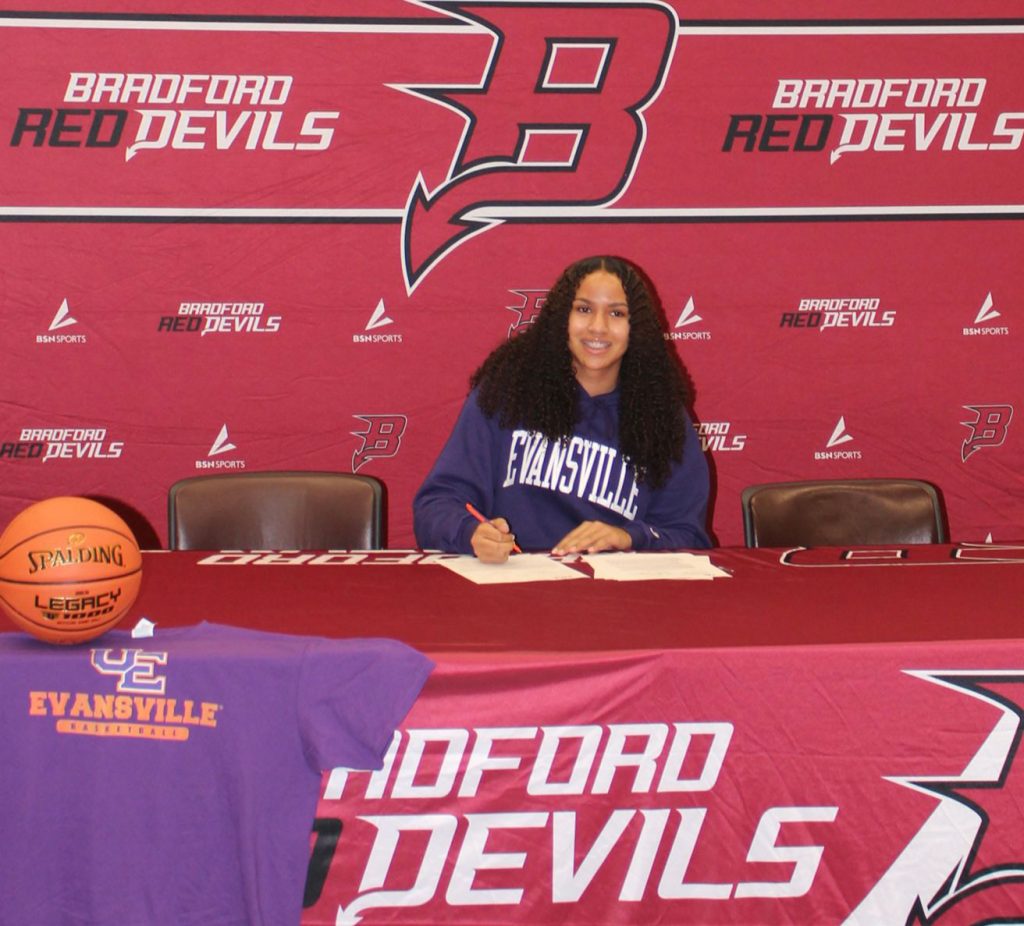 Going into this Thursday's home game against Racine Horlick, Thomas was averaging 23.4 points per game this season and had totaled 1,256 career points, placing her just 26 shy of surpassing the legendary Jamie Gray as Bradford's all-time leading scorer in girls basketball.
Coincidentally, Thomas will also be following Gray's path to the NCAA Division I University of Evansville (Ind.), a member of the Missouri Valley Conference where Thomas has committed to play women's basketball and where Gray was once a standout, too.
After committing to play at Evansville just prior to the start of her senior season at Bradford, Thomas was named the Kenosha.com High School Athlete of the Week. CLICK HERE to read that story.
Additionally, Thomas played AAU basketball for Midwest Elite of the highly-regarded Nike Elite Youth Basketball League.
But while she's narrowed her focus to basketball at this point, Thomas was also a solid player for the Bradford girls volleyball team when she played that sport her first three years with the Red Devils, earning honorable mention All-SEC as a sophomore and junior.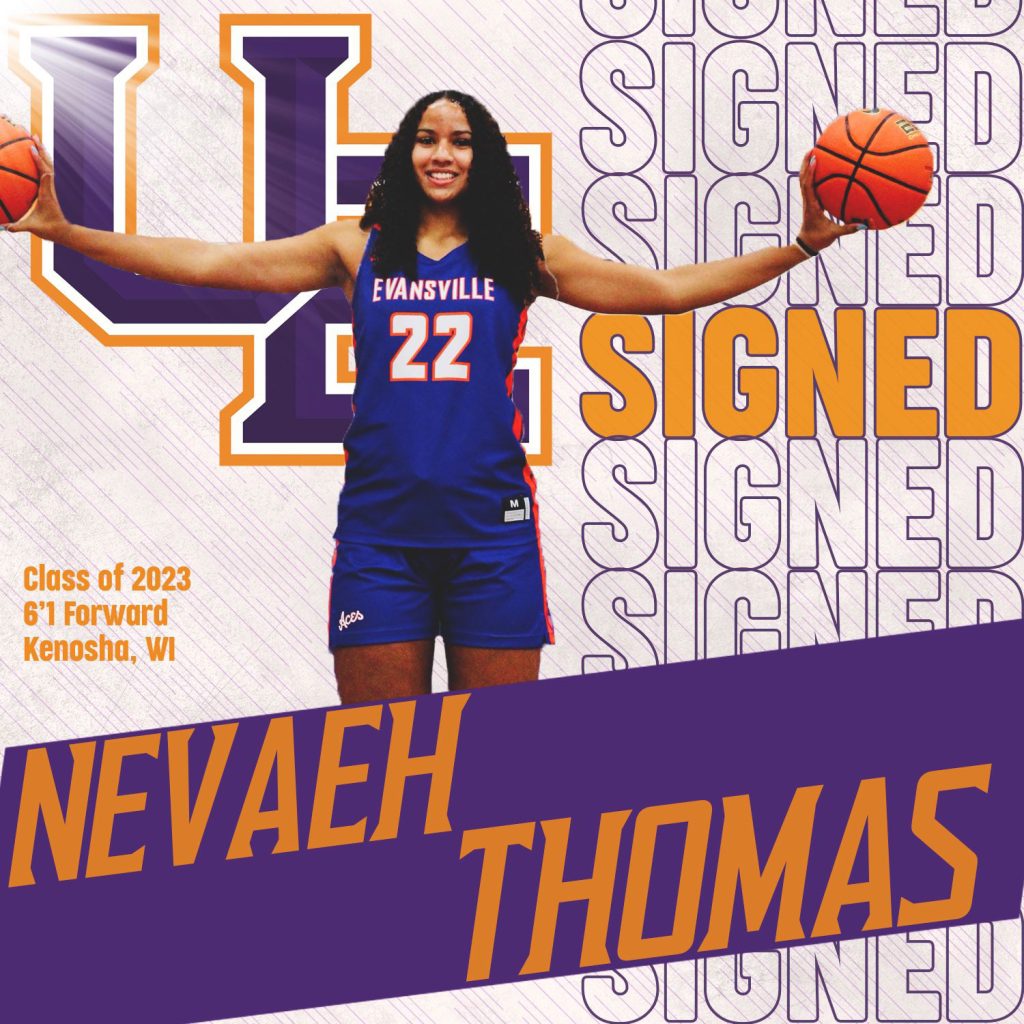 Thomas also has a stellar resume off the court, as she's completed over 100 hours of community service, was on Bradford's Homecoming Court in 2022, is bilingual in English and Spanish, is a member of DECA and the Bradford yearbook staff, is part of the African American Youth Initiative and was on the Junior Prom Committee.
In the classroom, Thomas has completed two Advanced Placement courses, scoring a 5 on the Spanish AP Exam, and is expected to graduate Magna Cum Laude. She carries an unweighted GPA of 3.8 and a weighted GPA of 5.025.
The youngest of three sisters, Thomas plans to major in physical therapy or communications and minor in Spanish at Evansville.
"I have had the opportunity for the last four years to see Nevaeh work hard and dedicate herself to her school work," writes Bradford head girls basketball coach and family and consumer sciences teacher Nicole Ferrille in a recommendation letter for Thomas for the Female Athlete of the Year award.
"She is a hard-working individual whose work ethic would be wanted by any coach or any teacher. She is a true leader in the classroom."
Other nominees
The other nominees for this year's Male Athlete of the Year award were Ben Wajerski of Tremper, Jackson Wilhelmson of Indian Trail, Mason McNeill of Westosha Central, Anthony Corona of Wilmot, Mason Gill of Shoreland Lutheran, Luke Schuler of St. Joseph and Jack Helzer of Christian Life.
The other nominees for this year's Female Athlete of the Year award were Madison Kasianowicz of Tremper, Vivian Jones of Indian Trail, Reese Rynberg of Westosha Central, Keghan Pye of Wilmot, Emma Schattschneider of Shoreland Lutheran, Katelyn Vitkus of St. Joseph and Claire Jackson of Christian Life.
The other nominees will also be recognized during the Holy Rosary Sports Night Dinner of Champions on Feb. 19.