Nevaeh Thomas says her favorite basketball player is Giannis Antetokounmpo.
Judging by how versatile and dynamic both players are — in basketball parlance, they call that a "unicorn" — you'd have to bet that Nevaeh Thomas would also be one of Giannis' favorite basketball players.
Thomas, a senior at Bradford High School, has fashioned one of the greatest girls high school basketball careers in Kenosha County history. And she still has a full season to go.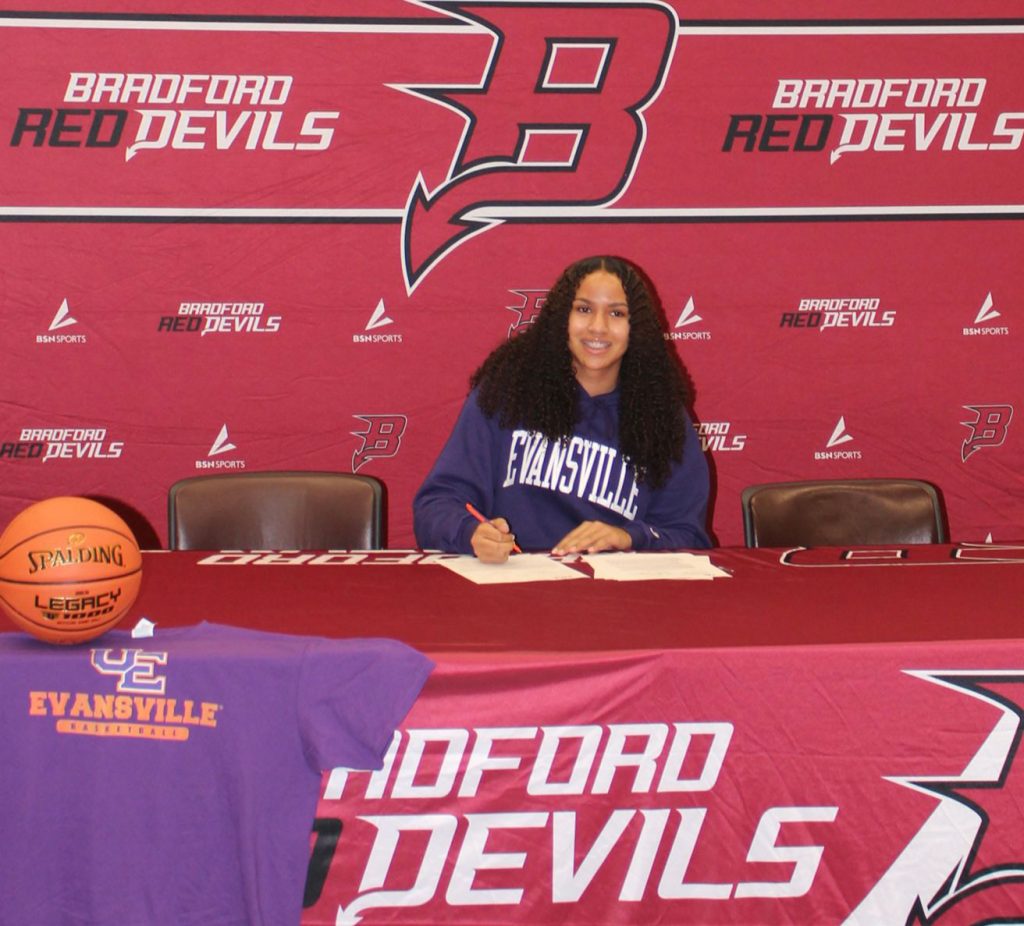 Since bursting onto the scene as a freshman in the 2019-20 season, Thomas accumulated 1,092 points and 674 rebounds over three seasons and will likely set Bradford's all-time girls scoring record sometime this season. And those lofty numbers really encompass only about two-and-a-half seasons, since Thomas played in just 10 games and the Red Devils played just 13 total in 2020-21 due to the COVID-19 pandemic.
Thomas has been named first-team All-Southeast Conference three times in three seasons and last season was named the SEC Player of the Year, along with Associated Press All-State high honorable mention and Wisconsin Basketball Coaches Association Division-1 All-State honorable mention.
Furthermore, as Bradford prepared to open a highly-anticipated 2022-23 campaign on Thursday night (Nov. 17) with a non-conference game at Delavan-Darien, Thomas had already lifted a big weight off her shoulders by making a huge decision for her future. Earlier this month, on the first day of the national signing period for women's basketball, Thomas officially committed to play in college for the University of Evansville (Ind.), an NCAA Division I program in the Missouri Valley Conference.
For her standout Bradford career thus far and her recent commitment to Evansville, and also to honor the start of girls basketball season in the county, Thomas has been named this week's Kenosha.com High School Athlete of the Week.
Versatile player
For Bradford head girls basketball coach Nicole Ferrille, coaching Thomas has been a once-in-a-career experience. Ferrille is in her 10th season leading the Red Devils, so she's had the pleasure of coaching Thomas the whole way.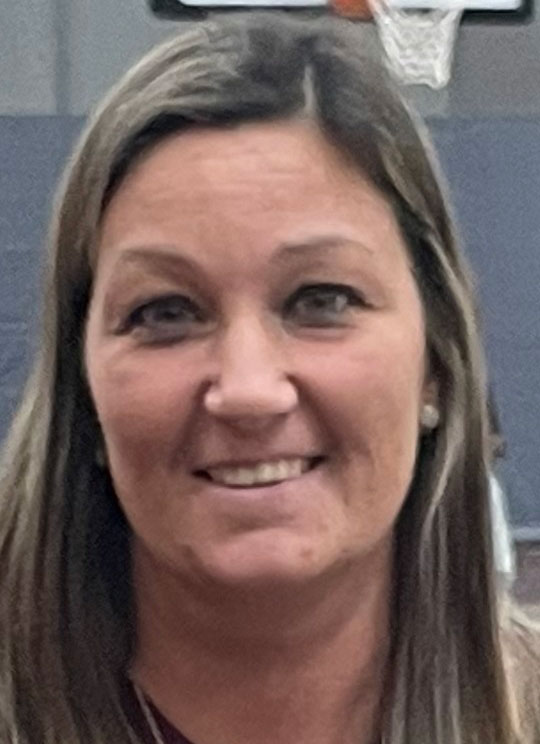 It's Thomas' versatility that stands out.
"She definitely is one-of-a-kind," Ferrille said Wednesday evening during practice at the Bradford Fieldhouse. "Sometimes you get those really good guards, or you get a really good post, and she's just completely well-rounded. She can really do anything and everything for us. She's definitely that one-of-a-kind athlete that you dream to have."
Listed on this season's roster at an even 6-foot, Thomas has always been a natural candidate to play in the post. She obviously can dominate there, but she's worked hard over the years to improve her perimeter shooting and ball-handling.
"A lot of times with my height, I got stuck down in the post, but then I kind of found myself handling the ball," Thomas said Wednesday. "I'm one of the better ball-handlers, so I have to do that. I feel like wherever they need me, I just go."
Last season in a game at city rival Tremper, Thomas displayed just how versatile she can be. She recorded a triple-double, a rare feat at the high school level, by totaling 22 points, 16 rebounds and 10 blocks.
The 10 blocks, especially, is something Giannis would be proud of.
"It just happened," Thomas said of that triple-double. "I came into the locker room. My coach was like, 'Guess what happened?' I was like, 'Oh.' I just focus on the game, just playing my game."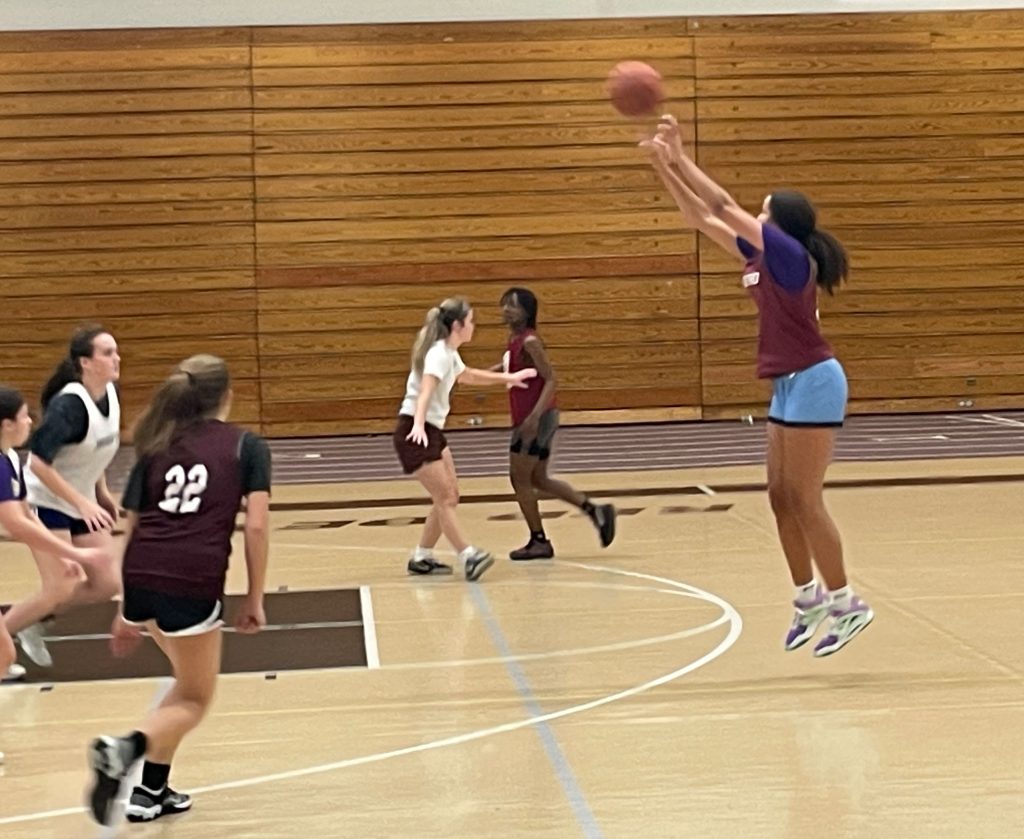 Last season, Thomas finished second in the SEC in scoring (20.2 points per game), second in rebounding (12.2 per game), second in assists (3.8 per game), second in steals (75) and first in blocks (90). She finished the season with a whopping 21 double-doubles.
"She really is just a natural-born leader," Ferrille said. "She's a true leader, on the court, off the court. She makes girls around her better with her presence and her leadership.
"It's not just one-dimensional with her. She is able to do kind of everything that we ask her to do at every position. That's something special."
Following a legend
In any historical discussion of Bradford girls basketball — and girls basketball in the county, in general — the two names that top the list are Jamie Gray, the school's all-time leading scorer who herself had a standout college career at Evansville, and Katie Young, who also had a successful NCAA Division I career at Marquette University.
Thomas, of course, is already on that list, and she's on the verge of passing Gray as the Red Devils' all-time leading girls scorer.
Gray scored 1,441 points in high school, but she spent her first season at St. Joseph Catholic Academy before moving over to Bradford. In three seasons with the Red Devils, Gray scored 1,281 points.
So Thomas is 190 points away from breaking Gray's all-time Bradford girls scoring record and 350 away from surpassing Gray overall in career high school scoring.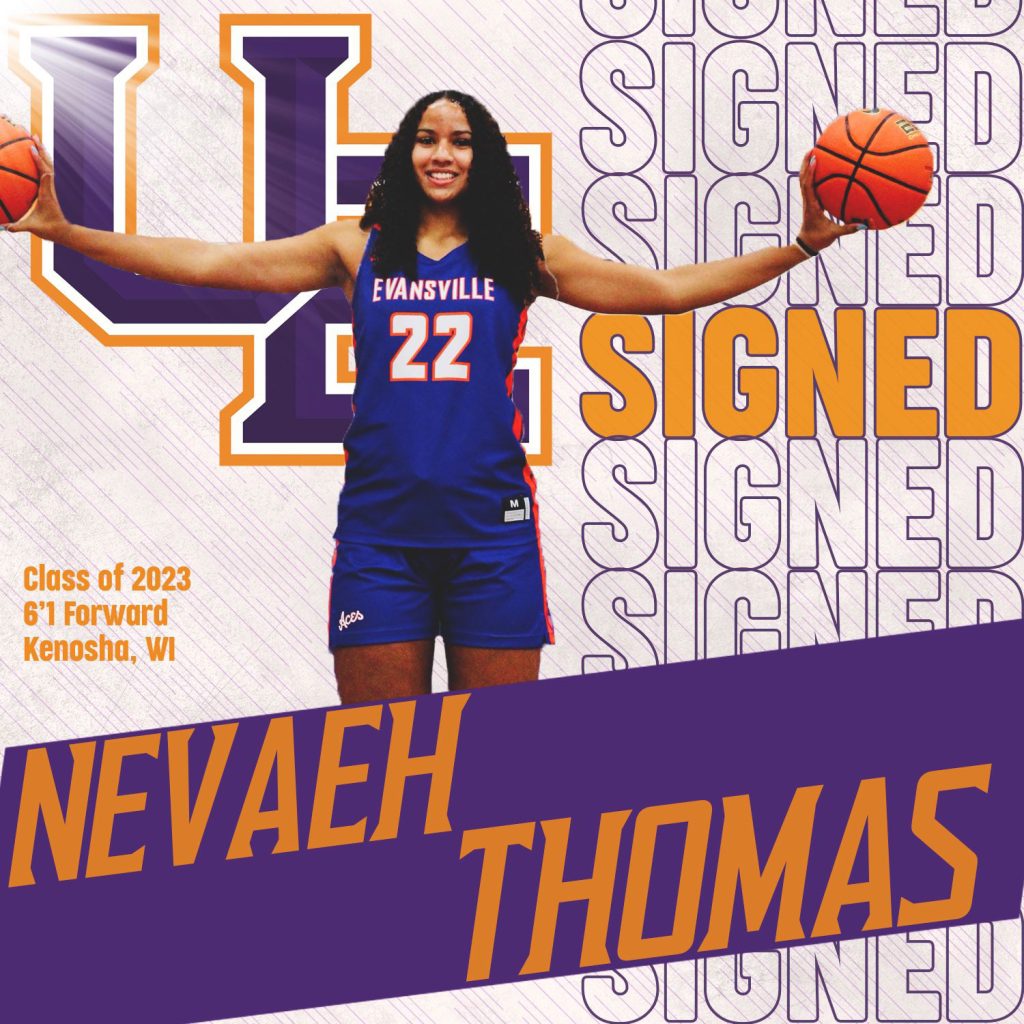 "That's her goal," Ferrille said. "That's something that we're looking for a big achievement for her to have. She's excited about that."
Thomas said she's a "family friend" of the Grays. She said she played soccer growing up with Gray's niece and that her mom grew up with Gray's sister. With a laugh, Thomas says it's Gray's dad that gives her a good-natured ribbing about breaking Jamie's Bradford scoring record.
"Her dad loves her records," Thomas said with a smile. "He's the first person to get to me."
Next season, meanwhile, the Evansville women's basketball program can say it had the top two girls scorers in Bradford history when Thomas follows Gray to the school.
Gray played with the Purple Aces from 2000-04, earning first-team All-MVC honors in her junior and senior seasons. She's currently seventh on the program's all-time women's scoring list with 1,335 points.
For Thomas, who played AAU basketball at a high level the last three years out of Libertyville, Ill., with Midwest Elite of the Nike Elite Youth Basketball League, Evansville and head women's basketball coach Robyn Scherr-Wells were the perfect fit. Making her college decision was also a big thing for Thomas to clear from her priority list before beginning her senior season at Bradford.
"My number-one goal was to decide right before the high school season," said Thomas, who would like to pursue physical therapy in college. "I wanted that off my plate before I had to get into (the) season. That was just the biggest thing for me.
"I just love Robyn. She brought me down, she had me down, we had almost every meal together. She really accepted me, and all the players were super nice, accepting. I spent the night with one of them, so that was really fun. And I just really loved the environment. The practice facility is amazing. So I'm just really excited to get down there. I've been watching the games, and I'm ready to go."
Said Scherr-Wells in a signing-day press release on the Evansville Athletics website: "Nevaeh brings great versatility and athleticism to the forward spot for us. She is quick and long and versatile on the offensive end. She will fit very well into our press defense. But perhaps what I am most excited about is her ability to rebound the basketball."

Thomas' high school coach, meanwhile, is thrilled to see all of her player's hard work pay off with a college scholarship.
"I'm really excited for her," Ferrille said. "She has worked hard in the last four years. She has put in so much work in the offseason, so for her to get the scholarship and go, it's something that she's been working at. So I'm really proud of her.
"… It kind of takes a little bit (of pressure off). Now it's her senior year, she has a couple goals, we have a couple team goals, and she can kind of take that added stress off of, 'Where am I going to college or what am I doing after (high school)?'"
High expectations
With her college decision made, Thomas can fully focus on a season of high expectations for the Bradford girls basketball team.
The Red Devils return everyone from last season's team, which went 18-8 and reached the Wisconsin Interscholastic Athletic Association Division 1 regional finals.
Including Thomas, Bradford has three seniors in their fourth year of varsity basketball on its roster this season. Forward Syderah Farmer was also a first-team All-SEC selection last season, while guard Haley Christianson – who's committed to play NCAA Division I women's soccer at Marquette – was a second-team All-SEC pick. Ferrille said Christianson is out with an injury to start the season but should be back around Christmas-time.
Additionally, the Red Devils have an experienced junior in three-year varsity player Sydnee Quinn at center and three sophomores, forward Angela Parker and guards Iyanna Green and Telisha Brown, who played major minutes as freshmen last season. Green and Brown, in fact, were both named All-SEC honorable mention in their first high school seasons.
Heading into this season, Bradford was ranked No. 13 in Division 1 in the WisSports.net preseason girls basketball poll.
"It's exciting," Ferrille said of her experienced and talented roster. "We're all really excited. We have some big goals, some things that as a team we've never done, Bradford in general has never done, so we're really excited to see if we can do some of those things."
"… I feel like this week (the start of the season) has been a little bit more relaxed, because it's like we're doing the same thing. They already know the defense, they already know the offense. We had everybody come back. We're not re-teaching a bunch of different things. I think that's nice."
Thomas will surely be the team's focal point, as she plans to add plenty more to her record-setting career at Bradford before heading off to Evansville.
"It's just so exciting," Thomas said. "Last year, we had the young team and we had the little, young mistakes. But now we have every single person back, and so now everybody has at least one year of varsity under their belt.
"Really, we should be very good. I'm excited."
"5 Questions With" Nevaeh Thomas
Favorite food? "My go-to, before and after practices, (is) some cereal. Cereal, every single day. Frosted Flakes."
Favorite movie? "Probably 'The Princess and the Frog.' It's a childhood favorite of mine."
Favorite musical artist? "Summer Walker. R&B."
Favorite athlete? "Favorite athlete's got to be Giannis."
Where do you see yourself in 5-10 years? "I'm kind of open to anything. Maybe taking it (basketball) a little bit overseas, a couple years there, otherwise starting a career. I really just want to get out and work and get a good job. … I'm looking into physical therapy, that's my biggest thing right now."