Karen Timberlake, the Wisconsin Department of Health Services Secretary-designee, called it the "silver lining in the COVID cloud."
On Tuesday afternoon, Timberlake and others appeared at Kenosha's newest community health facility to spread the news of that silver lining.
Appearing at Pillar Health, a division of the Kenosha Community Health Center located in the former Herzing University building at 4006 Washington Road, Timberlake announced that Gov. Tony Evers and the DHS have awarded $2.5 million in American Rescue Plan Act (ARPA) funding to five organizations for child telepsychiatry services.
The one-year grants of $500,000 each, according to a DHS news release, will support projects focused on recruiting and retaining psychiatrists and other behavioral health professionals and deploying technology to connect more providers with patients through virtual visits.
KCHC was chosen as one of the five organizations to receive a $500,000 grant.
"We've made critical investments in mental and behavioral health over the last year, because we know that kids across Wisconsin need these additional mental health supports perhaps now more than ever," Evers said in the release. "These grants are an important part of our work, as telehealth helps reach kids with the specialized care they need when and where they need it so they can live their best, healthiest lives."
The decision to make Tuesday's announcement at Pillar Health also dovetailed nicely with KCHC's efforts to open the new location, which seeks to create a community-based healthcare approach that streamlines and improves the healthcare process by providing a place where patients can seek medical, dental and behavioral healthcare all in one location.
(Read more about Pillar Health on Kenosha.com at THIS LINK and THIS LINK.)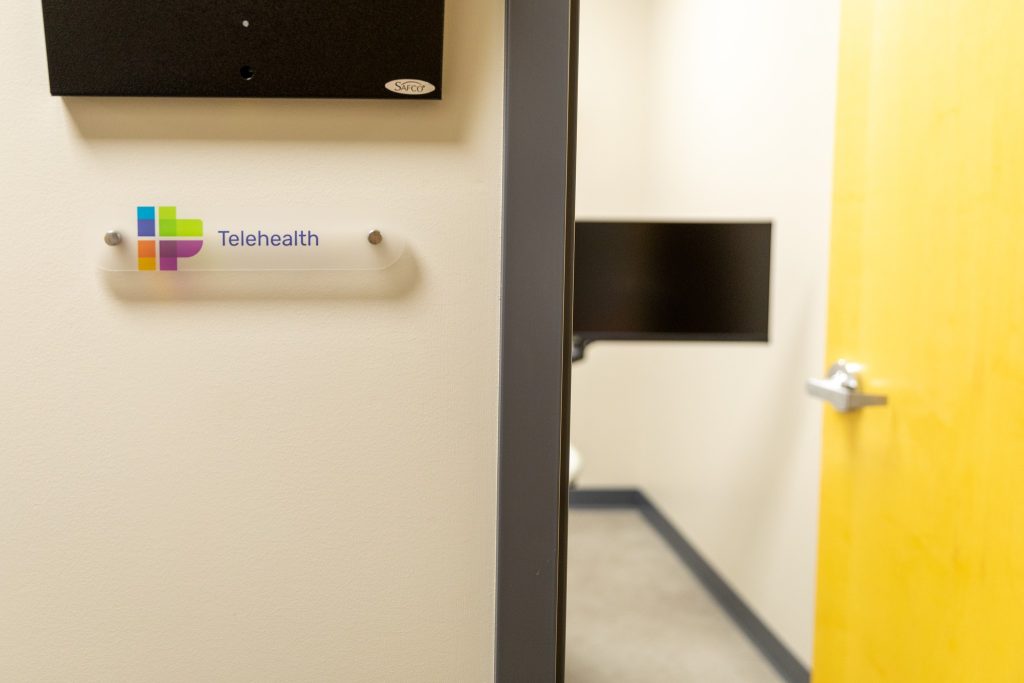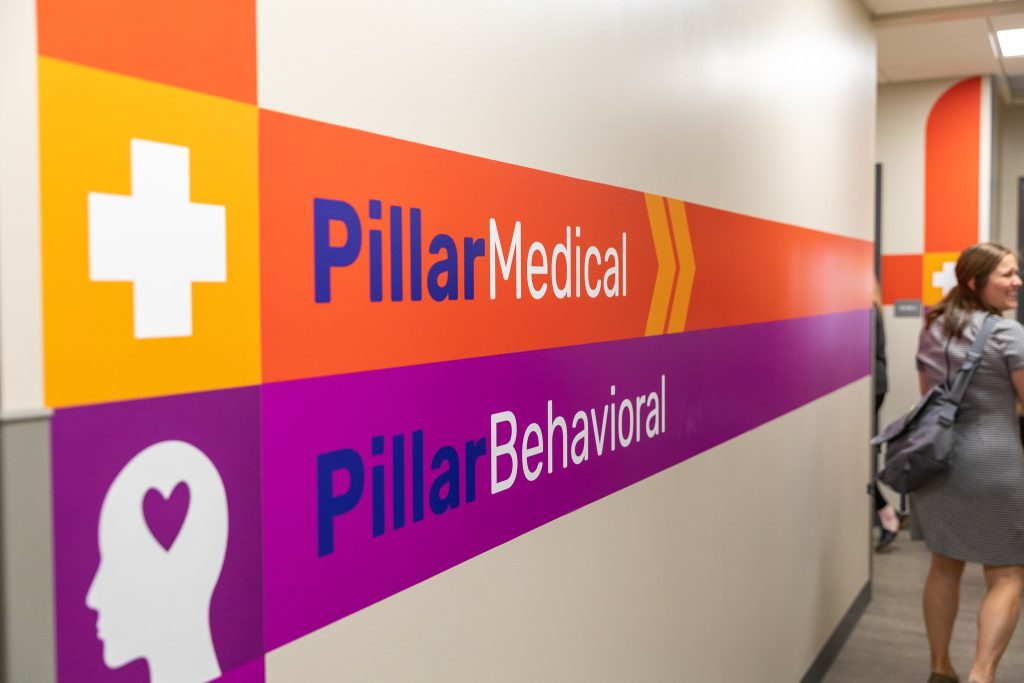 Pillar Health CEO Mary Ouimet confirmed Tuesday that the new facility will be open for business on Monday, Nov. 14, and Tuesday's announcement by the DHS was a great way to promote Pillar Health's upcoming opening.
"It is our privilege to host this very important announcement event and an opportunity to show off our new site to those of you who may not have seen it, offering a new choice and additional access to much-needed preventative healthcare services in our area," Ouimet said.
Challenge provides opportunity
During Tuesday's announcement, Timberlake said that while the COVID-19 pandemic has had so many adverse impacts on every demographic in every community, it also provided some new opportunities.
One of the healthcare benefits that has arisen from the pandemic is the value of telehealth services.
"We know that we all have been living with COVID and the effects of COVID and the disruptions that COVID has created in everyone's personal lives and their professional lives, in clinical care and behavioral healthcare, for a very, very long time," Timberlake said. "Part of the innovation, though, that has come from living with COVID for as long as we have is the awareness of how much it was possible to do with telehealth, including really expanding behavioral health services using telehealth."
Arguably the demographic that's been affected most seriously by the pandemic, specifically from a behavioral and mental health standpoint, is kids and young adults. That's why, Timberlake stressed Tuesday, it's so important to put so many resources into behavioral healthcare systems.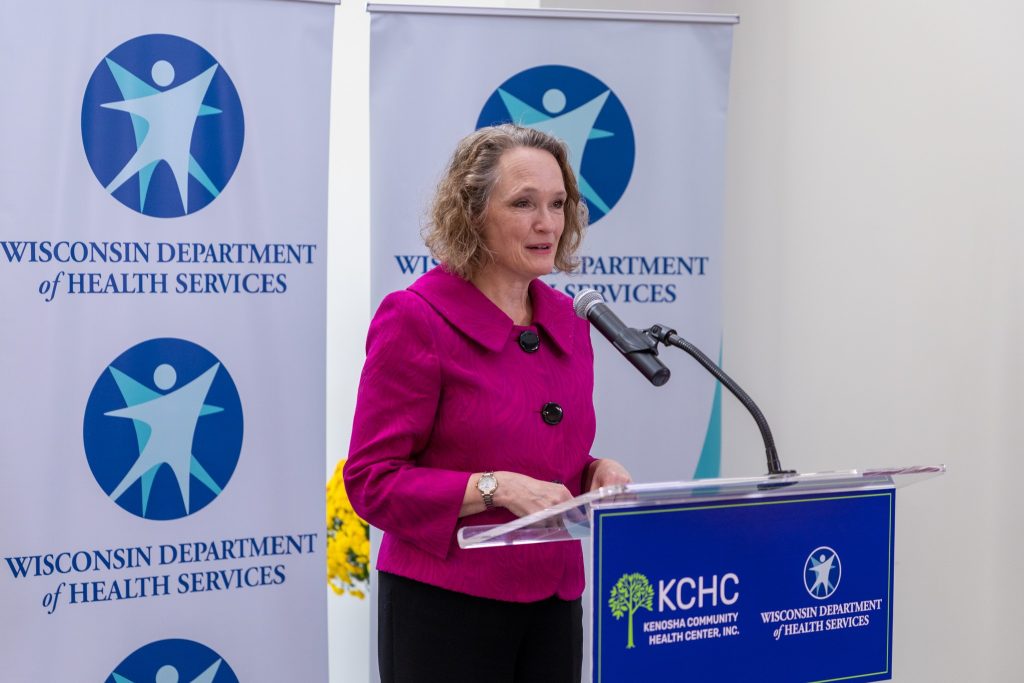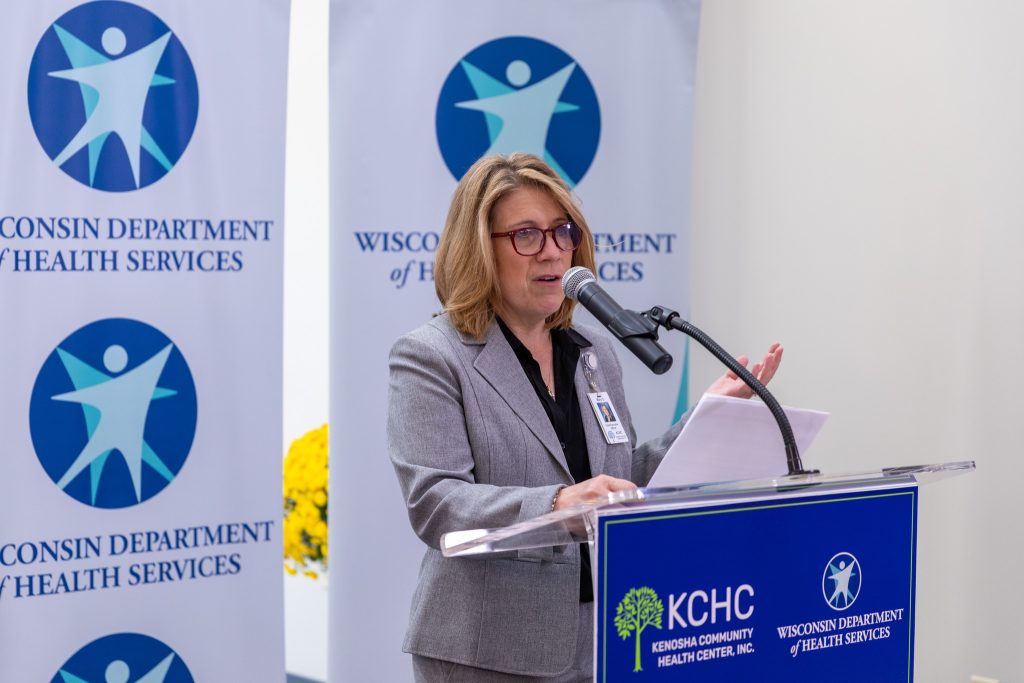 Over the past 12 months, Evers has invested $113.2 million in ARPA funding in Wisconsin to strengthen the state's behavioral health system by increasing access to mental health and substance abuse services, enhancing programs for children in need and bolstering the behavioral health workforce.
"We certainly know that our kids and our young adults have been affected more than many by COVID and by the disruptions that COVID has created," Timberlake said Tuesday. "And so, from the governor's standpoint and from our standpoint, it was particularly important to be able to invest in services that are going to expand access to psychiatry and psychiatry support (services) and also help the psychiatry workforce, as well."
By earmarking some of that support for KCHC and Pillar Health, the DHS is making a huge investment in the mental health of Kenosha's youth and young adults.
Kenosha County Executive Samantha Kerkman was in attendance for Tuesday's announcement, which means a lot for Kenosha.
"We are honored to be part of the state's plan and effort to address youth mental health in a responsive, flexible way that telehealth services allow, and we're committed to building a system of care that minimizes barriers for community members," KCHC Clinical Psychologist Dr. Clare Lewandowski said. "Thank you to DHS for this phenomenal opportunity, and it will directly have a positive impact on families and youth in our community."
In addition to KCHC, the DHS earmarked $500,000 each in grant money to Children's Wisconsin; Professional Services Group, a prevention, intervention and treatment program for at-risk youth that's also headquartered in Kenosha, at 6233 39th Ave., and serves multiple counties in Wisconsin; NorthLakes Community Clinic, which has 14 locations in northern Wisconsin; and Essentia Health-St. Mary's in Superior.
Essentially, these grants cover the entire state geographically, from Kenosha in the southeastern corner to Superior in the northwestern corner, making them a fantastic investment in the youth of Wisconsin as everyone tries to bounce back from the pandemic.
"We're increasingly reducing the stigma and reducing the barriers to even talking about behavioral health services," Timberlake said. "And we also have an increase in demand for care, we believe, because people are just that much more comfortable saying, 'Hey, it is OK not to be OK. I don't feel good. My kids don't feel good. They're sad, they're hopeless.'
"We need to be finding somebody that we can talk to, because it's beyond what we as parents or we as teachers or we as loved ones for these kids, beyond what we feel qualified to do."