Kendra Scott is a living example of how anyone can combine passion, talent, intelligence, support from others, hard work and the right timing to build a successful business.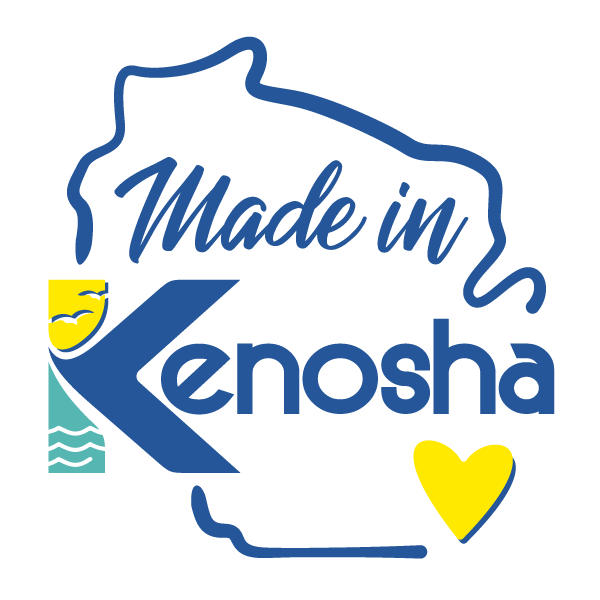 In Scott's case, it's more like an empire, and it all started right here in Kenosha, where she was born in 1974.
Anyone who knows about fashion and jewelry, or maybe just anyone who's gone out to buy jewelry for a significant other, knows the Kendra Scott brand. Starting in 2002, based out of Austin, Texas, Scott has turned a small business enterprise of designing her own jewelry into one of the hottest current names in fashion.
Scott's business has now grown to over 120 standalone stores with more than 3,000 employees. She's also launched the wildly popular Color Bar customization option for her products, which has helped rocket her business to a valuation of more than $1 billion. Additionally, Scott and her company have been heavily involved in philanthropic efforts for women's and children's causes, led by her Kendra Cares Program.
Scott just published a memoir, "Born To Shine," which includes stories of her life growing up in Kenosha. She moved to Texas at age 16, but she has plenty of fond memories from the town where her life began.
On Sunday, Sept. 25, Scott returned to her birthplace for an appearance at Kenosha's Upper East, 622 58th St., as part of her book tour. The appearance was presented by downtown Kenosha bookstore Blue House Books, 5915 6th Ave. A.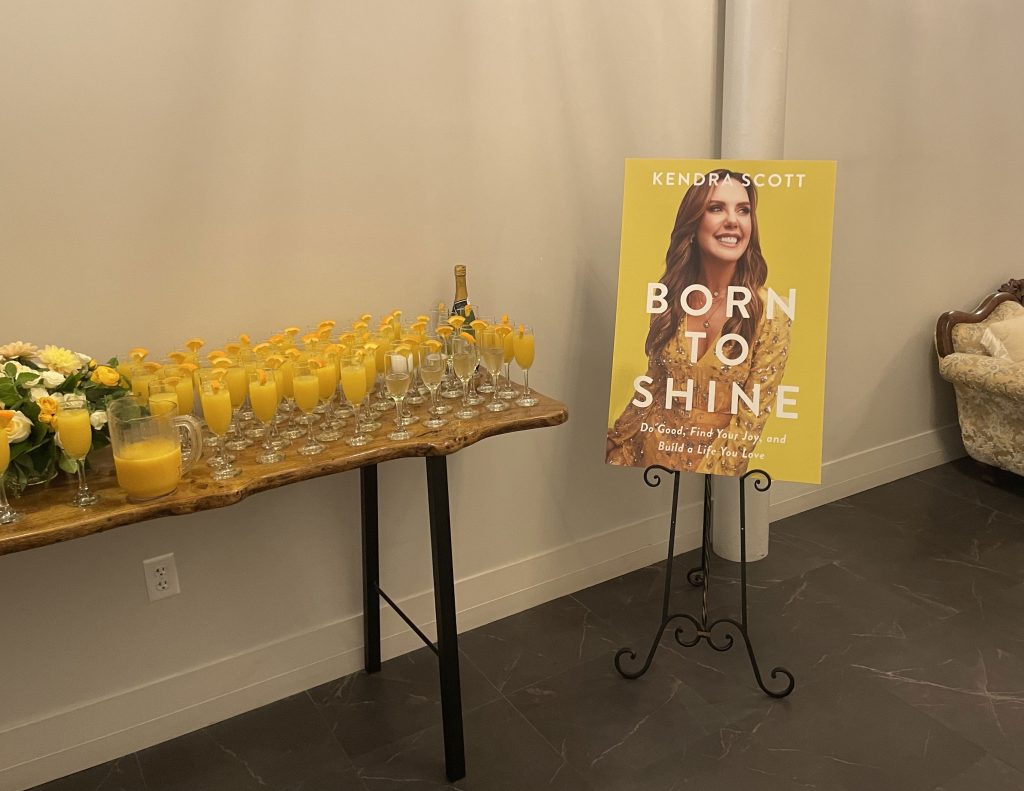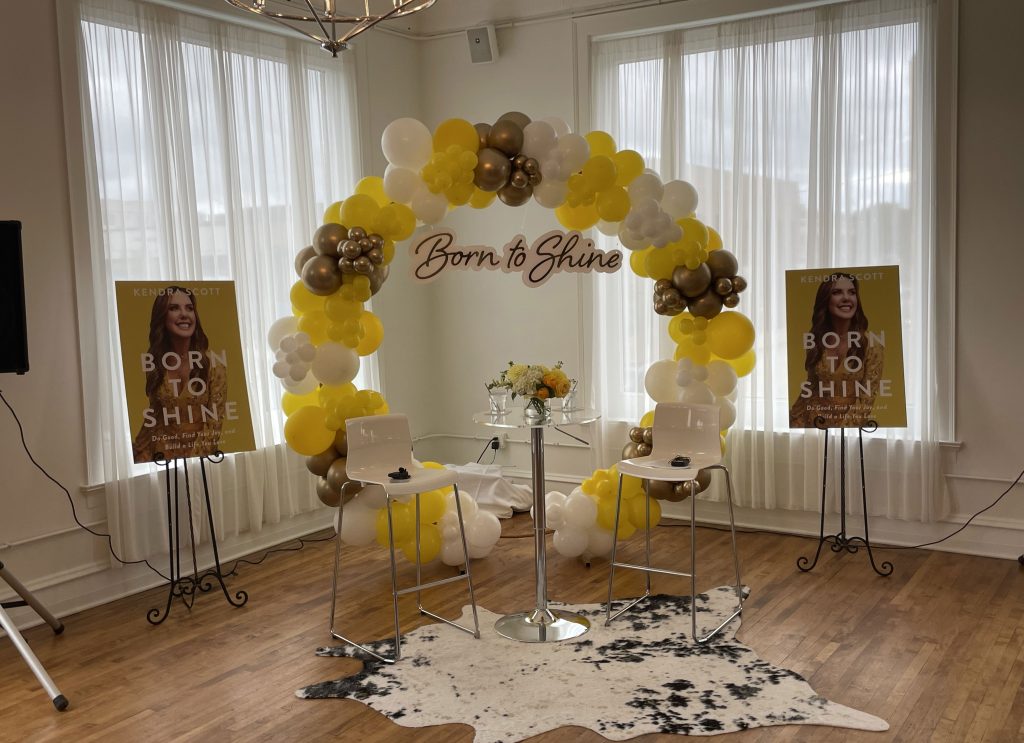 Scott, born at the old St. Catherine's Hospital, said Sunday that she had initially planned to end her book tour in Kenosha.
"I have to end it where it all began," Scott said. "It's such an amazing place to grow up."
Alas, she appears as a "guest shark" on the hit ABC entrepreneur-hopeful show "Shark Tank," and she said filming for the show forced her to reschedule a book-tour stop in Chicago. So Kenosha was not the last stop.
But that certainly didn't matter to the large crowd that gathered upstairs at Upper East on Sunday for the event with Scott. According to Blue House Books owner Sam Jacquest, there were 150 tickets available for the event, and they sold out quickly.
"No, not at all," Jacquest said happily when asked if she was surprised the event sold out in such a hurry.
Attendees enjoyed a brunch-style buffet with coffee — and plenty of mimosas — then Scott held a question-and-answer session before a book signing.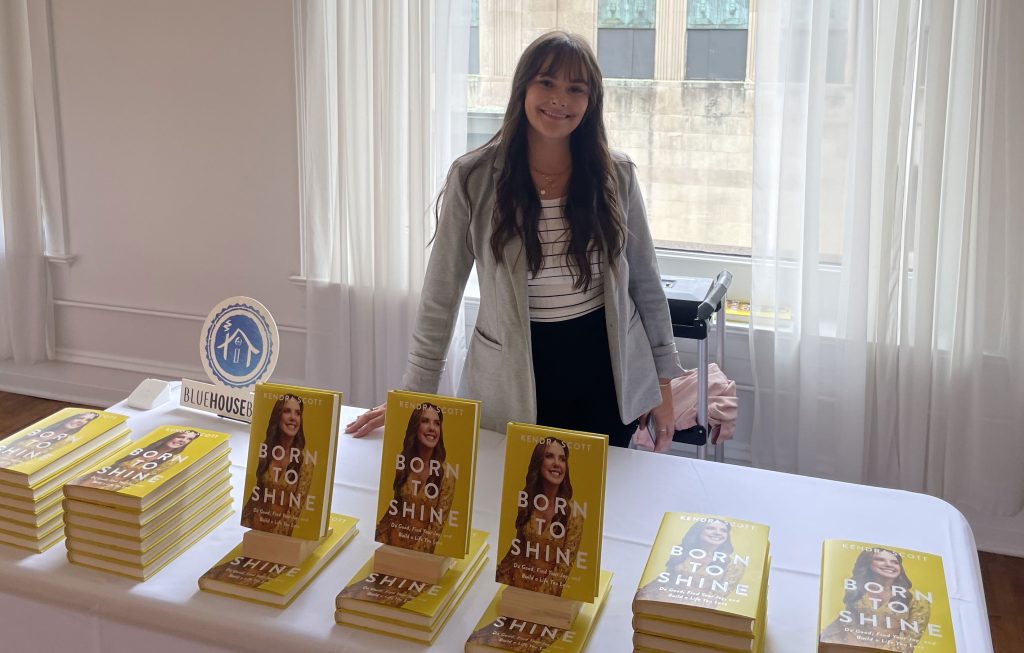 There was also jewelry, merchandise and signed copies of "Born To Shine" available through Blue House Books. As of Tuesday afternoon, Jacquest said there were still plenty of signed books available to purchase at the store.
Prior to Sunday's event, Scott took some time to do an interview with Kenosha.com Associate Editor Mike Johnson. Here's a question-and-answer from the interview:
Kenosha.com: So, first I have to know, where did you go to school in Kenosha?
Kendra Scott: "I went to Whittier Elementary, then Lance Junior High. That's when they were the Blue Angels. I think now they're the Lightning. They changed their name. And then Tremper for a year, and then moved to Texas my junior and senior year and finished school.
"But I actually came back for the 10-year reunion for Tremper, because I had been here so long and (had) all my old friends, so I got an honorary invitation."
Kenosha.com: What do you remember most about Kenosha growing up? Did you have a favorite restaurant, a favorite place? What were some of the things you liked to do here?
KS: "I loved living here, and I was so happy, even when I got back, (for) this cool weather. Spending time on Lake Michigan was always something I really enjoyed. We would picnic there as a family. I always say the grass is the softest grass in the world here in Kenosha.
"I loved being down at the lake. My dad had his law office right here on Sixth Avenue. So after school many days, I would go to his law office while he finished working and would go run around this area of town and knew all the stores. There used to be a great bakery on the corner and they'd give me doughnuts. It was always really sweet.
"There's just, I think, community. This place, everybody was always so friendly. I always feel at home here."
Kenosha.com: Everyone says "Midwest nice" when they talk about Kenosha and this area. I know that's a cliché and you hear that all the time, but it's true, right?
KS: "Totally. I come and there's a few places I have to go. So like right after this, I'm probably going to go to The Spot and get a burger. I love Shirl's custard. Actually, in my book, I mention Shirl's custard.
"There's a lot of things about Kenosha in my book, because this is where I was born and raised, and it's such a special part of who I am and really has helped kind of form the person I am today."
Kenosha.com: Did you become a Packers or Bears fan growing up in Kenosha? It's an NFL Sunday, so that's a key question right now!
KS: "I'm a huge Packers fan! Massive Packers fan. As a matter of fact, I went to a Dallas Cowboys game once, in Dallas as a guest of the Cowboys, and I had my cheesehead hat in a bag, and I put it on. They were like, 'What?'
"I was like, 'Yeah, you can't take Wisconsin out of the girl!'"
Kenosha.com: And the Packers play at 3:25 today, so the timing of your event here, you must have organized it all around the Packers game then, right?
KS: "Duh, of course, let's go. C'mon Pack!"
Kenosha.com: From your book, "Born To Shine," what advice would you give to anyone growing up anywhere — but in Kenosha, because we're Kenosha.com — for a young boy or girl to follow their dreams?
KS: "It doesn't matter where you're from, or what even people tell you that you can or can't do. I got told no a million different ways. I was told so many times that I didn't go to FIT (Fashion Institute of Technology) or have a degree in design, that you couldn't be a real designer.
"What I would say to them is, don't listen to any of that. All you have to do is have that fire in yourself, the passion and the drive, and you can accomplish anything you want. And nothing will hold you back but you. So the sky is the limit. If I can do it, so can you."
Kenosha.com: Why did you decide to write a memoir? Obviously, you wanted to tell your whole story. And what are you hoping people take away from it?
KS: "I've been in business 20 years. It was our 20th anniversary coming up. And during the pandemic, it was a really hard time for everybody. But I had journaled for many years, and I was personally going through a tough time.
"I thought, if I could share some of these things and be vulnerable — not just the successes, but the failures, the missteps, the difficulties along the way — that could maybe give other people the power to feel like, 'OK, I can be vulnerable, too," and own their story and own the things that happened to them, good and bad, because that's what makes you uniquely you.
"In my vision, we're all born to shine. Sometimes our own lights can dim, and we need to find people around us that help reignite that. But in addition, know that we can also do that for somebody else. And, again, through stories and storytelling of my own experiences, being able to really project that."
Kenosha.com: I know you're always busy and you're always pushing ahead with your business, but do you ever have to stop and pinch yourself, like, "Wow, I can't believe what this business has become today?"
KS: "Every single day. Never in a million years could I have dreamt this big, to be honest. But I still feel like I have so much more I want to accomplish and do, so I feel like I've just scratched the surface, which is crazy to think about.
"But, no, I never would've imagined it could've been like this. I'm incredibly grateful, and I think that's part of why, for myself, for the company, we're very big on philanthropy. We've given over $50 million to women's and children's charities, just since 2010. I think for me, the success has given me the power to make a positive impact in the world, and I think that's what I get so excited about.
"Yes, of course, it's nice to be able to not worry about how you're going to pay your rent. But for us, success is giving back, and that's what we've continued to (let) drive us at Kendra Scott, and for me personally."
Kenosha.com: What's next for Kendra Scott?
KS: "There's so much I want to accomplish. I think with the brand, we are still in a very big growth phase of the company, even 20 years in. And really looking at how we can take this into a bit more categories, potentially. International, we haven't really even stepped across our borders yet. So I think we have so much growth and expansion to do there.
"And then from a philanthropic standpoint, I recently opened a school at the University of Texas called the Kendra Scott Women's Entrepreneurial Leadership Institute. It gives any major for women the opportunity to learn entrepreneurship and learn about the entrepreneurial mindset and leadership skills. They can now get a minor in that, even if they're in the School of Education, whatever (major).
"My dream is to continue that and to hopefully expand that to other universities across the country."