In recognition of Domestic Violence Awareness Month, Women and Children's Horizons is wrapping purple ribbons around trees in local parks.
Lincoln Park, 6900 18th Ave., was the organization's first stop on Tuesday.
"The whole idea here is to give a visual representation supporting survivors of domestic violence in places where people wouldn't typically look," said Jennifer Paine, Executive Director of Women and Children's Horizons.
Ribbons will also be placed at Bullamore Park, 6800 36th Ave., Cicchini Park, 6505 17th Ave., Eichelman Park, 6125 Third Ave. and Roosevelt Park, 6801 34th Ave.
A scannable QR code is attached to each ribbon with a link to the Women and Children's Horizons' website and an emergency hotline.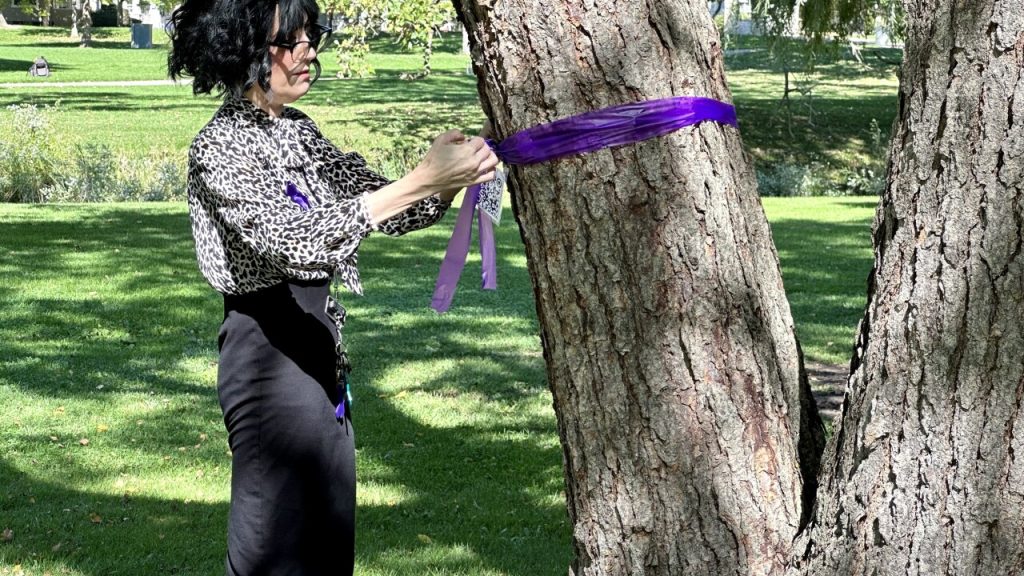 According to a recent study by the Department of Justice, Kenosha County has the second highest rate of domestic violence-related homicides in Wisconsin.
"There are a lot of theories for that," Paine said. "Some of it is crossover traffic from Lake County. Being right on the I-94 corridor we tend to see a lot of human trafficking clients as well. But it's pretty significant to have that number of domestic violence clients right here in our community."
Racine's Gillian Pagliaro was in an abusive relationship for nearly 10 years. When that relationship ended, she decided to help others.
Two years ago, Pagliaro began working at Women and Children's Horizons as its Prevention Services Coordinator.
"I don't care how much you love him, or he loves you or she loves you," Pagliaro said. "Tell. Get away, immediately. It's not going to change. Go get yourself safe."