You could say that Kenosha Kingfish co-owner Bill Fanning finally had some time to catch his breath before the 2023 season began.
When Fanning and fellow owner Mike Zoellner closed on the sale of the Northwoods League franchise last year with Big Top Sports and Entertainment, the original ownership group of the Kingfish, there was little time to prepare for the 2022 season.
The sale was completed in April 2022, less than two months before the start of the NWL season, so Fanning and his staff really had no time to implement any changes for last season.
"I was pretty much just observing and trying to figure out ways we could get better," Fanning said of his first season in charge of the Kingfish on a sun-splashed afternoon behind home plate at Simmons Field on Wednesday.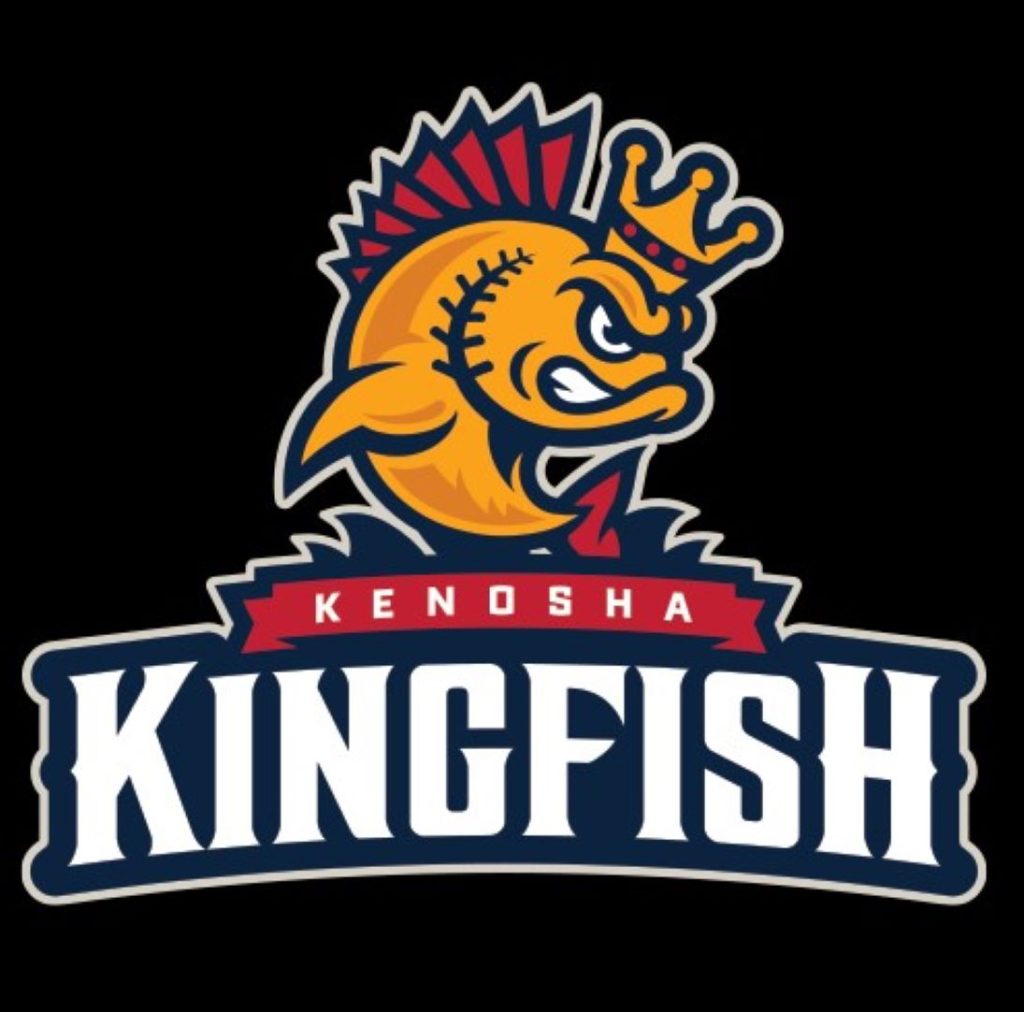 Well, Fanning and company had a full offseason to prepare for 2023, and he thinks the results have been displayed to the thousands of fans who have poured into Simmons Field so far this summer, with nine home games remaining in the 36-game home schedule (click HERE for more on the remaining Kingfish home schedule).
"I think we've improved our operations quite a bit from last year," Fanning said.
"… I feel we got better this year than we were last year. Better food products, better service of our fans. I think we had some more enjoyable and fun promotions that we did on the field. Attendance has been good. We've been happy with that."
This season also marks the 10th anniversary of the Kingfish after the franchise began play at Simmons Field in the summer of 2014. To be sure, Fanning did not want to diminish the impressive accomplishments of Big Top, specifically executives Conor Caloia and Vern Stenman, for laying the groundwork for the Kingfish and running the franchise through its first eight seasons.
In fact, the success of that ownership group in starting the Kingfish is a big reason Fanning and Zoellner wanted to purchase the franchise.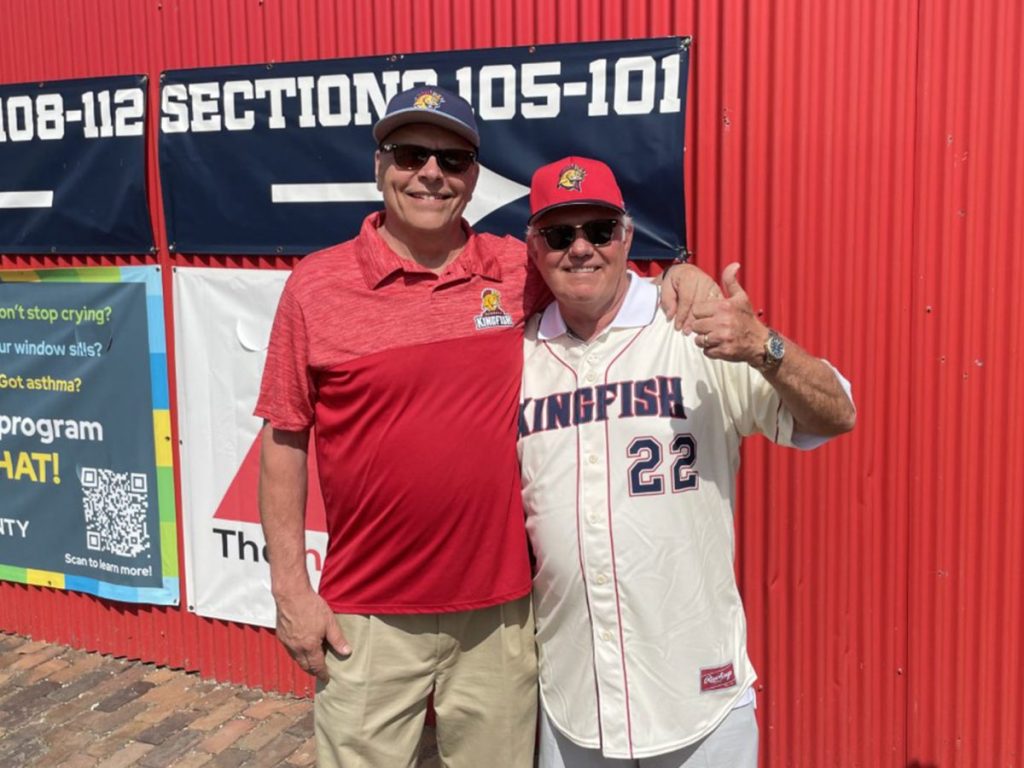 "That was one of the reasons that we were interested in buying this franchise when it was available, is that it has a great reputation," Fanning said. "The brand is awesome in Kenosha and the surrounding areas. They sold a lot of merchandise.
"So nothing but positive and good things to say about the job that they did."
However, Fanning is no wide-eyed newcomer to spearheading the promotions, entertainment and marketing that come along with running a minor-league or amateur baseball franchise. Fanning has a long resume in professional baseball, including 12 seasons as general manager of the then-independent St. Paul Saints, long known for drawing huge crowds from the Twin Cities area.
So Fanning had some ideas he wanted to implement for the Kingfish, and he was able to do much more of that in 2023 than he was in 2022.
"We just do some things differently (than Big Top)," Fanning said. "(One) of the things we do differently is try to get value from our advertising that we have out here … which will enable us to do more things like help pay for the turf (more on that later), or eventually we're going to put in a new scoreboard.
"You need money to do that stuff, and unless you're getting full value for what you're doing out here – we're drawing a lot of people, advertisers want to be out in front of them. It doesn't make business sense to give everything you've got away or undervalue what you are providing. So we're trying to get closer to what the value is, which will help us generate more revenue, which will help us do a better job and draw more people."
Perhaps nobody in the organization has more insight into what's been different under Fanning's guidance than general manager Ryne Goralski, who started with the franchise as an intern during that inaugural summer of 2014 and is now in his fifth season as a full-time employee and third as the general manager.
"Not taking away what Conor and Vern did, it's just we do things a little different," Goralski said Wednesday. "And Bill's here every game. I think people are always shocked when they hear Bill's here every game. It's like, 'Yeah, he owns the team. Why would he not be here? He likes doing this.'
"It's more about the people you work with. I really love our staff this year. That's been the biggest difference for me. Coming to work's fun. We're playing fungo golf and softball. And then the game comes around, and we actually know what we're doing. It gets a little easier for me every year. I learn things."
Rank 4th in attendance
Since the franchise's inception in 2014, the Kingfish have routinely drawn big crowds to Simmons Field, and that has not changed as the franchise wraps up its 10th season.
Going into this weekend, with nine home games remaining on the schedule, the Kingfish rank fourth in the 24-team Northwoods League – a summer wood-bat league for college players – in attendance at 2,260 per game. That's a total of 61,008 fans, third-most in the NWL overall, that have entered the Simmons Field gates through 27 home dates.
On their website, the Kingfish are proclaimed as "Kenosha's No. 1 summer destination," and Fanning says it doesn't seem like there's been a decline in enthusiasm in Year 10 from the beginning.
"Our merchandise is still selling well," he said. "We still have a lot of people coming to the games. The atmosphere is good. Marz (Timms), our emcee, does a tremendous job of keeping things happy and fun."
The strong attendance numbers this season are also a great sign in the wake of the COVID-19 pandemic. The team played a very limited home schedule in 2020, all against just one other team created just for that season, and there were still restrictions in 2021.
But over the last two seasons, things are humming along just as they were before the pandemic, attendance-wise.
"Last year was the first year it felt really normal (again)," Goralski said. "So to watch the growth again is kind of fun. If there's anything we can take out of COVID, it was kind of a chance to reset. And new ownership was a chance to almost completely reinvent our operation."
But under whatever ownership group, it's evident that 10 years in, the Kingfish have created a true legacy in Kenosha. Attending a Kingfish game is now part of the summer fabric of Kenosha, during the precious weeks when so many family memories are made in this part of the country.
"The fans are awesome," Goralski said. "It's crazy to just sit here and kind of look around every once in a while. This is a really important part of peoples' lives. They're going to remember these memories forever. Like, 'I remember taking my kid to that,' or whatever it is. And now we're 10 years in. I hear it from people that are grown up and (have) been like, 'I'm bringing my kids here.'
"… People make a tradition out of it, which is awesome to hear."
New artificial turf coming
Fanning also revealed some breaking Kingfish news on Wednesday afternoon, confirming that the installation of a new, fully artificial field will begin at Simmons Field immediately after the 2023 season concludes.
The entire playing surface will be converted to artificial turf, including the infield dirt.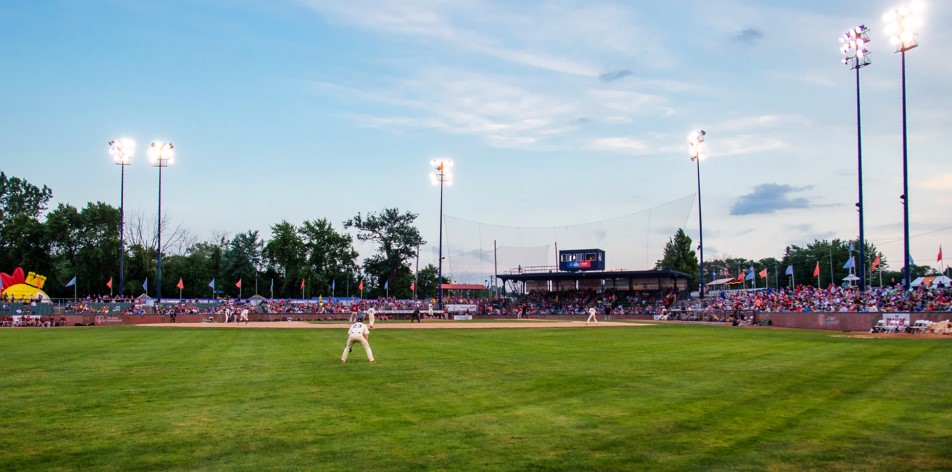 Fanning said the City of Kenosha had approved $1.5 million in its budget for this year to go toward replacing the lights and improving drainage at Simmons Field. However, Fanning said the franchise asked if that money could be redirected to installing artificial turf, and the city agreed.
Fanning said bids are still being taken from companies to install the field, but it will begin as soon as this season ends, since it needs to be completed before the weather turns too cold.
"We expect construction to start a day after our season's over," Fanning confirmed. "We're not going to wait. It's going to take 70 days to get it down. It's weather-related toward the end for the glue that they use to stick it together, and then the painting for logos that we're going to put out here."
For those who follow high school and college baseball in this area, installing an artificial playing surface at Simmons Field was probably an inevitable development.
High school baseball seasons – and college seasons, even more so – in this part of the country are played in pretty harsh weather conditions. The schedules are mostly completed before the weather gets consistently warm, making it a massive headache to maintain and play on natural surfaces. So in recent years, it's become more and more rare to see high school and college fields NOT have artificial turf.
Simmons Field in particular hosts a lot of baseball games in the spring, before the Kingfish even begin their schedule. The high school teams of St. Joseph Catholic Academy and Christian Life School play some of their home games at Simmons Field, while the UW-Parkside baseball team plays all of its home games there.
Fanning pointed out that those other teams combined actually play more games at Simmons Field than the 36 that the Kingfish play there each NWL regular season. And most of those games are in the unpredictable spring weather.
Additionally, Simmons Field will become the only facility in the area that has both artificial turf and lights.
"Everybody plays here," Fanning said. "In the springtime, it can rain three days before a game, and somebody couldn't play that game three days later because the field was so bad."
In addition to the many baseball games it hosts each year, adding artificial turf will allow Simmons Field to be used more for other events, such as concerts, charity softball games, craft beer festivals and more.
These are events, of course, that have been held at venerable Simmons Field over the years. But now, the more than 100-year-old stadium – which opened in 1920 – can be used as even more of a treasured community asset.
"It's a huge tool for the whole community," Goralski said.