Looking over her many self-serve options at the Kenosha Tap House on a warm, quintessential Friday evening in July, Tracy Dinger was almost overwhelmed by the selections.
"It feels like I'm a kid in a candy store," Dinger exclaimed in obvious excitement.
And just like one of those candy stores that makes kids' eyes almost pop out of their heads, the Kenosha Tap House offers a dizzying array of self-pour alcohol options for adults, covering all types of craft beer, of course, but also including wines, seltzers, ciders, mixed cocktails and, yes, even mead.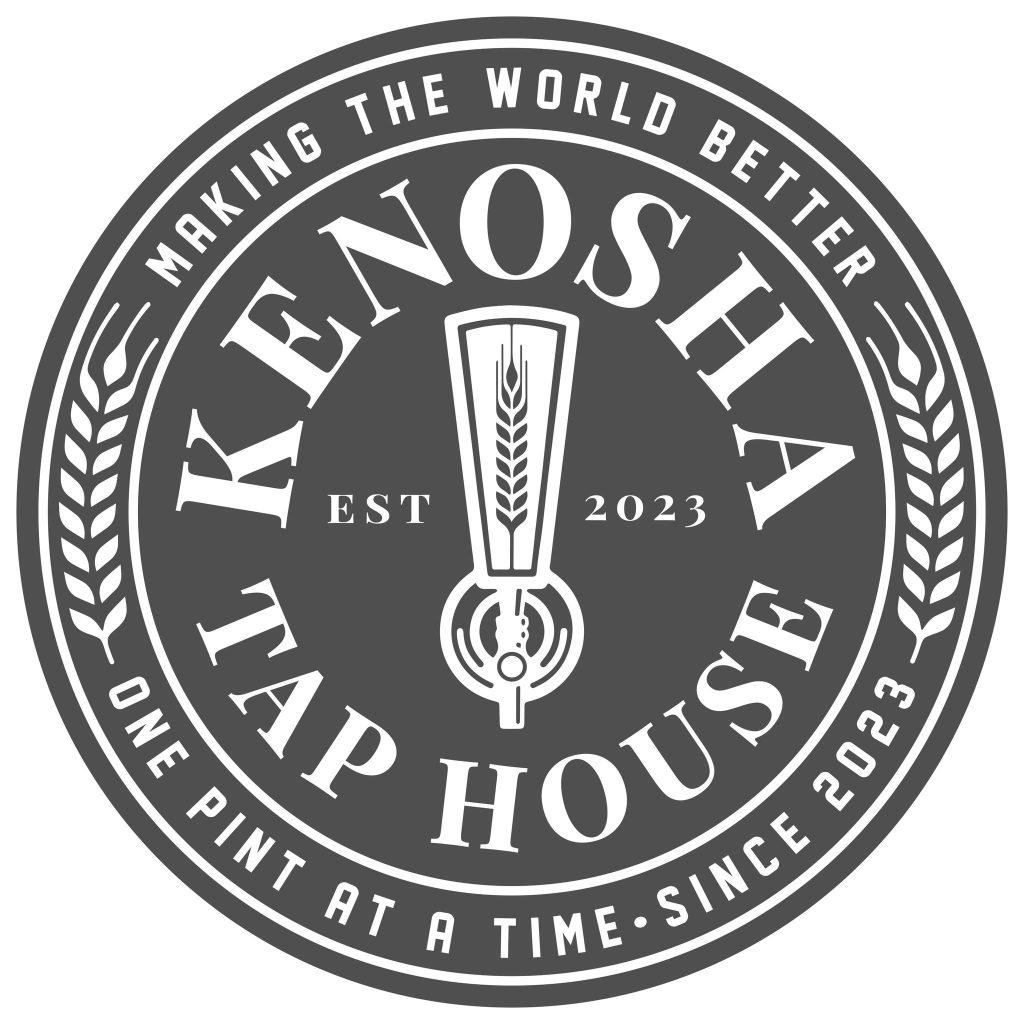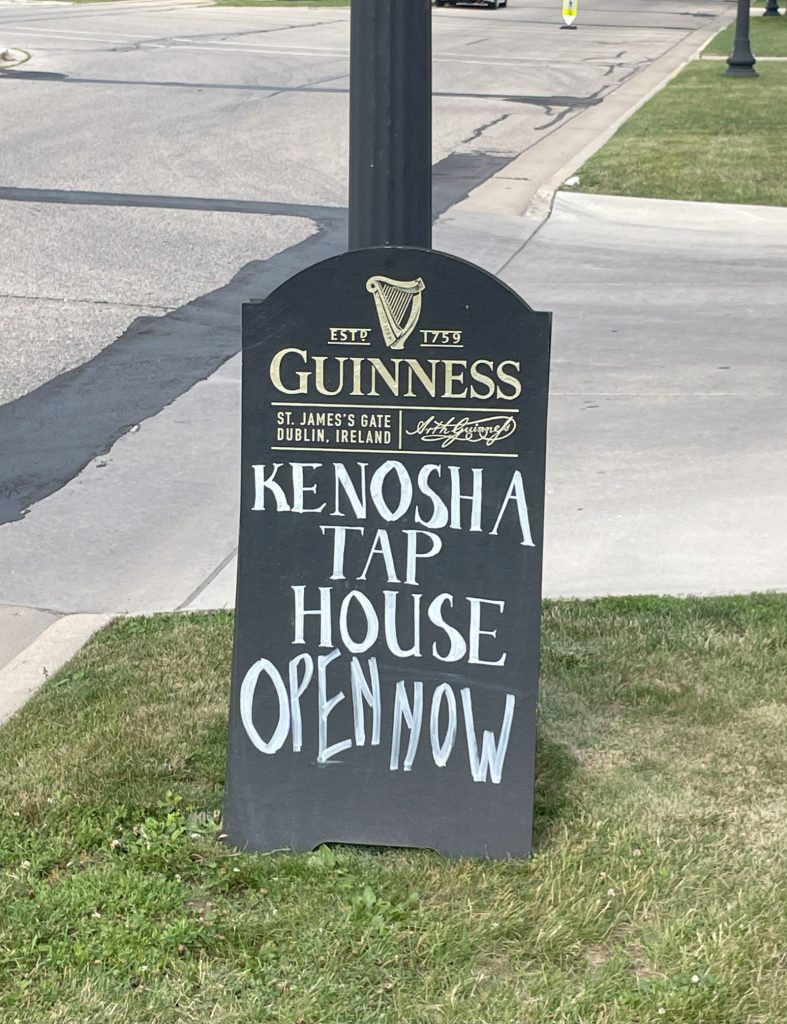 To be exact, the Kenosha Tap House features 60 self-pour taps along its impressive tap wall, which cuts something of a squared-off, extended U-shape through the interior of the business.
It's no wonder Tracy Dinger and her husband, Robert, made the approximately 40-minute drive up from Volo, Ill., to check out the Kenosha Tap House last week.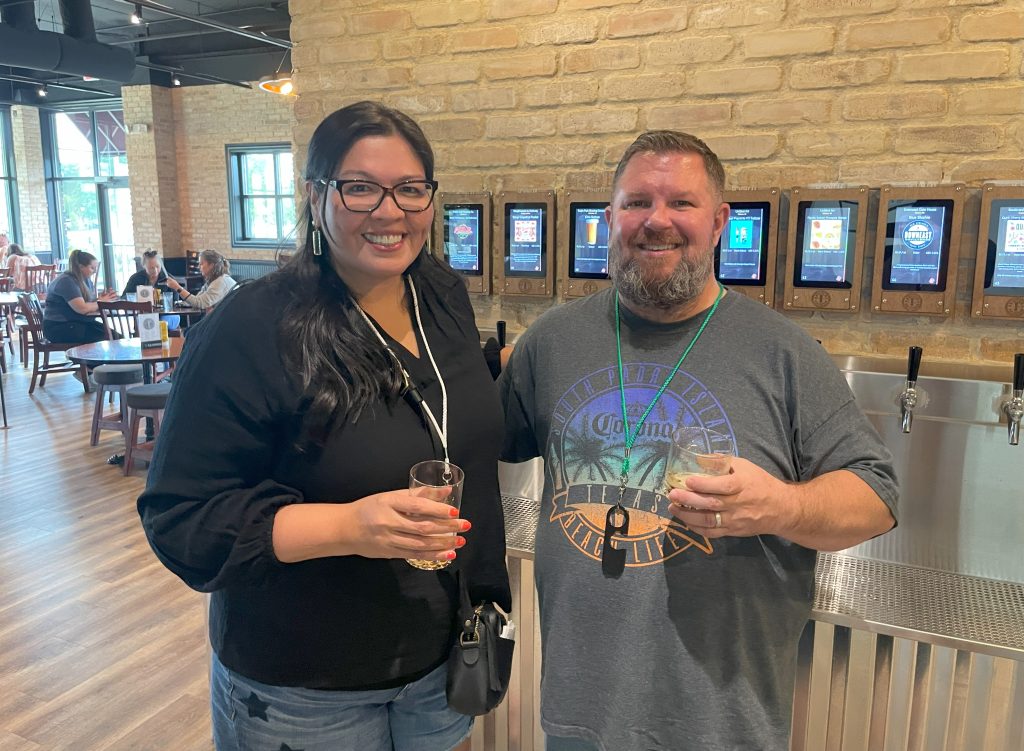 Opened last month
As many Kenoshans know by now, the Kenosha Tap House is located downtown, right next to the marina, at 125 56th St., the prime location once occupied by Ashling on the Lough. The popular Irish pub and restaurant, Ashling had operated in that location since 2008 but closed its doors this past April.
In came the Kenosha Tap House, co-owned by husband-and-wife duo Paul and Heidi McGraw. It was an extension for the McGraws of the growing-in-popularity self-pour concept, which they had brought to Lake Geneva just over a year ago by opening the Lake Geneva Tap House.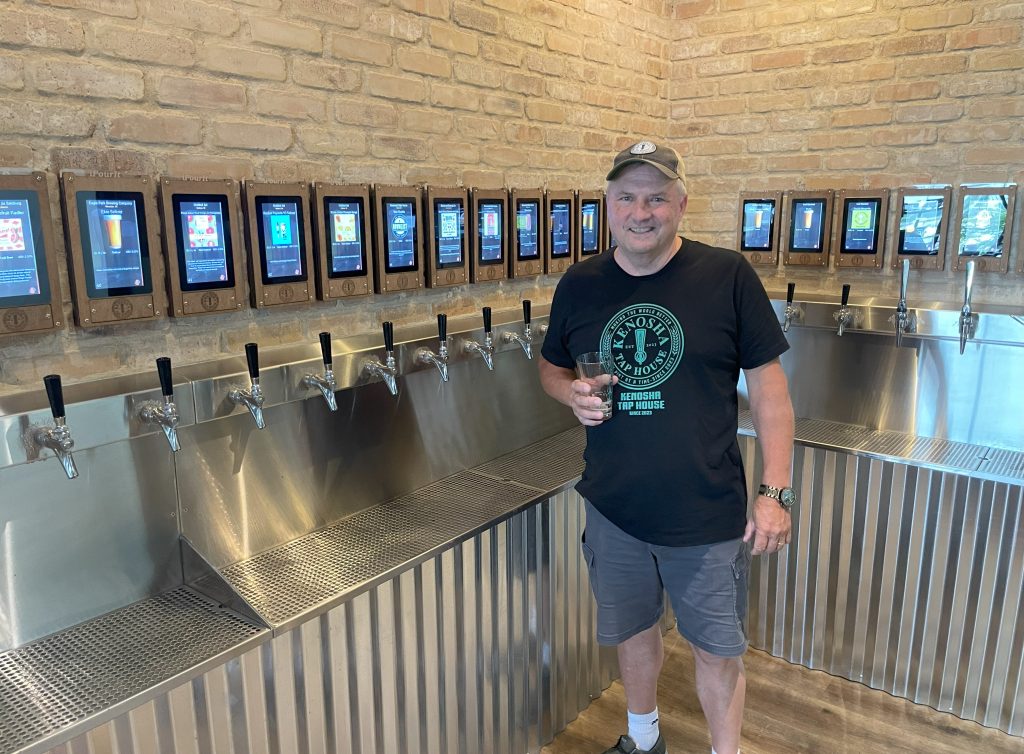 So the Kenosha Tap House represents the second business co-owned by the McGraws to feature the self-pour concept.
During an interview last week, Paul McGraw said more and more patrons are becoming interested in the self-pour concept, first at the McGraws' location in Lake Geneva and now in Kenosha.
"What's fascinating in Lake Geneva is we still – over a year into it – see (that) 90 percent of the patrons are new," McGraw said. "So everybody coming in, we assume is new, and we'll take them up and show them how to use the tap wall. And it is an experience.
"We're only probably the fifth self-pour in Wisconsin, so it's kind of a new technology here. We actually found it down in Knoxville (Tenn.), where we ran into an iPourIt tap wall, and that's where we fell in love with it. My wife decided that it was going to be her career."
The McGraws closed on the sale with Ashling on April 7, so it's been a quick turnaround to get the Kenosha Tap House remodeled and opened for this summer. The business opened its doors a little over a month ago now, on June 8.
"We wanted to get open and take advantage of the Harbor Market and everybody coming in on Saturdays, so that's worked out really well," McGraw said.
Probably the first thing you'll notice about the Kenosha Tap House when you first walk in is how open the layout feels inside. Ashling featured a more intimate, cozy feel, reminiscent of an Irish inn, which of course fit perfectly for its purposes.
But after remodeling, the Kenosha Tap House features a far more wide-open center, with tables around it. The main feature, of course, is the 60-tap self-serve wall, and the business is all designed for a free-flowing concept that allows patrons to move around and mingle with ease. 
The Kenosha Tap House also features an outdoor seating area, as Ashling did, though McGraw says there are plans going to the City Council that would allow the Kenosha Tap House to expand its outdoor seating. Additionally, the Kenosha Tap House features a back room that can be rented out for events like rehearsal dinners, birthday parties and business gatherings, or it can be used to seat extra patrons if the main dining area becomes too crowded.
Also, in a nod to the much-appreciated culinary success of Ashling, the Kenosha Tap House features a full food menu under the direction of head chef Cornelius Williams, who created the menu for Ashling in its latest – and most successful – years.
Though the Kenosha Tap House offers a different menu than Ashling's traditional Irish fare, the full food menu under Williams' talented guidance offers a complete dining experience for patrons who want to do more than just try out the self-pour drink selections.
How it works
Now, given that the self-pour concept is new to the area, you may be concerned that pouring drinks on your own could get too confusing or complicated.
Well, there's no need to worry about that, because the Kenosha Tap House makes it remarkably easy – and enjoyable.
All you have to do is see a staff member at the counter upon entrance to the business. You leave a driver's license and credit card up front, then you're given what McGraw calls the "magic fob," a key-like device which gives you access to all the taps.
After selecting which type of glass you want to use from the big column of glasses in the middle of the floor, you head over to the 60-tap wall. The wall even feels a bit futuristic, as each tap comes with a digital screen that tells you the name of the beer or other beverage, the brewery it's from, the alcohol content and the cost per ounce. Another touch on the screen will give you even more details about the beverage.
When you've made a choice, you simply tap your "magic fob" on the Kenosha Tap House logo on the screen above the corresponding beverage. Once that screen goes green, you can begin your pour.
Once you begin pouring, the system tracks how many ounces you've poured, with the cost per ounce all linked to your credit card. Since you pay per ounce, this means you aren't forced to try a certain amount of one beverage. You can sample one ounce each of a variety of craft beers or other options, should you wish.
However, the system is designed to shut off each customer once they've poured 32 ounces. To get more, you simply need to re-up with a staff member up front or at the tap wall.
By limiting and regulating the amount that each customer can pour, the Kenosha Tap House keeps a safeguard on over-drinking. It's a logical concern to wonder if over-drinking and unruly behavior would be a problem when people are free to pour their own alcoholic beverages, but the Kenosha Tap House is not designed to allow that.
"(It's) similar to when a bartender shuts you off," McGraw said. "When it's time to go home, it's time to go home."
As to how the Kenosha Tap House chooses what to put behind its tap wall, McGraw says the business works with local breweries and distributors to decide what to offer. There are Guinnesses, IPAs, ambers, lagers and all varieties of craft beer and other beverages.
If you go into the coolers behind the tap wall, you can see just how many lines are hooked up and how many kegs are really back there. It is quite the production.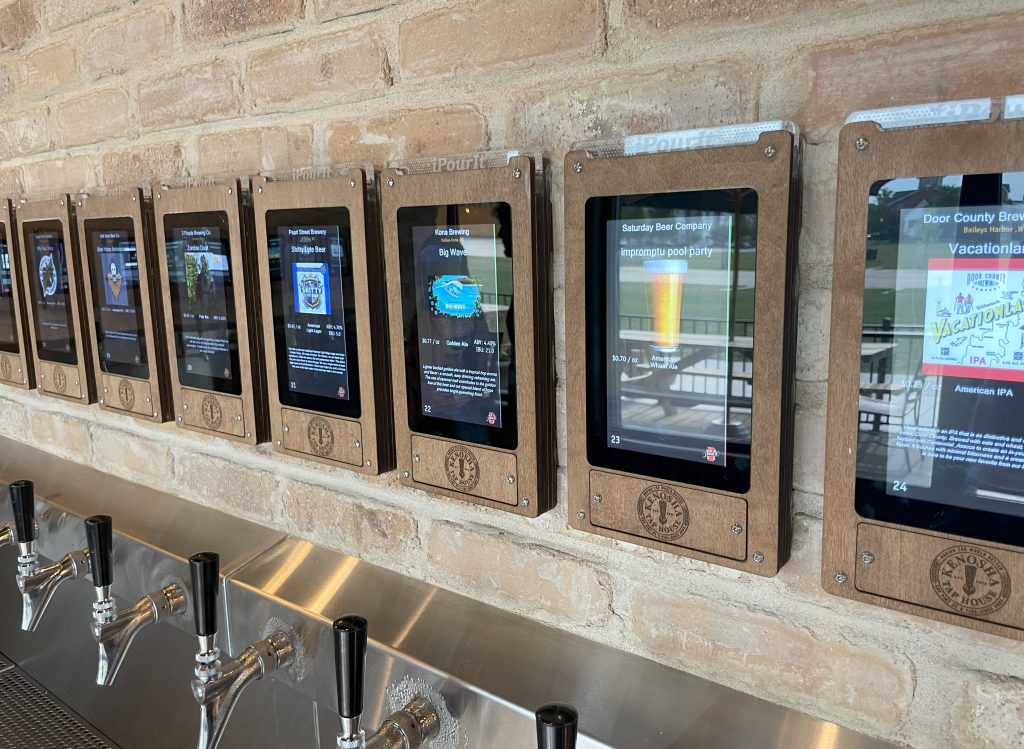 "If you come back next week, you'll see different beers," McGraw said.
" … (We select beers through a) relationship with the small breweries that we have, and then the distributors help us out: 'Hey, we've got this really good beer that just came out.' And then we do a lot of seasonal things. We might put a dozen Oktoberfests on."
Indeed, Oktoberfest season is already right around the corner. McGraw said that last year, the Lake Geneva Tap House ran a fun contest to see who could pour the most ounces of Oktoberfest beer.
Additionally, the Kenosha Tap House serves breakfast on Saturday and Sunday mornings and has a Bloody Mary bar on Saturdays. The Bloody Mary bar, McGraw says, is the only time when alcoholic beverages are not self-pour at the Kenosha Tap House.
A variety of non-alcoholic beverages are also available for purchase in a non-self-pour manner, and McGraw said the Kenosha Tap House is working on getting QR codes at each table so customers can just order food from there. For now, food can be ordered simply by placing the order with staff up front.
And while the Kenosha Tap House is built on allowing customers to essentially serve themselves, this does not mean human interaction is meant to be eliminated. Rather, with the open concept of the building, the friendly staff and the natural gathering magnet of the tap wall, it's all designed for socializing and having fun.
"We love the personal interaction," McGraw said. "… "We're looking forward to working with the Kenosha community. … It's just really exciting to be here."
The Kenosha Tap House is open from 11:30 a.m. to 10 p.m. on Monday through Friday, 10 a.m. to 11 p.m. on Saturday and 10 a.m. to 6 p.m. on Sunday. For more information, check out the Kenosha Tap House website at kenosha-taphouse.com.