Kenosha County Parks is offering another action-packed summer of free activities, County Executive Samantha Kerkman announced recently.
The regularly scheduled weekly activities in the parks are set to launch the week of June 12. These include Yoga in the Park and Movie Nights in the Park at Petrifying Springs Park.
Kenosha County Parks is also planning to bring back special events this year, including Picnic in the Park and the Bristol Woodstock Concert Series. In addition, there will be a recurring concert series at the new Old Settlers bandshell, called Rhythm on the Lake.
"Our parks staff and our community partners have once again come together to program a fantastic series of summer events and activities," Kerkman said. "Seven days a week, from the east end to the west end, there's something for everyone to enjoy in our Kenosha County Parks."
An overview of the summer's major activities is below:
Regular weekly events (free to attend):
MONDAYS, 5:30 to 6:30 p.m., June 12 through Aug. 14, Petrifying Spring Park Area #4: Yoga in the Park Presented by Hot Yoga Kenosha. Registration is encouraged. For more information, go to eventbrite.com/e/603967441877.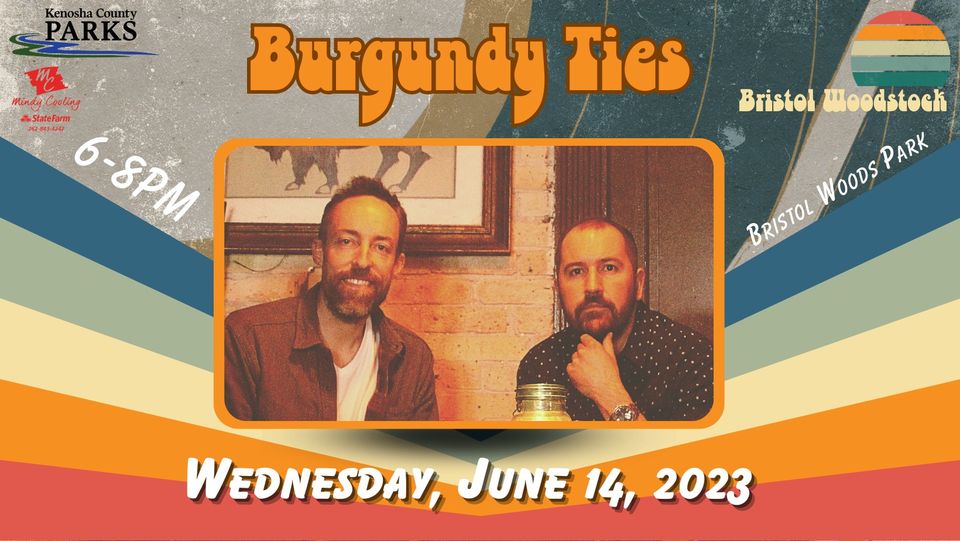 WEDNESDAYS, 6 to 8 p.m., June 14 through Aug. 16, Bristol Woods Park: Bristol Woodstock sponsored by Kenosha County Parks, Mindy Cooling State Farm, and Pringle Nature Center. Grab your lawn chairs or picnic blankets and enjoy the sounds of local artists in the park. Each concert is subject to weather conditions. The event is free to attend and fun for all ages. Featuring a variety of music genres, Bristol Woodstock is sure to get anyone on their feet. Go to kenoshacounty.org/2249/Parks-Events for more information. This year's lineup is as follows:
June 14 — Burgundy Ties
June 21 — CrossOver
June 28 — Clarissa
July 5 — Indigo Canyon
July 12 — Trophy Husbands
July 19 — Katz Sass
July 26 — Kurt Gunn
Aug. 2 — Judson Brown Band
Aug. 9 — Listening Party
Aug. 16 — Lucky Pickers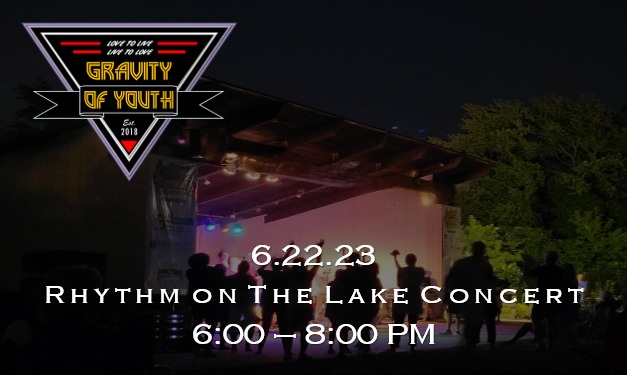 THURSDAYS, 6 to 8 p.m., June 15 through Aug. 17, Old Settlers Park: Rhythm on the Lake Presented by Community State Bank and sponsored by Kenosha County Parks, Mindy Cooling State Farm, and Gruber Law Offices. This brand-new open-air concert series brings Kenosha County residents a fresh sound and a new weekly staple to add to your summer activities. The lineup is as follows:
June 15 — The Unusual Suspects
June 22 — Gravity of Youth
June 29 — Feed the Dog
July 6 — Hot & Dirty
July 13 — Blues Addiction
July 20 — Disconapse
July 27 — Kat and the Hurricane
Aug. 3 — Yesterday's Children
Aug. 10 — Flood Brothers
Aug. 17 — Kojo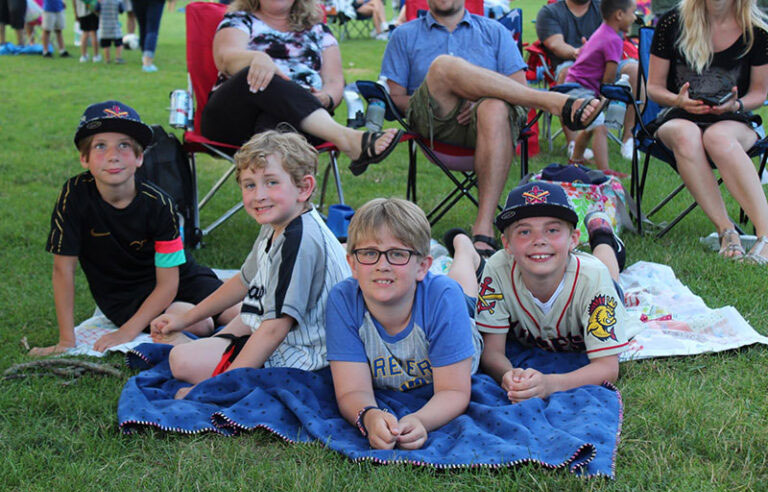 FRIDAYS at dusk, June 17 through Aug. 19, Petrifying Spring Park Biergarten: Movie Night in the Park. All movies are subject to cancelation due to weather conditions. This year's movie lineup is:
June 16 — Indiana Jones and the Temple of Doom
June 23 — Lightyear
June 30 — Jaws
July 7 — Top Gun: Maverick
July 14 — Ghostbusters Afterlife
July 21 — The Goonies
July 28 — Thor: Love and Thunder
Aug. 4 — Jurassic World
Aug. 11 — Mitchells vs. the Machines
Aug. 18 — Back to the Future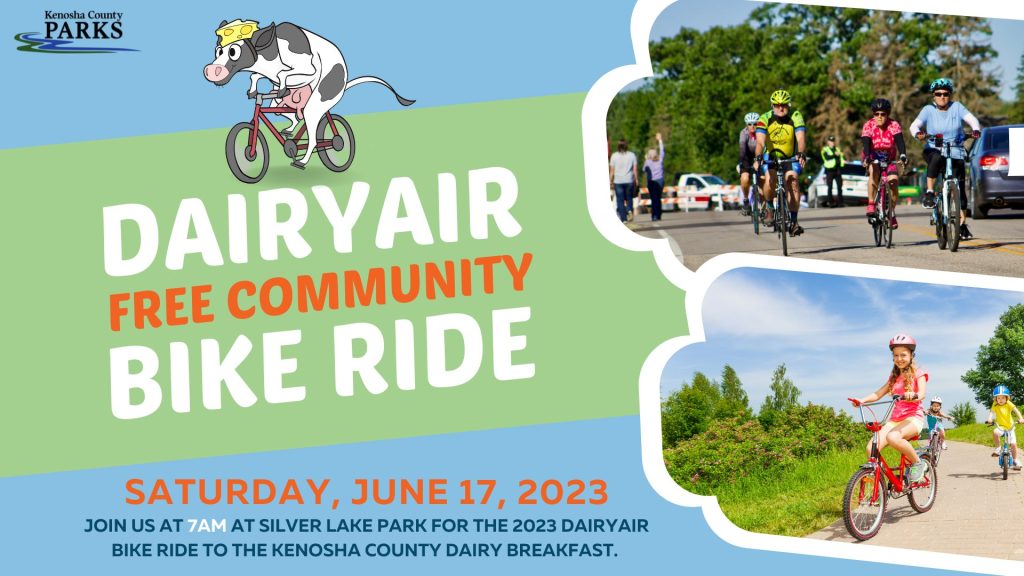 SPECIAL EVENTS (free to attend):
The Dairy Air Bike Ride will be held from 6:30 to 10:30 a.m. Saturday, June 17, taking riders from Silver Lake Park Beach to the Kenosha County Dairy Breakfast hosted by Daniels Dairy Farm II, 1166 240th Ave. People are asked to use their best judgment and participate based on their own skill level. There will also be special bike parking at the Dairy Breakfast for riders. A Kenosha County Sheriff's squad will follow the back of the pack for safety purposes. The bike ride is FREE. Pre-registration is encouraged at https://www.eventbrite.com/e/dairyair-bike-ridetickets-637606517257. Breakfast cost is $10 (children under 6 are free). Tickets for the breakfast are available at the event only while supplies last.
June 15, July 13, Aug. 3, Aug. 19 and Sept. 16, from 5 to 9 p.m., the Petrifying Springs Biergarten is holding a recurring Food Truck Show featuring vendors from throughout the region.
On Thursday July 13, at 6 p.m., celebrate Harley-Davidson's 120th anniversary with Kenosha County Parks, Visit Kenosha, Visit Pleasant Prairie and Uke's Harley-Davidson at the After Party in the Park. There will be a guided ride from Uke's, 5995 120th Ave., to Petrifying Springs Park, with a performance by Boys and Toys to follow until 9:30 p.m. The Petrifying Springs Biergarten will be hosting its Food Truck Show concurrently.
Picnic in the Park will be held Saturday, Aug. 19, from 4 p.m. to dusk at the Petrifying Springs Biergarten. Activities will include face painting, food trucks, inflatables, family activities, fireworks, and live music headlined by Chris Kroeze.
Download the parks app:
Add the new Kenosha County Parks app to your phone to find parks, trails, and amenities near you. Visit https://kenoshacounty.org/parksapp for download instructions.
Learn more:
For more details and information about other activities and park locations, please visit the Kenosha County Parks website at http://parks.kenoshacounty.org, call 262-857-1869, or check us out on Facebook at http://facebook.com/kenoshacountyparks.