Te'Lisha Brown obviously has impeccable timing.
Because when else would be a better time to score your first goal of the season than when Brown — who just completed her sophomore year at Bradford High School — scored her first on Thursday night?
With less than a minute remaining in a tense Wisconsin Interscholastic Athletic Association Division 1 girls soccer sectional semifinal between Bradford and Tremper at Ameche Field, the Red Devils earned a corner kick with under a minute remaining in a match tied at 1-1.
Senior Anna Seymour was chosen to take the corner kick and lofted a perfect arc off her left foot that came in tight to the Tremper goal. A scrum of players from both teams tried to get to the ball as it pinged around, with the Tremper players attempting to kick it away from the goal and the Bradford players trying to kick it toward — or into — the goal.
Well, the ball and Brown found each other right in front of a wide-open net, and Brown didn't miss, punching it in to give the Red Devils a shocking 2-1 lead with just about 30 seconds remaining. The Bradford players and coaches erupted, on the field and on the bench, and the Red Devils were able to tick down the rest of the match to advance to Saturday's sectional final.
All throughout her sophomore season, Brown hadn't quite managed to turn any of her scoring chances into a goal. That turned out to be more than worth the wait, because when she finally put one home, it was the biggest goal of the season for the Red Devils.
"I'm feeling really fantastic, because the whole season I've been working for it, and it just finally paid off," said Brown, who has been named this week's Kenosha.com High School Athlete of the Week, after the match.
"… The first time I kicked it, I hit it at the goalie, and then I saw everybody — the ball went past — so I just kicked it. I didn't even see it. I just kicked it."
Said Bradford head girls soccer coach David Naylor: "Te'Lisha all year (has) been in the right spot. 'Johnny-on-the-Spot' again. She never, ever stopped playing for us. That's amazing."
Bradford improved to 17-3-1 on the season and advanced to Saturday's 1 p.m. sectional final against defending WIAA Division 1 state champion Muskego, ranked No. 1 in Division 1 in the final WisSports.net state coaches poll of the season. Bradford will actually be hosting the sectional final match at Bradford Stadium, so the Red Devils will just be moving across town after winning Thursday night at Ameche Field.
The winner of Saturday's match advances to the WIAA State Tournament, scheduled for next week Thursday through Saturday (June 15-17) at Uihlein Soccer Park in Milwaukee. Bradford is seeking to make its second State Tournament appearance in three seasons after reaching the state semifinals in 2021.
Young team rising
This will be the third straight season in which Bradford and Muskego have faced each other in the sectional final.
In 2021, the Red Devils defeated the Warriors, 2-1, to advance to the State Tournament. Last season, Muskego got revenge with a 6-1 sectional final victory on its way to the state title.
Going into 2022, Naylor thought this could be somewhat of a rebuilding campaign for his program. The Red Devils had graduated a lot of scoring from the previous two seasons and were not sure if their top returning player, NCAA Division I Marquette University-bound forward Haley Christianson, would be playing her senior season due to some nagging injuries.
But Christianson was cleared to play and as expected has had a tremendous senior season, ranking 13th in the entire state with 35 goals and 18th with 75 points, per WisSports.net, going into Saturday's sectional final.
Earlier this season, Christianson was named the Kenosha.com High School Athlete of the Week.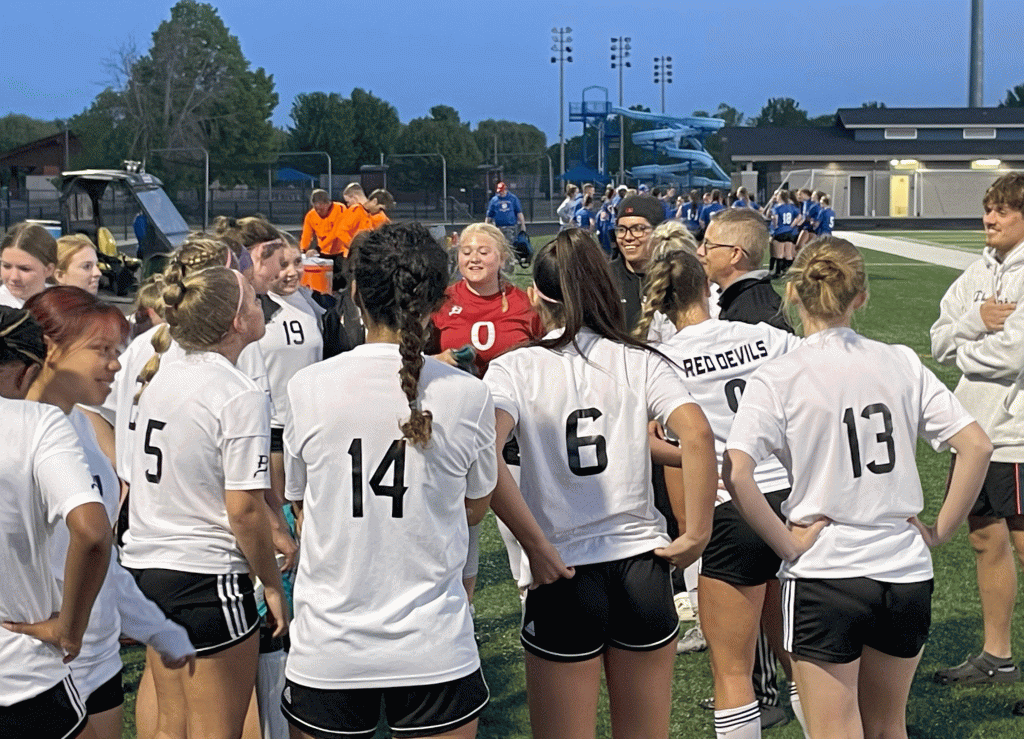 "We have three to five freshmen who play a lot of minutes for us, so we thought it would be kind of a rebuilding year," Naylor said after Thursday's sectional semifinal win. "Haley was potentially not going to play, but when she came back, it kind of changed the way we were allowed to move some players around.
"And we've asked to be more physical this year, go for every ball, challenge everything, play until the end. And that's exactly what happened."
It was a tremendous season for several county girls soccer programs, as Bradford and Tremper battled atop the Southeast Conference standings and Shoreland Lutheran was ranked No. 6 in Division 4 in the final state coaches poll before falling to top-ranked The Prairie School in Thursday's WIAA Division 4 sectional semifinals.
Tremper, which finished a tremendous 2022 season with a 16-4-1 overall record, went a perfect 7-0-0 in SEC play to claim the conference title, followed by Bradford at 6-1-0 in the conference.
Down to the wire
On Thursday at Ameche Field, the Trojans and Red Devils predictably battled neck-and-neck throughout the match. Tremper took a 1-0 lead in the first half when junior Chloe Fitch punched in a loose ball, but Christianson tied it late in the first half on a strong shot.
It stayed that way, with both teams trading chances, until the Red Devils earned the late corner kick. Naylor chose Seymour, a left-footer, to take the corner.
"I asked Anna to take it, because we wanted it tight to (the) goal so we could have an opportunity like that," Naylor said. "Earlier in the half, we missed a couple that bounced a little farther out. So we wanted an 'in-swinger,' so right on the goalie, hoping that we got an opportunity like that."
Bradford got just that opportunity, and Brown pounced on it for her first goal of the season.
Good to be young
For Brown, a two-sport athlete, youth is on her side.
She's also a standout basketball player who's already been on Bradford's girls basketball varsity roster for two seasons now. This season, Brown played in all 27 of the Red Devils' games, averaging 4.0 points and 2.7 rebounds per contest in helping Bradford to a WIAA Division 1 regional title. She was named All-SEC honorable mention.
"I'm a 3-point shooter," Brown said.
Brown has actually been playing both soccer and basketball this spring, as she's competing with the AAU basketball program Future Elite out of Waukegan, Ill., during the high school girls soccer season.
And — proving yet again that it's good to be young — Brown can not only play two physically demanding sports at one time, she can also apparently eat whatever she wishes.
"Probably McDonald's," she answered with a laugh when asked what her favorite place is to eat in Kenosha. "I eat fries and stuff like that."
Though she said she began playing soccer before basketball at a young age, Brown said she now believes basketball is her best sport. She also joked that it can sometimes be confusing to, at the same time, play one sport where you can use your hands and not your feet and another where you can use your feet and not your hands.
She conceded that not being able to use your hands, as in soccer, is more challenging.
"It's so hard not trying to pick the ball up," Brown said.
Well, on Thursday night, Brown had no issue with using her feet, and just at the perfect moment. Because of that, Bradford is one victory away from a return trip to the State Tournament.
"All season she's been in the right spot, had tons of shots and just kept believing," Naylor said.
"5 QUESTIONS WITH" TE'LISHA BROWN
Favorite food? "I like pizza a lot."
Favorite movie? "I think 'Black Panther' is pretty good."
Favorite musical artist? "I like 2C. He's like a rapper."
Favorite athlete? "I like LeBron."
Where do you see yourself in 5-10 years? "I'm trying to go to college for academics and just probably sports, see if I can get an offer to play any sports." … What subjects are you interested in at school? … "I like math and science."