On the biggest stage his team could play on, Bradford High School girls soccer coach David Naylor and his staff saw just how good Haley Christianson could be.
Two seasons ago, in 2021, the Red Devils reached the Wisconsin Interscholastic Athletic Association Division 1 State Tournament at Uihlein Soccer Park in Milwaukee, where they faced a tough Divine Savior Holy Angels squad in the state semifinals.
Christianson was a sophomore then, wrapping up her first season on the varsity roster, though she would've been on the varsity team as a freshman in 2020 had that season not been canceled by the COVID-19 pandemic.
At any rate, during that State Tournament season, Christianson played outside midfield, because she was needed in that position, and was not one of Bradford's main upfield scoring threats. However, in that state semifinal match against DSHA, Naylor had to move Christianson up when one of the Red Devils' forwards went down.
And, boy, did Christianson ever answer that call.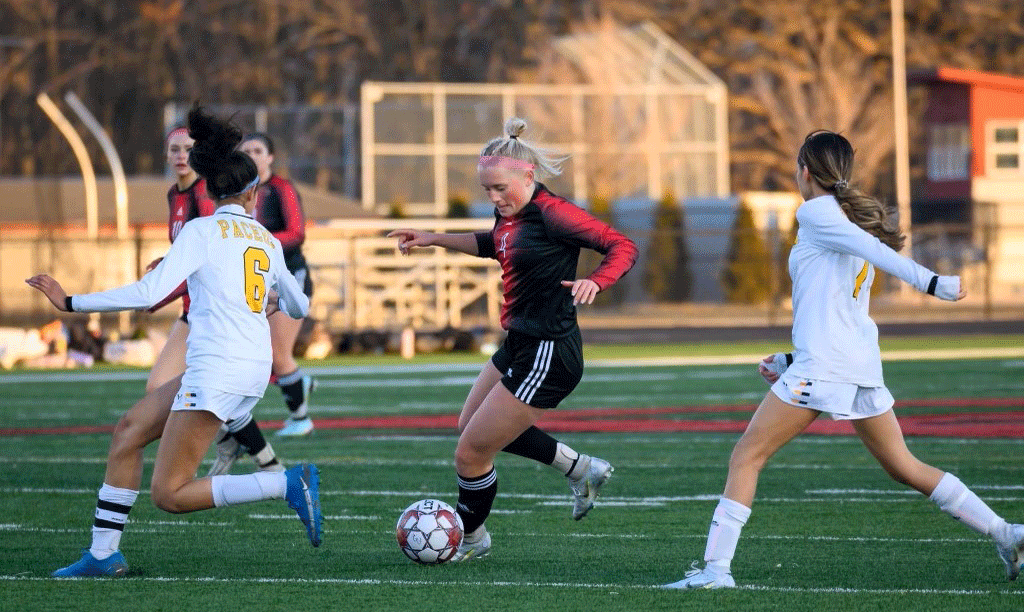 Though Bradford lost that match, 2-1 in overtime, to a DSHA team that went on to win the state title, Christianson was fantastic on the big stage when moved up to forward.
Recalling that match from two seasons ago in a phone interview Thursday afternoon, Naylor said Christianson's presence at forward helped Bradford stay in the match, even though she was just a sophomore.
"She was physical, she was well beyond her time," Naylor said. "Divine Savior is never an easy team to play, but she put it to them and gave us a really good shot to stick with it. We saw that maturity right away. 
"So early on, she had a huge impact. Here she is a young player on a varsity team at state, and she was probably our best player that game."
At that point, Naylor cut himself off.
"No, she was our best player that game," he said.
Jump ahead two seasons, and Christianson — now a senior — is the undisputed leader for Naylor's Red Devils. She played forward as a junior all last season, totaling 26 goals and 15 assists in being named honorable mention All-State by the Wisconsin Soccer Coaches Association and helping lead Bradford to a Southeast Conference title and another trip to the WIAA Division 1 sectional finals.
As her senior season gets underway this spring, Christianson — this week's Kenosha.com High School Athlete of the Week — has already committed to play in college next season at NCAA Division I Marquette University.
Most importantly, with big things anticipated for her final season at Bradford, Christianson is feeling healthy again.
Ready to go
As this spring season approached, there was some doubt whether Christianson would even be able to play her final high school soccer campaign.
A four-year varsity player for the Bradford girls basketball team, too, Christianson was limited to just nine games on the court for the Red Devils this winter, though she did whatever she could to help the team win a WIAA Division 1 regional title.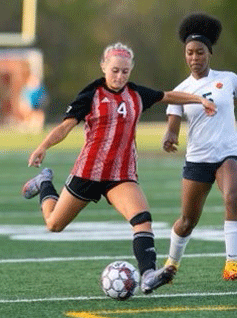 "I tried to just get in there a little bit, just stuck with the team," Christianson said Thursday at Bradford Stadium at the end of a Bradford girls soccer practice.
However, Christianson said she was on crutches for a month and in a boot for six weeks due to two partial tears in her ankle and a partial tear in her Achilles tendon. Additionally, she said back issues had kept her from playing any contact soccer for about five months.
So, with a Division I soccer scholarship already secured, Christianson had to consider whether it would be best to play her senior soccer season for Bradford or just rest her body.
Of course, she wanted to play.
"I obviously wanted to play my senior season, so it was kind of concerning for me if I was going to be out," Christianson said.
About a month before the season began, Naylor said Christianson told him she was going to play. Which, of course, was a huge relief for the 14th-year Bradford head coach.
"Frankly, that changed our whole outlook about the season," Naylor said. "I really thought we were rebuilding, we were going to have a young team. And you get back such a dynamic player, immediately we changed formations to fit her.
"A lot our planning changed to fit her and to really allow her to shine."
Christianson is making sure to take things easy to start. The Red Devils won their first two matches of the season this past week, both in non-conference play. Christianson said she played about half of one match and then a little more the next one.
Not surprisingly, she already has three goals.
With spring break this week, Bradford doesn't play its next match until April 15 and doesn't play its first SEC game until April 18. So Christianson should have plenty more time to get fully healthy, though she seems confident she's there already.
"I'm feeling 100 percent, a lot better," Christianson said Thursday.
Team leader
A four-year varsity competitor in two sports, Christianson's athletic exploits at Bradford have long been seen.
In basketball, she was named honorable mention All-SEC as a freshman, third-team All-SEC as a sophomore and second-team All-SEC as a junior before her senior season was unfortunately hampered by injuries.
She's been even more dynamic on the pitch, though her first two seasons may have been a bit overshadowed by another standout player, Kate Brown, who graduated following last season after one of the best careers in program history.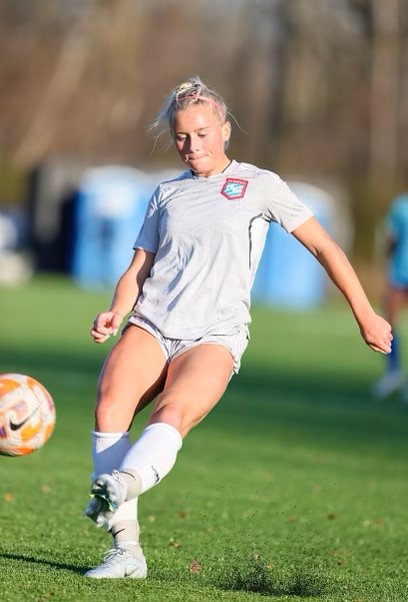 Last season, Brown and Christianson combined for 53 goals — 27 for Brown, 26 for Christianson — and both were named honorable mention All-State by the WSCA. They were also both named first-team All-SEC, with Brown winning SEC Player of the Year honors.
Brown first committed to NCAA Division I Northern Arizona, but Naylor said she has transferred back home to play at NCAA Division II UW-Parkside.
Last season, the Red Devils certainly featured a potent scoring duo with two Division I-level players at forward in Brown and Christianson.
"We had a really good connection," Christianson said. "We were able to read each other. I just feel like we always knew where each other were going to be. We didn't have to really look to play that ball. It was really nice, because if I was having a rough game, she'd pick me up. If she was having a rough game, I'd pick her up.
"So just having that connection was really nice."
With so much talent to work with the last two seasons, Naylor said Christianson probably didn't get recognized enough. In fact, even the coaching staff may have underestimated her.
"I think Haley didn't get enough of the credit," Naylor said. "I didn't recognize, early enough, her talent."
Well, that's not the case anymore.
Naylor said this season, everything his team does will be "driven through" Christianson, and she has more than earned that opportunity.
"I think this year's good, because she's her own person, and there's nothing in the way," Naylor said. "There's nobody talking about anybody else. It's her this year. She's really accepted that well.
"She doesn't have any nerves. She doesn't feel worried about anything, nor is she cocky about it. She really is humble about her talents. She never, ever pushed me for more of a spotlight. She just accepted her role. And she's accepted her role, no matter what I've asked her to do. So I'm glad to see her get her time to shine for us."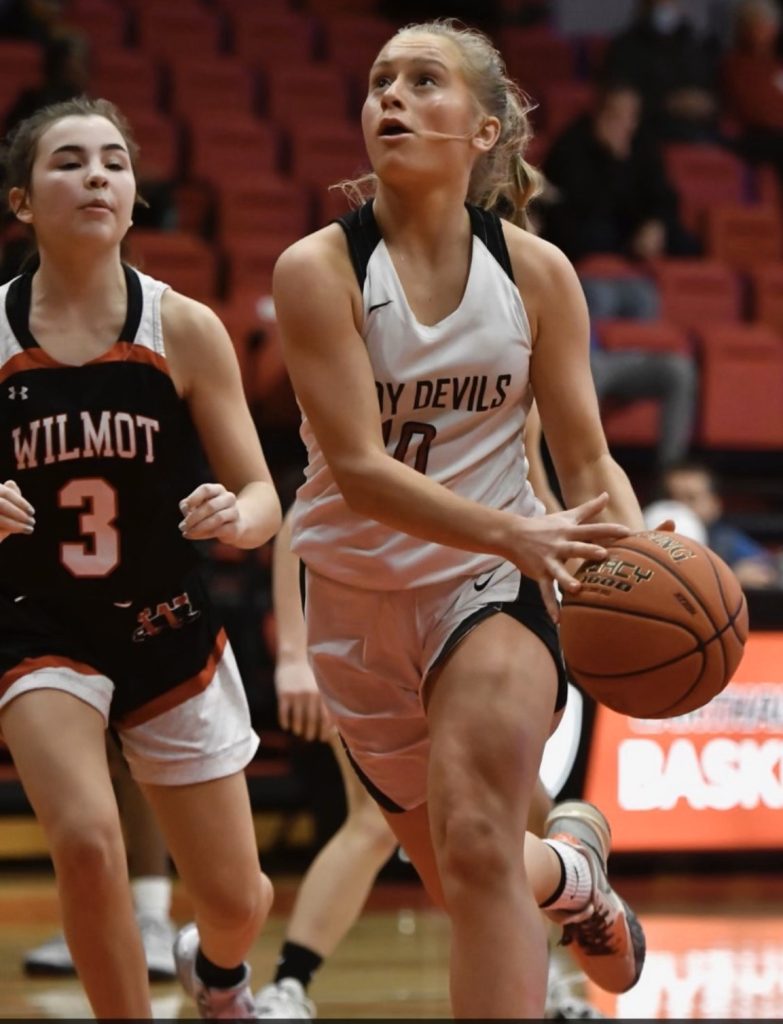 Naylor could not gush enough about Christianson, saying she's as coachable as she is talented.
"Haley is truly a student of the game," Naylor said. "She has an insatiable desire to get better. First there, always last to leave. She sets up and plans extra time with coaches on a regular basis. It's not that hard to coach somebody like her. Everything is there. She wants to get better. She takes subtle comments and runs with them.
"… She's super dynamic. She can turn, she can shoot, she can pass, she sees the field well. She's just a real complete player. Having had her for the last couple years, it's really helped transform the program into the team we are. She's had a huge impact on that."
True to Naylor's description of her, at the end of Thursday's interview, Christianson asked if she could talk more about her team, not herself.
The Red Devils have a young roster overall this season, as they try to defend their SEC title and make a run at a second State Tournament appearance in three years. But leaders like Christianson and senior defender Megan McNeely are there to help the young players grow up quickly.
"We have a younger team this year, so I think we have a lot of potential," Christianson said. "Learning each other — because I know very few of us have played together as a team — we're focusing on creating those connections between the players. 
"I think we're doing a good job of that. I think we're just going to keep improving."
Headed to Marquette
Growing up, Christianson said softball and soccer were actually her two best sports. She played travel softball for about eight years but stopped playing that sport to focus on soccer.
She kept playing basketball because that season didn't interfere with soccer. On the pitch, as she entered high school, Christianson joined the club soccer squad FC Wisconsin out of Germantown, which competes in the high-level Elite Clubs National League.
"I just really like the competitiveness of soccer, and how it's a contact sport," Christianson said.
Christianson's soccer talent brought interest from college programs at the top level, and she settled on Marquette, just up the road in downtown Milwaukee.
"I had a couple other offers, but Marquette just really fit everything that I wanted," Christianson said. "Close to home, I really liked all the coaches, and they have a really good culture on their team, from what I saw."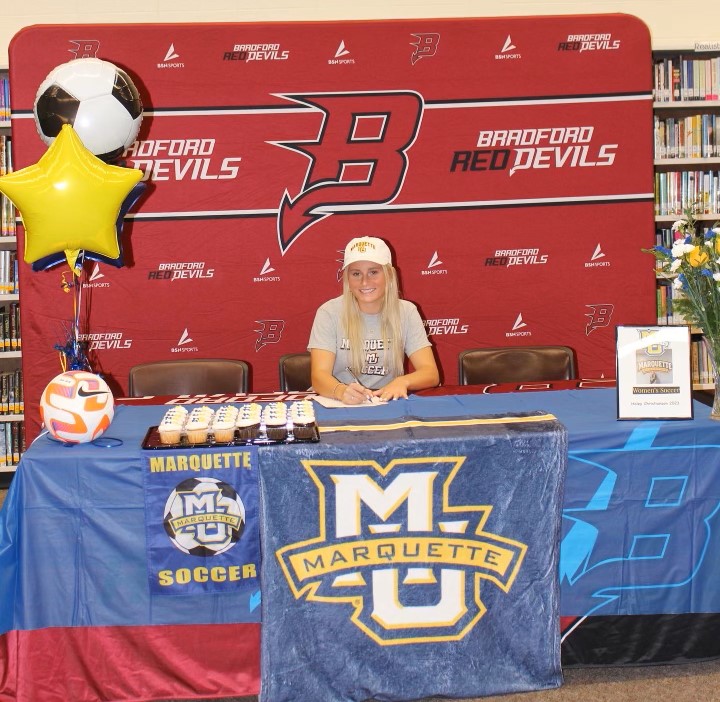 As an interesting factoid, Christianson was actually born in Hawaii, as her dad was in the Navy. However, her family moved to Kenosha when she was just 3 years old, and this has been her home ever since.
Christianson attended Somers Elementary School and then The Brompton School for middle school. She's felt at home at Bradford through her high school years.
"I've had a good group of friends growing up, so I didn't really want to leave that group," Christianson said. "Even on the soccer team, some of them I've grown up with my whole life."
Her high school years are now wrapping up, but Christianson plans to make the absolute most of her final soccer season with the Red Devils.
And after she departs, her impact on the program will carry on for years.
"Haley's really good to watch, because she just does so many things right," Naylor said. "And so she's a good mentor for our young ones.
"She's helpful. She doesn't want to stop their development, because she wants the team to continue to progress over the years."
"5 QUESTIONS WITH" HALEY CHRISTIANSON
Favorite food? "I'd say, probably, pepperoni pizza."
Favorite movie? "I feel like, childhood movie, probably 'Zootopia.'"
Favorite musical artist? "Either Polo G, or country music, I like to listen to."
Favorite athlete? "Alex Morgan (one of the best women's soccer players of all-time)."
Where do you see yourself in 5-10 years? "Right now, I'm looking at going (for) a business path, and then in five to 10 years, finishing up my college soccer career, possibly looking at opportunities (of) going pro. And then just starting my life!"