As a junior during the 1998-99 school year, J.T. Robinson walked into the junior-senior lunch hour at Wilmot Union High School and scanned the cafeteria for a place to sit.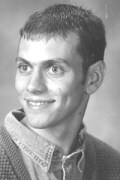 He spotted smiling senior Mark Barranco, who was a teammate on a baseball team that summer.
"Hey, J.T.!" Mark called out with a wave. "Come sit with us!"
Robinson eagerly joined the group.
"At the table were a bunch of guys I looked up to as well as Mark — a bunch of guys I would be playing varsity sports with that year," Robinson recalled. "Mark was that guy who brought me into that circle of friends."
A few short months later, the Wilmot community was rocked by tragedy when that jovial senior was taken far too soon.
During a boys basketball game between the Panthers and visiting St. Joseph on Feb. 9, 1999, Barranco came off the bench with 4 minutes, 4 seconds left in the first quarter. Moments after entering the game, the 6-foot-1 forward grabbed a defensive rebound, ran upcourt and collapsed to the floor.
Despite efforts to revive him, the 18-year-old three-sport athlete died of sudden cardiac death due to abnormal coronary arteries, according to the medical examiner.
In the years that followed, the Barranco family awarded the Mark Barranco Scholarship at Wilmot's annual Senior Awards Night. The scholarship has been given to a multiple-sport athlete who shared similar traits as Mark.
Wilmot Athletics/Activities Director Herm Christiansen, who was Wilmot's head boys basketball coach at the time of Barranco's passing, and Dawn Barranco, Mark's sister, would struggle every year, overcome with emotion, when it came time to present the scholarship.
"We've called ourselves the 'Hot Mess Express,' because we could never get through it," Christiansen said.
The task got even tougher when Nancy Barranco, Mark and Dawn's mother, passed away on March 25, 2018.
So, in recent years, Robinson took over as the presenter of the scholarship.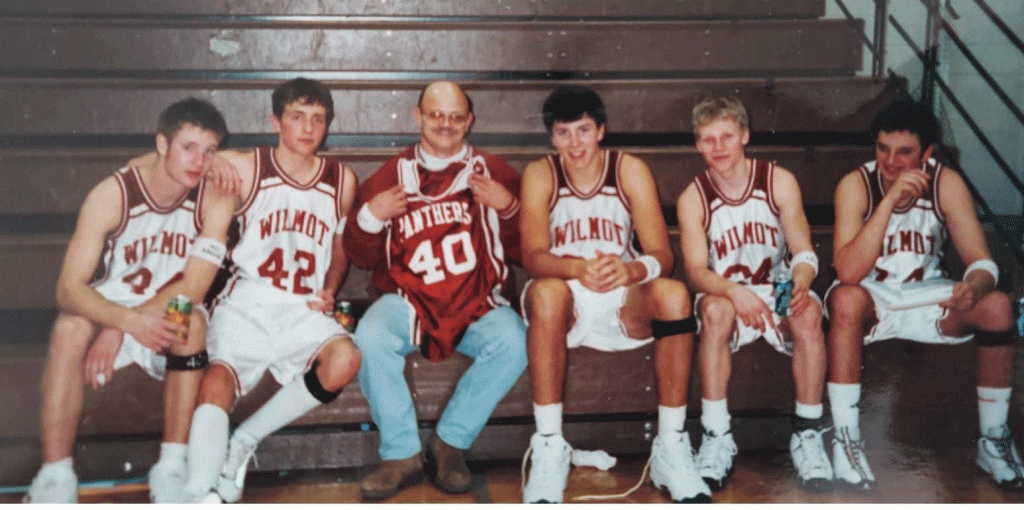 At Wilmot's Senior Awards Night on Wednesday, May 24, the Mark Barranco Scholarship was awarded for the 24th and final time.
During his speech this year, Robinson told the crowd about the importance of staying in contact with friends and former teammates.
"I have this saying when I reach out … If we just keep in touch, every once in a while the planets will align and we actually will find ourselves in the same space," Robinson said. "Then we will make more of those memories and have more of those best times of our lives."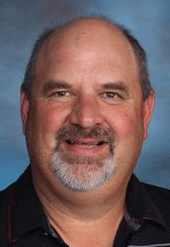 And, with that said, a half-dozen of Barranco's friends and former teammates joined Robinson on stage. The group included Jesse Damrow, Chris Hanson, John Linton, Brian Maastricht, Ed Snyder and Dave Tobin, along with Shelly Reichwein, who represented her son, Tom.
The get-together was planned by Dawn Barranco as a surprise for Christiansen. Most of the special guests currently live out of the area, with Maastricht traveling from Texas for the occasion.
"Shock," Christiansen said when asked about his reaction. "Everyone knew what was going on, except for me."
When it came time to award the scholarship, it was presented to Jake Christiansen, Herm's son, a deserving three-sport athlete who graduated from Wilmot on Sunday (June 4) and is headed to UW-La Crosse.
Talk about putting a bow on the scholarship. Jake's middle name is Mark — after his father's former player.
"My dad (Sam) and I weren't sure if we wanted to end (the scholarship)," Dawn Barranco said. "It just happened with it being Jake's senior year, we felt like it was the appropriate time. It's getting harder and harder to find three-sport athletes, or even two-sport athletes."
Then, she added: "Basically, since his birth, we knew it was going to be Jake."
Much like with the players from the 1998-99 team, the Christiansens have formed a special bond with the Barrancos.
"We stayed really close," Herm Christiansen said. "All of my kids have had the Barrancos wrapped around their little finger. Sam will do anything for them."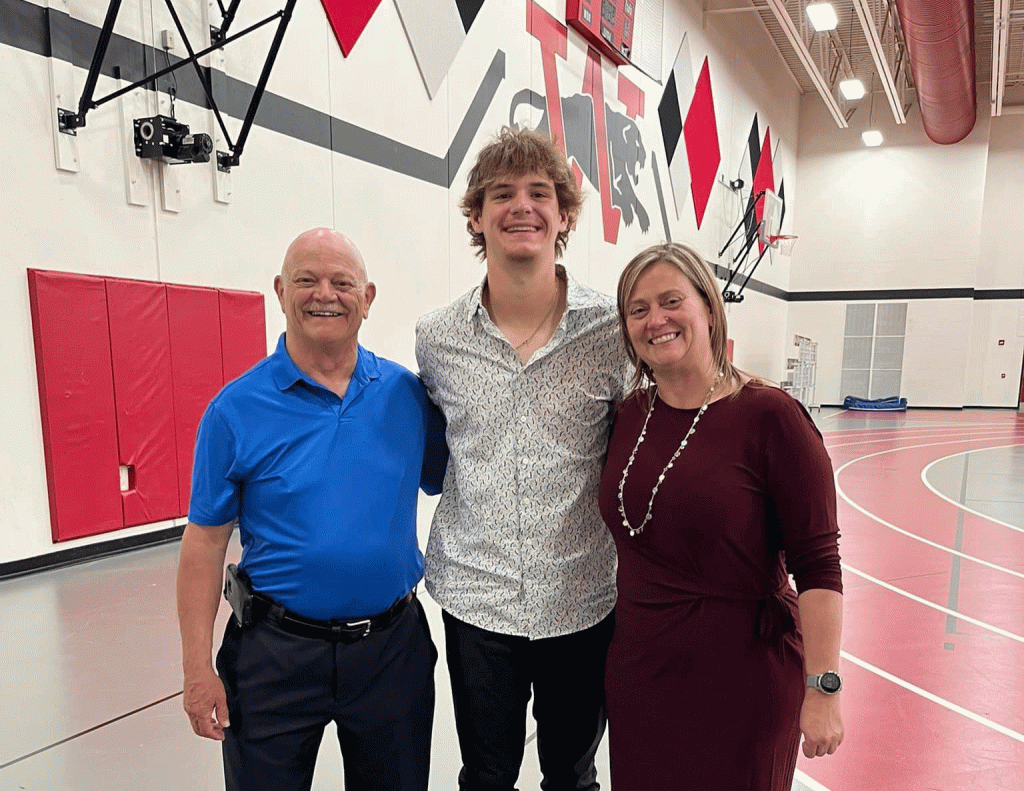 While considerable time has passed since 1999, the painful memories linger.
Dawn Barranco, who just finished her 10th year as an English teacher at Wilmot, was the coach of the cheer and dance team on that fateful night.
"There are some days that are easier than others," she acknowledged.
Serving in many roles, Christiansen has been at Wilmot since 1994.
"Probably the best thing that ever happened to me was that the new gym was built," he said, referring to the Wilmot Fieldhouse, which was constructed in 2005. The school's old gym, the Maki Gym, was where Barranco collapsed and died while Christiansen coached from the sidelines.
Choking up, Christiansen added: "Going in the Maki (Gym) … it's not a nightmare, but I still see it in my head. Every time."
In recent years, Wilmot Spanish teacher Kim Christiansen, Herm's wife, served as the coordinator for the popular Challenge Day.
"It was a really, really good program," Herm Christiansen said. "It was designed to get kids to get their feelings out and get to know one another — break down the walls and barriers. Very, very emotional.
"Guess where they held it? In the Maki Gym. I looked at my wife and told her, 'I love you, but I can't do this for you ever again, honey.'"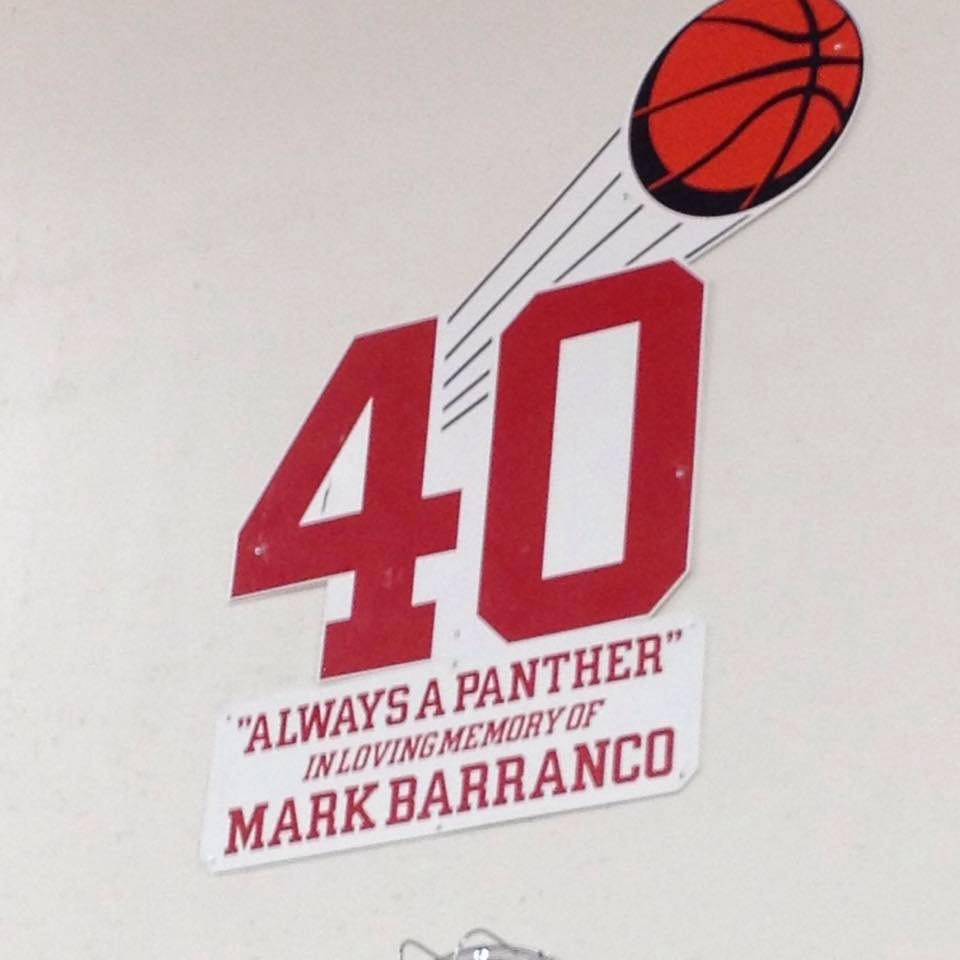 Robinson, the Trails Coordinator for Kenosha County Parks, spends five months a year in Utah working as a backcountry ski guide. After graduating from Weber State University in Ogden, Utah, with a degree in finance, he spent 15 years as a professional skier.
Along with Barranco, the deaths of friends Carl Oehler (1998), Carlos Schwenn (2001) and Craig Eibl (2002) helped Robinson shape his life.
"I try to think about Mark and the other friends of mine who passed before their time — pretty often, actually," Robinson said. "I have tattoos on my shoulders for all of them.
"I take character traits that I admired from these friends of mine and try to work them into my life as a way to honor their legacy."
For Mark, it was his work ethic and grit.
"Mark wasn't the most talented athlete at Wilmot, but he played three sports, and he held his own because he just worked harder than everybody else," Robinson said. "That's what I took from him. I'm not the most talented guy in the world, either, but I can outwork people.
"I ended up on this pro skiing tour for 15 years. Not because I was the best skier in the world, but just because I worked harder than other guys."
Almost a quarter-century later, Mark Barranco is still making an impact on his former teammates.
"So, you ask me, how often do I think about him? He changed my life to a certain degree," Robinson said. "His death was the impetus to do what I've done. Now, I'm a backcountry ski guide — my dream job.
"I owe a certain amount of the trajectory of my life to the lessons I've learned from Mark and other friends who had similar tragedies. I always wanted to go to college out west and ski. After Mark died, I thought, 'Man, you have to go do what you want to do. Otherwise, you might not get the chance to do it.'"