Dave Sjuggerud has found a great routine, and you can bet he'll stick to it the rest of the week.
First, a soak in the hot tub. Then, a drink.
That was the routine that Sjuggerud said helped get him nice and relaxed before the first night of the Senior Men's Division finals on Monday in the Kenosha.com Match Game Bowling Tournament at Guttormsen Recreation Center.
Judging by the results, it worked.
"I jumped in the hot tub and had a drink," Sjuggerud said after his eight-match block Monday put him into first place in the 16-bowler Senior Men's field halfway through the finals.
Sjuggerud, seeking his second Match Game Senior Men's title after winning it in 2018, weathered the usual ups and downs of a Match Game finals night well. He started Monday hot, with a 299 in his first match and a 738 series over his first three matches, all victories.
In the Match Game finals, bowlers are awarded 30 points for each match victory and either gain or lose a point for each pin over or under 200.
Sjuggerud was fortunate to win his third match of the night with a 194 and was in first place, but he followed that with a 201 in losing his fourth match, which dropped him all the way to seventh. But the Match Game veteran stayed calm — possibly with the effects of the hot tub and a drink still in effect — and concluded his night with games of 258, 237, 278 and 279, all victories.
"I went to a different ball (than he used in qualifying last week)," Sjuggerud said. "I haven't shot it in about four years. That ball worked for me all night.
"… I stayed relaxed, loose, didn't rush. It was a good night."
With an eight-match record of 7-1 and a total pinfall of 1,990, Sjuggerud concluded the night Monday with an even 600 points, 78 ahead of second-place Dan Reynolds — more on his great story in a moment — who went 6-2 with 1,942 pins for 522 points.
But there are plenty of big names and fantastic bowlers right on the heels of Sjuggerud and Reynolds, which should make for an exciting Thursday night, when a Senior Men's champion will be crowned at GRC after eight more matches.
Gene Pobloski, who threw the best score of qualifying week, held down the top spot at one point Monday before dropping his final two matches. But Pobloski still has a great shot at his first Match Game title after totaling 1,946 pins and a 5-3 match record for 496 points and a third-place standing going into Thursday, 104 points behind Sjuggerud.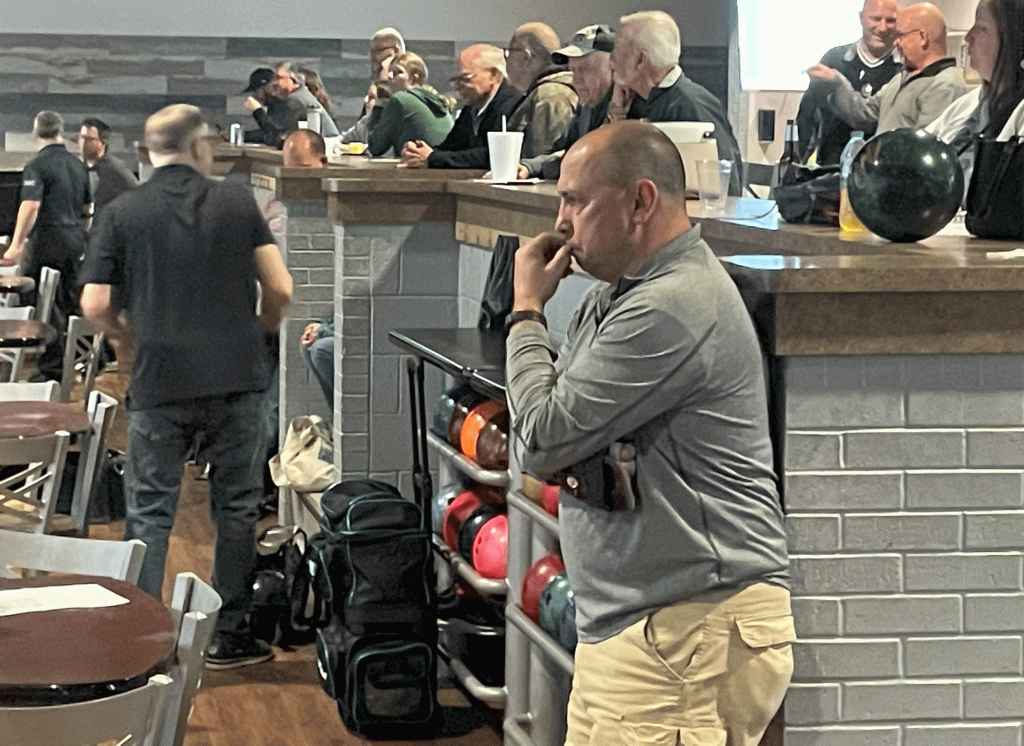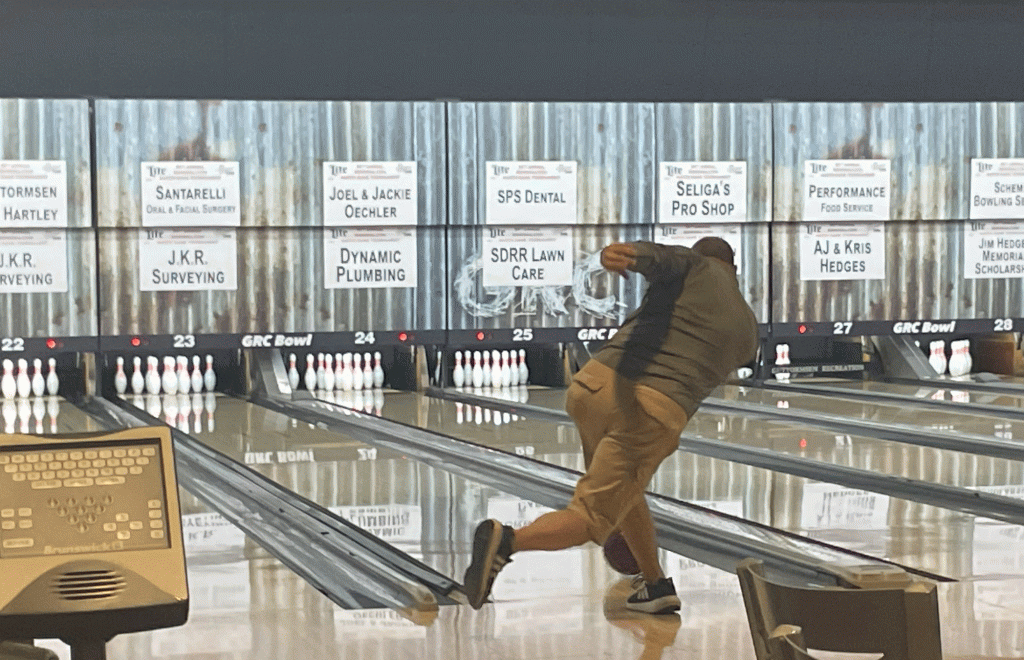 The biggest name in the field is also lurking near the top, as left-handed dynamo Rich Beltoya — the defending Senior Men's champion who's won four Senior Men's titles and a Men's title in his prolific Match Game career — sits in fourth place with 487 points, a very manageable 113 back of Sjuggerud.
Beltoya started Monday off rough, rolling games of 226, 205 and 203 in his first three matches, all losses. But Beltoya is always dangerous, and after squeaking out a win with a 219 in his fourth match, he fired off games of 279, 246, 279 and 280 for four big closing victories to get right into contention for Thursday. He finished 5-3 with a pinfall of 1,937 for his eight matches Monday.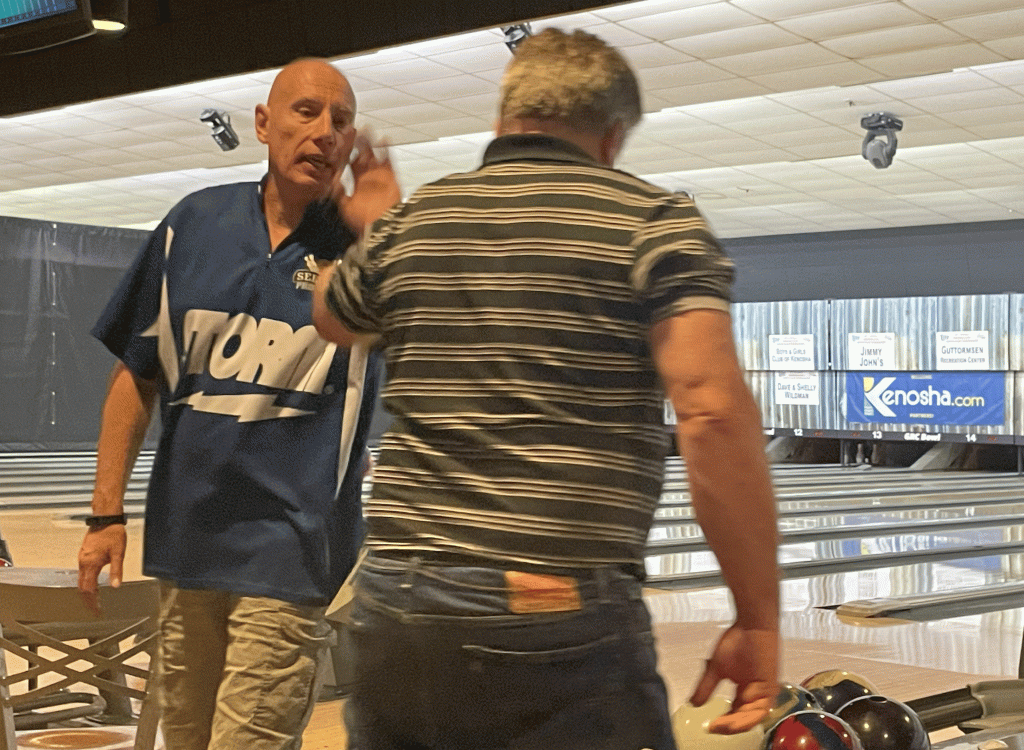 Matt Zagar, meanwhile, also can't be counted out, as he finished Monday with a 4-4 record and 1,931 pins to sit in fifth place with 451 points.
For Sjuggerud, the first part of Thursday may well determine where he's situated by the end of the night. He's scheduled to bowl against Pobloski, Beltoya and Reynolds in his first three matches Thursday.
"It's going to be tough Thursday," Sjuggerud said.
Memorable run for Reynolds
Whether he can win the Senior Men's title or not on Thursday night, Reynolds has already authored what certainly will stand as the top storyline of this year's Match Game.
Reynolds' father was Dick Reynolds, a fixture in the Kenosha bowling community who worked at GRC for 25 years and always ran the Match Game when it was held there. Reynolds died on Jan. 25 at age 83, and the Super Senior Men's Division has been named the Dick Reynolds Memorial Super Senior Men's Division in his honor. For more on Dick Reynolds, click HERE.
For Dan Reynolds to qualify for the Senior Men's finals and then sit in second place after the first night of finals in the first Match Game following his dad's passing, at GRC nonetheless, is just a remarkable story.
"It means a lot," said Dan Reynolds, who was both smiling and choking up after his performance Monday. "He was always there with me. The few times I did make it (to the Match Game finals), he was always criticizing me, helping me out and stuff, so I miss that quite a bit.
"It just means a lot. I'm at a loss for words. I miss him very much, and I wish he was here. But I know he's watching down, drinking a tumbler, and enjoying what he sees."
Indeed, just having this year's Match Game at GRC is a great testament to Dick Reynolds' impact on the Kenosha bowling community.
"I've had so many people coming up to me, people I didn't even know, say how great my dad was," Dan Reynolds said. "They even miss him. I appreciate everybody who came up to me and said their condolences and stuff. It means a lot, it really does.
"And it shows how special the guy really was. I love him and I miss him."
The Kenosha.com Match Game Bowling Tournament finals week rolls on Tuesday night with the first night of the Men's Division finals, in which the 16-bowler finals field will compete in its first eight matches before the Men's Division — and the entire tournament — concludes on Friday. Bowling begins at 6:30 p.m. all week at GRC.
For all the tournament information, including standings, stories, photos and videos, visit Kenosha.com/bowling and Kenosha.com's Facebook page.