NOTE: Kenosha.com is pleased to now be the official sponsor of the Kenosha.com Match Game Bowling Tournament. This year's tournament, the 59th annual, will be held from May 7-19 at Guttormsen Recreation Center. Follow Kenosha.com's Match Game Bowling Tournament Central page and Kenosha.com's social media feeds for full coverage of the tournament.
For the last several decades, if you needed information about bowling alleys in Wisconsin, there was no need to consult the Yellow Pages or, in more recent times, to do a Google search.
You could just ask Dick Reynolds.
"If you wanted to know where a bowling alley was in Wisconsin, ask Dick," Guttormsen Recreation Center Manager Joel Oechler said in a recent interview. "He could tell you where they are, when they're open and probably know their open bowling times."
Indeed, Reynolds was an encyclopedia of bowling knowledge for the state of Wisconsin, and Kenosha was his speciality.
So that's why the 59th annual Kenosha.com Match Game Bowling Tournament next month will feel like it's missing something, especially since it's being held at GRC this year.
That's because Reynolds, who died on Jan. 25 at age 83, will not be there this time.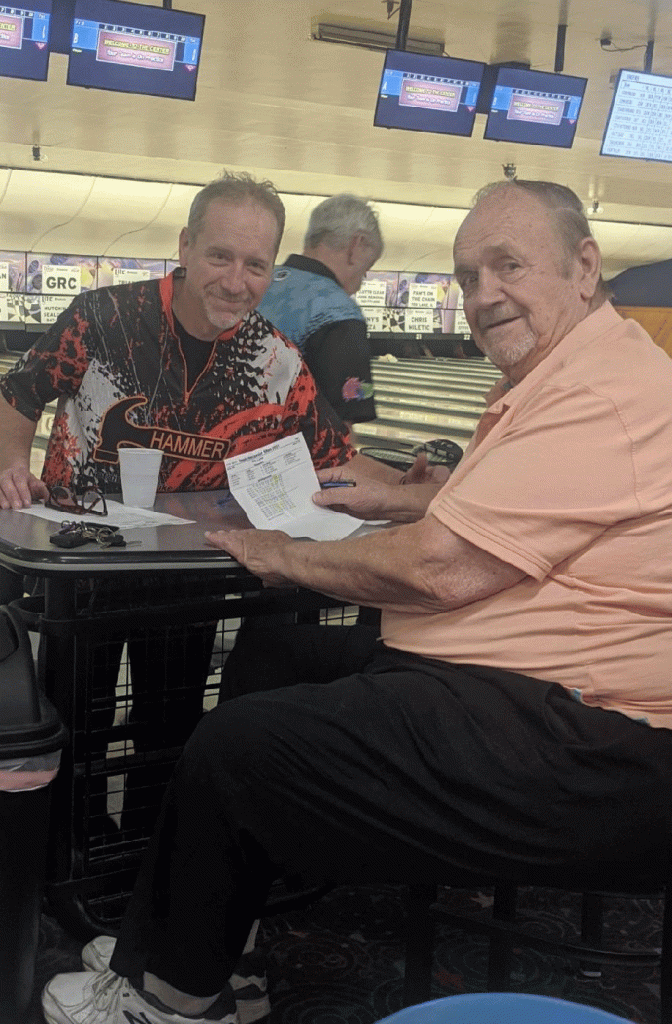 His name, however, will be a permanent fixture to the Match Game Tournament, because the Super Senior Men's Division from now on will be known as the Dick Reynolds Memorial Super Senior Men's Division.
For ages 62 and over, it was Reynolds who spearheaded the creation of the Super Senior Men's Division, so that older bowlers could still have a chance to compete for a Match Game Tournament title.
"He wanted to get the bowlers that were advancing in age still the opportunity to bowl in the tournament and compete," Oechler said.
And there was no Kenosha bowling event Reynolds loved more than the Match Game Tournament.
"He worked a lot of tournaments, and he ran a lot of tournaments. Honestly, (the Match Game Tournament) was one of his favorite ones," Reynolds' son, Dan, said in a phone interview this week.
"I'm sure it was. He loved it. He loved all the best bowlers in the city getting together. He would talk about this tournament two weeks before (and) two weeks after."
A life in bowling
A lifelong Kenoshan, Dick Reynolds graduated from Bradford High School and entered the U.S. Air Force in June 1957, from which he was honorably discharged on June 19, 1963.
Reynolds then worked as a service manager at Sears for 36 years. After retiring at age 55, he worked at GRC for 25 years, which was probably a natural transition for Reynolds given his long involvement with bowling in Kenosha.
After starting his bowling career as a pinsetter at the old Ron-Cel Bowling Alley in 1956, Reynolds became a member of the Kenosha Bowling Association in 1961. He coached junior bowlers at the old Guttormsen East for seven years and was also a Kenosha Junior Bowling Association board member for nine years.
Reynolds was elected to the KBA board in 1979, beginning a 43-year tenure as a KBA board member, including three terms as president. He served in multiple capacities through the KBA's merger to the Kenosha United States Bowling Congress and was involved in just about every tournament, function and committee there was for the KBA/Kenosha USBC.
Reynolds was also elected to the Wisconsin USBC in 1995 and was instrumental in the committee that assisted the men's and women's associations through a merging process in 2018. Additionally, Reynolds was a league secretary for the Monday Commercial League for 26 years and also the longtime league secretary of the Bristol League.
But Reynolds was not just an administrator for local bowling. He was also a very talented bowler in his own right, starting a distinguished bowling career in the early 1970s when he joined Everett Yance's Hansmann Printing team. With that team, later the Willkomm Mobil team, Reynolds bowled in 31 consecutive American Bowling Congress nationals, 25 Wisconsin State Tournaments and 25 KBA/Kenosha USBC City Tournaments.
Among his many notable bowling achievements, Dick and Dan Reynolds teamed up to win two KBA father-son city doubles titles, in 1992 and 1993.
"We just had so many good times bowling in leagues together," Dan said of his father. "We had a lot of fun together, bowling."
Dick was also a two-time Match Game Tournament finalist, finishing fourth one year. His highest series was a 750, which he accomplished twice, and his highest career average was 206.
Reynolds was elected to the KBA Hall of Fame in 2002 and the Wisconsin State Hall of Fame in 2019.
Said Reynolds in his induction announcement for the KBA Hall of Fame: "I've enjoyed the many years that I have been on the KBA board and serving the bowlers of Kenosha. I will always cherish the relationships I've had with all of the bowlers through this wonderful sport of bowling."
Well-liked by all
Big in stature, Reynolds was a ubiquitous and well-liked figure in the Kenosha bowling community for so many years.
Eddie Piehl, association manager of the Kenosha USBC, met Reynolds when both joined the Moose Lodge in the 1970s. They served together on the KBA/Kenosha USBC board for over four decades, through Reynolds' passing, and were doubles partners for 35 years on the Hansmann Printing/Willkomm Mobil team.
"We went to all the state tournaments, all the Moose tournaments, and the national tournaments. We did it all together," Piehl said in a phone interview this week.
"… He was a big man in stature. He voiced his opinion, and if he was right, he didn't back down. If he was wrong, and you proved him wrong, he'd listen to you. That's how we were at board meetings. Even if you argued, when we were all done, we went to the bar, all of us, and had a beer and talked stuff over. … Everybody liked him. Everybody got along with Dick. I don't think anybody didn't like him."
Piehl recalled one trip to nationals in Syracuse, N.Y. The team would often rent a camper and drive to nationals, if it wasn't too far. For this particular trip, they decided to drive up through Detroit and then through Canada before heading into upstate New York.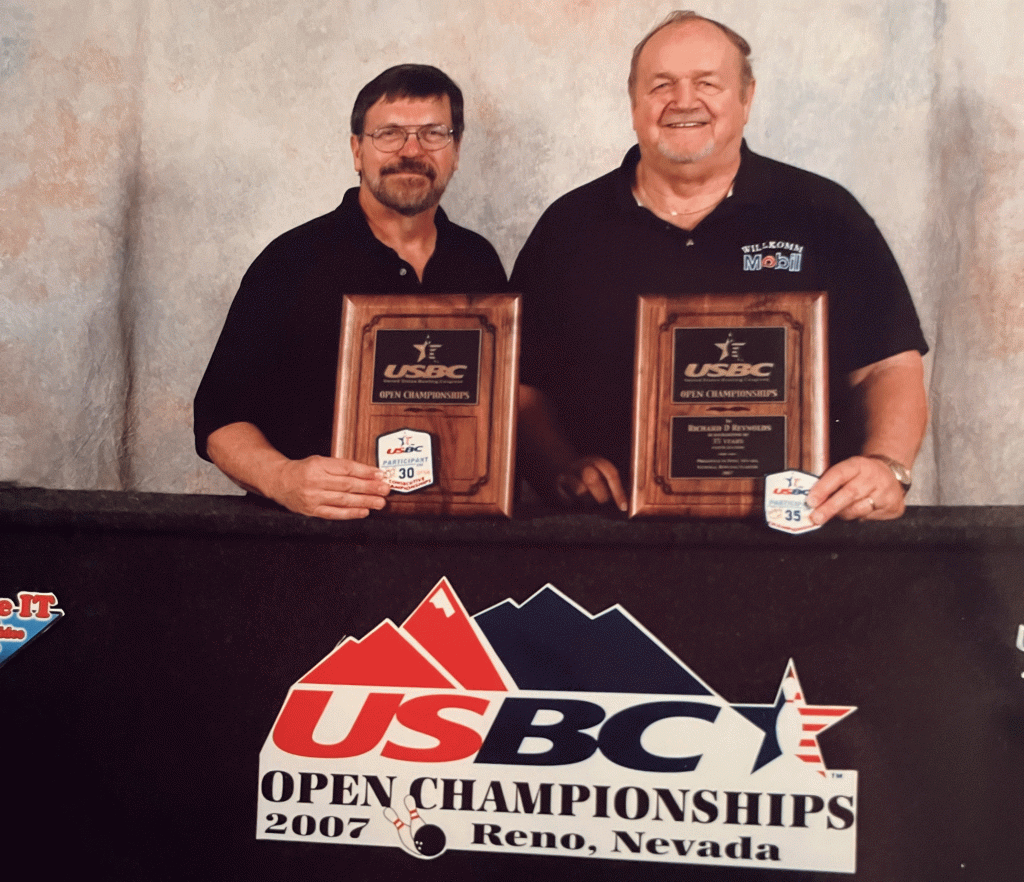 Upon reaching the border with Canada, a guard asked Reynolds if he had any weapons in the vehicle. Reynolds responded that he had "Hammers." Meaning, Hammer bowling balls.
"He goes, 'I've got a bunch of Hammers.' The guy goes, 'Hammers?' He goes, 'Yeah, they're bowling balls,'" Piehl recalled with a laugh. "Well, the guard on the gate didn't appreciate that, and all of us started laughing. He thought, 'What's so funny?' He actually made us all get out of the van.
"… If I was driving, they probably would've pulled my butt out of there and hauled me to jail."
With the Kenosha.com Match Game Bowling Tournament being held at GRC this year, it was the perfect time to debut the Dick Reynolds Memorial Super Senior Men's Division with its new name. During more than two decades of working at GRC after his "retirement," Reynolds helped coordinate the Match Game Tournament, not just when it was held at GRC, but also when it was held at Sheridan Lanes or Surfside Bowl.
"His memory is important to the tournament," GRC owner John Guttormsen said. "He's done a lot for it, and it should be honored."
Added Dan Reynolds about his father's propensity to help out: "He was so humble. He would do anything for anybody. It's weird, because I never really knew how much until he actually passed. You would hear all these stories, stories from everybody.
"… He was just a great guy. He loved bowling."
For any major bowling events that were held at GRC, Reynolds was certainly there to coordinate.
"He's just been our go-to guy for league and tournament bowling within the city," Guttormsen said. "City tournament stuff, league stuff we had done here, board stuff that needed to be done here — anything like that, Dick was our go-to guy for that. He was our connection. He was our employee, but also our friend, so it was great.
"… He obviously worked here and helped us get (the Match Game Tournament) organized and took care of everything for us. I mean, it was huge. So replacing those shoes was not easy."
And in addition to naming the Super Senior Men's Division in Reynols' honor, Guttormsen also joked that maybe the Match Game Tournament should also include a drink created in Reynolds' honor.
Because there was nothing he enjoyed more than a Korbel brandy after a long night of bowling.
"Korbel, with just an eye-dropper of vermouth, was his drink," Guttormsen said. "That was his favorite thing."