As an Air Force veteran and a fishing enthusiast, I was excited when asked to join the Resolute charter boat
out of Kenosha for the start of the 2023 fishing season.
Captain Jerry Costabile, a well-known name in the Kenosha/Racine fishing community, would be leading the way for our adventure. I was especially excited to hear about his efforts to support veterans' associations like The Fallen Outdoors, offering free fishing and hunting experiences to veterans.
On the day of the charter, I arrived at the dock to find a group of fellow veterans from the Midwest Division
of Fallen Warriors out of Illinois. The group included veterans from the Air Force, Army, Navy and Marines.
Everyone was enthusiastic about the opportunity to fish for trout and salmon on Lake Michigan. Some
even mentioned that it would be their first time targeting these species.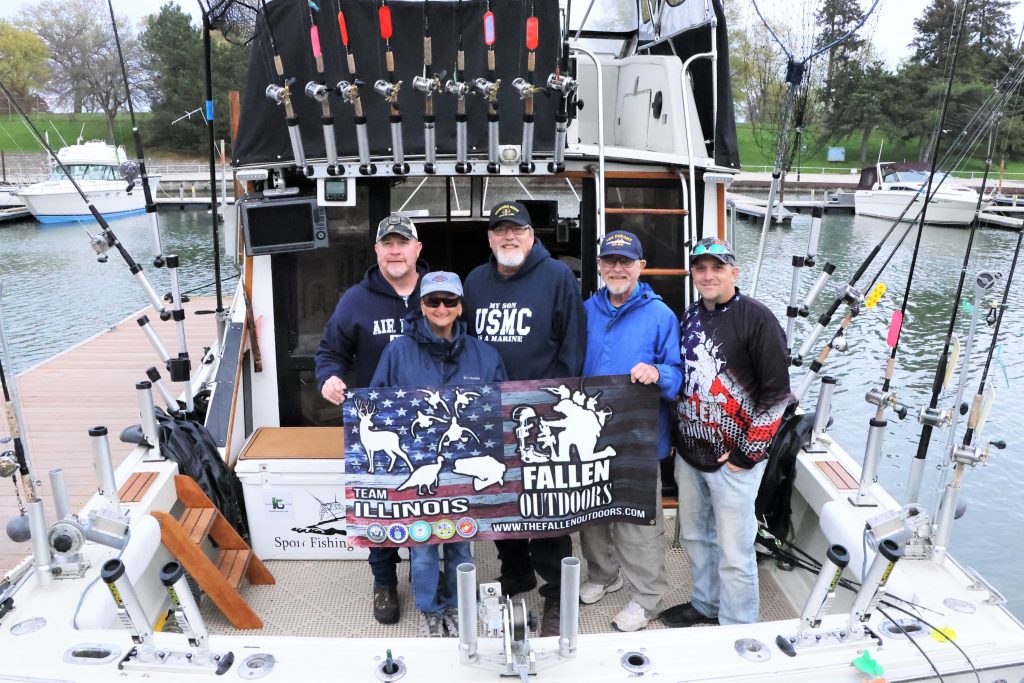 "I normally take veterans out to fish for crappies near St. Louis where I'm from," Team Illinois Pro Staff leader Jason Menendez said, "but I've never even fished for salmon before."
Captain Jerry was an impressive figure, with a contagious enthusiasm that set the tone for the day.
Even with rough waters and 15 fishing rods in the water, he moved around the boat with high energy, always
striving to make sure his clients had the best chance at success. I was amazed by his dedication to his craft,
even in difficult conditions.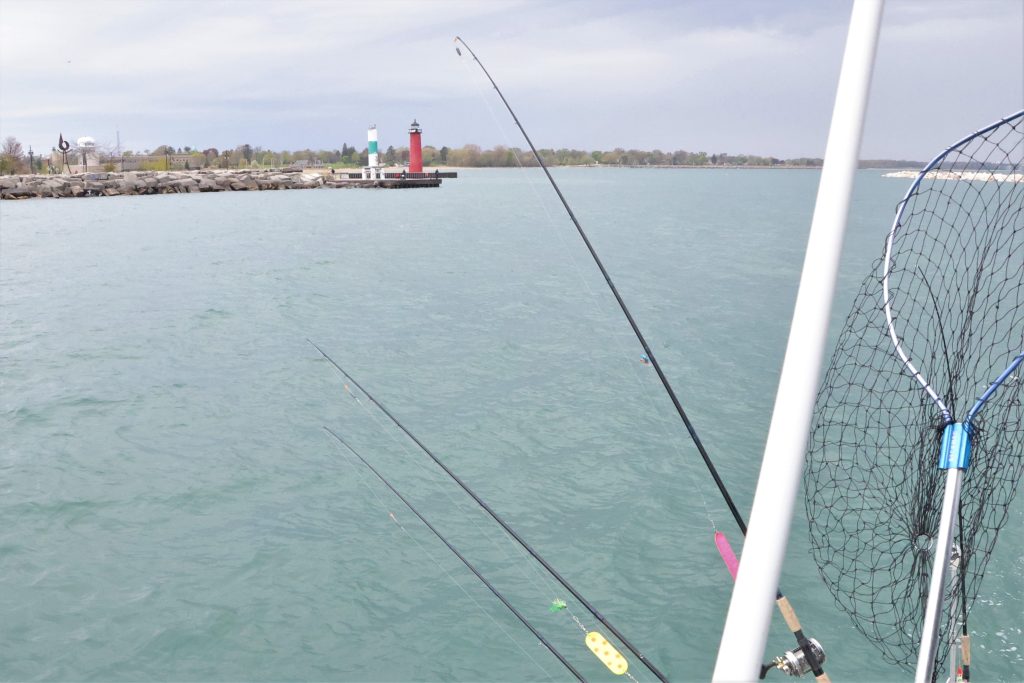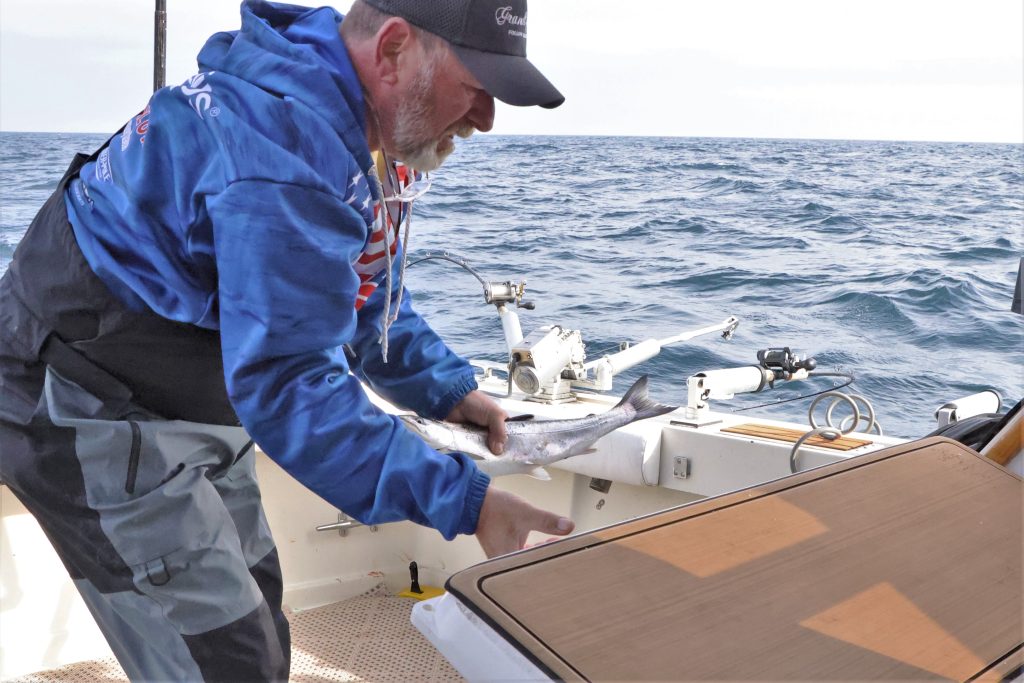 As we set out onto Lake Michigan, the weather was mild, around 60 degrees, but the winds started to pick
up after an hour or so. A rain cloud passed just to the north of us, and the waves grew. The boat was rolling
quite a bit, but everyone remained in good spirits.
Despite the challenging conditions, we all caught fish throughout the day.
The first catch, a small coho salmon, got it started, and we were all hopeful that we would continue to catch more. However, the water temperature was cold, and the fishing was not as steady as we had hoped. Captain Jerry did his
part by changing line depths and swapping out poles with different baits. With 15 lines in the water, he managed to avoid any tangles and keep us on track.
In total, we caught two king salmon, one large lake trout and nine coho salmon.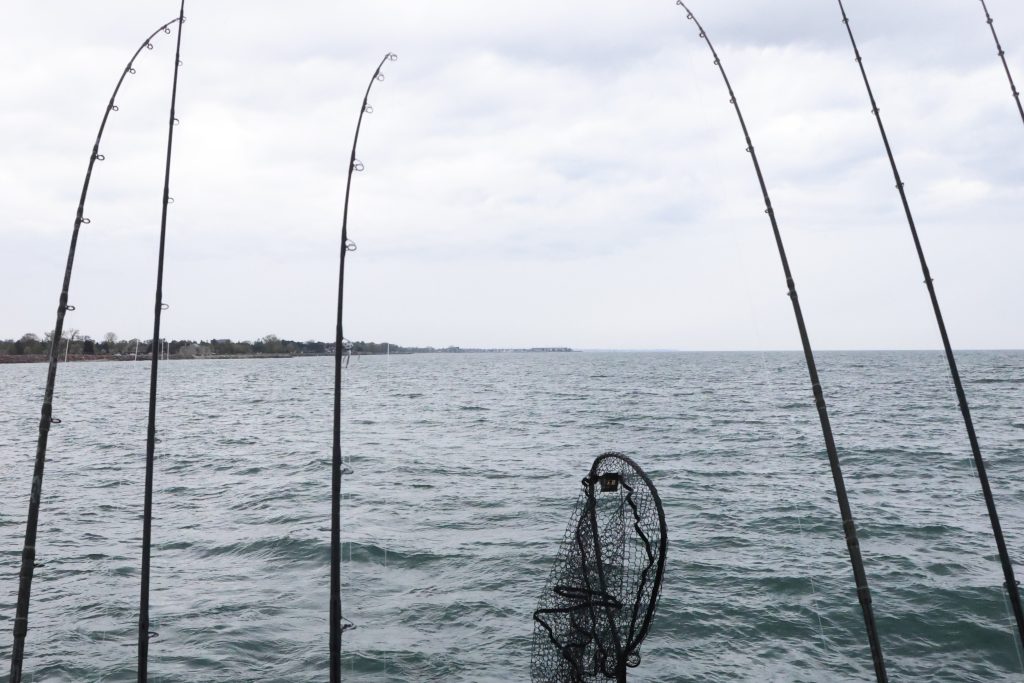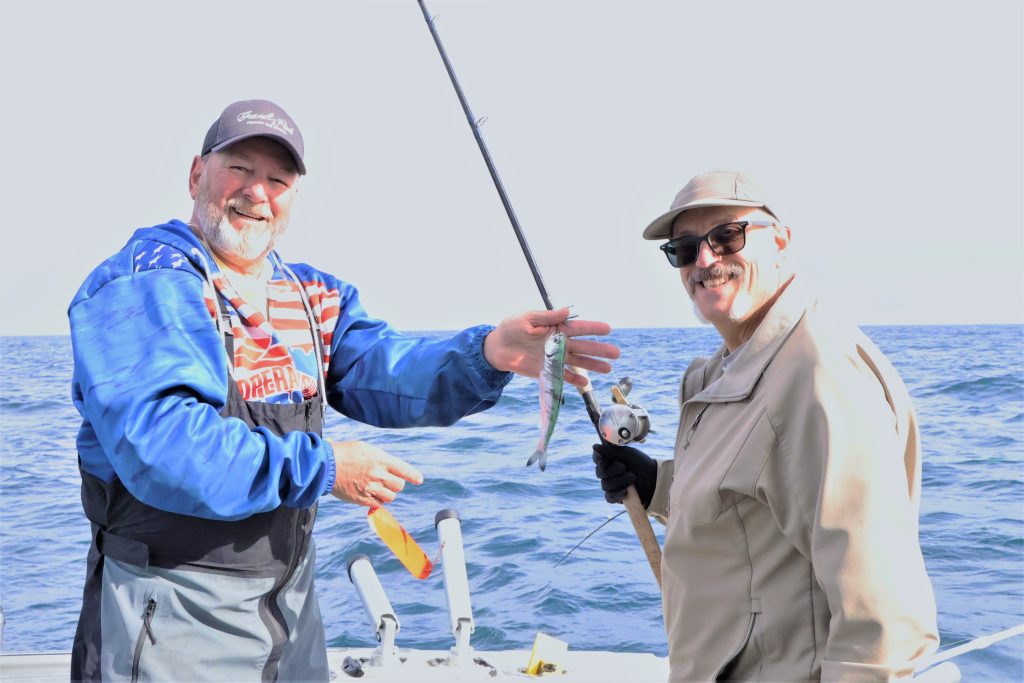 Even though I caught the smallest fish of the day — a tiny six-incher — it was a bit disappointing for me, but the other veterans on board seemed to get a kick out of it. We tossed it back into the lake and I'm pretty sure a seagull picked it
up. Captain Jerry was quick to filet the fish right on the boat, which drew in some more scavenging seagulls eager for scraps.
As we made our way back into the marina, I couldn't help but be impressed by Captain Jerry's ability to single-handedly back the boat into the slip and secure it. He demonstrated that he has what it takes to captain a boat like the Resolute.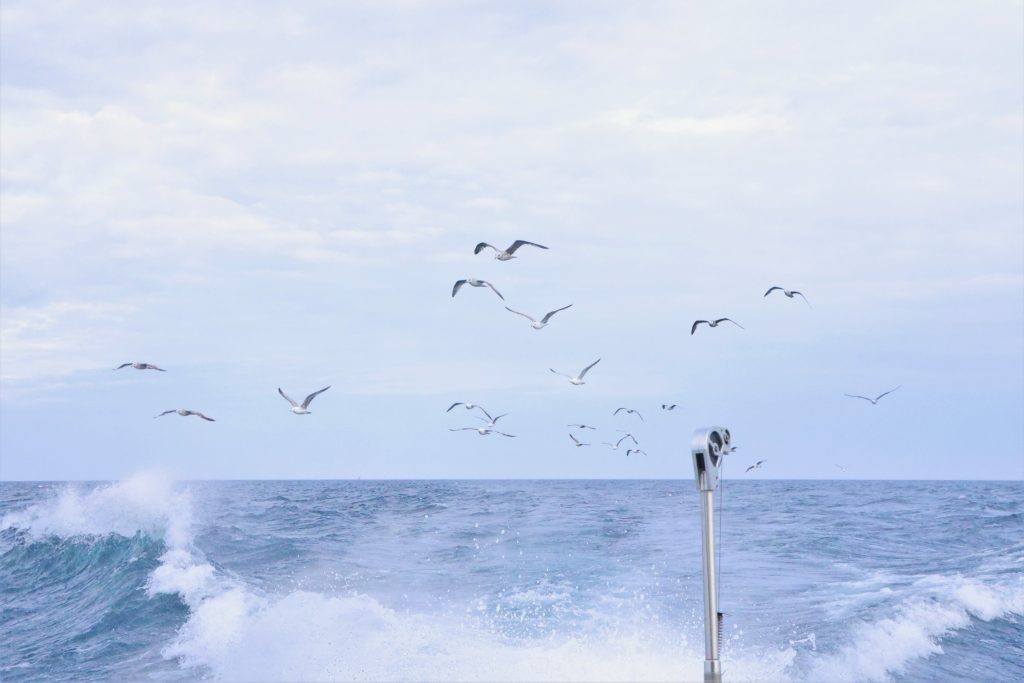 If you're planning a fishing trip in Wisconsin in 2023, it's good to know that the fishing season traditionally starts the first Saturday in May, with season dates varying by species and water body. The early inland trout season (catch and release) runs from Jan. 7 to May 5, while the general inland trout season starts May 6 and runs until Oct. 15. General inland fishing is open from May 6 to March 3, 2024. There is also a free fishing weekend June 3-4. Perch fishing on Lake Michigan and its tributaries is open from June 16 to April 30, while trout and salmon season on Lake Michigan and its tributaries is continuous, except for the open season for lake trout.
My fishing adventure aboard the Resolute with Captain Jerry Costabile was an unforgettable experience that showcased the beginning of the fishing season in Wisconsin. Captain Jerry's passion and dedication to his craft, coupled with his unwavering support for veterans through collaborations with organizations like "Fallen Outdoors," truly set him apart as a perfect charter boat captain.
If you're planning a fishing trip in Wisconsin, I highly recommend checking out Resolute Charters. To learn more, click HERE. Captain Jerry's expertise and contagious enthusiasm guarantee a memorable and successful fishing adventure on Lake Michigan.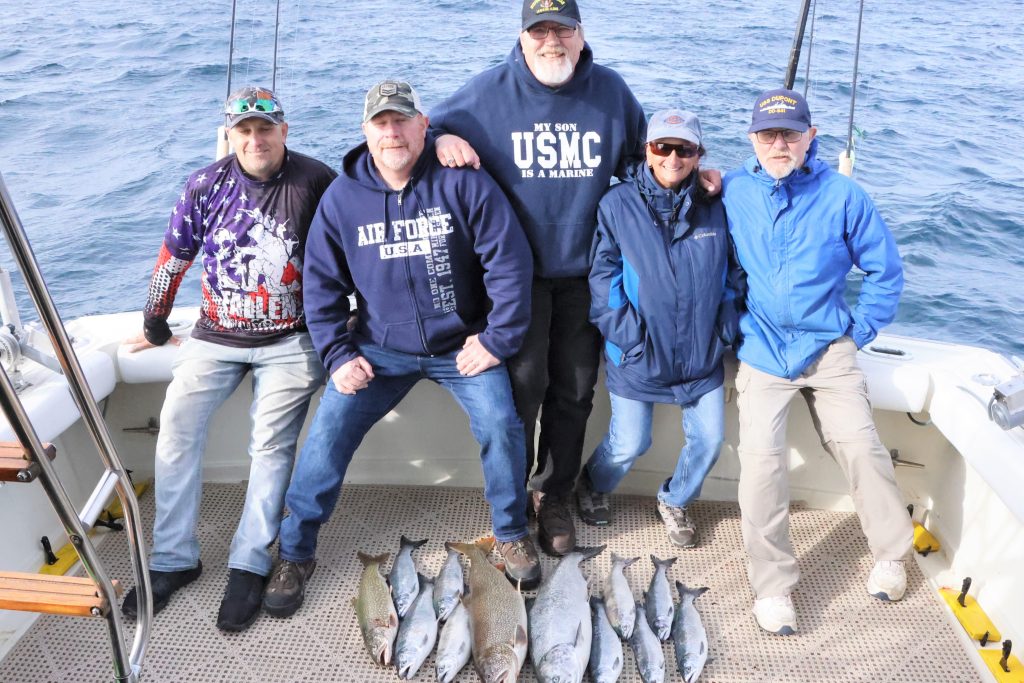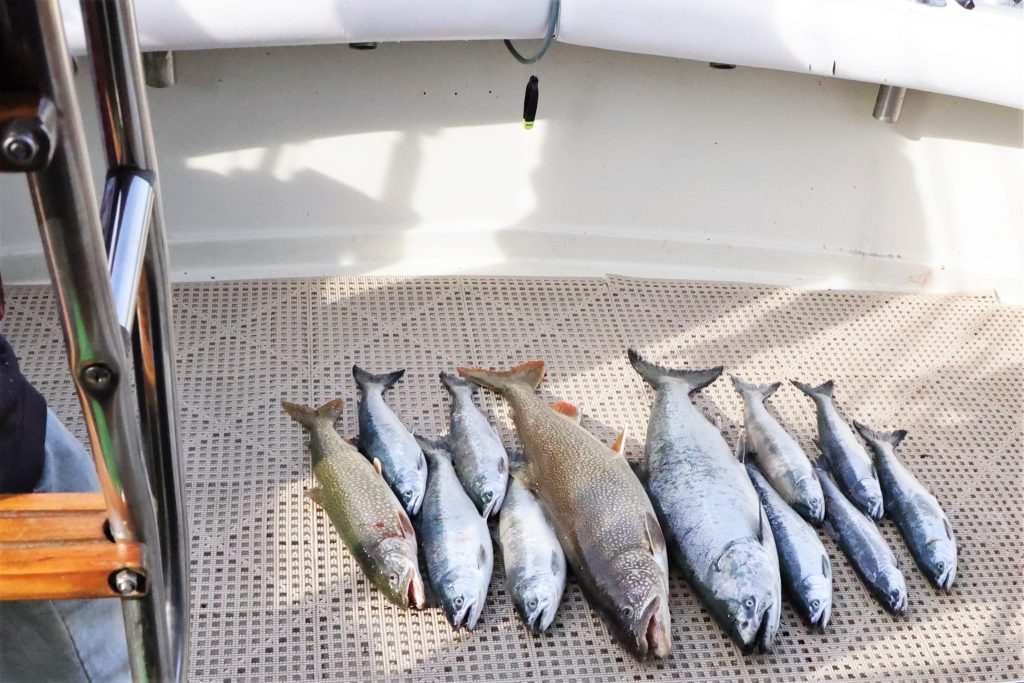 Additionally, I encourage you to learn more about The Fallen Outdoors HERE. This organization works tirelessly to provide free fishing and hunting experiences for veterans, like the group that joined us on our charter. Supporting such organizations not only promotes the well-being of our veterans but also allows them to enjoy the therapeutic and joyful experiences that fishing and the great outdoors can offer.
As you embark on your own fishing expeditions in Wisconsin, remember to stay informed about the regulations and season dates. The 2023-24 Wisconsin's Fishing Regulations Guide will provide you with the necessary information for a safe and responsible fishing experience.
In the heart of Wisconsin's bountiful lakes and rivers, the fishing season awaits with its abundant offerings. Whether you are targeting coho salmon, perch, chinook salmon, steelhead or lake trout, Wisconsin's waters have something to offer every angler.
So, gather your fishing gear, plan your trip, and get ready to create your own fishing tales in the beautiful waters of Wisconsin. And a special thank you to Captain Jerry Costabile for allowing me to tag along and share this remarkable journey. Tight lines and happy fishing!