Tantalizing the taste buds since 1691, crème brûlée is loved by many for its rich, elegant simplicity. This recipe is my favorite because it's easy to make (only four ingredients) and it's similar to dishes served in many French cafes.
I recommend trying this recipe, because the taste is so rich and pleasurable. A spoonful of crème brûlée is a spoonful of love. I hope you enjoy making (and savoring) this dessert!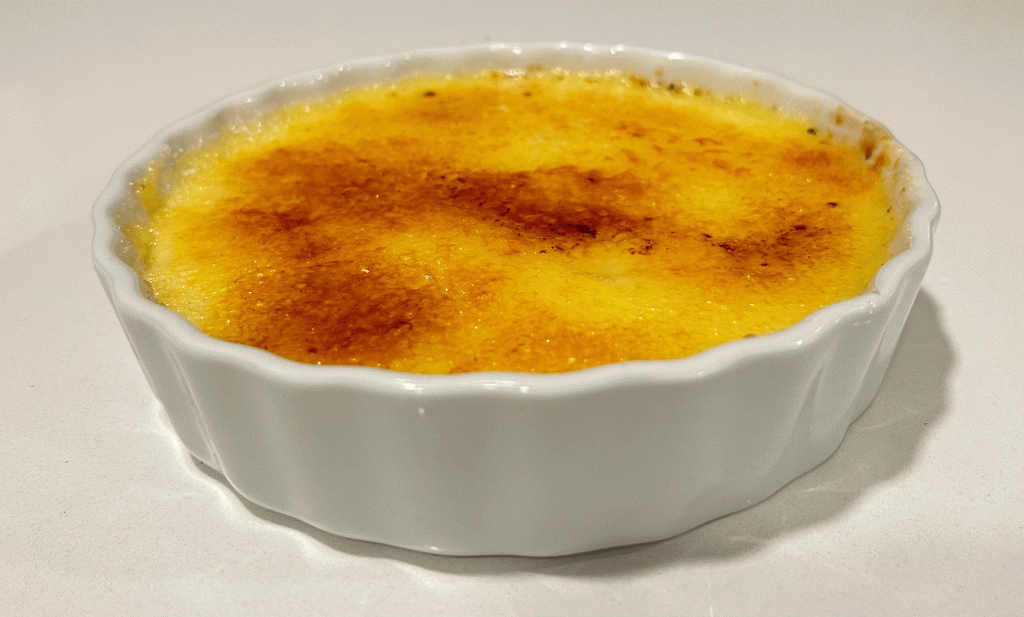 INGREDIENTS
4 cups heavy cream
2 tsp vanilla extract
6 egg yolks
1 cup sugar (½ cup for crust, ½ cup for mixture)
Raspberries (optional)
INSTRUCTIONS
Preheat oven to 325 degrees.
In a medium saucepan, combine heavy cream and vanilla extract over medium heat until mixture is hot, but not boiling.
In a medium bowl, whisk together egg yolks and ½-cup of sugar. When fully combined, gradually add the hot cream mixture into the bowl.
Place four oven safe, eight-ounce, creme brulee ramekins into a large roasting pan.
Pour hot water in the roasting pan until the water reaches halfway up the sides of the dishes.
Pour egg/cream mixture into the dishes and bake for 45-50 minutes. (I find they are ready when they are set but still a little jiggly in the center)
Remove the dishes from the roasting pan and let cool until room temperature.
Once at room temperature, wrap the dishes with plastic wrap and place in the refrigerator for at least three hours. (I recommend longer, for firmer custard)
Once completely set in the refrigerator, remove the plastic wrap and take a spoonful of sugar and coat the custard base fully. (The more sugar, the thicker the coat)
Carefully take a butane kitchen torch and in circular motions heat the sugar until crunchy and caramelized.
Wait a few minutes for the crème brûlée to completely harden
Top with raspberries and enjoy your delicious, homemade crème brûlée!