In another world, Dr. Jim Fulmer might have been Special Agent Jim Fulmer.
"When I was in 10th grade, I was pretty sure I was going to be an FBI agent," Fulmer confessed when discussing his one-time career goals.
But, as so often happens in the timeline of adolescent males, a girl intervened.
"A pretty girl said to me, 'You have a nice smile. You should be a dentist,'" Fulmer said with a big laugh.
Well, a lot of Kenoshans who have had their own smiles improved by Fulmer owe that girl a big thank you. And while the FBI may have missed out on a great future agent, Fulmer's career in general and family dentistry as the head of Fulmer Dentistry has benefited more Kenoshans than anyone could list.
Now, after 38 years as a dentist, it's time for Fulmer's next chapter in life.
Fulmer will see his last patient on Friday (March 31) before moving into his well-deserved retirement. For his long and dedicated career running Fulmer Dentistry, and for all his efforts serving the community and his family, Dr. Jim Fulmer has been named the Kenosha.com Kenoshan of the Week.
All in the family
For those who have been longtime patients of Fulmer, have no fear. Fulmer Dentistry isn't going anywhere. In fact, the practice is staying right in the family, because Dr. Kaleigh Fulmer McGhee, Jim and Pam Fulmer's oldest daughter, is taking charge.
Fulmer McGhee followed her father into the practice, making them the first father-daughter team in Kenosha history to join together in a general dentistry practice. Fulmer McGhee joined Fulmer Dentistry after graduating from the Marquette University School of Dentistry in 2017 — also Jim's alma mater — and has practiced there for nearly six years now.
So Fulmer Dentistry will be in great hands into the future.
"I'm just so proud of her," Fulmer said of his daughter. "I'm so impressed with the work she does and how dedicated she is to it, as well."
Fulmer McGhee smiled coyly when it was suggested that now she can make all the changes to Fulmer Dentistry that she's been nagging her father about for years. All joking aside, however, she doesn't really want to change anything.
"I don't plan on changing too much," Fulmer McGhee said. "I like how it is. I feel like I've already been here. This will be almost my sixth year.
"We've already made it home, and I feel like patients expect this, and I want to keep it similar."
Fulmer Dentistry has certainly expanded its footprint under Jim's stewardship.
The Kenosha office is still located at 2909 Roosevelt Road in what looks like a house, because that's what it was originally intended to be. But the practice has expanded to a second location, west of I-94 in Paddock Lake, at 7137 236th Ave. #108.
Additionally, Fulmer Dentistry recently hired an associate dentist, Dr. Matt Mueller.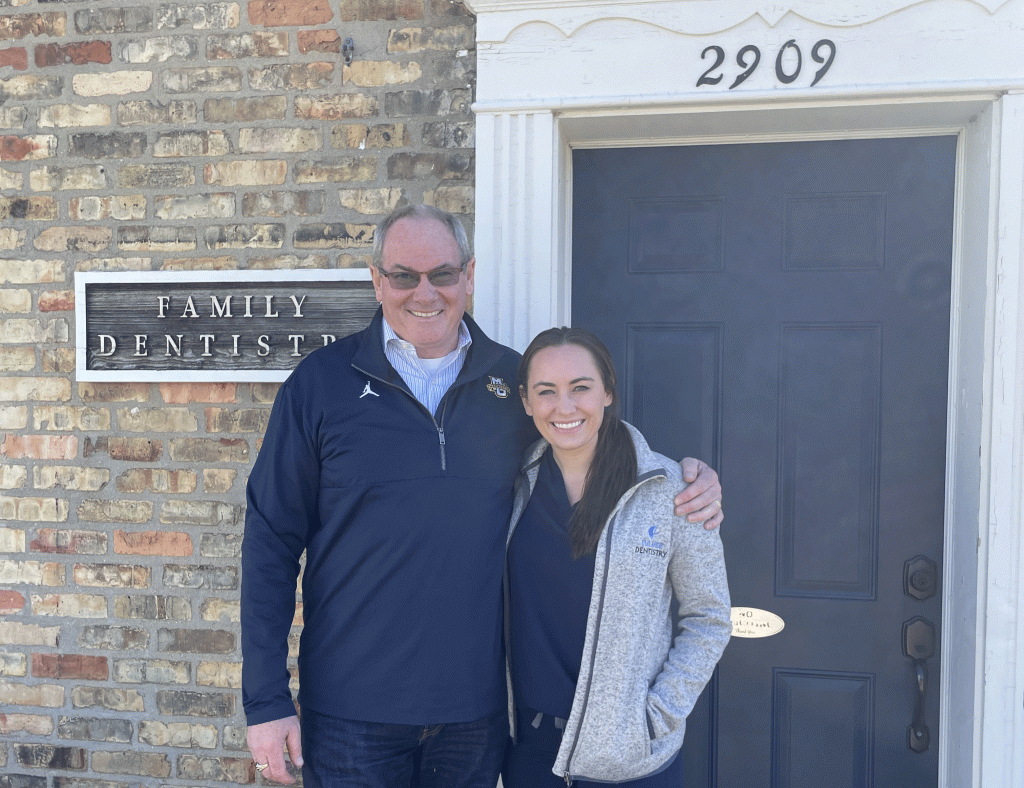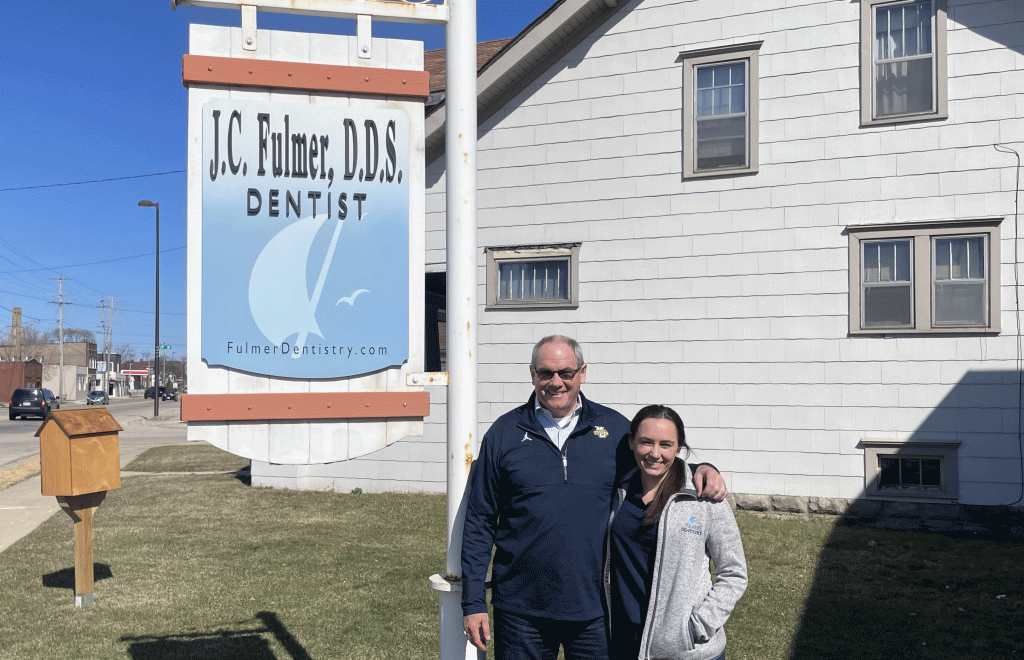 So, under the direction of Dr. Jim Fulmer, Fulmer Dentistry has grown from a small practice with one location and five employees to a two-location, three-doctor practice with 13 full-time employees.
But it still retains that family atmosphere, and always will, because dentistry is literally in the Fulmers' blood. The family tree now includes 12 dentists, with Jim a fifth-generation Kenoshan and the eighth of nine kids born and raised in Kenosha.
Jim's uncle, Dr. Joseph Adamson, opened the practice's Roosevelt Road office in 1928. At that time, 39th Avenue was considered the west end of town, so Adamson's practice was an important location for those living in what was then considered "out west."
Originally, Adamson's practice was located above the old Roosevelt Theater. But, as Fulmer explains it, when the Great Depression hit, someone who was attempting to build a house at 2909 Roosevelt Road ran out of funding with just a basement and some walls in place.
"Uncle Joe came over and said, 'I'll take over your payments' and turned what looks like a house into a dental office," Fulmer said. "And it's been a dental office ever since."
In fact, Fulmer said, his uncle was willing to take payments in agricultural commodities like chickens and eggs from farmers hard-hit by the Depression who were unable to pay for their dental services. The practice even had a "Wild West" moment as recently as 1997, when a stray deer somehow crashed through a window and landed right on a patient in the dental chair in what had to be one of the most amazing visits to the dentist ever.
At any rate, Fulmer graduated from Tremper High School in 1977 and attended Marquette, where he earned his undergraduate degree and then his DDS in 1985. (A fiercely devoted Marquette fan, Fulmer — like many older Marquette grads — still prefers the school's old nickname, the Warriors, to its current one, the Golden Eagles.)
After college, Fulmer went into the family business, where he's been ever since.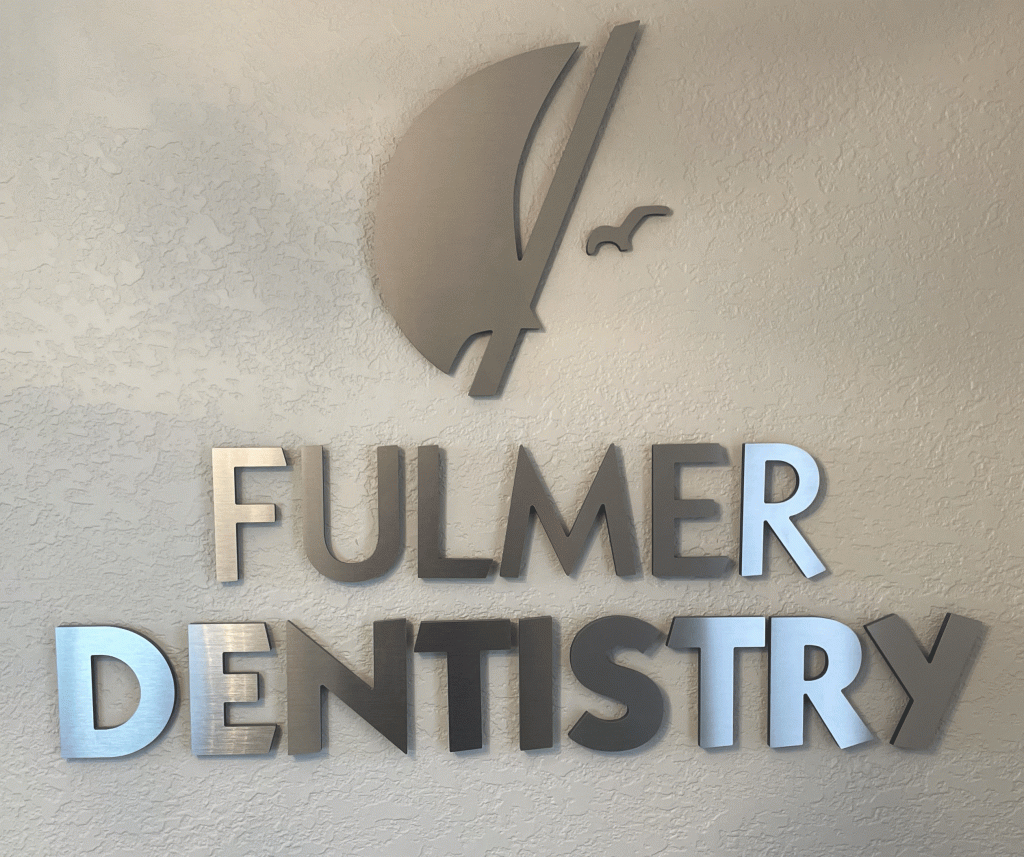 He's especially proud of the addition of Fulmer Dentistry's Paddock Lake office, which was opened in 1998. Fulmer says there are about 1,700 people per dentist east of I-94. West of that dividing line, that number increases to about 6,000 people per dentist.
So the Paddock Lake office fulfilled an important dental need in western Kenosha County, so much so that Fulmer says today that it's now Fulmer Dentistry's main office, while the original Roosevelt Road location "is the satellite."
Between the offices, Fulmer will have served thousands and thousands of patients by the time he serves his last one on Friday, though he will maintain a business management role for the time being to help the practice transition smoothly.
The relationships with patients are what Fulmer will miss the most, because the patients have become as much a part of Fulmer Dentistry's family atmosphere as the family itself.
"We spent a lot of time and effort developing relationships with the patients," Fulmer said. "And so they became more than clients or patients or accounts. They were family, and they were friends. Certainly, that's what I'll miss the most.
"Many, many days, I'd look at the schedule and say, 'Oh, I've got to talk to him about so-and-so.' … As opposed to, 'That's right, we have to do a root canal.' It was definitely a relationship-based practice, and those relationships were what kept me coming back."
In the community
Fulmer's contributions to Kenosha have been far more than what he's done in the Fulmer Dentistry offices.
Through the field of dentistry, Fulmer has always found a way to give back. He's been a member of the Kenosha Dental Society for more than 30 years, serving as a former president and the current treasurer. He's also mentored several students as part of the Marquette University School of Dentistry mentor program and was a founding member of the Edge Study Club in Kenosha, as well.
But aside from his dental practice, Fulmer is probably best known in Kenosha for his long involvement with the Rotary Softball Tournament and for starting the Kenosha Softball Hall of Fame.
Fulmer has been a co-commissioner of the Rotary Softball Tournament for 30 years and about 15 years ago decided to start the Kenosha Softball Hall of Fame to honor the rich tradition of the sport in city history and its many outstanding players.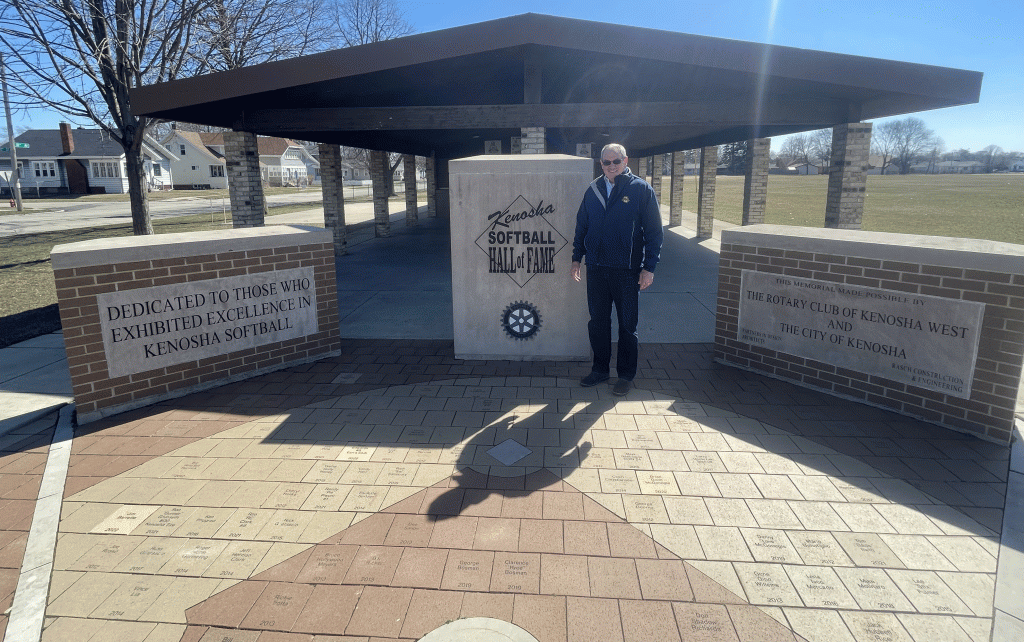 The Kenosha Softball Hall of Fame stands at the Lincoln Park Pavilion alongside the park's softball diamonds, where the Rotary Softball Tournament is held each July.
"I played softball, but never to the level that I could be included in a Hall of Fame, unless I started one," said Fulmer, who also served as Rotary Club of Kenosha President in 2005. "… About 15 years ago, one of the players said to me that we should have a Rotary Hall of Fame. … So we just have a Kenosha Softball Hall of Fame, sponsored by the Rotary. 
"Certainly, I've been involved with Kenosha softball, probably since I was 16. Some of these guys, they put more time into their craft than I did to become a dentist."
Into retirement
There's only one thing that Fulmer loves more than dentistry, Kenosha softball and his beloved Marquette basketball.
That, of course, is his family.
Fulmer and his wife, Pam — who helped start Fulmer's Kenosha practice and has also worked at the office for many years — have two daughters, Kaleigh and Sophie. Both daughters are married and have families of their own, including Kaleigh's daughter, Chloe, and a second soon-to-be grandchild for the Fulmers from Sophie.
For Fulmer, there's only one title better than Dr.
"It was nice to be called 'Doctor,'" he said. "But it's nothing compared to being called 'Pop-Pop.'"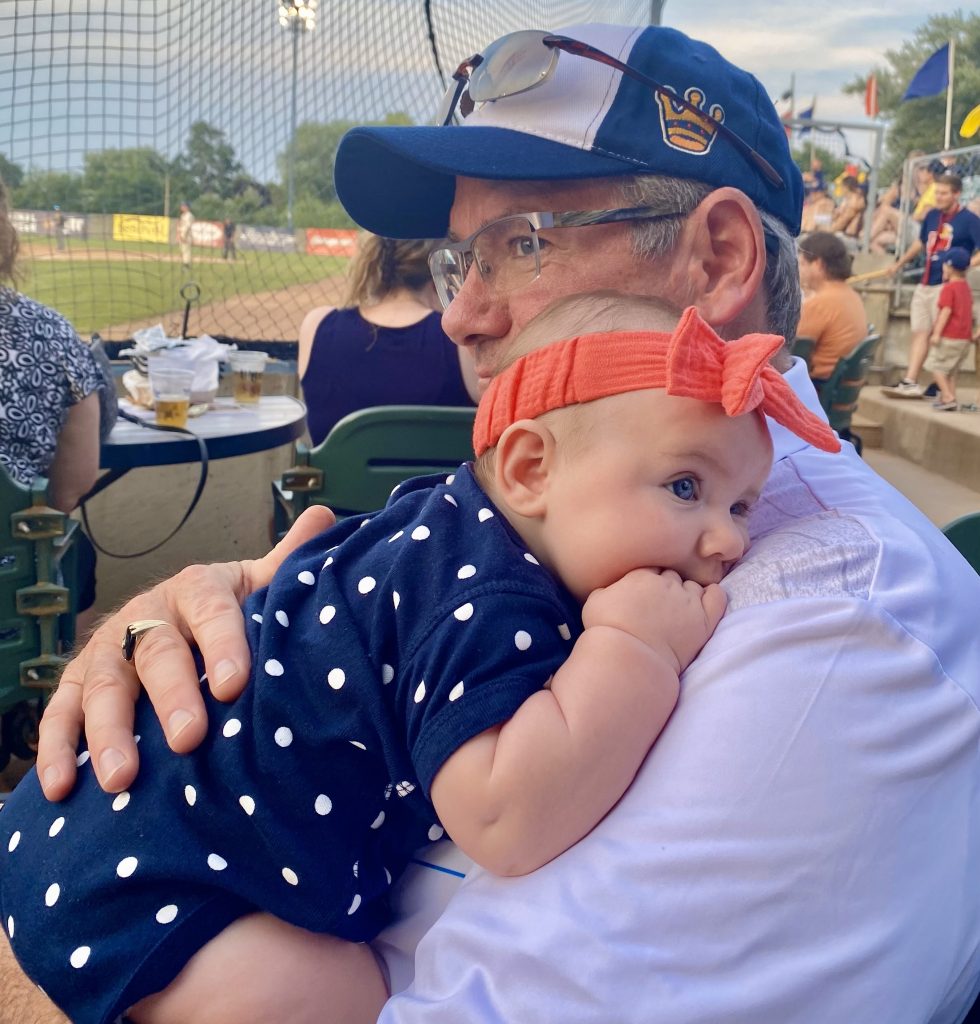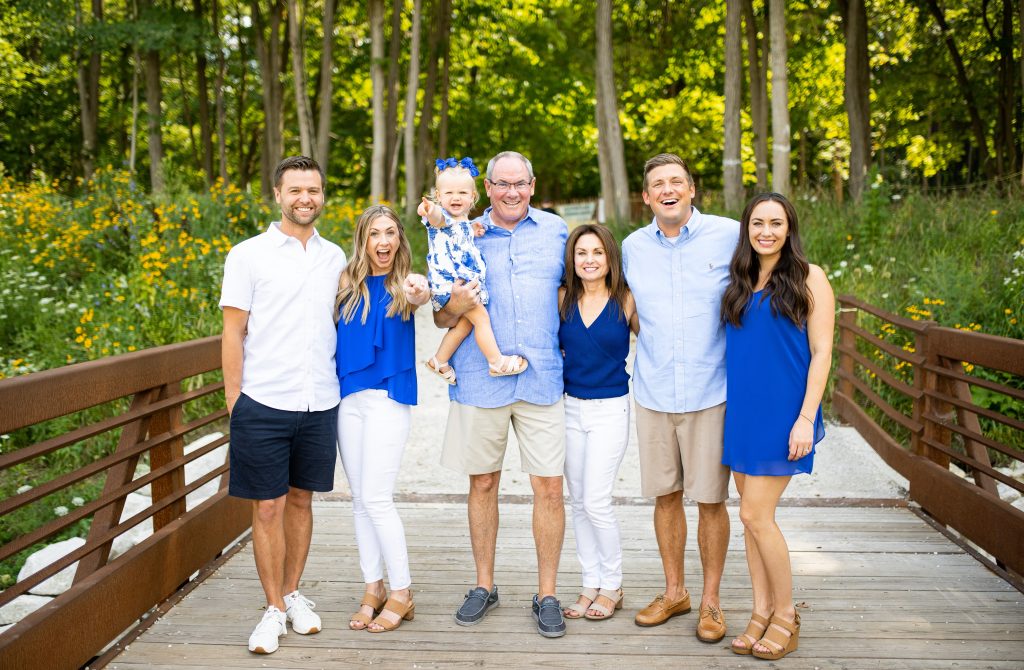 While Fulmer plans to travel to some warmer locations in retirement, where he can golf and relax by the pool more than he can in Kenosha, he's not planning to reside anywhere else. In fact, he'll be heading further north more often to spend time with his second grandchild in Minneapolis.
"I love to travel, so I will get out there, but it's not like I'm going to buy a house in Florida or Arizona," Fulmer said.
Other than a short time in Texas, where he completed his General Practice Residency, Fulmer has spent almost his entire professional career in his hometown. He has no plans to leave in retirement.
That's because this is where his heart is.
"I'll be here forever," Fulmer said. "Kenosha's definitely in my heart."
Note: Kenosha.com thanks Jake McGhee, Jockey International Chief Philanthropy Officer and Dr. Jim Fulmer's son-in-law, for providing and assisting with information for this article.