You can almost feel a spiritual presence just driving past the old Pleasant Prairie building that's been home to Holy Family Catholic Bookstore since 2000.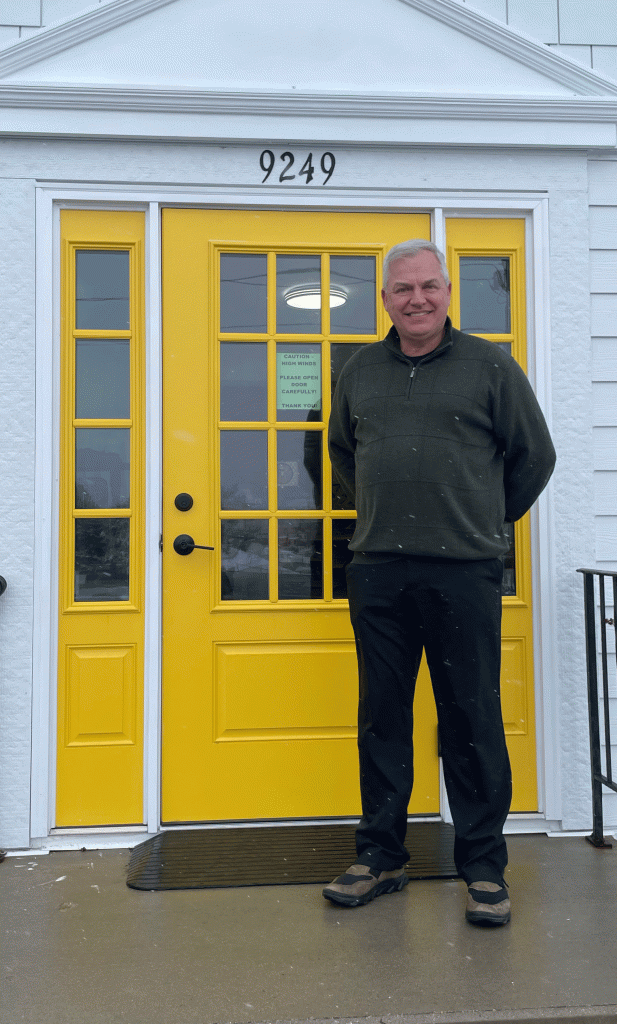 After all, the cathedral-style structure — located at 9249 Old Green Bay Road — was erected in 1850 and now houses all sorts of Catholic paraphernalia that gives it a heavenly aura.
Continuing that theme, the building may not even be standing today if not for an act of what Holy Family Catholic Bookstore owner Wes Ricchio can only consider an act of divine intervention
Ricchio, a Kenosha native, and his wife, Anne, have owned Holy Catholic Family Bookstore since 1998, when it was at its original location in Simmons Plaza. The Ricchios purchased the current, much larger building in 1999 and moved in on March 8, 2000.
That completed an interesting "circle of life," so to speak, for the building, which once could've been razed to the ground by none other than Ricchio's own father.
In the 1960s, at a time when the building was vacant, Ricchio's dad — who razed old barns for lumber — was asked about doing so to the old building in Pleasant Prairie, which would've provided a whole ton of lumber.
Fortunately, the elder Ricchio already had a project to work on, so the building remained standing.
"He was approached to see if he wanted to raze this building," Ricchio said in an interview earlier this year while standing on the building's beautiful hardwood floor, which is still the original.
"But he was already doing a double-barn, so he couldn't. So he passed on it."
That single decision by the elder Ricchio paid dividends years later for his son, Wes.
A perfect location
In late 1999, Ricchio was searching for a new location for Holy Family Catholic Bookstore, and the old building in Pleasant Prairie, right off the high traffic area of Green Bay Road, was available.
The previous location that housed Holy Family Catholic Bookstore — located near Chester Electronics — was what Ricchio called a "900-square-foot bandbox," with a low ceiling and water-stained ceiling tiles.
But to the customers, it was beautiful because of the array of artwork on the walls, in addition to Catholic devotionals, crosses, crucifixes and soothing church music.
"It was just very calm and peaceful," Ricchio said.
That's why, when looking for a new location, Ricchio said high walls on which to place artwork were a huge priority. Well, the old building at 9249 Old Green Bay Road in Pleasant Prairie already looked just like a church, because it had been one over the years for various denominations.
That made it perfect for Holy Family Catholic Bookstore.
"When I saw this building, with the very high walls, I thought, 'Wow, I can put up a lot of artwork,'" Ricchio said.
In fact, just about three weeks ago, Ricchio said he re-stocked all the artwork on the building's high walls.
"The walls are full now," he said.
According to Ricchio, the old building was erected in 1850 by a Congregational church as a simple square design. Then, in 1865, that church sold the building to the town of Pleasant Prairie, and it was used as the Town Hall for about 100 years.
"They held dances, and people would vote here," Ricchio said. "I've had a lot of people come in over the years, saying, 'I remember coming to a dance here.'"
When Pleasant Prairie built a new municipal building in the 1960s, the old Town Hall was vacant, which is when Ricchio's dad was asked if he wanted to raze it for lumber.
But the building stood, and it was purchased by a Baptist congregation in the early 1970s. That congregation put some major work into the building, jacking it up to add a basement and adding on a front area that now serves as a perfect foyer — accessed by bright, yellow doors — for Holy Family Catholic Bookstore.
Several churches operated in the building until 1999, when Ricchio purchased it from a real estate developer.
After completing some more renovations, the Ricchios opened Holy Family Catholic Bookstore at its current location on March 8, 2000, and have now operated there for nearly 23 years.
They've made gradual improvements to the building over the years, but there still exist reminders of its lengthy background. In the basement, you can see one of the structure's four original hand-hewn timbers that stretch the length of the building.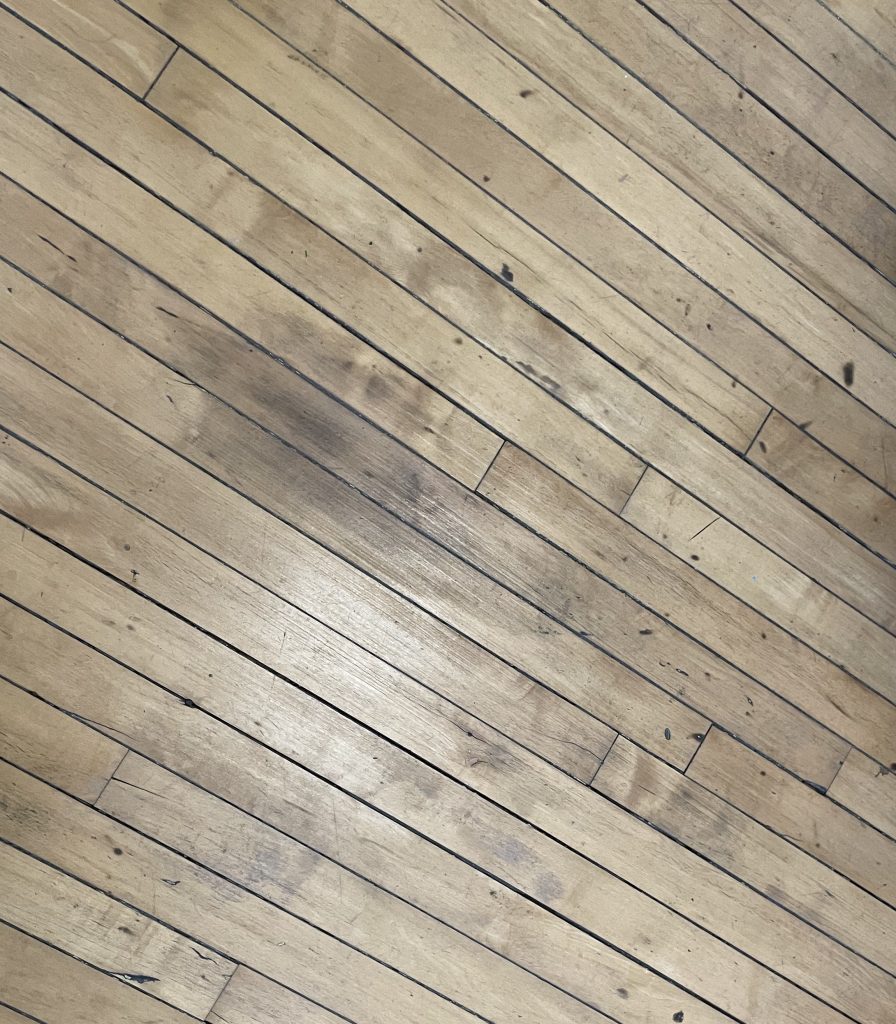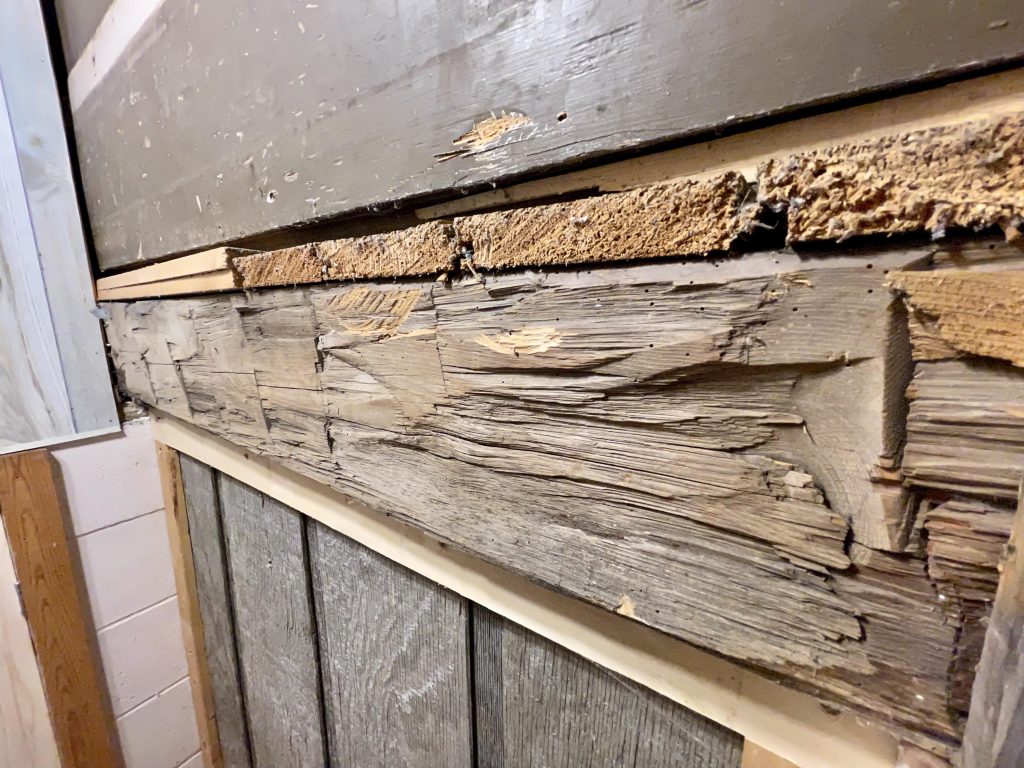 Ricchio also pointed out some black scorch marks on the wooden floor, which he says are souvenirs left behind by an old wood-burning stove that was there when the building was briefly used as a one-room schoolhouse.
Today, the building is a nice blend of the old and new. When you first enter, what catches the eye is the high brick wall at the back of the store, which has a crucifix on it flanked by two stained-glass windows that Ricchio had installed.
With the soft, calming music playing, it really does feel like you've entered a church.
The store is laid out for customers to walk through counter-clockwise, an old sales trick Ricchio said he once learned. It contains just about every bit of Catholic memorabilia you could think of, including Bibles, Bible covers, books, Baptismal items, First Communion dresses and gifts, Confirmation gifts, devotionals, cards, crosses, crucifixes, artwork, jewelry and children's gifts.
Along the back wall rests a large selection of concrete garden statues that Ricchio calls "the best selection in Wisconsin."
Communion dress fittings
One area that Holy Family Catholic Bookstore specializes in now is Communion dresses, including dress fittings.
The store carries the dresses in eight sizes, from six to 14X, with each size featuring 15 styles. For dress fittings, the store books one-hour appointments that don't overlap. Anne Ricchio and her staff help the girls pick out a dress and veil, and they can try on as many as they'd like.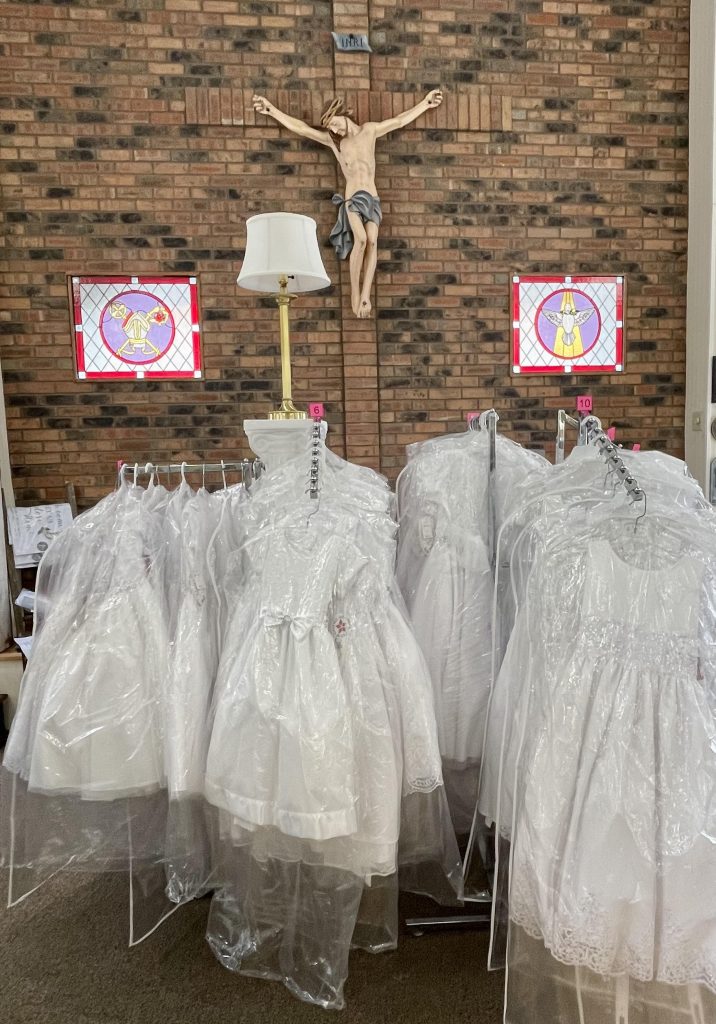 First Communion is typically held in late April or early May, so fitting appointments are down to their last couple weeks. Wes Ricchio said Saturdays are completely booked up, but Holy Family Catholic Bookstore is still making appointments for weekdays.
Ricchio said the amount of styles available are down for some of the sizes, since First Communion is so close, but there are still plenty available.
"There's still openings, and we still have a large selection," Ricchio said. "… We still have plenty to choose from."
Holy Family Catholic Bookstore is open from 9:30 a.m. to 6 p.m. on Monday through Friday and 9:30 a.m. to 4 p.m. on Saturday. It's closed on Sundays. For more information, call the store at 262-697-0333 or email anne@holyfamilycatholicbookstore.com.
Check out Kenosha.com's full feature on Holy Family Catholic Bookstore, which ran in late January, HERE.