If you want to believe in divine providence, well, Kenosha native Wes Ricchio has some great examples for you.
One is the very floor Ricchio was standing on Wednesday afternoon, which wouldn't even be there if not for some of that divine providence.
Ricchio and his wife, Anne, are the owners of Holy Family Catholic Bookstore, located at 9249 Old Green Bay Road in Pleasant Prairie. For those who have driven past the building and wondered if it was ever an old Town Hall, a church or a one-room schoolhouse, you have good reason to wonder, because it was built in 1850 and once served as all those things.
But more on that history later.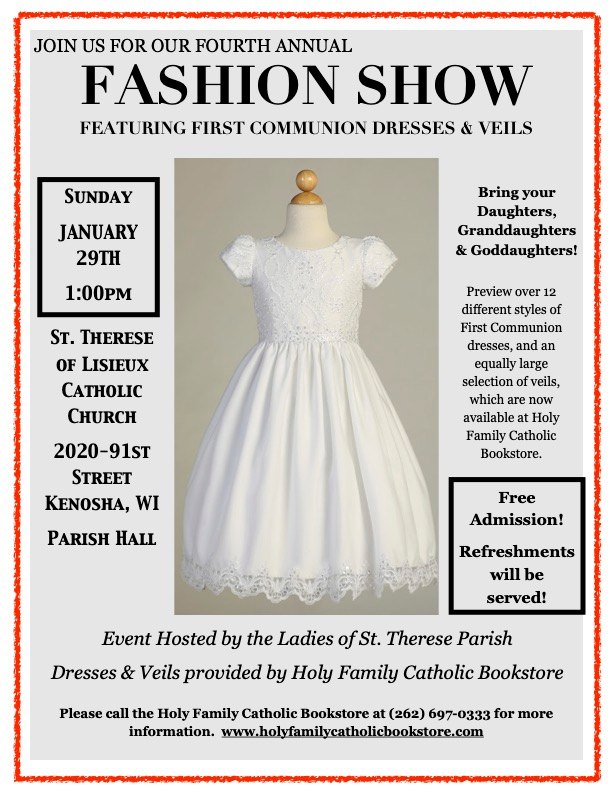 In the 1960s, at a time when the building was vacant, someone who razed old barns for lumber was asked about razing the old building in Pleasant Prairie, which would've provided a whole ton of lumber.
That person was Ricchio's dad.
Fortunately, he already had a project to work on, so the building remained standing.
"He was approached to see if he wanted to raze this building," Ricchio said Wednesday while standing on the building's beautiful hardwood floor, which is still the original.
"But he was already doing a double-barn, so he couldn't. So he passed on it."
Now, Ricchio and his wife run a bustling business out of the building after purchasing Holy Catholic Family Bookstore in 1998, when it was located in Simmons Plaza at 7705 Sheridan Road, and moving it into its current location in the renovated old building in 2000.
And this Sunday (Jan. 29), Holy Family Catholic Bookstore will be holding what's become one of its seminal events, a First Communion Dress Fashion Show, at St. Therese of Lisieux Catholic Church, 2020 91st St.
The event will run from 1 to 3 p.m. and is open to the public.
Filling a need
For Catholics, First Communion is one of the most important milestones in life and is taken by those in second grade. As Ricchio said Wednesday, "Children have to reach the age of reason" to make their First Communion.
For girls, selecting a First Communion dress is a big family event. And for that, Holy Family Catholic Bookstore had always referred people to Boston Store, which sold First Communion dresses and for a long time had a nearby location at Regency Mall in Racine.
But when Boston Store went out of business in 2018, Holy Family Catholic Bookstore's customers were left asking where to find First Communion dresses.
So Ricchio and his wife decided to make the leap to fill that void.
"We did our research, and we found a manufacturer in the United States of really high-quality Communion dresses," Ricchio said. "Some of the ladies at the different parishes were also asking us to please do it.
"And we decided, 'All right, we'll make the jump.'"
The store carries the dresses in eight sizes, from six to 14X, with each size featuring 15 styles. For dress fittings, the store books one-hour appointments that don't overlap. Anne Ricchio and her staff help the girls pick out a dress and veil, and they can try on as many as they'd like. First Communion is typically held in late April or early May.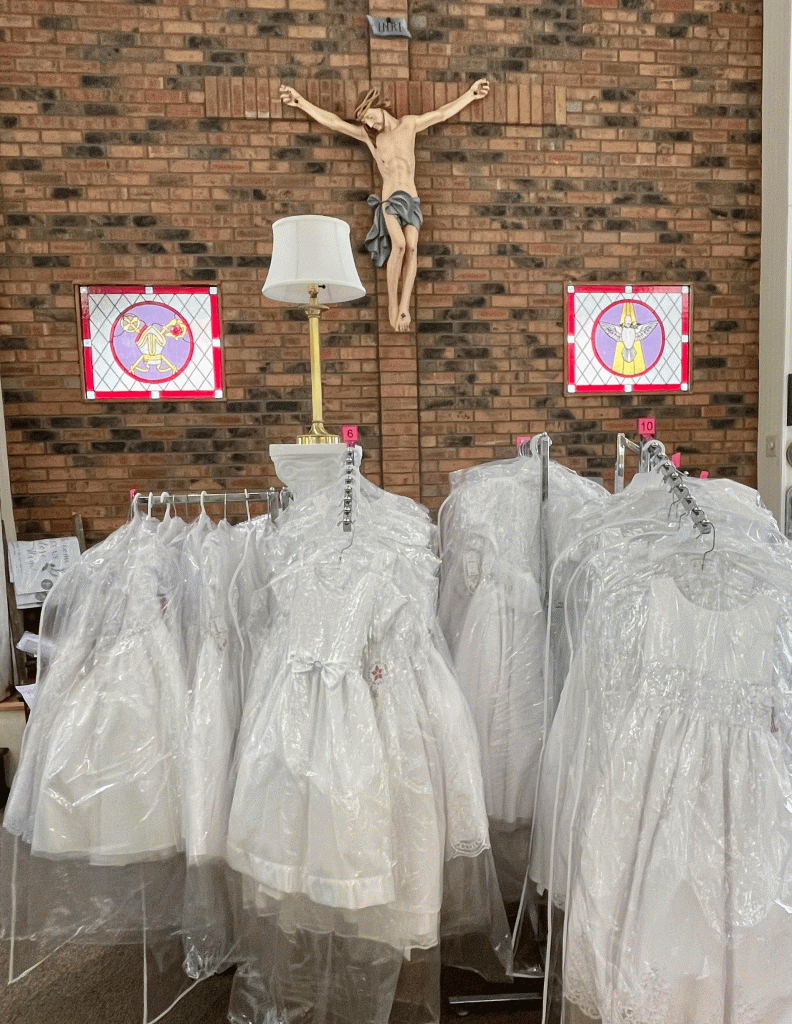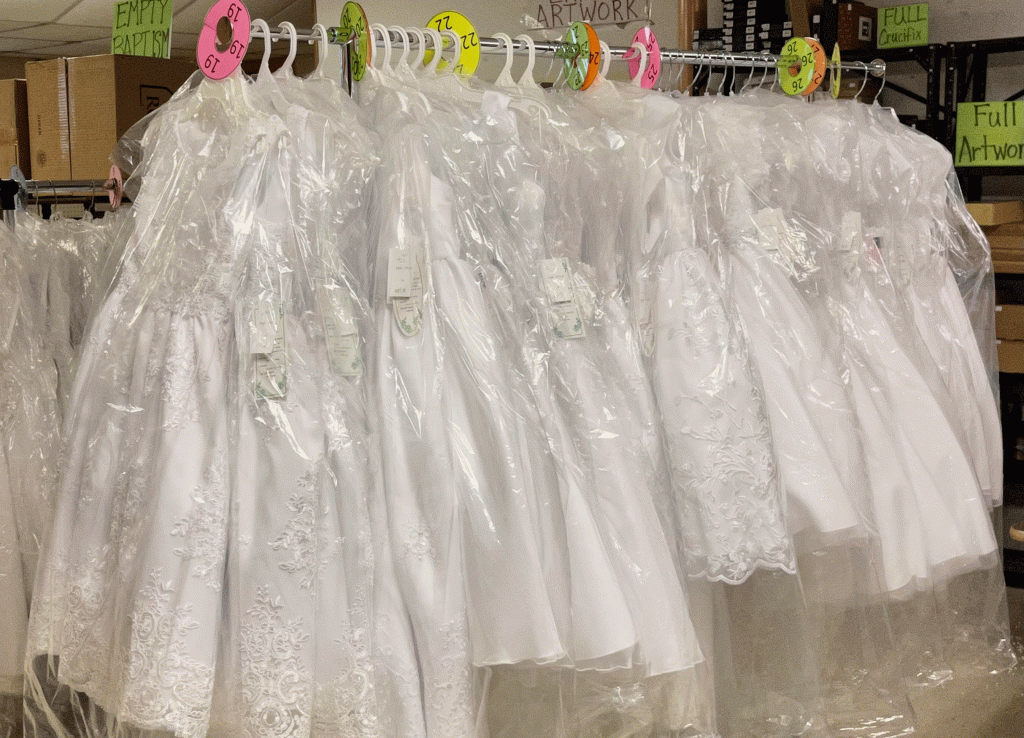 But it was about five years ago, said Wes Ricchio — a member of Our Lady of Mt. Carmel Catholic Parish in Kenosha — that the ladies at St. Therese came up with the idea for a First Communion Dress Fashion Show.
"One of them had an idea of, 'Why don't we host a fashion show for you, where the little girls, who are in second grade, are going to be making their First Communion?'" Ricchio said. "'They can come to the fashion show.'"
Thus, the idea was born.
To model the dresses, girls in third grade who made their First Communion the previous year are chosen. Ricchio said that's a popular job.
"The second-graders that are in the audience this year are going to give Anne their name and say, 'Can I be a model next year? Please, please, please,'" Ricchio said.
The fashion show also serves as a nice family bonding event.
"We have all these little girls that are going to be making their First Communion, they're sitting in the audience with their moms and their grandmothers and their godmothers and family," Ricchio said. "And we give them little note cards with all the dress numbers."
This Sunday will be the fourth First Communion Dress Fashion Show put on by Holy Family Catholic Bookstore, excluding one year in which it was canceled due to the pandemic.
Ricchio said the fashion show has grown, attracting about 80 people the first year, 100 the second year and about 125 the third year. He's expecting about 120 to 150 people to attend on Sunday.
St. Therese is providing refreshments, and Ricchio said those wishing to attend can just go to the parish's main entrance. There will be plenty of volunteers to point people in the right direction.
Word of the fashion show and the dress fittings at Holy Family Catholic Bookstore have spread far and wide. Ricchio said he typically splits his regular business between customers from southeastern Wisconsin and northeastern Illinois, but the First Communion dresses once brought in a customer from West Virginia.
And this year, someone came from even further than that.
"Two weeks ago, we had twin girls come from Miami that had relatives in the area, and their cousins had done (the fitting)," Ricchio said. "So they made the special trip."
And it's just a special feeling, Ricchio says, to see little girls light up when they find that perfect First Communion dress.
"From the very beginning, watching my wife work with the little girls and making them feel so special … It's amazing," he said. "These girls are clearly having one of the high points of their life. Once I saw that, I realized, 'That's going to catch on.' 
"And it has."
Purchasing the business
It was another big act of divine providence, Ricchio believes, that brought him and Anne to owning Holy Family Catholic Bookstore in the first place.
A banker by trade, Ricchio graduated from Tremper High School in 1980 and the University of Wisconsin-Madison in 1986. Ricchio first got into the banking profession at a credit union in Madison in 1984.
After his undergraduate studies, Ricchio was working as a senior commercial lender at Advantage Bank while also obtaining his master's degree from Northwestern University down in Evanston, Ill.
One day, Ricchio stopped in at Holy Family Catholic Bookstore, then at Simmons Plaza, which was co-founded by LaVerne Guttormsen in 1992. Ricchio wanted to purchase holy water fonts for his daughters' rooms.
"I started talking with (Guttormsen) and said, 'Is there anything I can do to help you?'" Ricchio said. "… And she said, 'You know what? I've always wanted to do a newsletter.'"
So, despite having a full-time job, two young children and completing his master's degree, Ricchio started a newsletter.
"I bought Microsoft Publisher and started writing a newsletter," Ricchio said. "And published this newsletter for a couple of years."
As fate — or divine providence — would have it, in 1998, Advantage Bank was bought out by M&I Bank, which meant a nice financial windfall for Ricchio.
But M&I Bank already had a senior lender, so Ricchio realized he wouldn't be in that position. With an "entrepreneurial bug," as Ricchio says, implanted in him by his master's degree studies, Ricchio decided it was time to take a leap, so he and Anne purchased Holy Family Catholic Bookstore.
"I decided that, 'You know what, I'm going to take a break from banking,'" Ricchio said. "And I bought the store."
Which apparently also answered the prayers of LaVerne Guttormsen and her husband, who were in their 80s.
"They've been praying for someone to come in (and) take over the store," Ricchio said. "And I think I just kind of got sucked into those prayers."
He also got sucked into a small building in Simmons Plaza, which Ricchio said was a "900-square-foot bandbox," with a low ceiling and water-stained ceiling tiles. But the store's customers didn't seem to notice that.
"People would come in every day and say, 'This is so beautiful in here,'" Ricchio said. "I'm scratching my head, thinking, 'What are they talking about?'
"And then I realized that they were walking in, there's the artwork on the walls, there are the devotionals, the crosses, the crucifixes, there's the music playing. At times, (we) would have some church incense. And it was just very calm and peaceful."
New, old building
In late 1999, Ricchio was searching for a new location for Holy Family Catholic Bookstore, and the old building in Pleasant Prairie, right off the high traffic area of Green Bay Road, was available.
It was perfect for a Catholic bookstore. The building looks just like a church, because it's been one over the years for different denominations.
"When this building became available, I walked in it and saw the high ceilings and the high wall space, thinking, 'All right, I can really make this into something that people will stand back and say, OK, now this is beautiful,'" Ricchio said.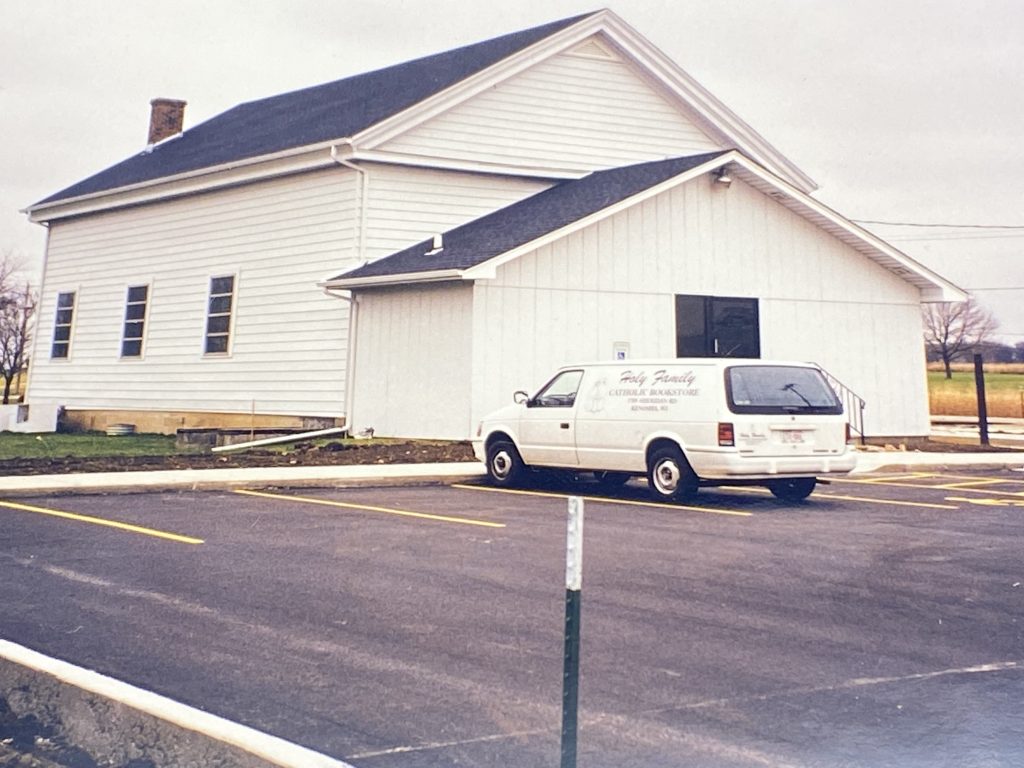 According to Ricchio, the building was erected as a simple square design by a Congregational church in 1850. Then, in 1865, that church sold the building to the town of Pleasant Prairie, and it was used as the Town Hall for about 100 years.
"They held dances, and people would vote here," Ricchio said. "I've had a lot of people come in over the years, saying, 'I remember coming to a dance here.'"
When Pleasant Prairie built a new municipal building in the 1960s, the old Town Hall was vacant, which is when Ricchio's dad was asked if he wanted to raze it for lumber.
But the building stood, and it was purchased by a Baptist congregation in the early 1970s. That congregation put some major work into the building, jacking it up to add a basement and adding on a front area that now serves as a perfect foyer — accessed by bright, yellow doors — for Holy Family Catholic Bookstore.
Several churches operated in the building until 1999, when Ricchio purchased it from a real estate developer.
After completing some more renovations, the Ricchios opened Holy Family Catholic Bookstore at its current location on March 8, 2000, and have now operated there for nearly 23 years.
They've made gradual improvements to the building over the years, but there still exist reminders of its lengthy background. In the basement, you can see one of the structure's four original hand-hewn timbers that stretch the length of the building.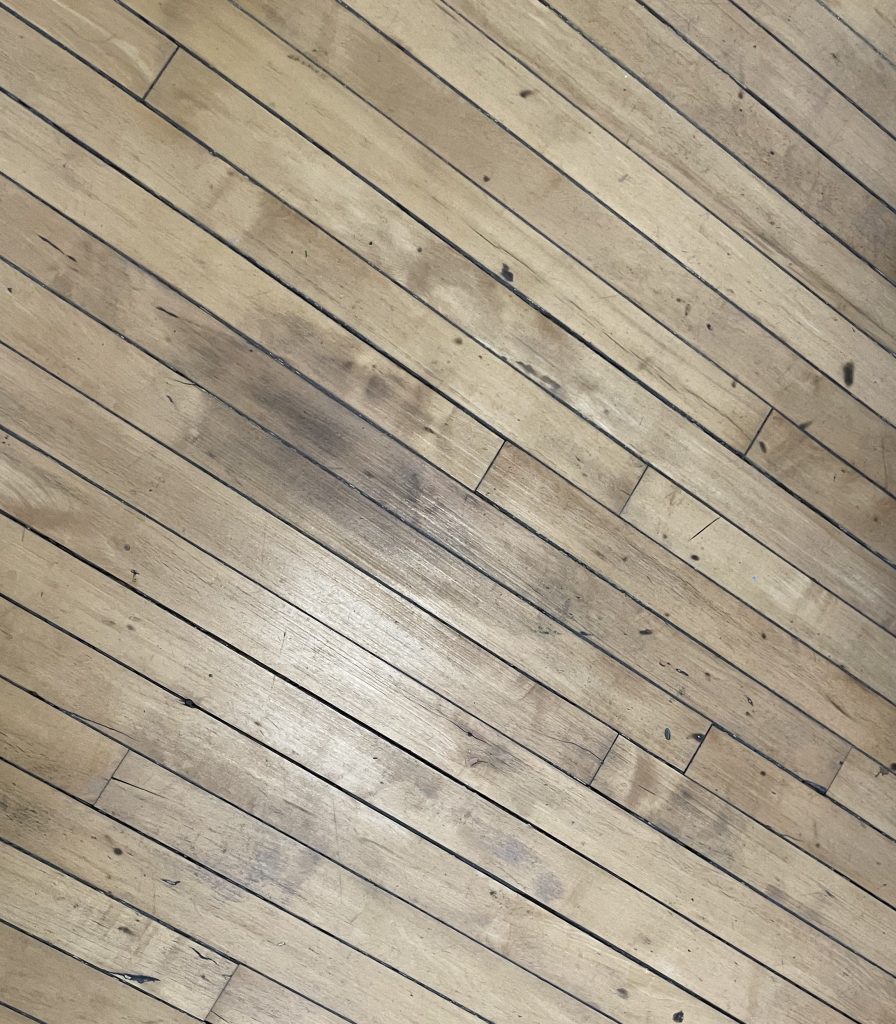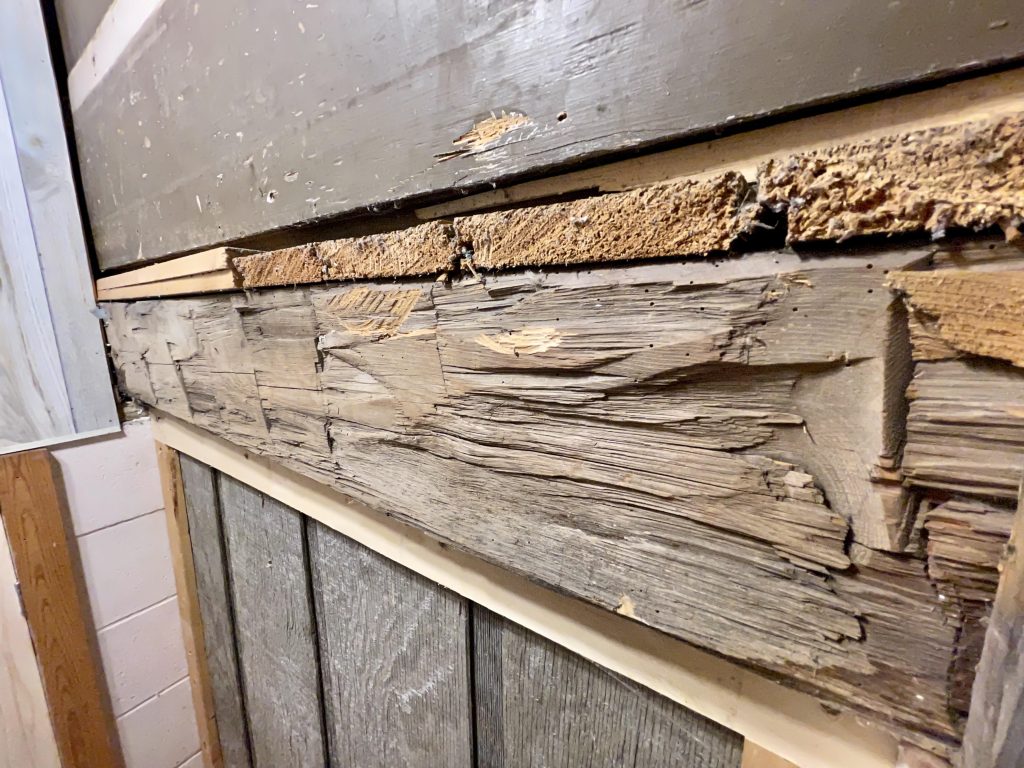 Ricchio also pointed out some black scorch marks on the wooden floor, which he says are souvenirs left behind by an old wood-burning stove that was there when the building was briefly used as a one-room schoolhouse.
Today, the building is a nice blend of the old and new. When you first enter, what catches the eye is the high brick wall at the back of the store, which has a crucifix on it flanked by two stained-glass windows that Ricchio had installed.
With the soft, calming music playing, it really does feel like you've entered a church.
The store is laid out for customers to walk through counter-clockwise, an old sales trick Ricchio said he once learned. It contains just about every bit of Catholic memorabilia you could think of, including Bibles, Bible covers, books, Baptismal items, First Communion dresses and gifts, Confirmation gifts, devotionals, cards, crosses, crucifixes, artwork, jewelry and children's gifts.
Along the back wall rests a large selection of concrete garden statues that Ricchio calls "the best selection in Wisconsin."
Today, Ricchio is also back in the banking business, as he's been with Town Bank, where he oversees small business lending, for over four years. And whether you believe he and his wife's ownership of Holy Family Catholic Bookstore has all been an act of divine providence — including the creation of Sunday's First Communion Dress Fashion Show — or just a coincidence, well, Ricchio has clearly been put in the right place.
"All the people that come in for (the First Communion dress fittings) may not have been in the store before," he said. "And when they come in the store, they see we've got quite a bit.
"And it's very quiet and peaceful, so it brings in repeat business."