Twenty years ago, Jose Garcia and Kyle Clark were starters on the St. Joseph Catholic Academy boys basketball team that made its second Wisconsin Interscholastic Athletic Association State Tournament appearance in three years.
It's been a long time coming, but Garcia, Clark and the Lancers are back at state.
Proving one more time that things so often come full circle in the sports world, Garcia and Clark are once again a key part of a St. Joseph boys basketball team that has reached the WIAA State Tournament. But it's from the bench this time, with Garcia in his third season as the Lancers' head coach and Clark as one of his valued assistants.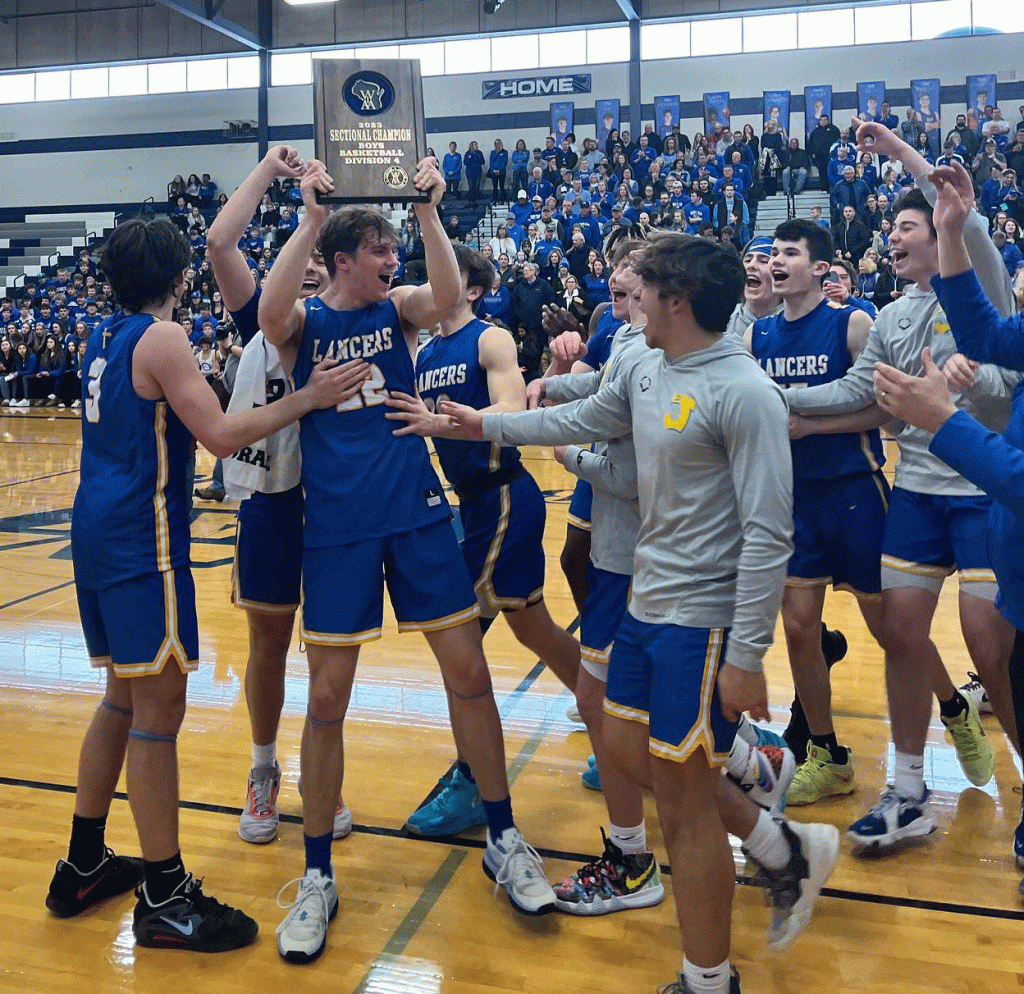 Seeded fourth in the four-team Division 4 State Tournament field, St. Joseph (18-10) will face No. 1 seed Saint Mary Catholic (26-2) in the first of two Division 4 state semifinals on Thursday night, at 6:35 p.m. at the Kohl Center in Madison. Right after that game, No. 2 seed Luther (26-2) plays No. 3 seed Whitehall (22-6) in the other Division 4 state semifinal.
The semifinal winners then square off for the Division 4 state title on Saturday afternoon at approximately 1 p.m. That game will begin approximately 15 minutes after the conclusion of the Division 5 state title game, which kicks off Saturday's five-game championship slate at the Kohl Center at 11:05 a.m.
Fond memories
When St. Joseph closed out a 77-68 victory over Kohler this past Saturday (March 11) in a WIAA Division 4 sectional final at Whitefish Bay High School, the Lancers were back in the State Tournament for the first time since 2003, when Clark and Garcia were still high school students.
"It means a lot to me," said Garcia, who was also a sophomore reserve on St. Joseph's 2001 WIAA State Tournament qualifier, in a phone interview Monday morning. "I was emotional right before the win on Saturday (as the game ended), just thinking back on me making state my sophomore and senior year, and reflecting that now I'm going back to state with the same program as the head coach. So that was just a great moment that I just cherish. I'm just very thankful for it.
"… We (Garcia and Clark) really just talked about it and before (Saturday's) game just talked about, 'Man, this is surreal.' We can't really believe it."
Now, the goal is to avoid the ending that Garcia and Clark suffered when they played together in the State Tournament. If St. Joseph can get past Saint Mary Catholic in Thursday's state semifinals, the Lancers will be playing in a WIAA state championship game for the first time in program history.
In 2003, then in the Division 3 field, St. Joseph suffered an excruciating 52-51 loss to eventual state champion Ladysmith in the state semifinals. Garcia played all 32 minutes of that game, finishing with nine points, three blocks and two steals. Clark, meanwhile, was saddled with foul trouble but managed 12 points, two assists and a steal in 22 minutes.
Garcia also played four minutes off the bench in St. Joseph's 70-67 loss to eventual state champion Glenwood City in the 2001 Division 3 state semifinals.
Garcia and Clark have accomplished the goal of getting their alma mater back to the State Tournament. But now they want to atone for those two state semifinal losses, by a combined four points, ending two seasons in which they felt the Lancers could've — and maybe should've — won a state title.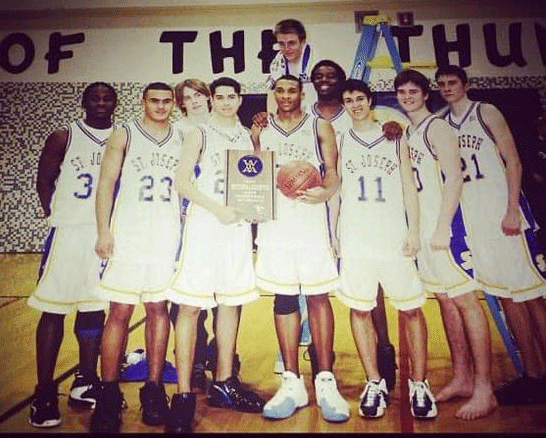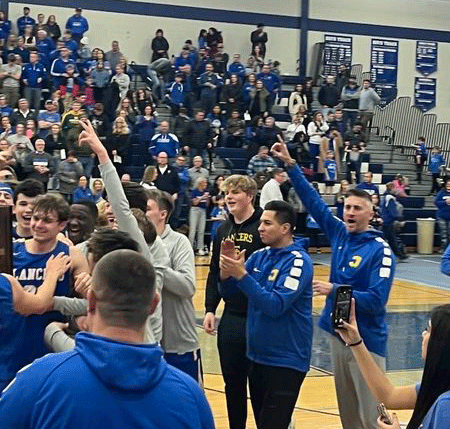 "We knew it was our goal (getting back to state) when I took over the program, but we didn't think it would happen this soon," Garcia said. "We knew that our goal was to go back to state and bring back what we thought should've been ours (a state title) back then.
"So that's one of our goals. Our other goal is to impact the kids that God has blessed us to mentor."
'Believe, believe, believe'
Ironically enough, of all the teams St. Joseph has had in the two decades since reaching its last State Tournament, this one probably wouldn't have been high on the list to outsiders of those having a chance to reach state when the season began.
Last season's team was, on paper, a much more likely candidate.
That team featured senior star Andrew Alia, who finished his high school career second on the City of Kenosha's all-time scoring list and is now a freshman walk-on at NCAA Division I Drake University, which is in this year's NCAA Tournament field. Also on that team was a four-year varsity point guard in Caiden Lecce, now playing at NCAA Division III UW-Eau Claire.
The Lancers won a WIAA Division 4 regional title last season, but they ran into a stacked Milwaukee Academy of Science team in the sectional semifinals. St. Joseph controlled that game through the first half, but MAS stormed back in the second half to win en route to a state runner-up finish.
Two seasons ago, meanwhile, St. Joseph was moved up to Division 3 when the playoff field was altered due to the pandemic and fell to Racine Lutheran in the regional semifinals.
This season, St. Joseph went just 7-9 in a loaded Metro Classic Conference and finished in fifth place. But the postseason is all about matchups, and with a couple upsets happening on the other side of St. Joseph's sectional bracket, things played out perfectly in the Division 4 field this time around for the Lancers.
"Definitely, we're playing our best basketball, with confidence and believing in one another," Garcia said. "But I also believe that we're good enough in our division and probably could've made state two or three years (over) my first three years (as head coach), potentially."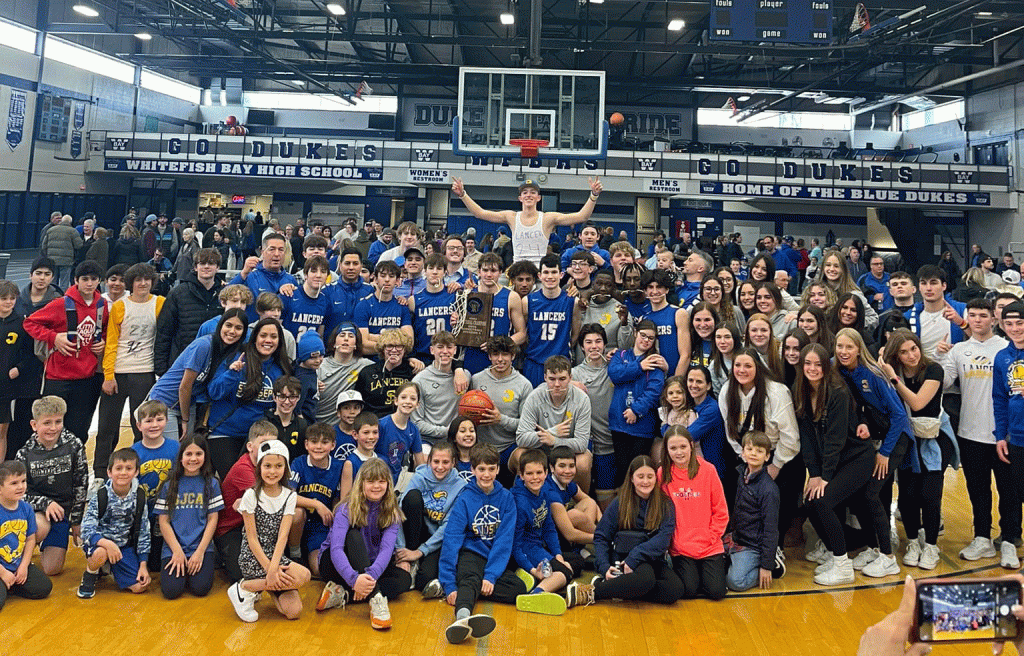 While others may have expected a down season for his team in 2022-23, Garcia thought otherwise.
"A lot of people didn't think we would be good this year," he said. "And I told them, 'We'll be better than you think,' just because I knew the bulk of players that were coming up, they were the kids that started in the program when I was there.
"So my first year, they were freshmen. I knew their mindset, I knew their work, dedication. I knew that they were kids that were going to buy in and really focus on what we're trying to implement as coaches. So I was excited for this season, probably more than anyone."
Garcia's belief has been rewarded. The Lancers have blossomed, especially junior guard Eric Kenesie, who ranks second among Metro Classic players with 21.9 points per game, second in assists with 6.3 per game and first in steals with 3.3 per game. His legendary 42-point, 10-assist, five-steal, three-rebound performance in Saturday's sectional final win earned him Kenosha.com High School Athlete of the Week honors.
Additionally, senior forward Peter Stapleton is averaging 12.8 points and 5.0 rebounds per game for the Lancers, freshman wing Dominic Santarelli is averaging 6.1 points and 5.7 rebounds per contest and junior guard Tommy Santarelli is averaging 5.9 points, 4.3 rebounds, 2.0 assists and 1.2 steals per game.
There's also no doubt that playing in the Metro Classic has prepared St. Joseph for the postseason, perhaps better than anyone else in the Division 4 field. This season, the conference included two teams state-ranked in Division 3 in the latest WisSports.net state coaches poll and served up a brutal gauntlet of college-bound players and talent-laden teams throughout the regular season.
"Our conference, it's amazing," Kenesie said. "Even with our losses, if we play well, that's a good sign, because the other teams are so good. They all made good (postseason) runs, too.
"Just saying we competed with them, that's just the best, because we know we're on the right track by competing with those teams."
Garcia has also preached the power of belief all season. A devout Christian, Garcia works full-time as a case manager at Jerstad-Agerholm Middle School in Racine and is also a minister who runs the non-profit Anointed Hoops, a basketball ministry and youth program in Kenosha.
Garcia said the Lancers have had a "season Scripture" throughout 2022-23, out of Matthew 19:26 from the Bible: "With man it is impossible, but with God anything is possible."
"The whole season we've been preaching, 'Believe, believe, believe,'" Garcia said. "And I just had a belief in me that it was possible."
Preparing for state
One thing Garcia said he learned from his two trips to the State Tournament as a player is how much different the Kohl Center is than a typical high school gym. The college court is bigger, for one, and the shooting background of a large arena like the Kohl Center is much more open.
The Lancers shot just 40.9 percent from the field in their 2003 state semifinal loss, and Garcia said shooting toward the Kohl Center background was partly responsible for that. That's why he has his team practicing at college venues this week, twice at Carthage's Tarble Arena and once at UW-Parkside's DeSimone Arena.
"Just those little things that we can think about, because we didn't play well there (at state in 2001 and 2003)," Garcia said. "There's things that you can look back and say, 'Why didn't you play well?' One of them, maybe, could have been us not practicing on an open court like that, where there's no background."

Garcia said the team will head up to Madison on Wednesday night after practice. Thursday morning, the Lancers will gather for a team breakfast and a shootaround and then watch some of the other State Tournament semifinal matchups before getting ready for their own.
Garcia said he and his staff were watching film on Saint Mary Catholic shortly after Saturday's sectional final games. The Zephyrs were ranked No. 3 in Division 4 in the latest WisSports.net state coaches poll — the Lancers were not ranked — and feature a tough matchup in 6-foot-6 senior wing Cole Uhlenbrauck, who's averaging 21.1 points, 6.7 rebounds and 3.0 assists per game.
But all opponents are tough this time of year, and St. Joseph has seen its share of tough teams and standout players throughout the season. Only the next one matters now, and the Lancers have a head coach and a top assistant who know anything can happen in the State Tournament.
"We're trying our best to say, 'Hey, how can we prepare them mentally from when we were there (in 2003) to now and make it the best experience?'" Garcia said. "Definitely going to share some tips of wisdom with them on how to seize the moment, because it's not for the faint of heart."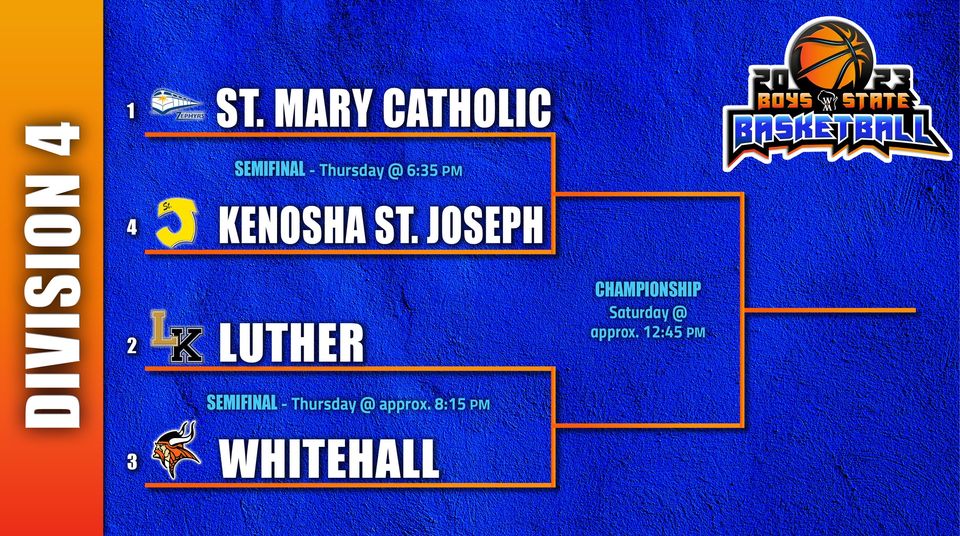 ABOUT THE WIAA DIVISION 4 STATE BOYS BASKETBALL TOURNAMENT FIELD
ST. JOSEPH LANCERS (STATE SEED: NO. 4)
Location: Kenosha
Record: 18-10 overall, 7-9 Metro Classic Conference (5th place)
Head coach: Jose Garcia
Playoff road: No. 1 seed in sectional; def. No. 9 Living Word Lutheran (59-56) in regional semifinals; def. No. 5 Milwaukee Juneau (61-46) in regional finals; def. No. 6 Williams Bay (69-35) in sectional semifinals; def. No. 3 Kohler (77-68) in sectional finals.
Leaders: Eric Kenesie, Jr., G (21.9 ppg, 3.1 rpg, 6.3 apg, 3.3 spg); Peter Stapleton, Sr., F (12.8 ppg, 5.0 rpg, 1.1 spg, 0.6 bpg); Dominic Santarelli, Fr., G/F (6.1 ppg, 5.7 rpg); Tommy Santarelli, Jr., G (5.9 ppg, 4.3 rpg, 2.0 apg, 1.2 spg); Jack McTernan, Sr., G (4.6 ppg).
FYI: This is St. Joseph's third WIAA State Tournament appearance and its first since 2003. The Lancers lost in the state semifinals in each of their previous two appearances (2001, 2003) by just three points and one point. Both of those were in Division 3. … St. Joseph has won six of its last seven games and eight of its last 11. … Head coach Jose Garcia was a sophomore reserve on the 2001 team and a senior starter on the 2003 team, playing all 32 minutes in the state semifinal that year. Assistant coach Kyle Clark was also a starter on the 2003 team. … The Lancers have won back-to-back Division 4 regional titles. … Starting junior guard Eric Kenesie is the son of St. Joseph Athletic Director and assistant coach Jenny Knight-Kenesie, who was a standout girls player at St. Joseph and then at the NCAA Division I University of Louisville before coaching the UW-Parkside women's basketball team for 11 seasons from 2002-13, leading the Rangers to five NCAA Division II Tournament appearances and two Sweet 16 berths. The south practice court at Parkside's DeSimone Arena is named Jenny Knight-Kenesie Court. … Eric Kenesie ranked second in the Metro Classic Conference in scoring, second in assists and first in steals this season.
SAINT MARY CATHOLIC ZEPHYRS (STATE SEED: NO. 1)
Location: Neenah
Record: 26-2 overall, 17-2 Big East North Conference (2nd place)
Head coach: Paul Bradshaw
Playoff road: No. 1 seed in sectional; def. No. 8 Manawa (101-62) in regional semifinals; def. No. 5 Oconto (84-81) in regional finals; def. No. 2 Crivitz (83-67) in sectional semifinals; def. No. 2 Auburndale (75-70) in sectional finals.
Leaders: Cole Uhlenbrauck, Sr., G/F (21.1 ppg, 6.7 rpg, 3.0 apg, 1.6 spg, 1.0 bpg); Daniel Griffith, Sr., G (18.0 ppg, 5.5 apg, 2.6 spg); Charlie Nackers, Sr., F (12.7 ppg, 6.9 rpg, 2.0 apg); Fisher MacKenzie, Jr., G/F (12.1 ppg, 7.1 rpg, 0.7 bpg).
FYI: This is Saint Mary Catholic's first-ever WIAA State Tournament appearance. … The Zephyrs enter state on a 15-game winning streak and were ranked No. 3 in Division 4 in the latest WisSports.net state coaches poll. … They finished second in the Big East North Conference, a game behind second-ranked Howards Grove, which was the other No. 1 seed in St. Joseph's sectional but was upset by No. 4 seed Valders in the regional finals. … Senior wing Cole Uhlenbrauck is a talented scorer who's listed at 6-6 and presents matchup problems on the outside as one of the state's best 3-point shooters. He led the Big East North in scoring and totaled 19 points and eight rebounds in Saint Mary Catholic's sectional final win over Auburndale. Uhlenbrauck has committed to play next season near his hometown at NCAA Division III St. Norbert College in De Pere.
LUTHER KNIGHTS (STATE SEED: NO. 2)
Location: Onalaska
Record: 26-2 overall, 10-2 Coulee Conference (2nd place)
Head coach: Brad Schaper
Playoff road: No. 1 seed in sectional; def. No. 8 Fennimore (76-44) in regional semifinals; def. No. 5 Cuba City (87-64) in regional finals; def. No. 3 Mineral Point (60-55) in sectional semifinals; def. No. 3 Belleville (88-73) in sectional finals.
Leaders: Kodi Miller, Sr., G (17.6 ppg, 3.8 apg, 2.1 spg); Logan Bahr, Jr., F (16.8 ppg, 7.8 rpg, 0.5 bpg); Isaiah Schwichtenberg, Sr., G (12.8 ppg, 4.0 rpg, 4.9 apg, 3.1 spg); Gabe Huelskamp, Sr., F (8.1 ppg, 5.4 rpg, 0.9 bpg); Synclair Byus, So., G/F (7.6 ppg).
FYI: Luther is making its second WIAA State Tournament appearance, with the other coming in the Division 4 field in 2021. That year, the Knights lost to The Prairie School in the state semifinals. … Ranked No. 1 in Division 4 in the latest WisSports.net state coaches poll, Luther's only two losses this season have come against Coulee Conference rival West Salem, which won the conference title via those two wins over Luther. West Salem is the No. 1 seed in the Division 3 State Tournament field. … Luther has reached the Division 4 sectional finals four straight seasons, including 2019-20, when the season was canceled due to the pandemic before sectional final games were played. … Senior guard Kodi Miller ranked fourth in the Coulee in scoring this season, 6-7 junior forward Logan Bahr ranked fifth in scoring and fifth in rebounding and senior guard Isaiah Schwichtenberg ranked second in assists and tied for second in steals. Schwichtenberg has committed to play at NCAA Division III Wisconsin Lutheran College in Milwaukee.
WHITEHALL NORSE (STATE SEED: NO. 3)
Location: Whitehall
Record: 22-6 overall, 15-0 Dairyland Large Conference (1st place)
Head coach: Tyler Petersen
Playoff road: No. 3 seed in sectional; def. No. 11 Eau Claire Regis (54-34) in regional semifinals; def. No. 2 Durand-Arkansaw (65-48) in regional finals; def. No. 1 Fall Creek (59-54) in sectional semifinals; def. No. 3 Cameron (66-62) in sectional finals.
Leaders: Devon McCune, Sr., G (17.2 ppg, 7.5 rpg, 3.0 apg, 2.0 spg); Brayden Lisowski, Jr., G (12.9 ppg, 4.5 rpg); Luke Beighly, Sr., F (11.0 ppg, 7.7 rpg, 0.7 bpg); Preston Schroeder, Jr., F (8.7 ppg, 4.2 rpg); Colton Pank, Sr., F (8.1 ppg, 8.6 rpg, 1.6 bpg).
FYI: Whitehall is making its third WIAA State Tournament appearance overall but its first in 37 years. The Norse previously reached state in 1928 and 1986. … The Norse were the only team not seeded No. 1 in their sectional to reach the Division 4 state field. Their run included an upset of No. 1 seed Fall Creek in the sectional semifinals. … The Norse have won nine straight games and captured an undefeated Dairyland Large Conference title. … Senior guard Devon McCune ranked second in the Dairyland Large in scoring and assists and tied for third in steals.