On Saturday afternoon, Eric Kenesie emphatically placed his name on the short list of the greatest performances in Kenosha County high school basketball history.
In a Wisconsin Interscholastic Athletic Association Division 4 sectional final at Whitefish Bay High School, Kenesie — a junior guard — willed the St. Joseph Catholic Academy boys basketball team to a 77-68 win over Kohler, delivering the Lancers their third WIAA State Tournament berth in program history and first since 2003.
Kenesie, who has blossomed in his first season as a full-time starter under third-year head coach Jose Garcia, had a hand in pretty much every point St. Joseph scored. His final numbers were almost too amazing to believe.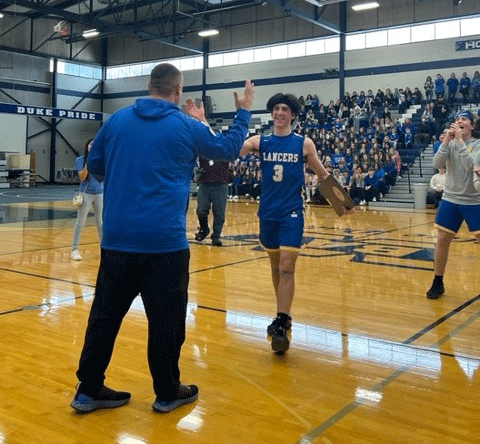 Kenesie finished with 42 points on 14-of-21 shooting from the field, including 3-of-5 from 3-point range, and 11-of-14 shooting from the free-throw line. He also added 10 assists to complete a double-double and also racked up five steals and three rebounds.
Remember, this wasn't some early-season game against an overmatched non-conference opponent, or even an important conference game in February. This was a playoff elimination game in March, with a trip to the State Tournament on the line, so it was a pretty obvious choice to select Kenesie as this week's Kenosha.com High School Athlete of the Week.
"You could argue that Eric Kenesie's performance was the best in an elimination game in the history of Kenosha County basketball," observed Kenosha.com Managing Editor Andrew Horschak, whose 22 years as a sports writer in Kenosha made him as knowledgeable on the history of county sports as anyone.
Of course, being just a junior in high school, Kenesie's assessment of his legendary performance had an almost "aw-shucks" tone to it. In 20 years, perhaps he'll grasp the significance of what he did on Saturday. But right now, he's just a kid enjoying the moment.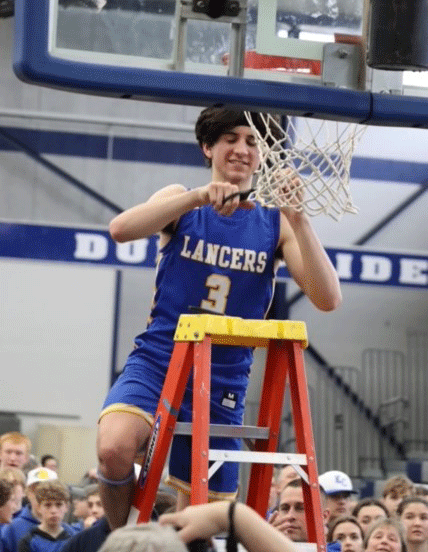 "It started on the defensive end, getting early steals and then quick buckets. That always gets me going," Kenesie said when asked to talk about how he felt during Saturday's 42-point outburst. "Then hitting a couple shots, that keeps me going.
"And then when I can find my open teammates, and it just feels like everything's going so smoothly, it doesn't really cross my mind how many points I have or anything like that. It just feels so good playing like that. It does feel like I'm in the zone a little bit."
Yeah, the Kohler players could argue that "in the zone a little bit" is an understatement.
At any rate, Kenesie and his St. Joseph teammates will head to the Kohl Center in Madison on the University of Wisconsin campus, where they'll take on Saint Mary Catholic in a WIAA Division 4 state semifinal at 6:35 p.m. Thursday.
The winner advances to Saturday's Division 4 state title game, scheduled for approximately 1 p.m. — about 15 minutes after the conclusion of the Division 5 state title game at 11:05 a.m. — against the winner of Thursday's other Division 4 semifinal between Luther and Whitehall. That game will begin approximately 20 minutes after the end of the St. Joseph-Saint Mary Catholic semifinal.
Family dynamics
Eric Kenesie is the consummate three-sport star high school athlete, the starting quarterback on the football team, a starting guard on the basketball team and a starting infielder on the baseball team.
Of course, any talk of Eric's background goes immediately to his family. He's a byproduct of two of Kenosha's most prominent athletic families, the Kenesies on his dad's side and the Knights on his mom's side.
Eric's father, also Eric Kenesie, played college football at Valparaiso University. His mother, Jenny Knight-Kenesie, was a standout girls basketball player at St. Joseph. She was coached there by her father, Ray Knight, who was later the head coach of the St. Joseph boys basketball team for its two previous WIAA State Tournament appearances, in 2001 and 2003, both in Division 3 at that time.
After graduating from St. Joseph in 1996, Jenny Knight-Kenesie went on to a standout college basketball career at the NCAA Division I University of Louisville. She then became one of the most successful coaches in county history — man or woman, high school or college — when she guided the UW-Parkside women's basketball program for 11 seasons from 2002-13, leading the Rangers to five NCAA Division II Tournament appearances and two Sweet 16 berths. The south practice court at Parkside's DeSimone Arena is named Jenny Knight-Kenesie Court.
Knight-Kenesie stepped away from her position at Parkside to focus on her growing family, which now includes six children, four boys and two girls. Eric is the oldest.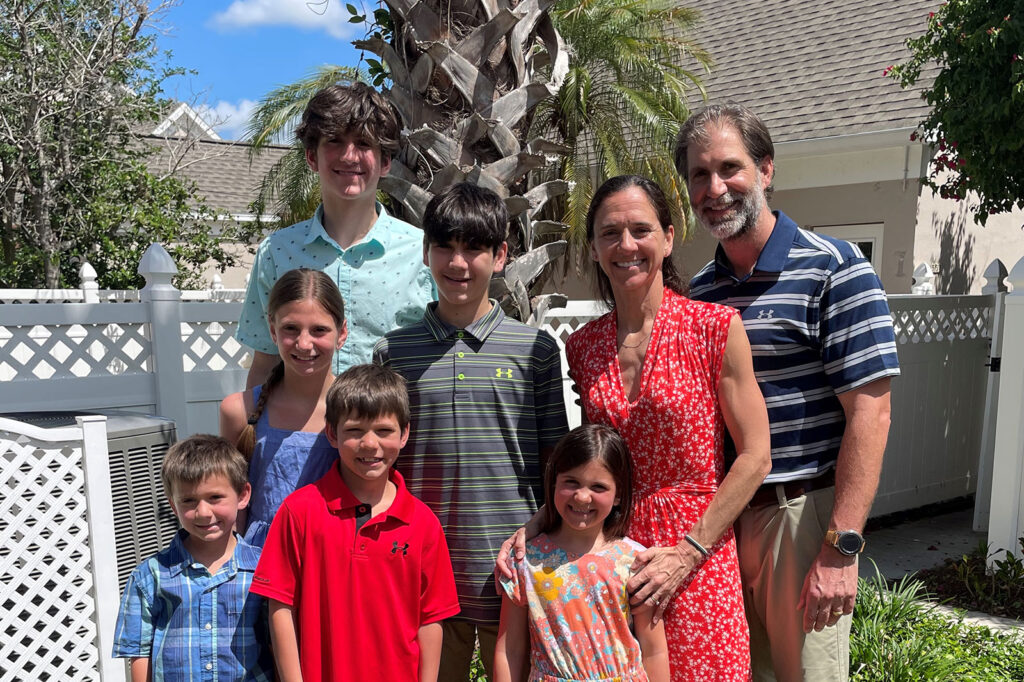 All the while, Knight-Kenesie continued to coach her children — and many other children — in youth sports. She coached the Kenosha Small Fry basketball team to International Small Fry championships in 2017 and 2019. Eric was on that 2017 Small Fry championship team.
Last summer, everything came full circle for Knight-Kenesie at St. Joseph when she was named the school's Athletic Director/Dean of Student Life and Activities.
But while her administrative role suits her fine, Knight-Kenesie is at heart a basketball coach, and basketball coaches belong on the bench. She would creep closer and closer to it while yelling instructions to Eric from the stands.
So Garcia and St. Joseph boys assistant Kyle Clark — who were both starters on the Lancers' 2003 State Tournament team — implored Knight-Kenesie to just hop on the bench already and officially become a boys basketball assistant coach.
"I'm like, 'You need to get on the bench,' and then she started to enter the bench," Garcia said. "And then we really got her to really buy into her being our assistant and helping us out.
"It's nice to have her. She's a basketball genius. She eats, sleeps and drinks basketball, so I'm thankful to have her. We have a great coaching staff."
Of course, this means that Eric Kenesie — Garcia's star guard — doesn't just have his mom yelling at him from the stands, like other players might have. She can do it from inches away during timeouts.
"Only when she gets that bench warning and then she keeps getting up," Eric said with a laugh when asked if he has to tell his mom to quiet down during games. "She just doesn't stop. I have to say something, otherwise we'll get that technical foul."
Known during her time at Parkside for being fiery and passionate on the sidelines, Knight-Kenesie acknowledged with a laugh that the job description for both Garcia and Clark now includes holding her back once in a while.
But Knight-Kenesie's passion has always come from a genuine, deep love for her players, which is probably even more intense when it comes to her oldest son.
"I'm a pretty tough coach, and I can be pretty hard on our kids at times, and probably Eric has to deal with it more than anybody else," Knight-Kenesie said. "So Jose and Kyle do a good job of kind of taming me when those moments happen.
"There are some of those moments, but when we go home, I give him a big hug, or I tell him how proud I am and just explain to him, 'Hey, I just want the best for you and the best for your teammates.'"
All joking aside, Eric says he wouldn't be nearly the basketball player he is now without his mom's influence.
"It's helped so much," he said. "She just knows so much. Honestly, if she didn't coach me my whole life, I probably wouldn't be as good or where I am right now. She's just taught me so much over the years. There's so much I can't even explain."
With a household that includes two parents who were both college athletes and six siblings, the Kenesies have plenty of internecine athletic conflict, all in good fun.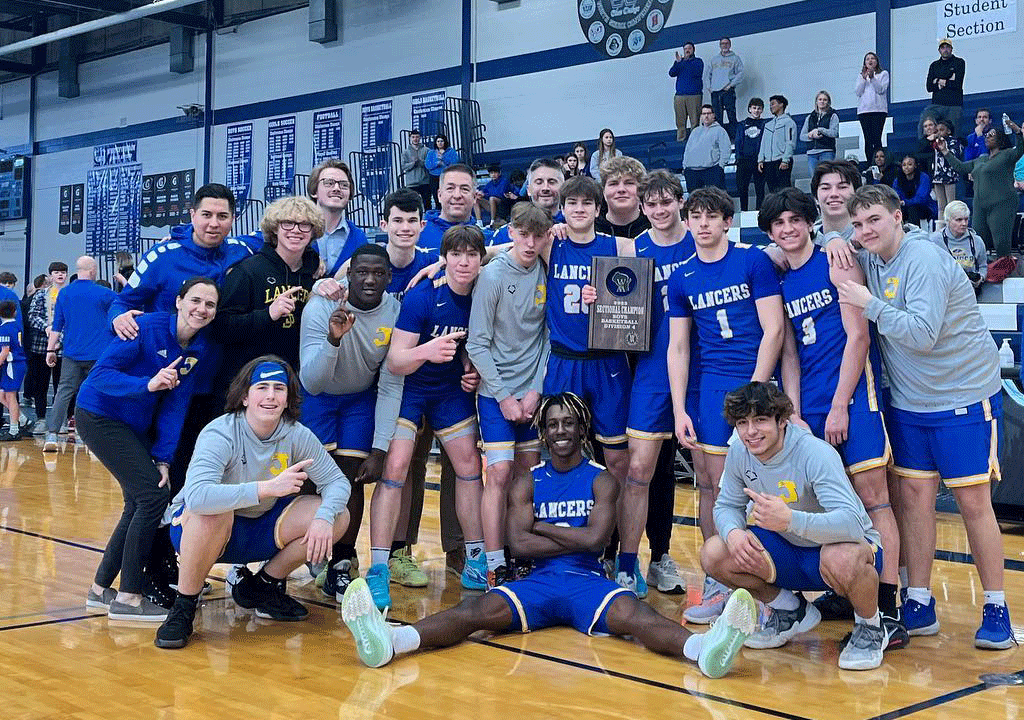 So who's better at basketball, Eric or his mom?
"Definitely me," Eric says. "She's competing with my younger brothers right now."
And what about football, Eric or his dad?
"Oh, that's tough," the younger Eric says with some hesitation. "I would still take me. My dad, he's still pretty active. He can still move a little bit."
Not to mention, Eric has five younger siblings waiting to take the crown as the family's best athlete. Most are too young yet to challenge him in that role, though his next-youngest brother is in eighth grade and starting to assert himself now.
"I definitely think I'm going to hold that title for a little bit," Eric says of being the family's best athlete (self-proclaimed).
"There's a couple younger siblings that try to say they're the best. But I've got the title right now."
Blossoming on the court
Kenesie's success on the basketball court this season is no surprise, given his overall athletic talent.
He's been a key member of the St. Joseph football team that has won back-to-back Midwest Classic Conference titles and made runs to the WIAA Division 6 state quarterfinals each of the last two seasons.
As a sophomore in 2021, Kenesie was named honorable mention All-Midwest Classic at defensive back. He took over as the Lancers' starting quarterback as a junior this past fall and racked up 1,728 yards passing and rushing and 25 total touchdowns for a 12-win team. Kenesie was named unanimous first-team All-Midwest Classic at quarterback and was the conference's Co-Offensive Player of the Year with teammate Jayden Gordon, a junior running back, and also led the conference with six interceptions in being named first-team All-Midwest Classic at defensive back, too.
On the baseball diamond, meanwhile, Kenesie was on the roster as a freshman for the St. Joseph squad that won the WIAA Division 3 state title in 2021 and was a starting infielder on the team that reached the state semifinals again last season. Kenesie was named second-team All-Metro Classic Conference as an infielder in 2022.
Given that, it may seem hard to say basketball is the best of Kenesie's three sports, but that may well be the case.
Garcia moved him up to the varsity roster as a freshman at the end of the 2020-21 season and then inserted him into the starting lineup as a sophomore during the latter part of the 2021-22 season, in which St. Joseph reached the WIAA Division 4 sectional semifinals.
While Kenesie had a solid sophomore basketball season, averaging 5.0 points and 1.9 assists per game and playing strong backcourt defense, it was difficult for him to pick spots to be aggressive with the ball. The Lancers had two premier senior scorers in Andrew Alia, who finished as the second all-time leading scorer in City of Kenosha boys basketball history with 1,697 career points and is now a freshman walk-on at NCAA Division I Drake University, and Caiden Lecce, now playing at NCAA Division III UW-Eau Claire.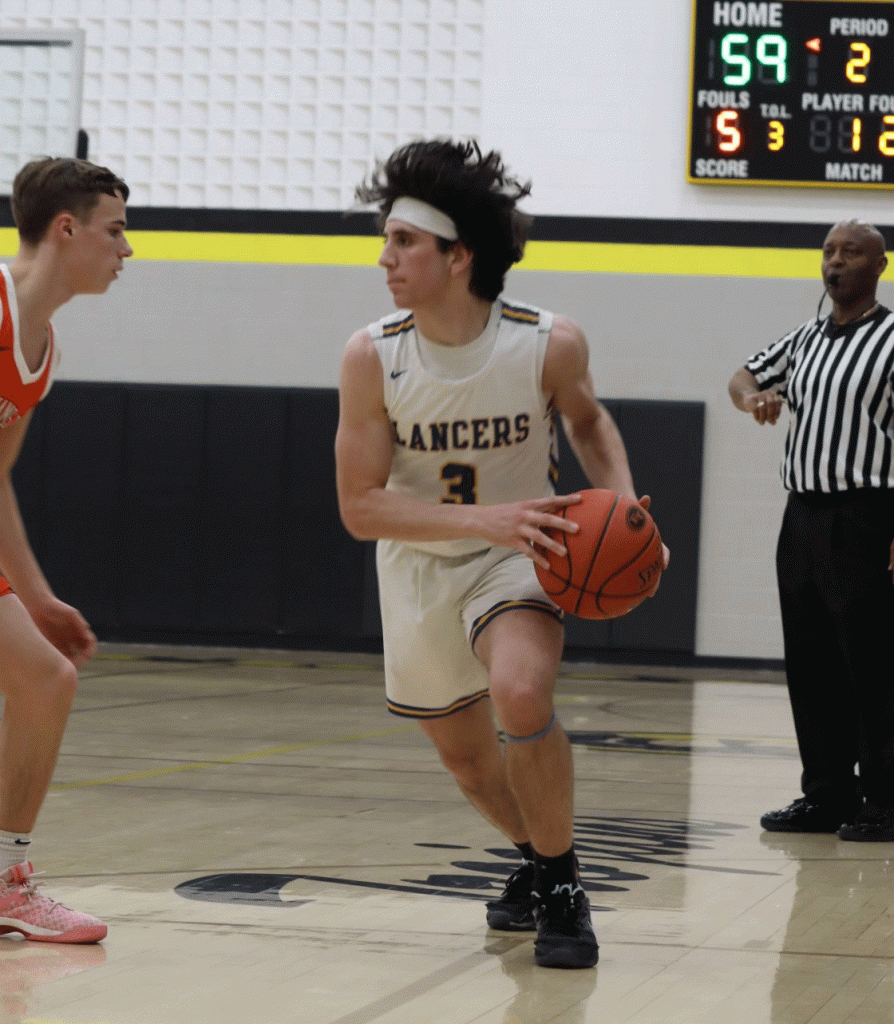 With Alia and Lecce gone this season, Garcia has needed Kenesie to be St. Joseph's lead scorer, and he's more than answered that challenge.
Going into the State Tournament, Kenesie is averaging 21.9 points, 3.1 rebounds, 6.3 assists and 3.3 steals per game. Among the Metro Classic Conference, annually loaded with some of the state's best players, Kenesie ranked second in scoring, second in assists and first in steals.
Garcia said he's always seen this type of ability from his junior guard.
"I thought Eric could be who he is this year, last year," Garcia said. "I would try to call it out of him and tell him, 'Be aggressive.' It's just, we had other players. It was probably hard to see for him where he could do that.
"… Eric is just a special player, and I think everyone's just getting to see what I already know."
Kenesie's name has grown increasingly this season in the ever-changing world of those ranking and recruiting high school basketball players, to the point where playing the sport in college is now a distinct possibility.
But he's also a standout in two other sports, and he's still just a junior. If anyone knows what it takes to be a college athlete, of course, it's Kenesie's mom.
"I get that question a lot," Knight-Kenesie said when asked if there's a sport Eric might be most likely to play at the next level. "He's the type of kid who, any time he's out competing, no matter what sport it is, he's just going to put full passion and full effort, no matter what he's doing.
"… Time will tell. He's still a junior, and he's got a lot of work to do to be able to play at the next level in any sport. He's not there yet, but I do know that he has a love for sports. … He does have a dream of playing at the next level, in some way, fashion or form, in any sport that he's going to have the opportunity to do. He knows that he's just got to put in the time, keep working hard, because there's always somebody out there bigger and stronger and better. You've got to put in the time and see what opportunities come."
Enjoying the moment
For now, Kenesie and his teammates are relishing the opportunity to head to Madison to compete in the State Tournament.
"Just the opportunity to play at the Kohl Center is going to be great for me and our whole team," he said. "At the start of the year, all of us wanted to play there, to get there by the end of the year. It's a great feeling that we're going there now."
This latest state trip also continues what's been an amazing several-year run for St. Joseph athletics.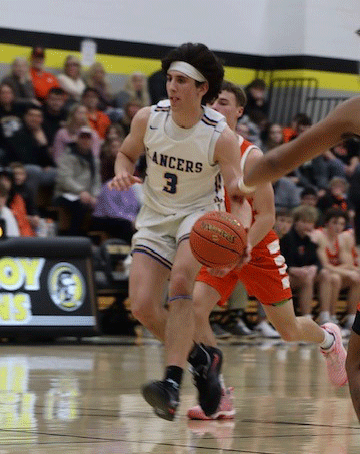 The baseball team has reached two consecutive State Tournaments, including the state title in 2021, the football has won back-to-back conference titles and made two straight deep postseason runs and now the boys basketball team is back in the State Tournament for the first time in 20 years.
And that doesn't include various levels of success in other team sports and a large contingent of standout individual athletes, such as sophomore wrestling star Co'ji Campbell, who just completed back-to-back WIAA Division 3 state titles and is 77-0 in his high school wrestling career so far. Campbell was last week's Kenosha.com High School Athlete of the Week.
It's a great department to be the Athletic Director of right now.
"I think that's a testament to all the kids and how hard they work, and just how much pride they take in wearing the Lancer blue and gold," Knight-Kenesie said. "Every single day, they go out and compete, no matter what sport it is.
"At a lot of the sports we're competing at a high level, and I think it's just the pride that they take every time they step out on the floor wearing that blue and gold and to be a Lancer."
It's definitely a tight-knit athletic community at St. Joseph, particularly since just about all the current high school varsity athletes have been playing together since they were young, in most cases multiple sports.
In fact, Knight-Kenesie also has three nephews — Eric's cousins — on the varsity basketball team that she coached as youngsters, senior guard Jack McTernan, junior guard Tommy Santarelli and freshman wing Dominic Santarelli, who's already one of the top high school baseball prospects in the entire country.
That family environment made St. Joseph's sectional final win so special for the Kenesies, and that's not just because Eric scored 42 points. For Eric's mom, it also brought back some great memories of playing for her own father at St. Joseph, Ray Knight, who was also at Saturday's game.
"Afterwards, of course, just the big hugs and that moment, to be able to share with (Eric) was extremely special," Knight-Kenesie said. "It brought back some memories from when I had that with my own father as a coach.
"That was special afterwards to be able to share that and realize, 'Wow, things come full circle. Here I am now with my son, and my dad and I had that player-coach relationship.' It was special then, and to be able to share that with Eric does mean a lot, no doubt."
For Eric, all the athletic success at St. Joseph across each of the fall, winter and spring seasons has just emphasized how close he and his teammates are.
Like family, you could say.
"I think everyone just loves playing," Eric said. "It's just so fun to play. And then when you're playing with the same people in each sport, that just makes it 10 times better. You just build relationships, and then you're just having a great time, always.
"Why would you not want to play, right?"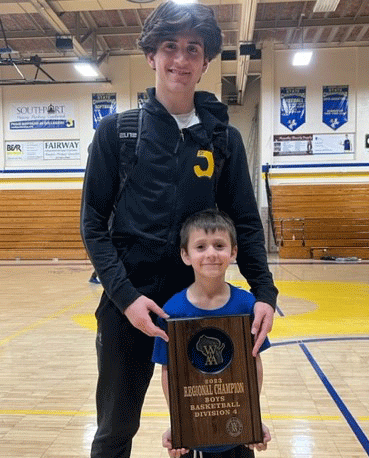 "5 QUESTIONS WITH" ERIC KENESIE
Favorite food? "I would have to go with steak." … How do you like it done? … "Oh, that's tough. Probably medium."
Favorite movie? "I'll go with 'Billy Madison.'"
Favorite music? "A little bit of everything, some country here and there. Just a little bit of everything." … Did you listen to anything before Saturday's sectional final game? … "Before Saturday, on the way up, we were actually listening to a lot of country. So maybe that's a sign, to keep doing that."
Who's your favorite athlete (you get extra points if you say your mom or dad)? "I would say my dad over my mom (laughs). But I like (Atlanta Hawks guard) Trae Young in the NBA."
Where do you see yourself in 5-10 years? "I would want to play a sport in college, but I would probably want to go to a good school with a good education, like going to medical school, maybe, or something like that. Not fully sure yet."