NOTE: St. Joseph sophomore Co'ji Campbell and Christian Life junior Drew Dolphin each completed undefeated high school wrestling seasons by capturing the WIAA Division 3 state title in their respective weight classes Saturday, Feb. 25, at the Kohl Center in Madison. For their impressive achievements, they have each been named Kenosha.com High School Athletes of the Week. Campbell is this week's feature subject. Dolphin was featured last week. To check out that story, visit THIS LINK.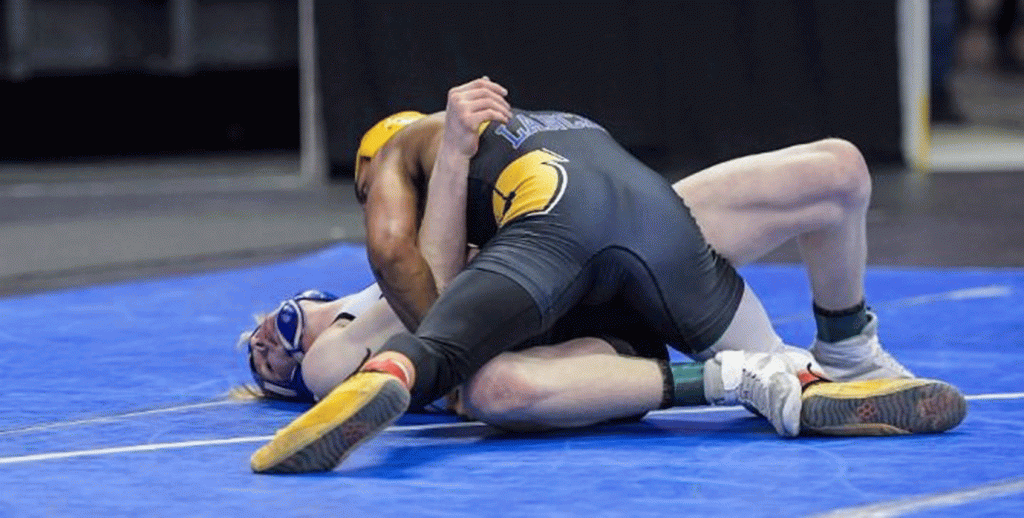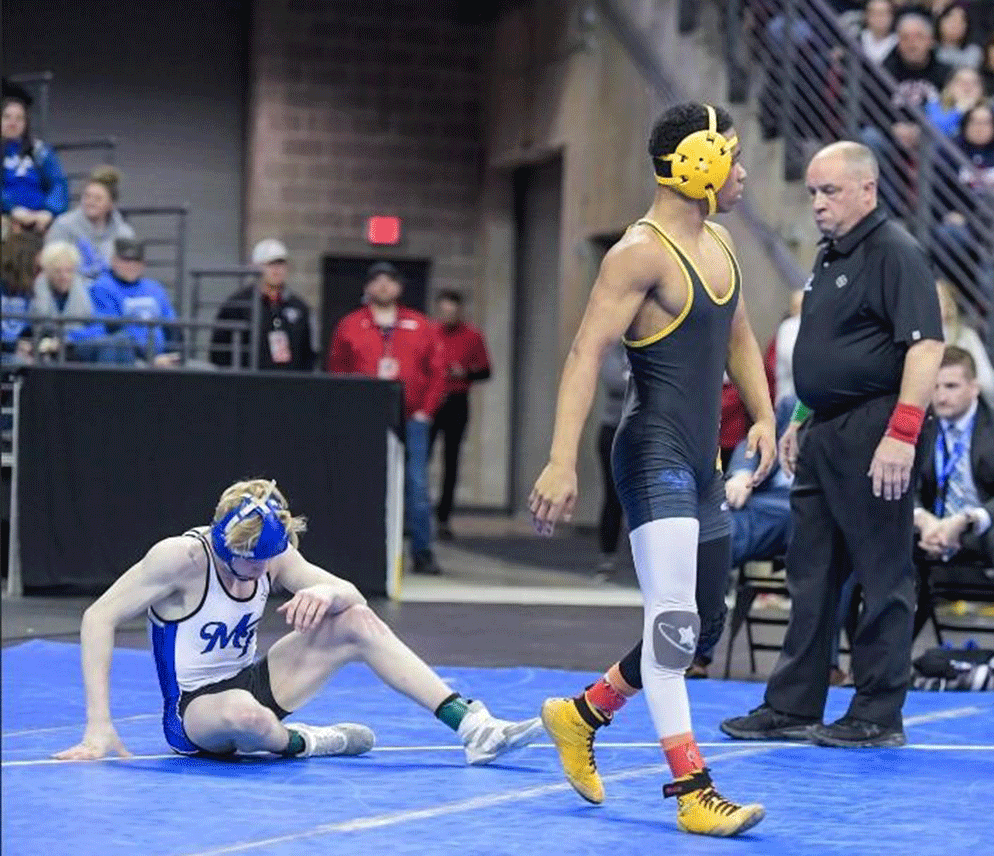 There are three high school wrestlers in state history to go undefeated through four seasons and win four straight Wisconsin Interscholastic Athletic Association state titles.
Co'ji Campbell is halfway to joining that illustrious group.
The St. Joseph Catholic Academy sophomore has now completed two high school seasons without a defeat after wrapping up his second consecutive WIAA Division 3 state championship, this one at 120 pounds, on Feb. 25 at the Kohl Center in Madison.
Campbell finished this season 45-0 with 27 pins — 26 of them in the first period — after a freshman campaign in which he won an undefeated WIAA Division 3 state title at 113 pounds. That makes Campbell 77-0 with 54 pins — 52 in the first period — through two high school seasons.
Only Matt Hanutke of Pittsville (117-0 from 1987-90), Kevin Black of River Falls (157-0 from 1995-98) and Jarod Donar of Cuba City/Southwestern (189-0 from 2009-12) have ever won four straight WIAA state wrestling titles without a defeat.
Campbell doesn't shy away from talk of making such history. His focus has been singular since he started wrestling as a youngster.
"It has been my plan since I started wrestling," Campbell said in a phone interview several days after winning his second straight state title of the opportunity to finish his high school career undefeated with four state championships.
"I really realized that I could do that once I won the first one. I was like, 'OK, I can't relax. I can't do that, because keeping this perfect record is making history.'"
In addition to joining the very short list of undefeated four-time WIAA state champions, Campbell can also join the overall list of four-time WIAA state champs, which grew to 25 after three more senior wrestlers accomplished the feat this season to cap their high school careers.
Campbell has already become the first Kenosha County wrestler to win back-to-back WIAA state titles and is also believed to be the first African American from Kenosha to win a state wrestling championship.
It would be unwise to bet against Campbell to keep making history.
"I love inspiring people to work hard," he said of his status as a history maker.
Hates to lose
All successful athletes hate losing, so it's no surprise that Campbell hates to lose, too. But he really, really hates it.
"My biggest thing growing up was, I hated to lose," Campbell said. "I know a lot of people say that they don't like losing, but it was one of my biggest pet peeves.
"I really realized that once I got to middle school, and I was losing certain matches that I know I shouldn't be losing. I was like, 'All right, I'm not losing these matches because the kids are better than me. I've just got to turn it up as hard as I can, become one of those kids who — I can't let the ref get (to me during) the match or let someone else just catch me off-guard. I want to be prepared for everything.'"
When pressed to name the last thing he even lost at, Campbell said it actually just happened. He lost a game of ping-pong during St. Joseph's sophomore retreat last week, but he had never played it before.
So the next time he picks up a paddle, you can expect Campbell will want to excel at ping-pong, too.
"I was like, 'OK, this is something I might actually have to pick up, because this is kind of fun,'" he said.
Interestingly enough, Campbell's father, Cherry, didn't initially want him to even wrestle. Co'ji said he "dabbled in soccer" growing up. He also played football and was on St. Joseph's roster as a freshman in 2021, though he didn't play football as a sophomore in 2022.
It was during an unplanned trip with his father to watch his older brother, Cherry Jr., compete in a wrestling meet for Bradford that Co'ji's love for the sport first became apparent. Cherry Sr. wasn't going to take Co'ji to the weekend event, which required an overnight stay, but young Co'ji wouldn't ease up on wanting to tag along.
"I was getting ready to go out of town with (Cherry Jr.) for a two-day dual," Cherry Sr. recalled in a phone interview last week. "And (Co'ji) cried — well, I'm not going to say he cried, but he moped — and whimpered around. My wife didn't want me to bring him. Finally, at the last minute, I was like, 'You know what, you want to go? Pack your stuff up.' 
"… I remember that first day, he went down to that mat and sat beside (Bradford) Coach (Jerril) Grover. And he sat all day for two days, right down there by the coach, Indian-style, with his chin in his hands, just leaning and watching matches, not saying a word. Coach Grover was like, 'Man, you know you've got another one, right?' I wanted him to play basketball."
Training regimen
At that point, Cherry Sr. couldn't deny that Co'ji wanted to be a wrestler, so he started Co'ji on a training regimen in the family's basement when Co'ji was about 5 years old. That alone was a big step for Co'ji, who had once suffered from severe asthma since birth.
"For the first three-and-a-half years, he was on a breathing machine four times a day," Cherry said. "Last time I took him to the doctor, I want to say he was just getting ready to turn 4 years old, and they wanted to up his dosage.
"… I told the doctor, I said, 'You know what? I think I'm going to try a different route.' So I came home, and from that day I changed his diet. I started giving him nutritious drinks, stuff I still do to this day. I changed his whole diet. Everything I gave him was clean. I'd say six months later, it was gone."
Cherry played football and wrestled at Bradford and was an accomplished boxer after high school, so he's always trained Co'ji like a fighter.
"We train off a boxer's regimen," Cherry said. "That's how I pretty much mapped it out."
Now, Co'ji says, a typical day sees him waking up at about 6 a.m. to go for a mile run, followed by pull-ups, sit-ups and then getting ready for school. After school, Co'ji comes home, eats something and does his homework, then it's either a night of wrestling practice or working out in the backyard, which might include the trap bar, another mile run, squats, push-ups, sit-ups and bar pushes.
"It's a lot of work, man," Cherry said. "I've been building fires for 10 years in my backyard."
Does Co'ji ever get tired?
"That is one thing I do not get," he said. "Through the consistency of doing it, your body just adapts."
Dominating on the mat
Cherry said Co'ji entered his first national tournament at about five-and-a-half years old, and ever since then, he's just racked up the victories.
Co'ji competes year-round in all three styles of wrestling, folkstyle — which is the style used in WIAA competition — freestyle and Greco-Roman. Co'ji won three consecutive city titles at Bullen Middle School and — according to Cherry and Co'ji — has won more than 80 national championships and four world championships in meets all over the United States, competing in various weight classes, styles and age groups.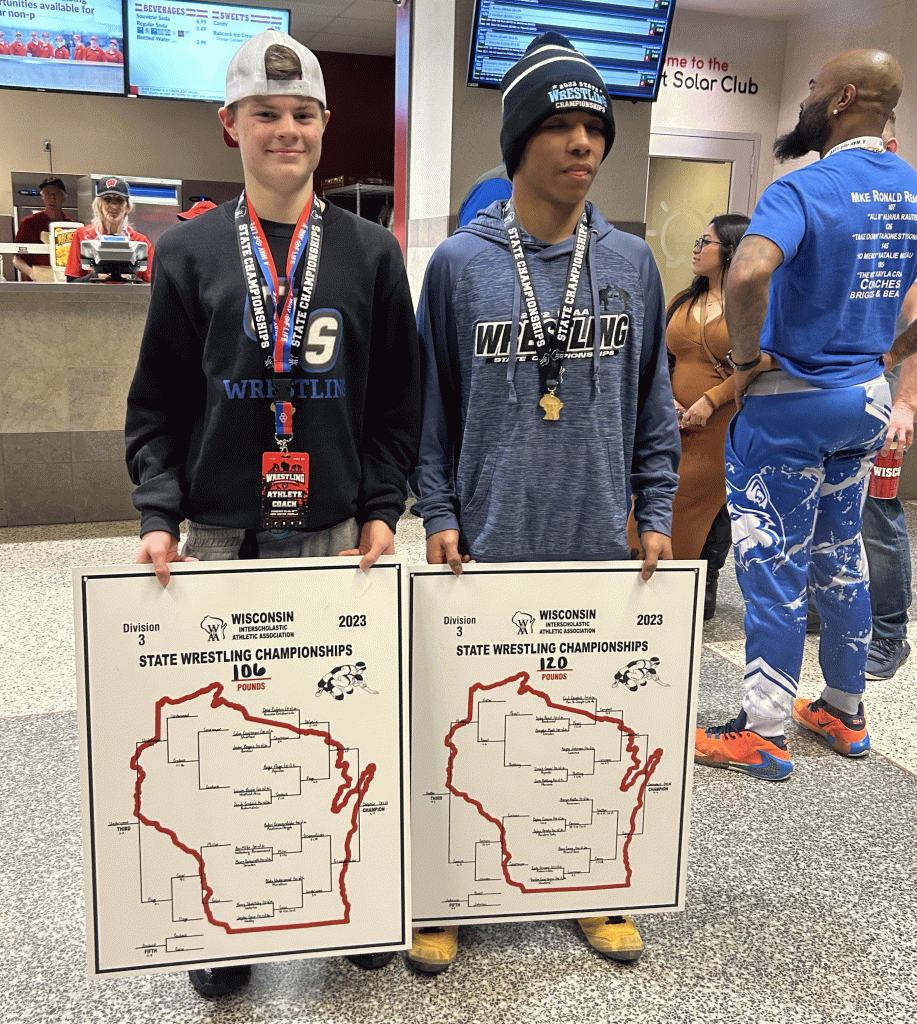 One wrestler who inspired Co'ji to up his game at a very young age was Drew Dolphin, now a junior at Christian Life who this season joined Co'ji as an undefeated WIAA state champion when he captured the Division 3 title at 106 pounds.
Co'ji and Dolphin often wrestled each other as youngters.
"When we first came across him, I was like, 'Yeah, we're going to have to step our game up a little bit. We're strong, we're fast, but the technique' — so we worked," Cherry said.
Now, they can both call themselves state champions, in undefeated fashion, no less.
"It was actually really cool, because me and Drew have been wrestling my whole career," Co'ji said. "It's been 12, 13 years. So seeing the both of us moved out of each other's way and (getting) our own state title was just great to see."
Always improving
While Cherry has spurred his son on the entire way and trains him frequently, both Co'ji and Cherry said Co'ji's three main wrestling coaches have helped him improve immeasurably.
Co'ji first hooked up with Derrick Noble, a highly-regarded coach from Toss Em Up Wrestling Academy in Waukegan, Ill.
"Once I took him as far as I could take him, God sent me Coach Noble," Cherry said. "I'll put it like that."
Then, over the last year, Co'ji has been working with Malcolm Briggs and Brent "Bear" Bennett, who coach the Milwaukee Reagan wrestling team during the high school season but train other wrestlers during the offseason.
Throughout his wrestling career, Co'ji has competed against the top wrestlers in his age group, not only in Wisconsin, but throughout the entire country and even the world.
That's probably why he makes it look relatively easy when beating the rest of the WIAA competition.
In this year's postseason, Campbell recorded two first-period pins to win a regional title and three more pins in under a minute to win a sectional title and qualify for the State Tournament for the second year in a row.
In Madison, following a first-round bye, Campbell notched a 17-4 major decision over Brookwood senior Dylan Powell in the state quarterfinals, an 11-4 decision over Cameron senior Kayne Johnson in the semifinals and a 12-6 decision over Mineral Point sophomore Roen Carey in the championship match.
It's not to disrespect the competition at the State Tournament, but Campbell has competed against state championship-caliber wrestlers from all states, Wisconsin and otherwise, for years. So he's not going to be too nervous in big high school matches.
"A lot of the kids that we've wrestled across the country, they're either state champions, they're repeat state champions right now, or they've moved on to college and are doing very well," Cherry said. "So I took him to the competition. We chased losses. We were wrestling, easy, 200 matches a year."
That said, Co'ji's undefeated streak in high school nearly ended almost before his sophomore season really got started.
"There was one match that no one has talked about all season," he admitted.
In St. Joseph's first meet of the 2022-23 season, the Ted DeRousse Individual Tournament at Antioch (Ill.) High School on Nov. 26, Campbell faced one of the top wrestlers in Illinois, Yorkville Christian's Ty Edwards in the 120-pound semifinals.
Edwards, who would go on to finish as the Illinois High School Association 1A state runner-up at 120 pounds, got Campbell on the mat with an early headlock and nearly pinned him. Campbell trailed 5-0 in the match, but he rallied back to wear Edwards down and escape with a 9-7 victory in overtime.
That turned out to be Campbell's closest match of his perfect sophomore season.
Up next
There will be little rest for Campbell, who now begins his offseason program and the long grind toward a third straight undefeated high school season. It's never too early to work toward that.
"Coach Derrick Noble told me, even after the State Tournament, he's like, 'Go enjoy tomorrow. But the next 364 days, you're right back at it,'" Co'ji said. "That's what you've got to do, man. If I want to (be a) four-timer, I've got to go hard, no matter what."
Cherry said Co'ji doesn't enter a lot of offseason competitions these days, keeping his focus on his training regimen. There are some big ones, however, like the USA Wrestling Folkstyle Nationals in Cedar Rapids, Iowa, from March 31-April 4, the State Tournament for freestyle and Roman-Greco in May and a big folkstyle world championship event in November in Tulsa, Okla., that Co'ji said is circled on his calendar.
It's also possible that Co'ji could be switching weight classes after capturing a state title at 113 pounds as a freshman and 120 pounds as sophomore. He said he doesn't really ever plan to compete in any specific weight class.
"Not a lot of people know this, but I don't cut weight at all," Co'ji said. "I come in at whatever I think is the best weight I'm going to sit at and just wrestle.
"… It could be (1)32, it could be (1)20 again. I don't know. It just all depends."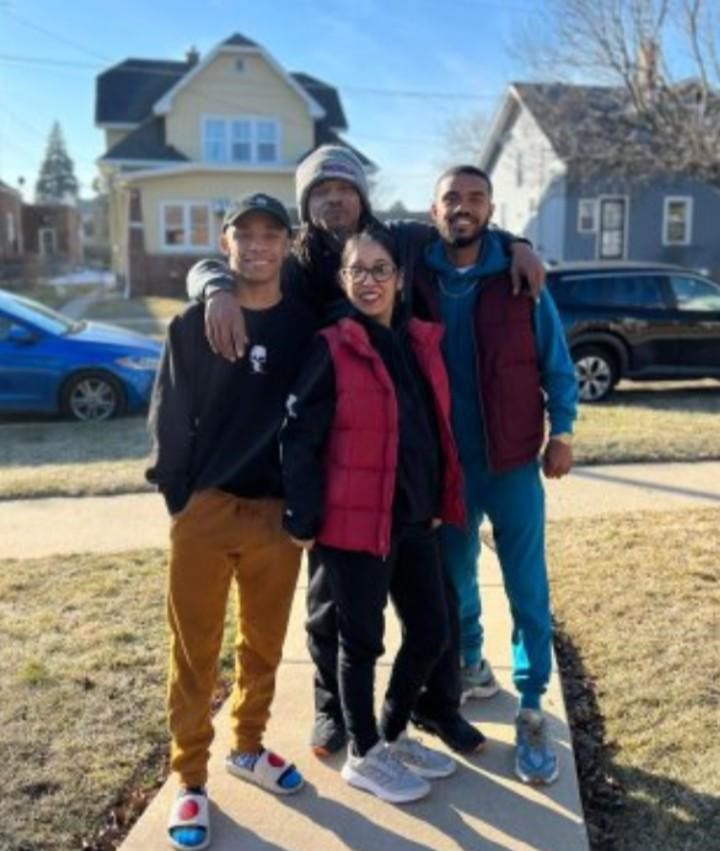 Following high school, Co'ji said he definitely has plans to wrestle in college at the NCAA level and also says he's interested in later pursuing a career in the psychiatric field.
"Just learning about the human brain and how certain things function and what makes people tick," Co'ji said of those career plans.
Of course, the biggest goal for amateur wrestlers is always the Olympics, the highest level you can represent your country at. Co'ji said he's already heard about Olympic aspirations, but he doesn't really think that far ahead.
"Honestly, it's something I've been hearing growing up from other people," Co'ji said. "It's never been like a big thing to me. A lot of people talk about the Olympics and stuff like that, but to be honest, I just want to see how far I can really go with this.
"Next is the NCAAs for me, after high school, and then after that just see what I can fall into. I might fall into MMA. I might fall into making my own team, stuff like that."
And though it may seem like it, Co'ji's life isn't all wrestling. He said he would like to play football again for St. Joseph, maybe during his senior season, and also plans to join the track and field team next spring, when he's a junior.
As for the summer, what does Co'ji do for fun?
"We do a lot of fishing," Cherry said.
But you can be sure the training regimen won't let up, because Co'ji Campbell is determined to one day be on the vaunted list of four-time undefeated WIAA state champions.
"I can't take a break, because I know either they are going to take a break — my opponents — or they're not going to take a break," he said. "Those who lost are going to come back and try to dethrone me."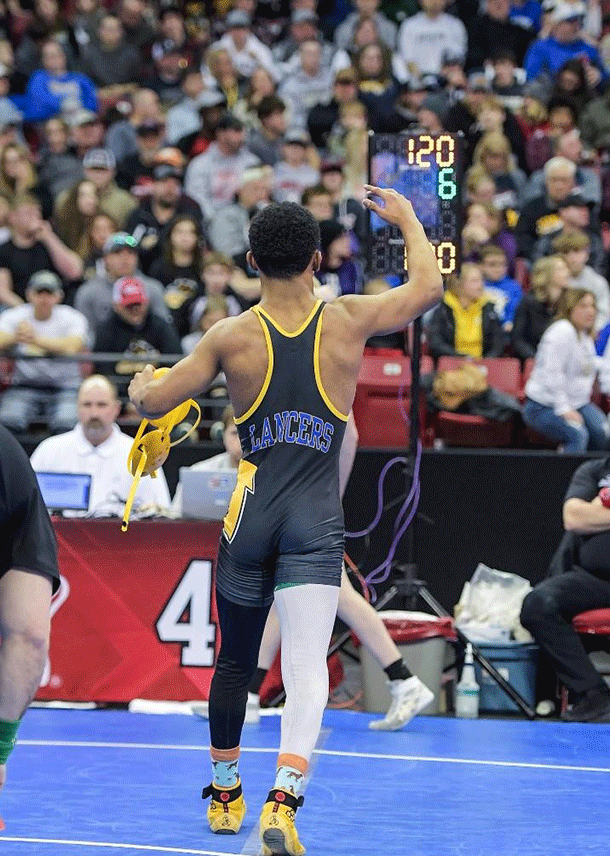 "5 QUESTIONS WITH" CO'JI CAMPBELL
Favorite food? "It would have to be, probably, crab." … Do you prefer it in any form, like crab legs or crab cakes? … "It doesn't matter at all."
Favorite movie? "Ooh, this is a hard one. I would have to go with 'The Last Dragon.'"
Favorite musical artist? "Right now, I would have to say Steve Lacy."
Favorite athlete? "Roman Bravo-Young (Penn State 133-pound wrestler who is currently seeking a third consecutive NCAA Division I national title)."
Where do you see yourself in 5-10 years? "Pretty much just get bigger, get ready for college." … You're young yet, but is there a future career that you may be interested in? … "Yes, psychology. Just learning about the human brain and how certain things function and what makes people tick."