BIRMINGHAM, Ala. — Carthage College junior Joseph White captured a pair of titles and All-American honors at the NCAA Division III Indoor Track & Field Championships over the weekend at the Birmingham CrossPlex.
The Indian Trail High School graduate placed first in the weight throw and shot put. With the two victories — Carthage's 23rd and 24th national championships — the Firebirds tied for eighth place in the team standings, which is the program's best-ever finish at the indoor meet.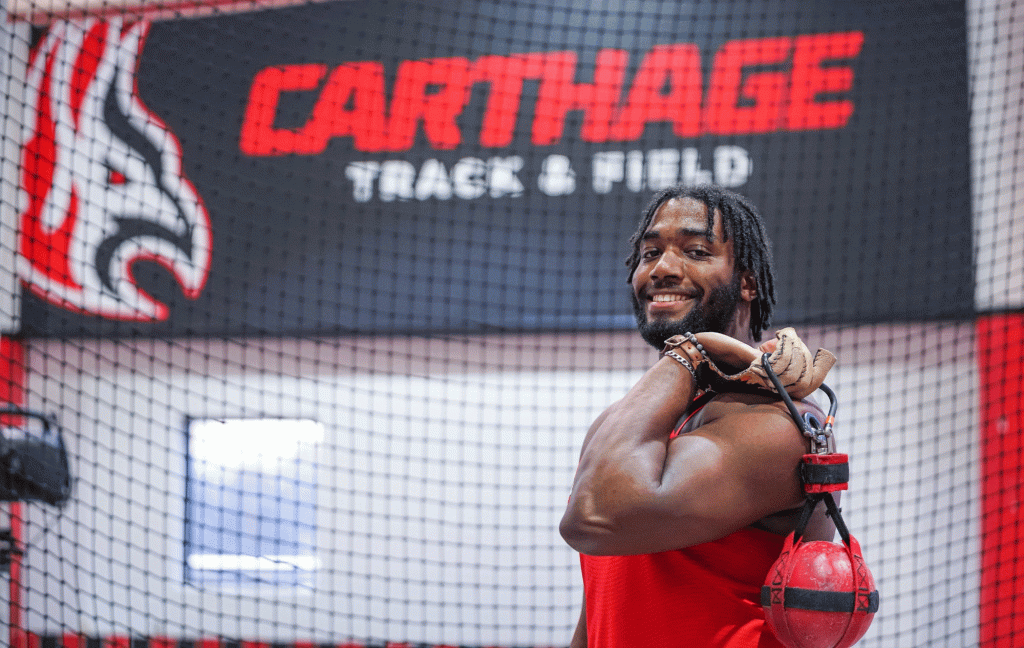 On Friday (March 10), White threw 21.41 meters (70 feet, 3 inches) to win the weight throw. He followed up that performance with a winning effort of 18.47 meters (60 feet, 7¼ inches) in the shot put Saturday afternoon.
White has now won three national titles in his collegiate career. He won his first national title in the shot put at the NCAA Division III Outdoor last year.
"Joseph had arguably one of the most impressive indoor track & field seasons for any thrower in NCAA Division III history and to conclude it with two national titles this season is fitting," Carthage coach Josh Henry said. "However, I don't want this season's dominance to take away from his incredible growth and this weekend's accomplishments.
"Just one year ago, in his first NCAA Championships experience, Joseph failed to advance to finals in either throw despite coming in highly ranked. To make the physical and mental growth that he has in such a short time frame is truly incredible and shouldn't be understated. That is what makes him a special person who is accomplishing truly amazing things right now. I couldn't be happier for him or Greg Raimondi, who has done an incredible job guiding Joseph and our entire throws crew."
Fellow Indian Trail graduate Alex Jarvis (triple jump) and Chase Upmann (800) were also national qualifiers for the Firebirds.
Jarvis, who placed 20th, broke the school record for the triple jump at the Firebird Finale on March 3, jumping 14.51m.
"He has worked super hard during his time at Carthage," Henry said. "To break the school record on his final jump at a home meet is a great moment."
The outdoor season for Carthage starts on Friday, March 31 as the Firebirds will take place in the WashU Distance Carnival.