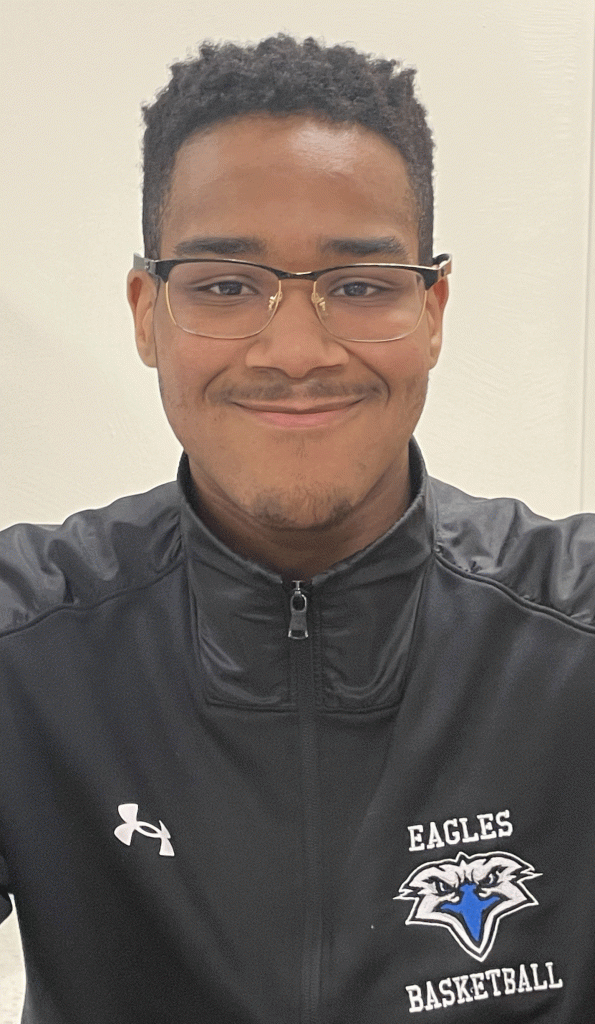 Sit down with Sam Jennings and have a conversation with him for a few minutes. If you didn't already know he's just a senior in high school, then you'd probably be shocked to find that out.
The way Jennings talks about overcoming a difficult personal challenge, how it took patience and hard work to transform himself little by little, and how he can now use that experience to help others, well, you'd assume you were talking to the leader of a large company or a distinguished self-improvement guru, not a kid who's in his final year at Kenosha's Christian Life School.
But Jennings is indeed a senior at CLS, and his uncommon wisdom for such a young person makes it clear that you're talking to someone who's going places in life.
For this winter, however, Jennings' hard work and sage approach to life have especially paid off in one significant venue, on the basketball court, where Jennings is leading the CLS boys basketball program through the first stage of what's planned to be a thorough build of the program.
"He's overcome a lot," said second-year CLS head varsity boys basketball coach Duke Montgomery from the school cafeteria on Friday afternoon, before the Eagles traveled to Hartland for a Midwest Classic Conference game at Lake Country Lutheran.
"He's overcome a lot in his personal life, and I think that also plays into his drive and his determination. Just having the ability to overcome challenges, yeah, he's mastered that."
Jennings reached a significant milestone Friday night that proves how far he's come, scoring 21 points — right on his season average — to surpass 1,000 for his high school career. He's now at 1,010 career points with six regular-season games and the postseason remaining.
For reaching the 1,000-point milestone and for what's been a fantastic senior season overall, Jennings has been named the Kenosha.com High School Athlete of the Week.
Significant weight loss
If you flash back to two years ago, Jennings was not a likely candidate to become a 1,000-point scorer.
Because he wanted to play basketball and CLS is such a small school with limited available players, Jennings was on the Eagles' varsity roster as a freshman for the 2019-20 season. But by his sophomore year, Jennings said he weighed about 310 pounds.
He definitely had skill on the court, but he weighed far more than he wanted to and admitted that "depression really took a toll on me" because of his elevated weight.
So, Jennings decided to do something about it, and the results have been remarkable.
By changing his diet and committing to consistent workouts, Jennings said he got down to about 225 pounds by his junior year. This season, he says he's now at 195, and he's not done working on himself.
But Jennings stresses that losing well over 100 pounds in two years was not an overnight endeavor. To get from where he was to where he wanted to be, Jennings had to take it little by little and mark progress each day.
In other words, he had to exercise uncommon patience for such a young person. Or any person, for that matter.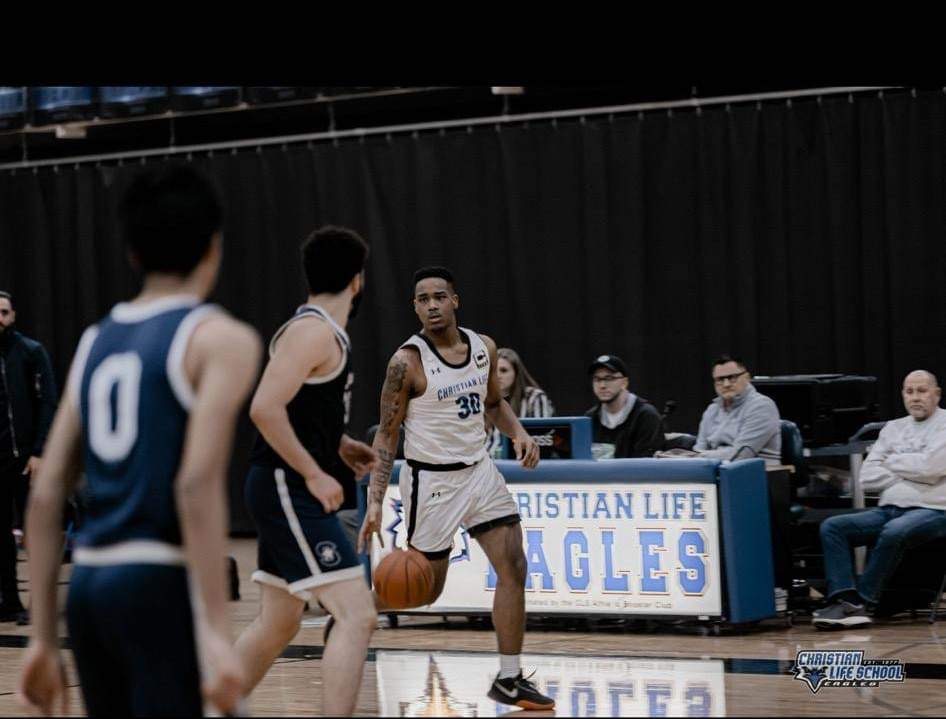 "Coming up, I'd always get bullied about my weight and stuff," Jennings said Friday. "So that would always stick with me, and I was always like, 'Man, I want to lose the weight.'
"I started losing the weight slowly, because my dad was always like, 'Son, it just takes time. It doesn't happen overnight.' I was a person back then (that) never wanted to be patient. I always wanted it to happen. So it started slowly coming, and I was like, 'OK, I'm going to keep working out.' And it just slowly started happening, and everything just came together. My mental (health) was getting better. Even though I was weighing that much, I was still trying to stay positive throughout the process, and I just kept going."
When asked what advice he would give to someone else who is unhappy with their weight and wants to start losing some, Jennings emphasized that patient mindset.
"Just stay down and stay with the process," he said. "Like my dad says, 'Stuff doesn't come overnight.' You've just got to keep working. Even though you might hit a couple roadblocks every now and then, you've just got to keep working. You've got to believe in yourself and stay positive.
"I always say, 'Stay with the three Ps.' When you play any sport — pain, passion and purpose. … Even if anyone's talking about you, just keep working, stay down, and have people that are in your corner that you know."
Results on the court
With his significant weight loss and all the offseason work he's done, the results on the court have started to show up for Jennings this season, in a huge way.
After averaging 12.1 points per game as a junior last season, Jennings earned an honorable mention All-Midwest Classic nod.
This season, Jennings is averaging 21.1 points per game, second-most in the Midwest Classic, and also ranks third with 9.1 rebounds per game, despite being a guard listed at an even 6-feet. Additionally, he's averaging 2.1 assists and 1.9 steals per contest.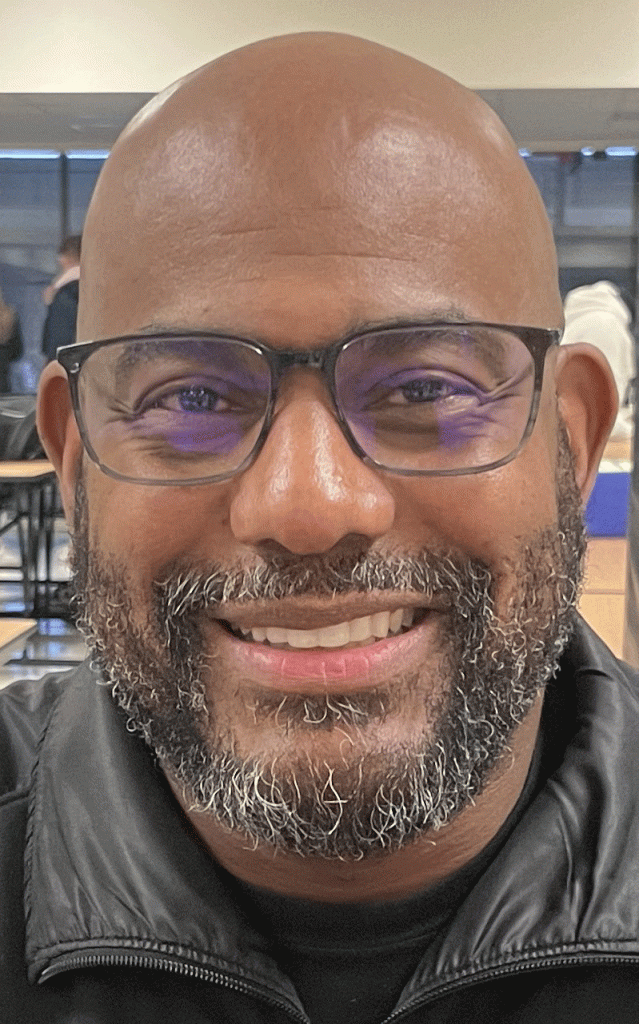 "This season has been satisfying for me, but I'm never really satisfied," Jennings said. "Just got to keep going. I am happy that the work is paying off, but it's still taking it day by day."
Jennings has had some big scoring games this season, including 36 points in a win at Saint Francis on Dec. 2 and 32 in a loss at Milwaukee Messmer on Jan. 11. But perhaps his most impressive line came in a big 63-53 home win over University School of Milwaukee on Jan. 27, when Jennings scored 20 points and grabbed 23 rebounds.
"I think he just wants it," Montgomery said of Jennings' tenacity on the glass. "I think that he has something to prove internally, and it shows. When they call his name and he goes out (with) the starting lineup, he changes. His intensity completely changes. And he's the only player that really does that.
"… It's just him internally, competing against himself. And that's the sign of a real athlete, where you have that athlete that's competing against himself."
Going into this season, Jennings was also boosted by his play on the AAU circuit. He played at the Boys and Girls Club of Kenosha as a youngster and then for the Wisconsin Wave and Wisconsin Evolution.
But Jennings was out of the AAU circuit for several years before starting to trim down his weight. He was then picked up by the TML Splashers out of Milwaukee and this past summer played with Wisconsin Playground Elite.
That experience helped build Jennings' confidence going into his senior season at CLS.
"I started playing with players I thought I couldn't play with, and … stuff started to slowly come together," he said.
Jennings has also blossomed as a leader, someone that Montgomery can trust to deliver his message to teammates in the huddle.
"All of the kids look up to him, and he's sharing that knowledge," Montgomery said. "Even in the huddles, sometimes he takes over. And that's a leader, and I allow him to do that, because I want the kids to connect with him.
"Sometimes when I'm talking in the huddle, and I'll say something, he'll say, 'Coach,' and I'm like, 'Go ahead, you're a captain.' And he'll say, 'Hey, do this. I need you to do this and do that.' That's great."
Building a program
Montgomery knows he needs players like Jennings to build a successful program, something he's in the early stages of at CLS.
Jennings' improvement as a player has mirrored the Eagles' improvement as a program, as they went from four wins in Jennings' freshman year and zero in his sophomore year to eight in his junior year and seven already in his senior year.
CLS is 7-9 overall and 3-7 in the Midwest Classic, which features some very tough competition at the top, including first-place Heritage Christian, ranked No. 2 in Division 5 in the latest WisSports.net state coaches poll. While the Eagles' record is not yet what they hope it will be in future seasons, they have been way more competitive in Midwest Classic play this season than in recent ones.
"We have really come a long way," Jennings said of the program's progress during his time at CLS. "I'm really proud of the guys that have worked during the offseason, even myself. So I'm really proud of what we're doing, because a lot of people in the city (were) doubting us, that we really couldn't do that much.
"But we're out here competing, and that's the main thing we want to do."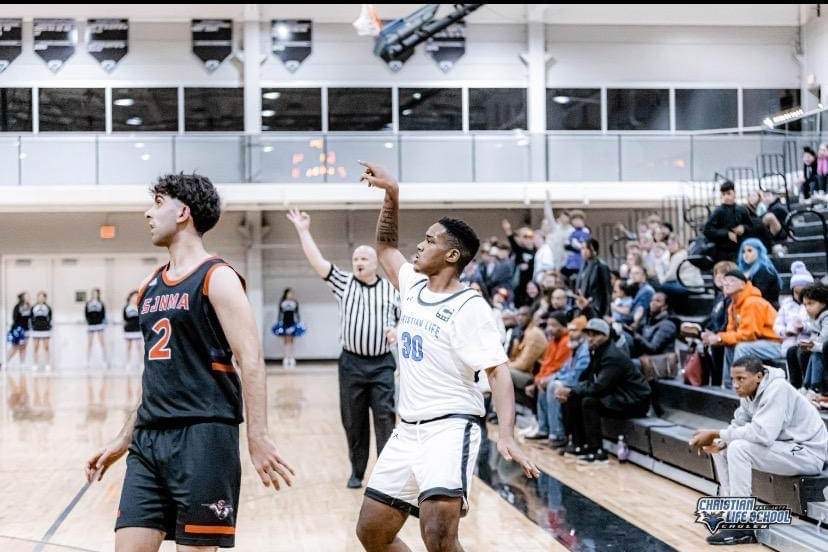 Montgomery is aware of the challenges a school like CLS faces in building a perennially strong basketball program. The school's enrollment is just over 200, and it's not necessarily going to be geared toward athletics.
"We're a school of 200 students," Montgomery said. "And we're taking violinists and cellists and drama kids, and we're trying to make ballplayers out of them. And they're competing. So we're really working hard."
Montgomery certainly has big plans, as he brought in two assistant coaches from ALL IN Athletics, an Adidas-sponsored AAU program based out of Deerfield, Ill. Montgomery wants to start a feeder team in that program of CLS players in grades 5-8, which is really the way successful high school varsity programs these days are maintained year after year.
But none of these lofty goals work without players like Jennings. He may be gone by the time the CLS boys basketball program starts winning the way Montgomery is hoping it will, but he and his upperclassmen teammates are a massive step in that progression.
"I told the kids, 'We're on the ground floor, and we're building something beautiful,'" Montgomery said. "'And I'm not coaching for now, I'm coaching for later. … It all builds upon what we eventually want, and you're right at the ground floor of that. You're an important piece of this process.'
"It's all a process."
For his part, Jennings is excited for the program's prospects after he graduates.
"I feel like the guys behind (me), they're a special class," he said. "If they can put everything together as a team and brothers-wise, they'll be just fine."
Future plans
As for himself, Jennings is hoping to play college basketball, beginning next season.
Montgomery said he's heard from some NCAA Division III programs, specifically Christian schools. But Division III schools can't offer athletic scholarships, so Montgomery said he's hoping to get some interest for Jennings from Division II programs, or have him explore the junior college or NAIA route, where athletic scholarships are available.
And for his college basketball dreams, Jennings has a great role model.
His older brother, Justyn Galloway, played in high school at Bradford and Reuther and then went on to have a successful college hoops career, first at the juco level at Rochester (Minn.) Community & Tech College, then at NAIA program Valley City State in North Dakota.
Jennings said hard work and consistency are the main things his brother has stressed about what it takes to play at the next level. While Jennings was losing weight, Galloway kept pushing him to keep working.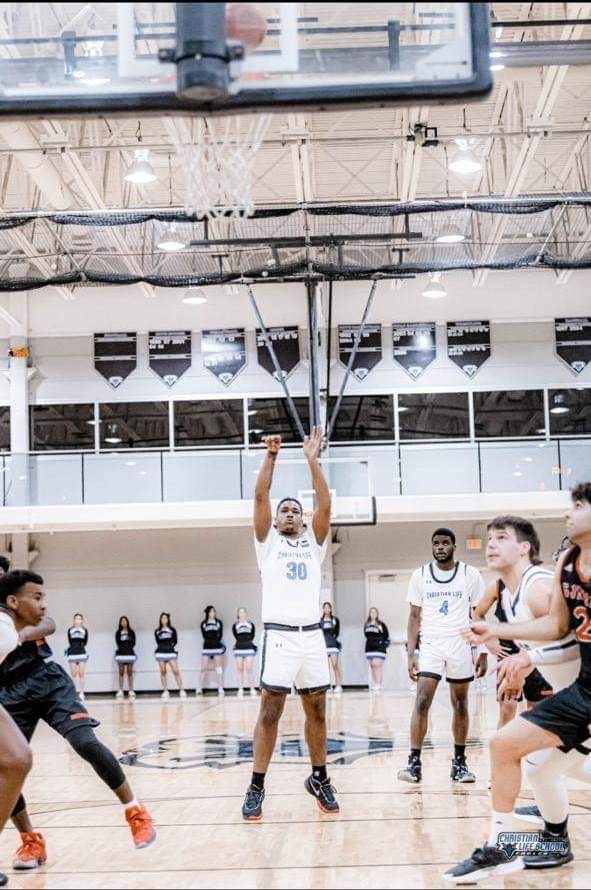 That's a message Jennings once kind of brushed off. Now, as he's gotten more serious about basketball, he's taken his brother's advice to heart.
"He would always tell me, 'First, you've got to work on your body. If you want to get to the next level, you can't just stay this size. You've got to work,'" Jennings said.
"… But I would throw it in one ear and out the other, because I was like, 'I don't know if I want to play basketball yet.' … When I lost the weight, he was just telling me, 'You've got to stay in the gym, stay consistent, that's the main part. … When you go to the gym, shoot 500 shots, but try to make 300.' He was just telling me, consistency was the main thing, and he will always stress that to me."
As far as a course of study, Jennings said he's interested in architecture, physical therapy or the mental health field.
It's a good bet that Jennings will succeed in something that involves helping people. Because of his own weight-loss and mental health journey, he's adamant that he must help others who might be struggling.
"I will see my friends depressed over things that I can relate to, and I will just reach out and just be like, 'Hey, just know I'm here for you,' stuff like that," Jennings said. "When you're depressed, you feel like no one's with you, and you're just in that dark corner alone.
"Well, me, I just want to always let people know, 'I'm there for you. I don't want you to feel alone, because I've been where you're at.'"
"5 QUESTIONS WITH" SAM JENNINGS
Favorite food? "I'm going to say wings." … What's your favorite place? … "I'm going to have to go with Wing Stop." … Kenosha.com did a 7 Best Wings in Kenosha feature, so check it out!
Favorite movie? "I'm going to have to go with 'Friday.'"
Favorite musical artist? "I would say rap. If I had to pick, I'm going to say Rod Wave."
Favorite athlete? "Coming up, I would say Kobe Bryant. But my brother (Justyn Galloway) played in college, so I watched him play a lot. So I would say my brother." … Who wins in a one-on-one matchup these days, you or him? … "The last one, I won."
Where do you see yourself in 5-10 years? "I want to go to college (first). I want to get a degree. But I want to try to take the pro route in basketball, try to give my family a better lifestyle, give back to the community and the school."