WILMOT — Gael Hernandez, a fifth-grader at Frank Elementary School, was hearing food terms like "French fry" and "pizza slice" on Monday afternoon.
But Hernandez and his classmates weren't in the lunch line at the school cafeteria. Rather, they were on the ski slopes at Wilmot Mountain.
Hernandez had never tried skiing before, but he had a simple answer when asked what his favorite part about it was.
"Sliding down," Hernandez said with a shrug.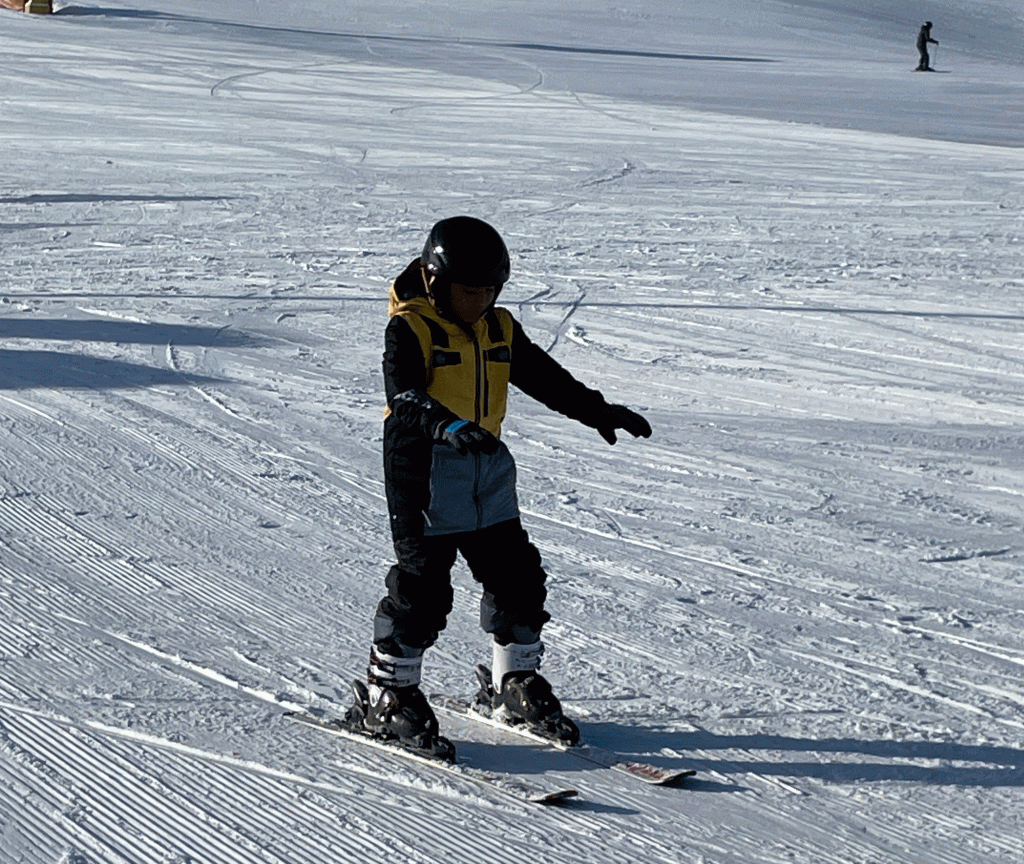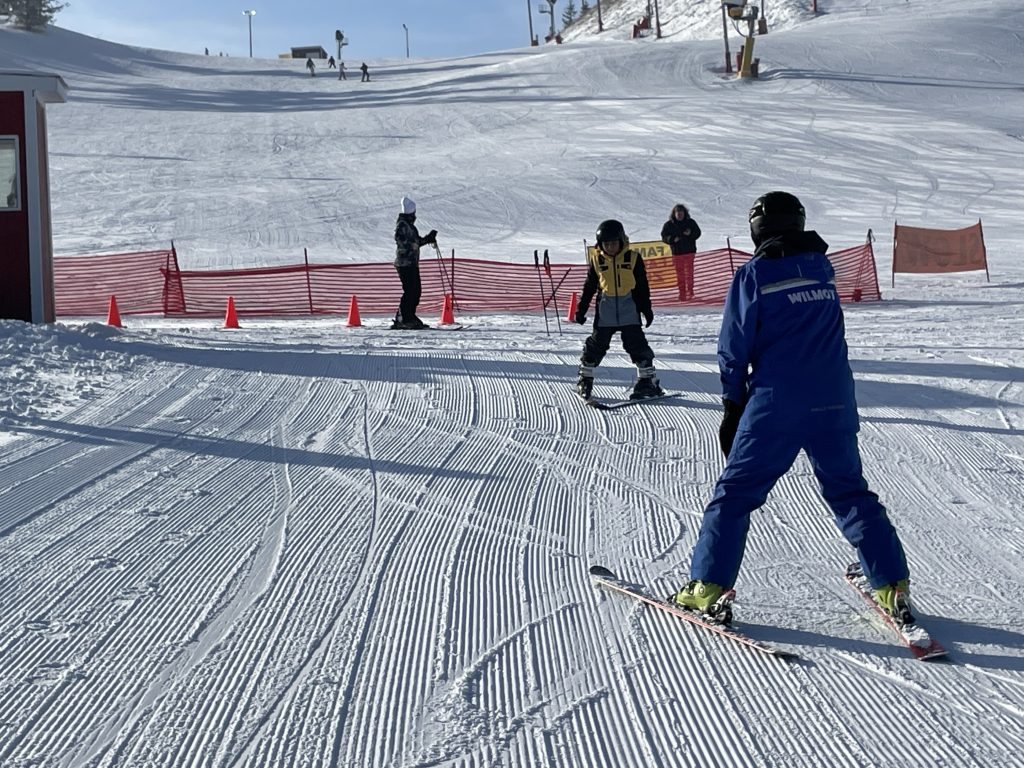 As part of a nationwide program and the expansion of a pilot program that started last winter in Kenosha, about 20 students from Frank Elementary participated Monday in their first of five days this winter in the SOS Outreach "Learn to Ride" ski and mentor program, in partnership with Kenosha's Jockey International.
The students picked out and were fitted with their skiing gear and then provided with instruction, all at no cost to them.
For the record, the "French fry" is when you keep your skis parallel to gather speed down the hill, while the "pizza slice" is when you point the toes together to slow down.
"It's great to see the enthusiasm of the kids, the excitement among them once they feel themselves sliding down the hill," Wilmot Mountain Ski School Director Gary Lieder said on a day (finally) of blue skies and cold, dry weather that was absolutely perfect for skiing.
"… Our goal is to make sure they're safe and to make sure that they have a great experience here."
Jockey jumps on board
Monday's event was just the first outing this winter at Wilmot Mountain and part of a nationwide program. Locally, the program has prompted multiple companies to come together and offer local youth an unforgettable experience.
SOS Outreach is based in Denver and has implemented its "Learn to Ride" ski and mentor program throughout Vail Resorts, the parent company that now owns Wilmot Mountain.
Last winter, Brass Elementary fourth- and fifth-grader teacher Terri McGuire — now also an SOS Outreach program coordinator — piloted a "Learn to Ride" program at Wilmot Mountain for some of her students.
The program was so successful that Jockey wanted to get involved. Jockey had already "adopted" Lincoln Middle School as part of a philanthropic program helping to foster achievement in the classroom, so the "Learn to Ride" ski and mentor program was a natural fit for the company to get involved with.
"We saw a (Kenosha.com) article last year about the program at Brass," said Jockey Chief Philanthropy Officer Jake McGhee, himself decked out in skiing gear on Monday at Wilmot Mountain.
"I reached out to the lady who helped coordinate that, Terri McGuire, and she was the one that really made this all come to life. She introduced us to the folks at SOS Outreach, who are way out west. They flew in to give us a little more information on how to expand the program."
The program intends to give youth an opportunity to experience skiing and snowboarding, something that inner-city or urban kids may not have much chance to try, but it's about more than just hitting the slopes.
"It's much more than just learning to ski," McGuire said in a press release. "Students are developing life skills through an emphasis on core values, adult mentorship and community service activities. I have witnessed improved classroom behavior, as well. Students (are) motivated by opportunities to be a part of the program. It has been incredible to watch the transition our kids have made in just one short year.
"With the launch of the mentor program, our students are paired with vibrant people in our community to hit the slopes and develop connections that will hopefully last more than just one season. The goal is to build strong character, positive relationships and a greater sense of belonging. Skiing is the catalyst to get them excited and have fun."
With Jockey on board now with a three-year commitment to SOS Outreach to provide financial support and volunteers, the program in Kenosha has grown significantly since starting with Brass Elementary students last winter.
This year, the program includes more than 140 youth participants from Brass Elementary, Frank Elementary, Lincoln Middle School and the Boys and Girls Club of Kenosha. Kids will be participating all this week at Wilmot Mountain, with Brass Elementary students going on Tuesday and Wednesday and Lincoln Elementary students and Boys and Girls participants going on Thursday.
Each group will then have four more outings this season.
"They're getting a private ski lesson, and the equipment's paid for, the rentals are paid for," McGhee said. "They're actually going to give them a free hot lunch and a meal every time they come out here.
"Just an experience that many of these kids haven't had before, just from learning and putting the boots on — that was a process in itself — but by the end of this, they'll be going down the hill and hopefully falling down and getting up again, building some courage and learning to do something they haven't done before. I just love what this program's about."
Everyone benefits
The entire "Learn to Ride" program is also just a perfect example of how so many people and companies can benefit from philanthropy.
According to Lieder, Vail Resorts will have about 3,000 youngsters nationwide participating in the program this season. He said a film crew was at Wilmot Mountain last year to document the Brass Elementary students who first participated in the program, and Lieder said that video was shared at all the locations owned by Vail Resorts, along with the company's executive board.
This season, Lieder said, Wilmot Mountain will host about 300 youth overall from Kenosha, Chicago and Milwaukee.
"It's a great program, and it goes beyond just having them learn how to ski and snowboard, but to also learn other things in life, such as meeting challenges (and) how you can overcome things," Lieder said.
Wilmot Mountain also benefits by having area youth get a chance to come out and experience skiing, snowboarding and what the resort has to offer. It requires a lot of employees to run Wilmot Mountain, so the resort is always looking for help from the area.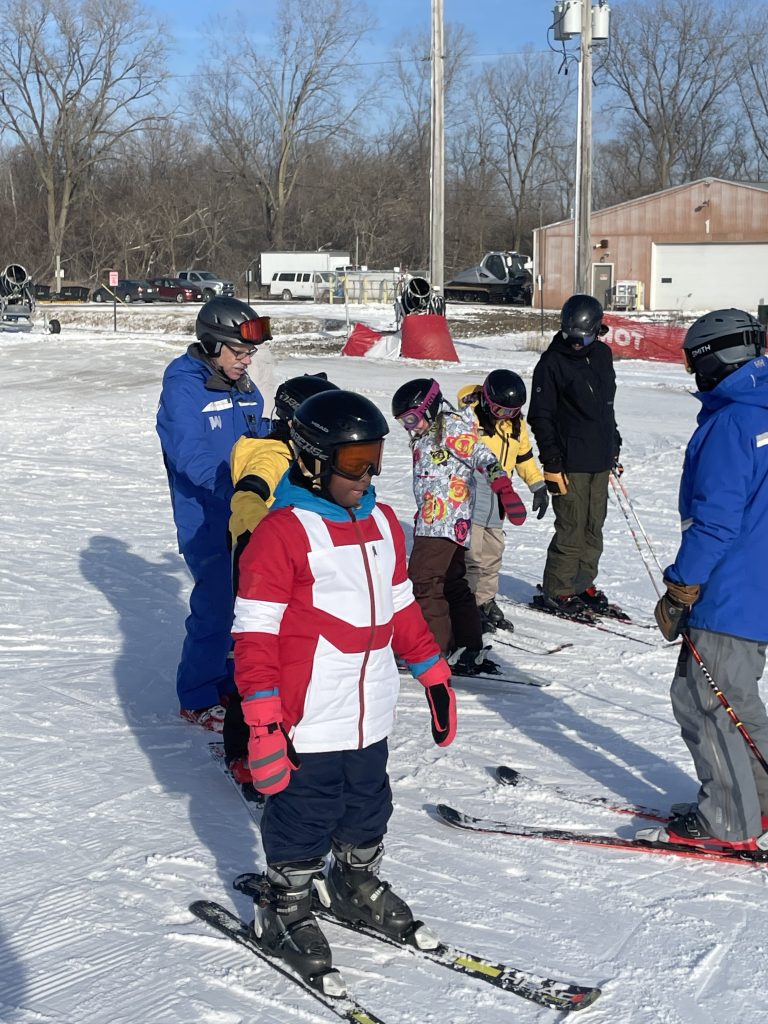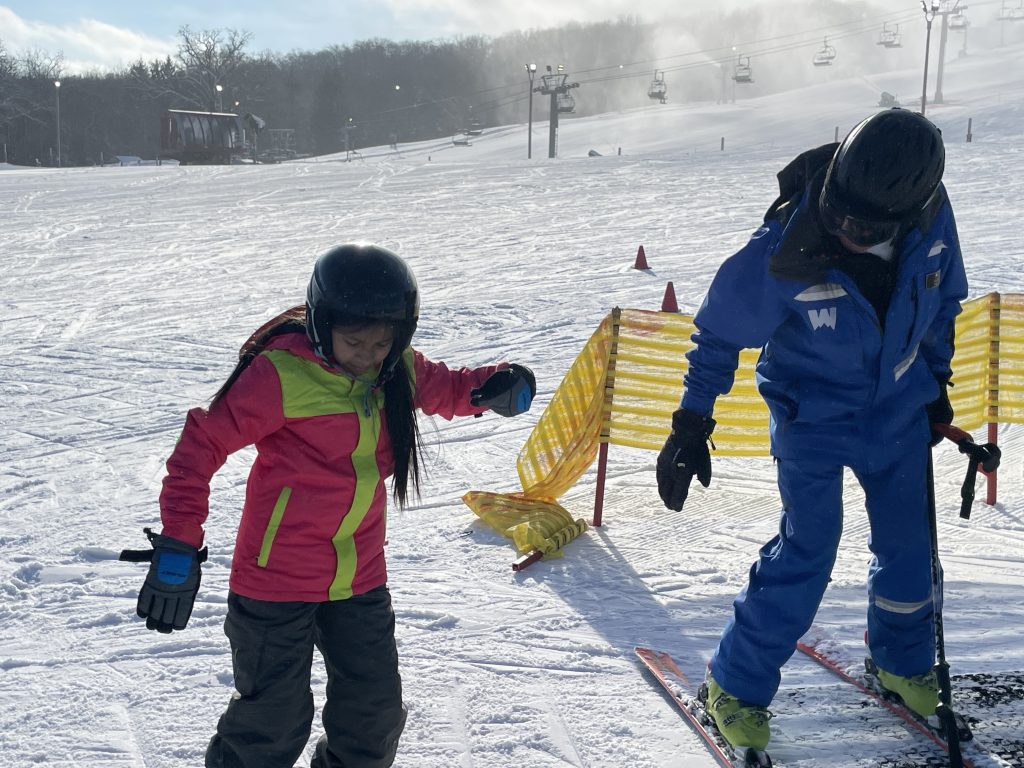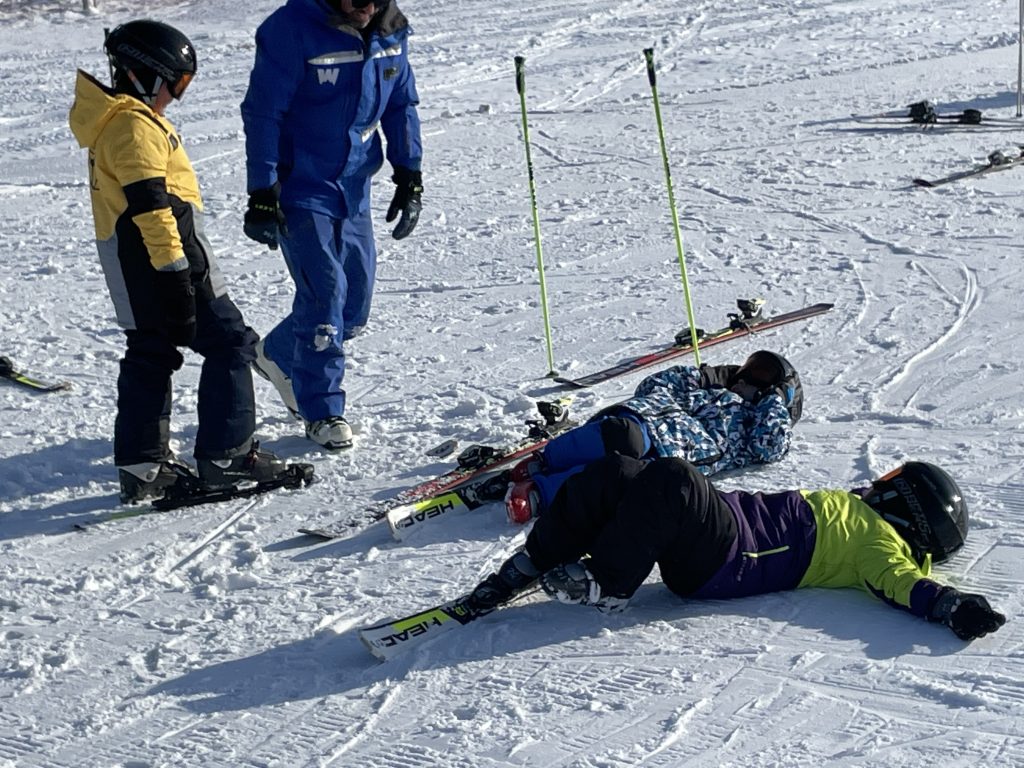 "If they enjoy it here and enjoy it now, they'll come back again next year and the year after," Lieder said. "And this is a big company. We employ a lot of people here, and we do employ a lot of our staff from the Kenosha area.
"So if we start them now, we're hoping at some point they may become future employees."
For Jockey, meanwhile, the program provides another opportunity for employees to participate in philanthropic endeavors, a huge part of Jockey's mission.
Where else can you spend a workday on the slopes under blue skies, all while giving back to the community? Several Jockey employees were at Wilmot Mountain on Monday helping out and enjoying the experience.
"It's a Monday during the workday, and our owner says, 'Hey, we want to give back to this school,'" McGhee said. "And it's more than just writing a check. It's putting kids' boots on and helping pick them up when they fall down.
"During a workday to let our staff come out here and be a part of this, I mean, that tells you a bit about Jockey right there."
Of course, McGhee was hoping to return to the office without any broken bones.
"It's been about 20 years for me," he said with a laugh about his skiing chops. "I got the boots on, I got the skis on, and I have not gone down the bunny hill yet. But that's step one, I think, for me."
Hoping for more great weather
Monday was also a much-needed day of perfect weather conditions for Wilmot Mountain.
To say the least, it hasn't been a great winter around the area for winter sports businesses. There's hardly been any snow thus far, and constant rain, gray skies and warmer-than-usual temperatures have all combined to make it difficult for Wilmot Mountain to maintain the snow it does make.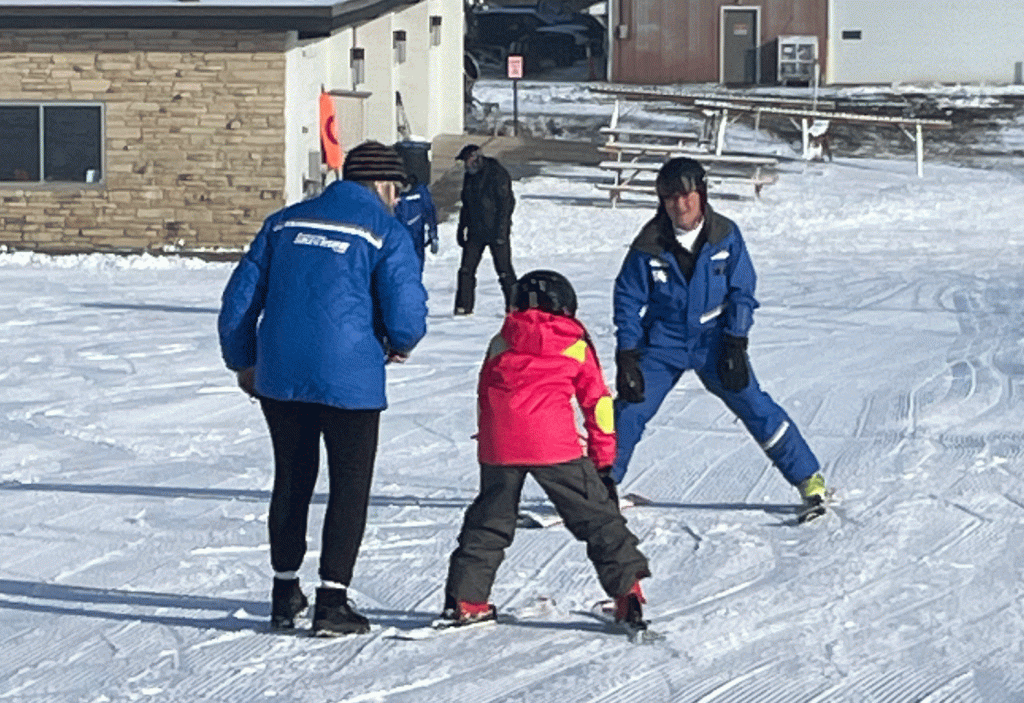 But on Monday, Wilmot Mountain's snow guns were firing away, and the snow was in great condition under blue skies and below-30 temperatures. Everyone at the resort is hoping for plenty more of that — along with some natural snow, of course — throughout the rest of this season.
"By the end of this week, we are convinced that we'll be probably fully open and back to a normal winter process," Lieder said. "I would just say to people, if you have grass in your front yard, we have snow here. Don't let the outside deter you from coming here and enjoying our runs."
Added McGhee: "It's cool to see so many people out here today. By doing a little good, maybe we brought some good vibes, and hopefully that lasts throughout the rest of the season, too."