It sounds like something straight out of the legendary basketball movie "Hoosiers."
You can just imagine the ball bouncing throughout all hours of a summer day and night, as McKenna Johnson and her siblings put up shot after shot and play game after game on the basketball hoop that stands in the pole barn located on her family's property in Trevor.
In fact, just in the way that her coach describes her, Johnson — now a high-scoring junior guard for the Wilmot High School girls basketball team — could be a perfect female stand-in for Jimmy Chitwood, the stoic, sharp-shooting star of "Hoosiers."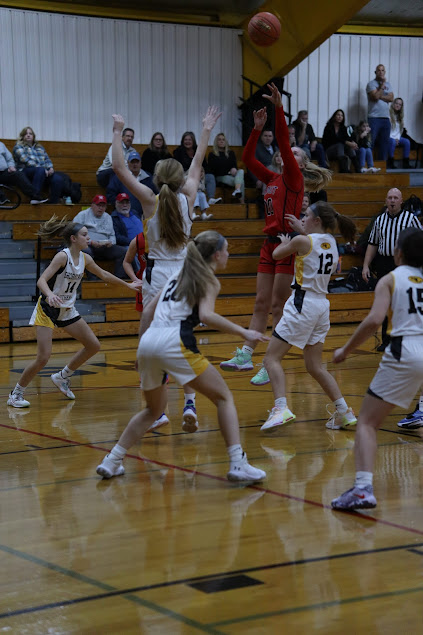 "As her parents said, she's boring," Wilmot head girls basketball coach Keith Skrzynecki says with a laugh. "She plays, sleeps, eats basketball, 24-7. It's one of those athletes you get every 20, 30 years."
Maybe not even that often.
From the moment she came into the Wilmot program as a freshman for the 2020-21 season, Johnson has been scoring at a record-setting pace.
She set the program's single-game scoring record two different times as a freshman with games of 39 and 40 points, then she scored 41 in a game as a sophomore to break it a third time.
Then, on Dec. 8 of this season, Johnson surpassed that mark yet again, pouring in 47 points in a Southern Lakes Conference home win over Burlington. Perhaps the most impressive thing about that game was that her nearly 50-point outburst didn't come in a blowout win. The Panthers won the game, 56-54, so Johnson scored nearly all of her team's points — and they were all needed — no matter what the Demons did to stop her.
"That game, she was just unconscious," Skrzynecki said in a phone interview Thursday. "She couldn't miss. They threw everything at her and she just didn't miss."
In her own phone interview Thursday, when asked about that performance, Johnson was more excited to point out how well her team played defensively to get the SLC victory.
"That game, I was just in the zone," she said. "Same with my team. We played together as a team on defense. We had really intense defense, and I felt like that helped a lot."
For her record-setting 47-point performance on Dec. 8 and her amazing scoring prowess in general, Johnson has been named the Kenosha.com High School Athlete of the Week.
Huge family
Growing up, Johnson's household has always been a flurry of activity.
She's right in the middle of seven total siblings, with an older brother, two older sisters and three younger sisters. When the weather is warm enough, the Johnsons head out into the pole barn for some heated basketball competition.
"Things were intense when I was little, because we have a really active family," McKenna said. "If we weren't playing basketball, we were doing other athletic things, like playing kickball in the yard, just like that type of stuff.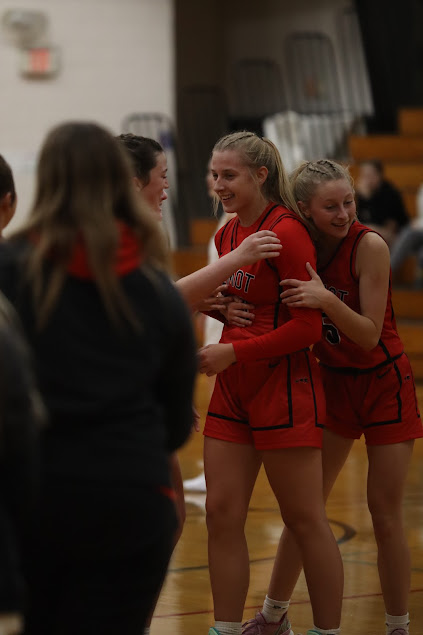 "So, yeah, those matchups were pretty intense with my brother and my other sisters, too. We always had to go to the barn to play basketball, especially in the summer, when it's nice and warm in there."
One of McKenna's older sisters, Madelyn, was her teammate at Wilmot for the previous two seasons. Madelyn is now a freshman guard for the NCAA Division III Finlandia women's basketball team in Hancock, Mich.
McKenna said she and Madelyn are very close and that she's looking forward to spending time with her over the holiday break. Family Christmases must be well-populated, since McKenna said her dad comes from a family of 12 and her mom comes from a family of five.
"It does get pretty crazy," McKenna conceded of the upcoming holiday season.
High scorer
Johnson said she played some softball, soccer and volleyball when she was younger, but basketball was always her favorite, and she plays it exclusively now.
"Out of school, she's always training, working with other AAU programs, work(ing) out with trainers and stuff like that," Skrzynecki said. "Literally, she's running out of practice to go to another training session."
The work has paid off, because Johnson is being sought after by a number of high-level college women's basketball programs and is on her way to finishing as one of the most prolific scorers in Kenosha County girls basketball history.
Johnson was named first-team All-SLC as a freshman and sophomore — and surely will be as a junior, too — and last season was also named fourth-team All-State by the Associated Press.
Including Thursday night's non-conference home loss to Watertown, Johnson has scored 1,228 career points, reaching the 1,000-point career mark in the season opener at Shoreland Lutheran on Nov. 17 by pouring in 36. Through 10 games this season, she's averaging 26.4 points per game, which ranks among the top 10 in the entire state, according to WisSports.net.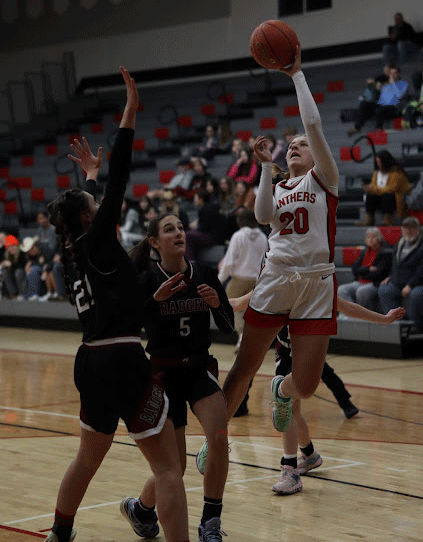 Only part way through her junior season, Johnson is on the verge of cracking the top 10 all-time in county girls scoring history. The 1,246 points totaled by 2009 St. Joseph Catholic Academy graduate Erin Higgins did rank at No. 10 on that list among non-active players.
However, Bradford senior forward Nevaeh Thomas — who was named the Kenosha.com High School Athlete of the Week on Nov. 17 — has now moved into the No. 10 spot with 1,289 career points and counting, becoming Bradford's all-time leading girls scorer with 33 points in a home win over Racine Horlick on Thursday night.
Johnson, meanwhile, has a better than favorable chance to break the Wilmot girls career scoring record of 1,442 points, held by 1995 graduate Courtney Maki, toward the end of this season.
After that, it's the rarified air of 2,000 career points, reached by just one girls player in county history, Chelby Koker — now a standout senior guard at NCAA Division I Northern Illinois — who poured in a county-record 2,448 points in her spectacular Shoreland tenure from 2015-19.
"That is one of my bigger goals that I want to achieve before my senior year (is over)," Johnson said of possibly reaching the 2,000-point mark.
Interestingly enough, Johnson said she hasn't always been a pure shooter. It's something she's worked tirelessly at, but she's always had a great ability to drive to the basket and get fouled. And she's a great free-throw shooter, so the points pile up quickly.
"When I was younger, I wasn't really a shooter," Johnson said  "… I've really been working on my shot lately, and I think I've been getting into a rhythm really nicely and feel confident in my shooting. 
"That didn't used to be my strong suit, driving was more my (strong suit). Now I feel like I can do both."
Johnson also possesses another advantageous trait that's strictly a genetic factor: She's left-handed.
She acknowledges this is tough to defend, because other players are so used to forcing ball-handlers to their left. In Johnson's case, that's the direction she wants to go.
"When some people faceguard me, they're told to push me right," she said. "But when they're actually thinking about it, they're so used to pushing everybody to the left, so they end up pushing me left.
"Which is kind of nice, because the first couple plays, they're trying to push me left. They shouldn't really be trying to push me left, because I'm left-handed."
Playing at Fiserv
This past Sunday, Johnson and her Wilmot teammates had the awesome opportunity to play a game at Fiserv Forum, home of the NBA's Milwaukee Bucks, against fellow county school Bradford.
Though the Red Devils defeated the Panthers, 70-48, Johnson said the experience of playing in an NBA arena was unforgettable.
"It was pretty crazy," she said. "Everything was so open. You stand at the free-throw line, and it just keeps going back and back and back. There's so many rows of seats behind it.
"And the court was bigger, too. You could really tell when you were playing. There was so much extra space."
In that game, Johnson also had the chance to play against Bradford's star Nevaeh Thomas. Johnson and Thomas have played together previously on the AAU circuit for Midwest Elite of the prestigious Nike Elite Youth Basketball League.
"I'm so used to playing with her, it was kind of a little bit weird playing against her," Johnson said of matching up against Thomas.
Like Thomas, who recently committed to play at Evansville (Ind.), Johnson is almost certain to play in college at the NCAA Division I level.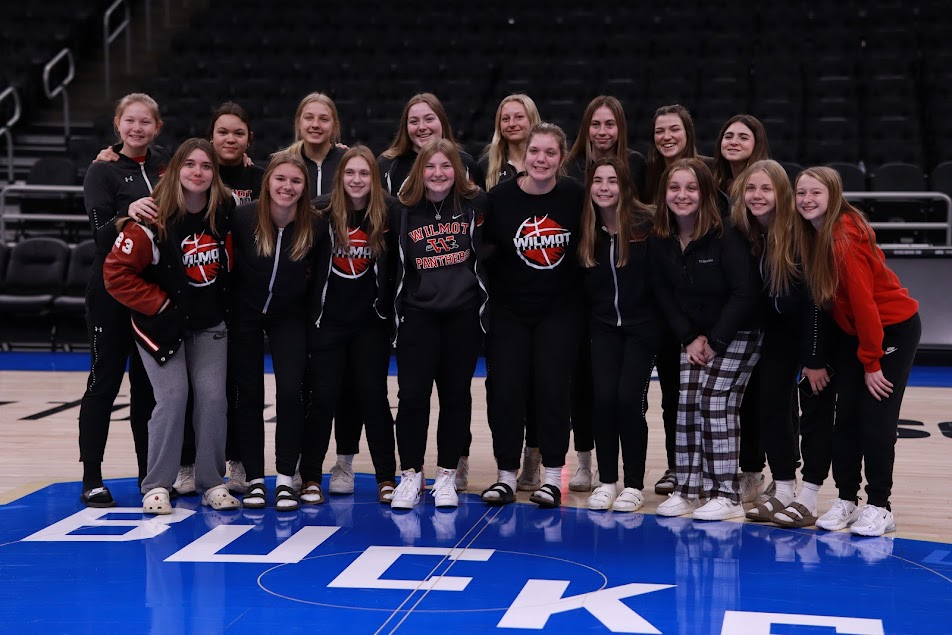 According to WisSports.net, Johnson already has offers from Division I programs Buffalo, Butler, Central Michigan, Michigan State, Murray State and North Dakota State, as well as Division II program Michigan Tech.
"Multiple coaches come to the games weekly," Skrzynecki said. "I get texts, calls every day about her. It's amazing. As a junior, even as a sophomore, she was getting looks."
Johnson, who will stay in the Nike EYBL but is switching teams to Wisconsin Flight Elite for this upcoming AAU season, said she will take her time to decide where she wants to play at the next level.
"That would be the plan, just kind of see where the summer takes me, where the high school season takes me," Johnson said.
"If I keep putting in the work, it'll get noticed."
As far as future career plans, Johnson said she's always been interested in being a nutritionist.
"I want to make meal plans for people and stuff, help people with their diet," she said. "That's super important. … That's sort of how I got into all that. I think it's super interesting, just like the things you put in your body that can help you or that can harm you."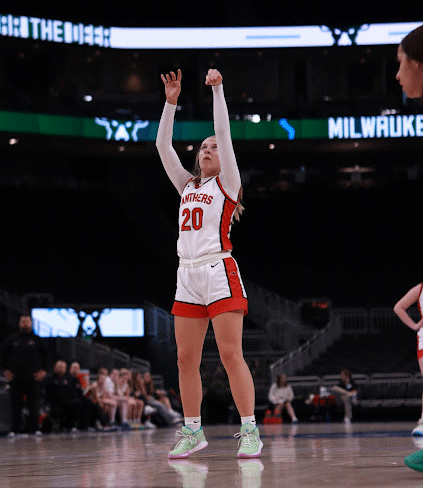 "5 QUESTIONS WITH" MCKENNA JOHNSON
Favorite food? "I would say chicken alfredo."
Favorite movie? "I guess I don't really have one." … So you're not a big movie buff? … "Yeah, I'm not really a big movie person."
Favorite musical artist? "I would say, probably, Mac Miller."
Favorite athlete? "I like Kelsey Plum (of the WNBA's Las Vegas Aces)."
Where do you see yourself in 5-10 years? "For some reason, I've always wanted to be a nutritionist. So that's kind of like what I want to do. I want to make meal plans for people and stuff, help people with their diet. That's super important. … That's sort of how I got into all that. I think it's super interesting, just like the things you put in your body that can help you or that can harm you. Good food, too. Just knowing when to eat certain things."