Gregg Thompson didn't start playing golf seriously until he was 40, but the Masters-themed bathroom in his house, just a few hundred yards from the entrance to Kenosha Country Club, is the first clue that he's fallen hard for the game.
Then you walk into his backyard and onto a six-acre slice of golf heaven. Thompson has built a five-hole course called The Pond, with holes ranging in length from 90 to 120 yards. It's a "one-stick" course, meant to be played with one club; each hole requires a forced carry over a pond stocked with bluegills and bass.
It's enough to make a golfer (Masters) green with envy.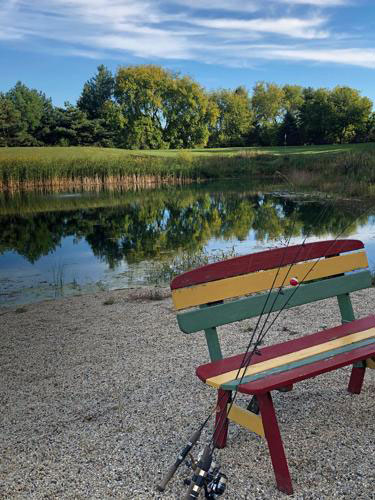 Thompson, who plays to a 6.9 Handicap Index at Kenosha CC, was a general contractor and works now as a consultant, which is helpful when you want to build your own golf course. A friend who owns an excavation business came in with a backhoe and bulldozer and dug the pond in 2007.
Initially, Thompson built one hole, but eventually he channeled his inner Donald Ross and added more holes, including a "Road Hole," so named because a bike path runs behind the green, which is guarded in front by a tiny pot bunker.
"At first, there was no thought of, 'Let's make it a par-3 course,'" Thompson said. "But eventually we thought, 'Why don't we do something more with it?'"
He took it up a notch when he added a bentgrass green (the other four are closely mown bluegrass) and purchased a used Jacobsen greens mower. He cuts the green at about .35 of an inch, which translates to about 6 on the Stimpmeter. He calls the green a "Bermedan" because "it's a Redan built off a berm."
There's even a scorecard for The Pond, which has a cool logo — a fishing pole doubling as a flagstick — designed by Thompson's wife. Yes, he has fallen for golf hook, line and sinker.
"You could say I'm obsessed now," he said.
In September, Thompson held his seventh annual "Bluegills, Bass, Beers and Bombers" outing at The Pond. About a dozen friends participated in the informal competition, fishing pole in one hand, pitching wedge in the other. There were prizes for the biggest fish and closest to the pin on the Bermedan.
"I've played at TPC Sawgrass and Royal County Down this year, and this is going to be the highlight of my golf year," said Dave Berman of Kenosha.
"This place is insane," added Jason Amrani of Skokie, Ill. "I've seen a few people build a putting green in their backyard, but this is beyond next level."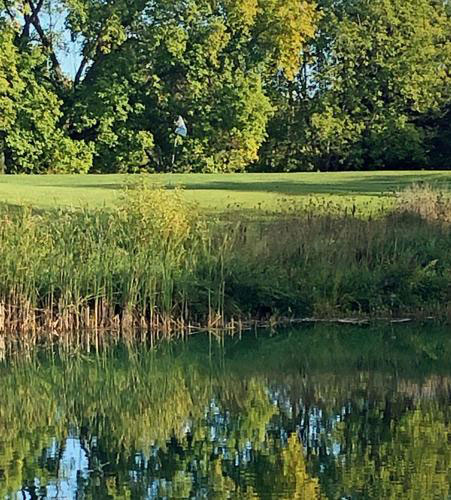 Thompson's regret is that his father, Clarence "Bud" Thompson, didn't live long enough to see The Pond take shape. Bud Thompson fought in World War II as a member of Darby's Rangers, the forerunners of the U.S. Army Rangers. He came home with PTSD, though it wasn't called that in the 1940s, and took to golf as a coping mechanism. He became a fine player.
"He wanted me to love golf, and I didn't," Thompson said. "I regret missing out on so many years, not getting to play with him."
A few years ago, Thompson shot his career-best score, a 1-under 69, at Kenosha CC. He went home and found a scorecard his father had saved. Forty-seven years earlier, almost to the day, Bud Thompson had shot a 69 at Kenosha CC, also his best-ever score.
"He birdied the 18th hole for his 69," Thompson said with a laugh. "I bogeyed it."
He gazed wistfully at his little golf sanctuary. Jim Wynstra of Kenosha had just pulled a good-sized bass from the pond at The Pond, to hoots and hollers. A fivesome of golfers were teeing off on one of the holes, beers in hand.
"I hope he's looking down on this," Thompson said, "because he would have loved it."
Then again, who wouldn't?
This article also appears in the November edition of Wisconsin Golfer, the official monthly magazine of the Wisconsin State Golf Association, where Gary D'Amato writes a monthly column.