SOMERS — Family and community were the main themes Thursday night (Nov. 3) during the annual Kenosha Area Business Alliance Ovation Awards, held inside the newly-renovated Alfred and Bernice DeSimone Arena on the campus of the University of Wisconsin-Parkside.
The annual awards dinner and ceremony recognized Kenosha businesses in the categories of the Forward Awards — given to five businesses this year — the Entrepreneur of the Year, the Small Business of the Year and the Business of the Year.
Videos displayed on large projector screens on each end of the arena and speeches by leaders from each award-winning company followed a cocktail reception and dinner.
"It's just a great opportunity to celebrate these companies that are doing cool things in the community, growing good companies, giving back to the community, and it's just a great night for us to be able to do that with them," KABA President Todd Battle said.
Almost all of Thursday's award winners were businesses that have been run by multiple generations of families. The winners also highlighted Kenosha's rapidly expanding business footprint and the major potential for growth.
"Certainly, there's some business climate attributes in this community that lend themselves to growing companies," Battle said. "We like that. I thought a theme (Thursday) night certainly was, we recognized a number of family businesses that have quite a bit of longevity.
"… It's hard to be in business, but to be a family business (is) even more challenging. We had companies that were third- and fourth-generation family businesses (Thursday) night, so that's always kind of neat to see that. And that's Kenosha."
Additionally, KABA was grateful to UW-Parkside and its athletic department for loaning a large space like the DeSimone Arena for such a ceremony. It turned out to be an ideal location.
"UW-Parkside Athletics opened the gym to us and let us use this venue," Battle said. "It worked out fantastic, (being at a) much larger venue. This is a turnout of 300-plus people, so it's kind of tough to crowd us into a small ballroom.
"So it turned out to be a great venue, and we're really happy with it."
Here's a look at this year's KABA Ovation Awards winners, along with what some of their leaders had to say Thursday night about family and community:
Business of the Year
HEARTLAND PRODUCE CO.
Given to a KABA-affiliated business with 50 employees or more, Thursday night's biggest and final award went to Heartland Produce Co., located at 5814 104th Ave. Founded in Elgin, Ill., in 1989, the family-owned business was started, according to its website, "with a simple mission in mind: To provide retailers and consumers the highest quality of produce available, and to deliver it with the best service and at a good value." Heartland Produce Co. moved to Kenosha in 1994, where it's been located ever since. CEO Bill Dietz and his son, President Ryan Dietz, accepted the award Thursday night.
President Ryan Dietz: "We're just very appreciative of everything that KABA's done to help get us set up in the City of Kenosha. We've been here for almost 30 years, and we're very appreciative of the employees that we work with, our co-workers, vendors (and) customers. The City of Kenosha's our home."
CEO Bill Dietz: "KABA was instrumental in us moving up here in 1994. The community has been very supportive. It's been a great place to run a business, to promote a business. We intend to be here for many, many more years."
Bill Dietz also took time to mention some of Heartland Produce Co.'s philanthropic efforts. Eight years ago, he said, the company founded the Heartland Children's Foundation "with the idea to give back to the community." Located at 4550 70th Ave., the foundation aims "to lift up children and families in need throughout Kenosha and the world."
Small Business of the Year
FINISHING AND PLATING SERVICE
Given to a KABA-affiliated business with 50 employees or less, the Small Business of the Year honor went to the Laken family-owned Finishing and Plating Service, located at 4545 68th Ave., in the Kenosha Industrial Park. The company, which specializes in metal plating services, was founded in 1952 by Tom Laken Sr. and is now in its fourth generation of ownership and operation. Several members of the Laken family graciously accepted the award Thursday night, with current CEO Tom Laken III leading the way. His mother, Nancy Laken, wife of Tom Laken Jr., was also on hand to accept.
CEO Tom Laken III: "Growing up with your grandpa and your father (and) family, you learn so much along the way. It was such a pleasure. … They always said, 'You're only as good as the people that are around you.' So thank you to my friends, my co-workers, my customers, my suppliers – of course, my accountant, my bankers and my lawyer – you always surround yourself with the people that know what the heck they're doing."
Nancy Laken (in closing video after awards ceremony): "I enjoy saying I'm from Kenosha."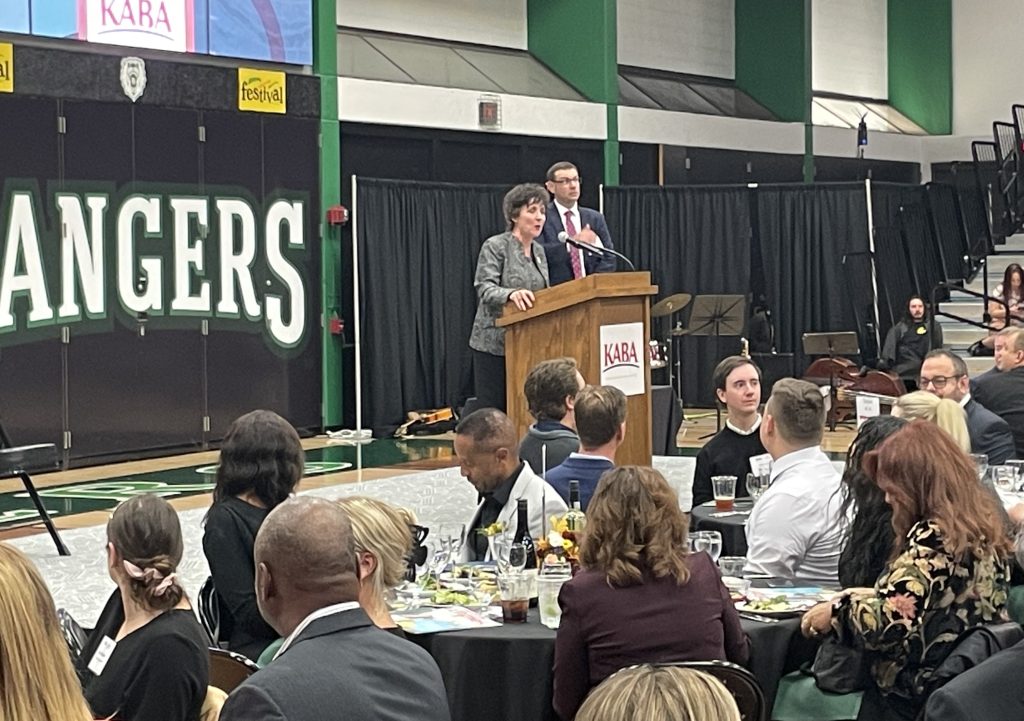 Entrepreneur of the Year
MARIAM DARSOT, NEXUS PHARMACEUTICALS
Perhaps the most inspirational family story of the night came from the Entrepreneur of the Year Award, which went to Mariam Darsot, the retired President and CEO of Nexus Pharmaceuticals. Based in Lincolnshire, Ill., the company opened its first U.S. manufacturing facility in the Prairie Highlands Corporate Park in the summer of 2021. The 100,000-square-foot manufacturing facility in Pleasant Prairie marks a huge stage in growth for the family-owned pharmaceutical company and is a massive boon to Kenosha County and Wisconsin overall, helping to make the state a big competitor in the manufacturing industry. According to the Milwaukee BizTimes, Nexus' manufacturing facility in Pleasant Prairie is just the first phase of an expected $250 million investment over 10 years, which is expected to create more than 400 local jobs. Nexus was founded in 2003 by Darsot and her husband, Shahid Ahmed, and the company is now in its second generation of family leadership. Darsot retired as President and CEO on Oct. 3, but she accepted the KABA award Thursday night with her son, Usman Ahmed, who has succeeded his mother as Nexus' President and CEO.
Retired President and CEO Mariam Darsot: "I came to this country 40 years ago to pursue the American dream. … KABA is an integral part of the local community."
Forward Awards
HERZING UNIVERSITY
The private, non-profit university moved its Kenosha campus not long ago to downtown Kenosha into the former Kenosha News building at 5800 7th Ave. Herzing Regional President Dr. Jeff Hill talked Thursday night about the importance of being located right downtown, which helps the school feel like a big part of the local tapestry.
Regional President Dr. Jeff Hill: "The city is beautiful. I've never been part of a community that is more invested in one another and willing to come together. This is amazing, and I'm so proud to be a part of this community. I look forward to leveraging the resources at both Herzing and all of our amazing partners to move the county forward."
KENOSHA CREATIVE SPACE
Located downtown at 624 57th St., Kenosha Creative Space, as its website says, is "the hub to grow the local creative economy, supporting artists and other entrepreneurs to leverage a community of learning and collaboration."
Executive Director Francisco Loyola: "I believe that the importance of this award for the creative community is this: We are … a force to bring economic development to the community. We have been given credit for helping the Kenosha Area Business Alliance and other organizations to bring economic development, attract talent and retain the talent in Kenosha. I believe this is going to continue to grow."
LAND QUEST REALTY
Located at 4723 38th Ave., Land Quest Realty, as its website states, "revitalizes communities by buying, selling and renovating profitable rental properties." The company serves sellers, real estate investors and residents, with experience in all aspects of real estate, "serving residents to enrich our Southeastern Wisconsin communities and help people love where they live and love what they own."
President Ryan Douglas: "I fell in love with Kenosha. I just love being here, went to Bradford High School here and have really become part of the community. Through Land Quest, we've been privileged to add to the housing stock (and) try to do good developments for the right reasons. … We've been honored to be able to provide good housing to people so that they can enjoy it."
KUTZLER EXPRESS
Founded in 1982, Kutzler Express carries on a family trucking legacy that originally began in 1929. First started as Kutzler Cartage in Waukegan, Ill., the small company outgrew its original location and relocated to Kenosha, changing its name to Kutzler Express. Located at 12737 60th St., Kutzler Express today has over 145 employees and is under the leadership of a fourth generation in CEO Tony Kutzler.
In a brief speech Thursday, Tony Kutzler said some people doubted the business after his father, Frank, died three years ago, but it's as strong as ever today. Tony also emphasized the family atmosphere of the company and how his employees' family lives always come first.
LIFTPRO
Offering a full lineup of aerial lift equipment, Liftpro — located at 3120 64th St. — was founded in May of 2008 by Tyler Nehls and moved from Racine to its current 25,000-square-foot location in Kenosha in 2012. Liftpro delivers to the entire southeastern Wisconsin and greater Chicagoland areas.
Owner Tyler Nehls: "Instead of doing things the easy way, we do things the right way. … We've been blessed with a lot of great customers, a lot of great friends, good employees, but just as importantly, it's nice to have a supporting family."