STURTEVANT — For a lot of people, a major knee injury would put a halt to their athletic activities, at least from a highly competitive standpoint.
Two major knee injuries? Now that would be the end of it.
Well, don't file Bradford High School senior Ava Litkey in that category, because she's far too competitive to call it quits.
Despite tearing her ACL twice, once in each knee, Litkey is back on the links and excelling once again in her final fall as the Bradford girls golf team's top player.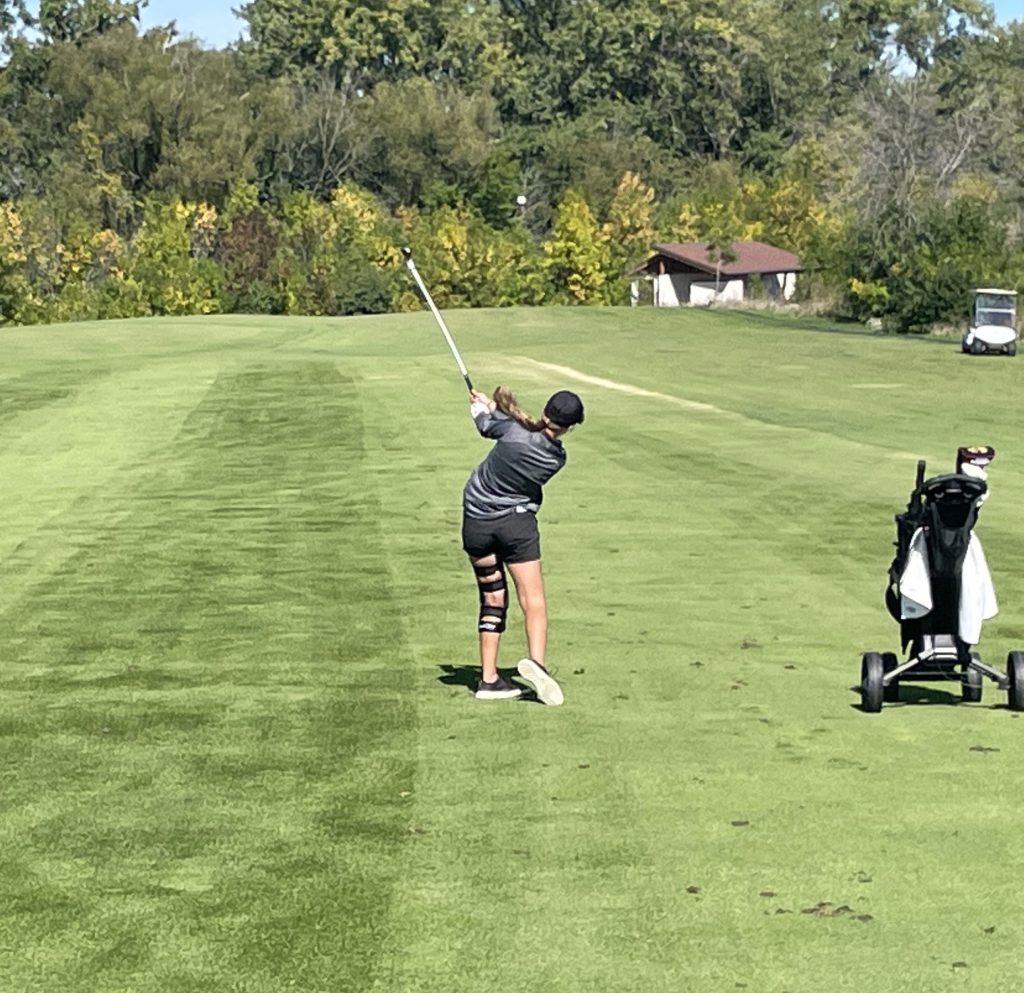 And golf may not even be Litkey's best sport. She's also a standout in ice hockey who competes in the girls program for the highly regarded Milwaukee Jr. Admirals and has plans to play hockey in college.
But before she cranks it up on the ice again, Litkey is wrapping up another strong girls golf season for Bradford.
Last week, Litkey won the Southeast Conference Tournament individual title by firing an 87, including a sizzling 39 on the front nine, at Meadowbrook Country Club in Racine. And on Thursday, she carded a 91 in a Wisconsin Interscholastic Athletic Association Division 1 regional at Ives Grove Links in Sturtevant to qualify for Monday's sectional at Janesville Country Club.
For her performance on the links recently, Litkey has been named this week's Kenosha.com High School Athlete of the Week.
Bouncing back
Next week will be Litkey's fourth sectional appearance in four seasons with the Red Devils.
But just the fact that she played golf at all this fall is a remarkable achievement.
Litkey tore the ACL in her left knee while playing hockey last October, had surgery in mid-November and didn't even swing a golf club until about a week before the high school season started in August.
So, does she feel like she's fully recovered?
"I do," said a confident Litkey, who manages to swing the club just fine despite wearing a large brace on her left leg, after Thursday's regional round. "Definitely, for sure."
Bradford assistant girls golf coach Brandon Menor works closely with Litkey and did so again throughout Thursday's round.
"She didn't get to play golf all summer," Menor said after the round. "She had her surgery mid-November of last year and couldn't touch her clubs again until a week before our season started.
"Just to be able to come back from that and still put together a conference championship-type of year, it says a lot."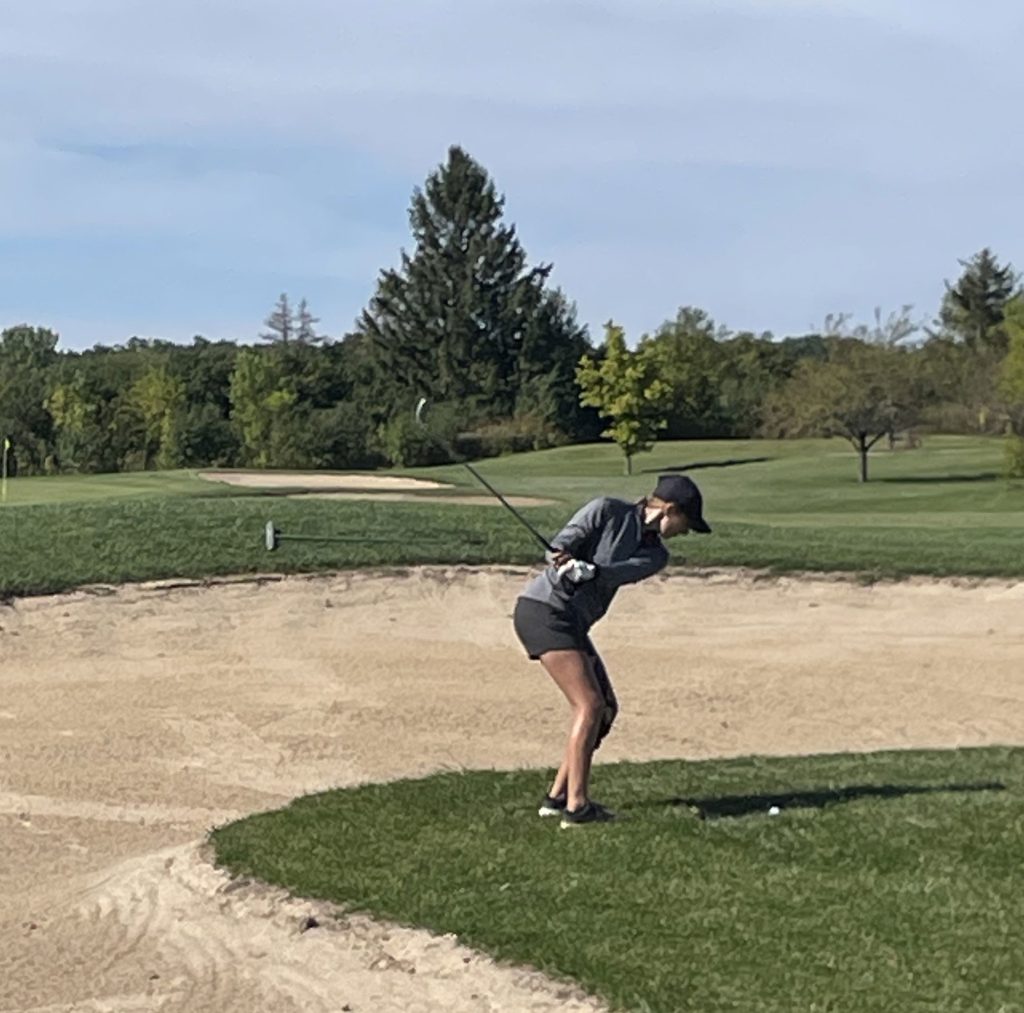 And it says even more, of course, that this isn't even the first time Litkey's recovered from a torn ACL. She suffered the same injury in her right knee while playing soccer in eighth grade.
When she tore the one in her left knee last October, she said she knew right away what had happened, but that she also had the experience of the previous recovery to lean on.
"I knew immediately that I tore it again," Litkey said. "But I didn't want to admit it, obviously. I think it made the process a lot quicker and a lot smoother, because I knew what to expect. I had the same physical therapist that got me through everything (the first time). They were really good.
"So I just knew what to expect and knew how to take care of myself."
Always an athlete
Litkey has always been an athlete. As she said Thursday, "Basically, my life is sports, which I love."
Litkey played girls basketball at Bradford through her freshman year and girls soccer until she was a sophomore, but now she's down to focusing on just golf and hockey.
Both those sports, she said, were in her life at a young age. Her dad, JR Litkey, was himself a standout hockey player growing up and formerly was the head coach of the Kenosha Unified Thunder high school co-op boys hockey team.
"Basically, yeah, he put me right in there," Ava said of her dad getting her on the ice as soon as she could walk.
"Golf, same thing. My dad's a golfer, my grandpa's a golfer. So as soon as I could walk, I was in golf lessons. Ever since, I've always loved golf."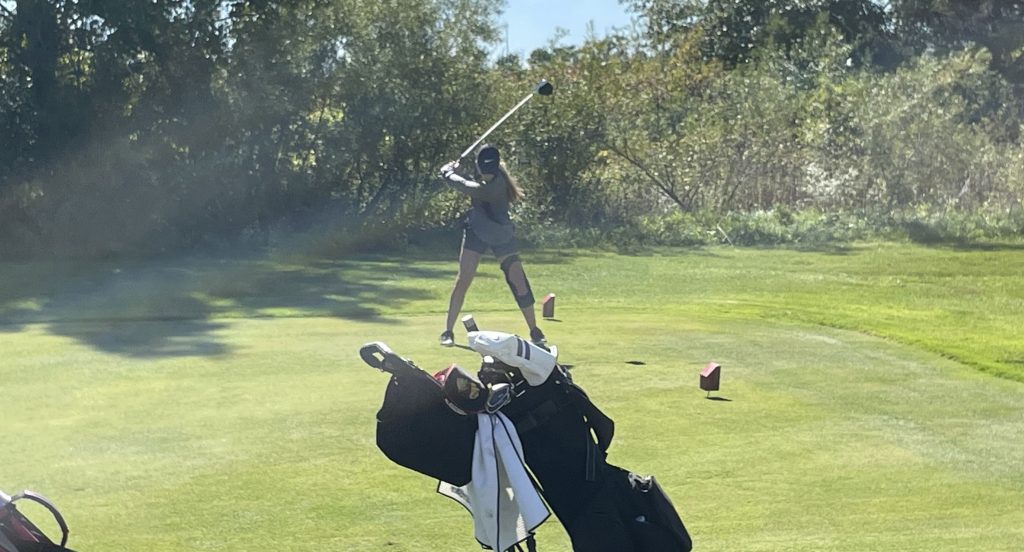 When asked which sport she likes the most, Litkey acknowledged it's hockey.
"I do like hockey more, because it's more of a team sport," she said. "Golf is very, sometimes, stressful, because it's an individual sport. It's all on you. … Hockey, you have teammates to pick you up."
But no matter the sport, Litkey succeeds because of her competitiveness and her mental toughness. After rehabbing and coming back from two major knee injuries, nothing fazes her much on the ice or on the links.
"That's one thing I really admire about her game, is that just between the ears, I think she's very good," Menor said. "She's very competitive, she's very composed, and she doesn't let one bad shot turn into another bad shot. You rarely see her hit two bad shots in a row. Perseverance, competitiveness, she has it."
Litkey, who's a defender, said she plans to play hockey in college and has been in touch with the women's programs at Concordia-Wisconsin in Mequon, UW-Stevens Point and UW-Eau Claire, which all compete at the NCAA Division III level. But it appears she's made her choice.
"I think I'm going to go with Concordia," Litkey said Thursday.
As far as an academic path, Litkey said she wants to study something in horticulture and landscape design. Her dad owns Litkey's Lawncare in Kenosha, so it's another discipline that runs in the family.
"It would be nice after college to own my own business," said Ava, who also said she enjoyed a job she had last spring working at Anton's Greenhouses in Pleasant Prairie. "Something with that, horticulture and business."
Seeking a trip to state
There is one thing on the golf course, however, that Litkey still has yet to achieve at Bradford. She has yet to qualify out of sectionals to reach the WIAA Division 1 State Tournament, which this season is scheduled for Oct. 10-11 at University Ridge in Madison.
Qualifying for the State Tournament has certainly been a big challenge in recent years, considering Litkey has had to compete in an extremely tough sectional, one that now includes defending WIAA Division 1 state team champion Westosha Central (the Falcons again advanced to next week's sectional as a team).
Litkey will have to play outstanding golf Monday at Janesville Country Club, and it will likely come down to her short game. She excels off the tee — you should've seen the bomb she hit with her driver on the eighth hole of the Ives Grove Red Course on Thursday — and with her irons.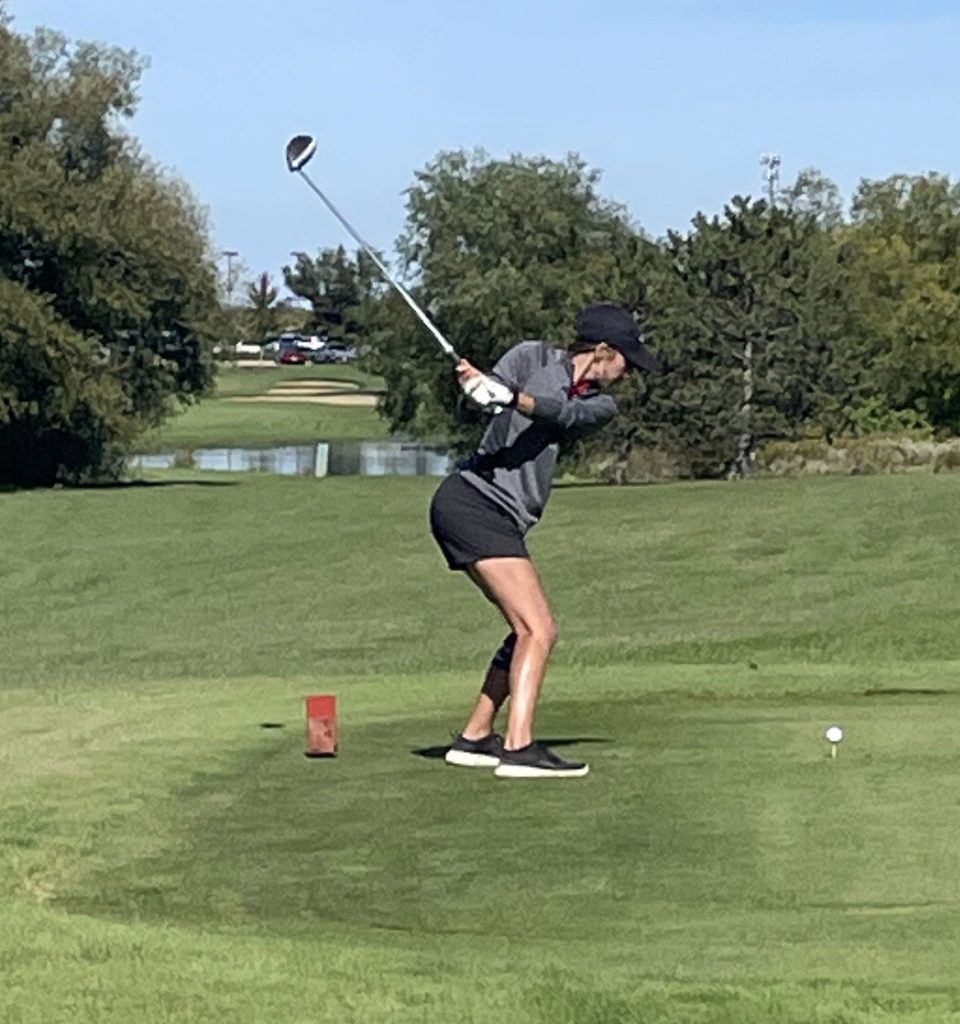 But, as it does for all golfers, everything comes down to saving strokes on and around the greens.
"I think it's definitely going to have to be my short game," Litkey said. "Putting, chipping wasn't great (Thursday). But I think if I get putting down, I think it'll knock a few strokes off."
Whatever Litkey shoots Monday, though, she's already had a resoundingly successful senior season on the course by proving that even two major knee injuries couldn't keep her from competing and succeeding.
"I would definitely say push through it," Litkey said when asked what advice she would give to someone trying to recover from an injury. "It's worth it in the end to come back. It's a long, hard recovery. It's really long, but I would say it's all worth it to come back.
"Don't quit on yourself. Just push through it."
Which is why Litkey is likely to be successful in whatever she chooses to do after high school.
"She's going to do what she wants to do, and she's going to be good at it, because she'll put the time in and she's competitive," Menor said.
"5 Questions with" Ava Litkey
Favorite food? "I would have to say tacos."
Favorite movie? "'A League of Their Own.' … Very local."
Favorite musical artist? "Tim McGraw. Country."
Favorite athlete? "That's tough. … (She was then reminded about the Chicago Blackhawks head cover on the driver in her golf bag.). … Yeah, I think Patrick Kane. For sure."
Where do you see yourself in 5-10 years? "Going to college, for sure. Playing hockey in college, potentially golf. After college, I guess we'll see."