The HarborPark promenade completed its long-awaited makeover on Thursday (Sept. 15) as 10 new sculptures were installed for the Kenosha Community Foundation Arts Fund 2022-24 Sculpture Walk.
And for the first time in the outdoor exhibit's 11 years (sixth installment), a fan favorite will remain.
"On Balance," a 2019 installation by Paul Bobrowitz of Colgate, was purchased by Kenosha's Patricia Petretti and donated to the city of Kenosha. It will remain a centerpiece and photo darling in HarborPark's Celebration Place.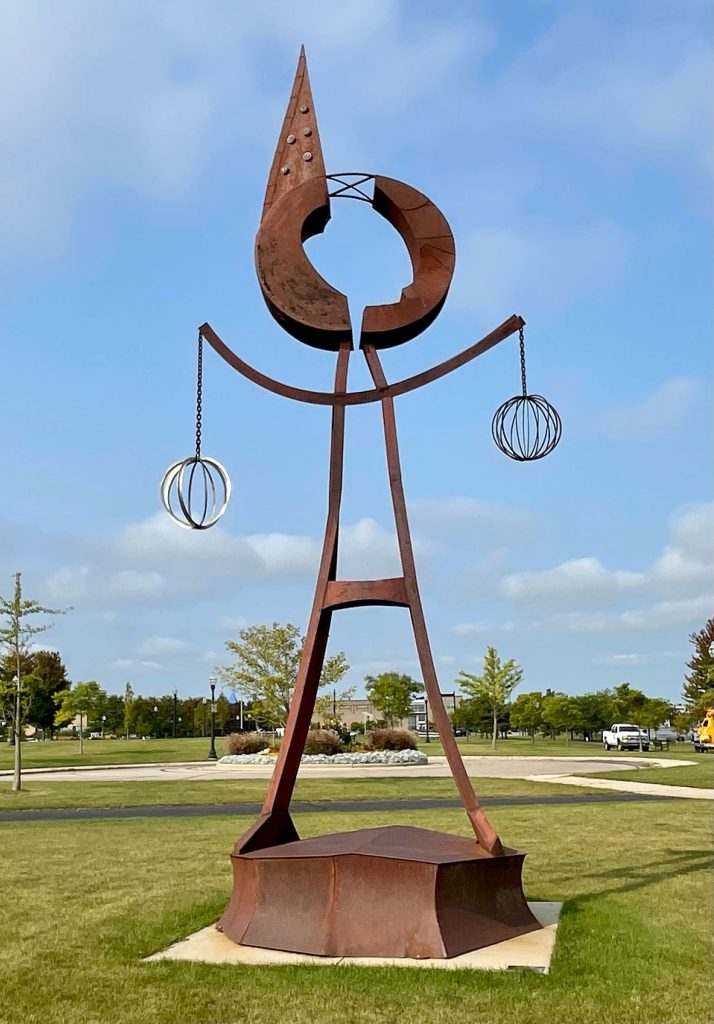 "This is groundbreaking," Bobrowitz said. "I never thought it would be this popular. It's interesting how many pictures I see of it on Facebook and all of the different backgrounds with fog and sunlight. It's one of my favorites. I just love that piece."
Kenosha.com's Thomas Corrao, a sunrise photographer and local outdoors columnist, offered a plea to city officials to make "On Balance" a permanent fixture on Kenosha's lakefront in this Dec. 13, 2021 article.
Corrao wrote the sculpture has become "a symbol that represents the beauty of the Kenosha lakefront" with comparisons to The Picasso in Chicago's Daley Plaza.
"I believe that if the city of Kenosha allows this statue to be replaced, we will be giving up a bit of our identity," Corrao wrote.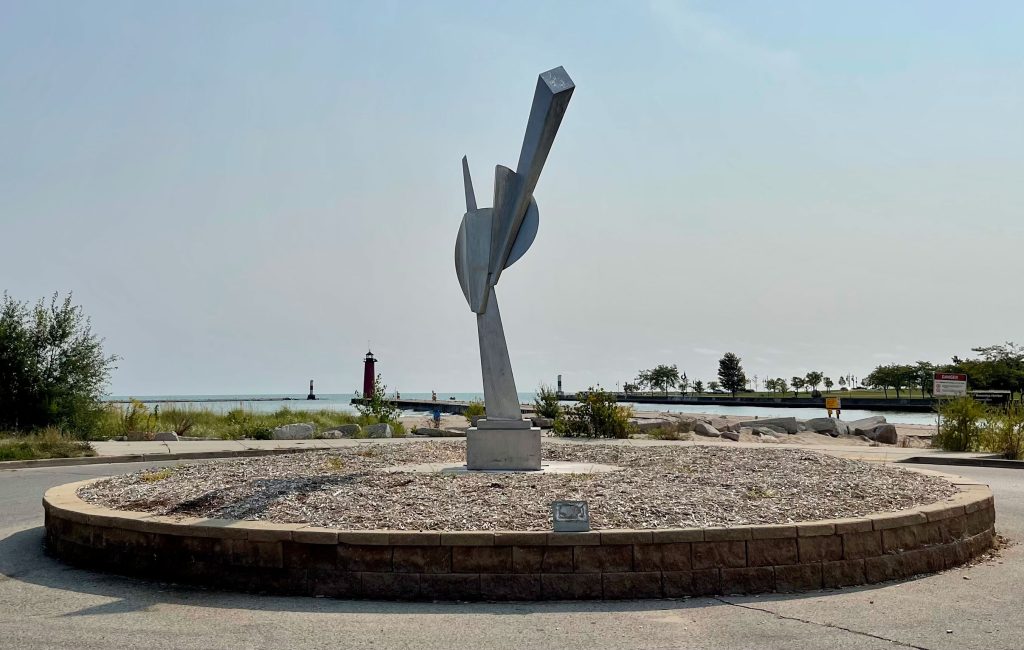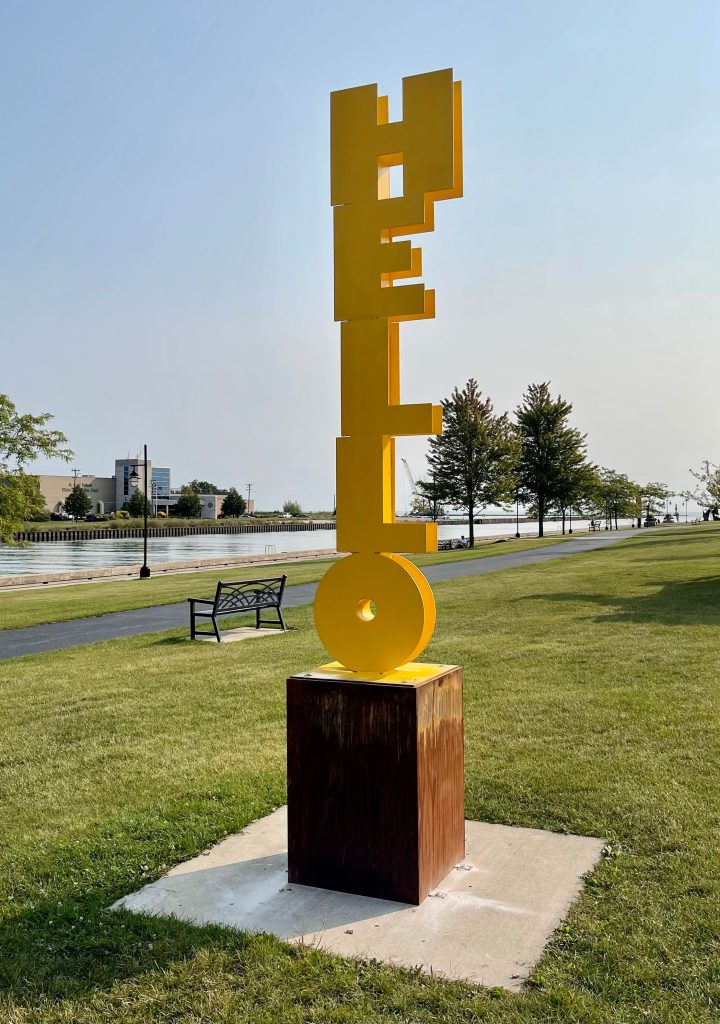 A variety of new sculptures — ranging from a 14-foot "Dragonfly" to an eight-foot "Sphere" to a pair of Bruce Niemi masterpieces — will grace the lakefront and Civic Center Park for the next two years.
"Whole of My Heart," a sculpture by Chris Plaisted of New Milford, Conn., offers photographers a unique frame of Kenosha's iconic lighthouse.
Niemi, one of Kenosha's most accomplished artists, installed the first of his two abstract pieces "Coming Together" near the Pierhead Lighthouse at the Kenosha Water Utility, 100 51st Place, on Wednesday. Niemi's "Transition" was placed in Civic Center Park, 5600 Sheridan Road, on Thursday.
"I've always had a sculpture in the (exhibit)," Niemi said. "It's been an honor."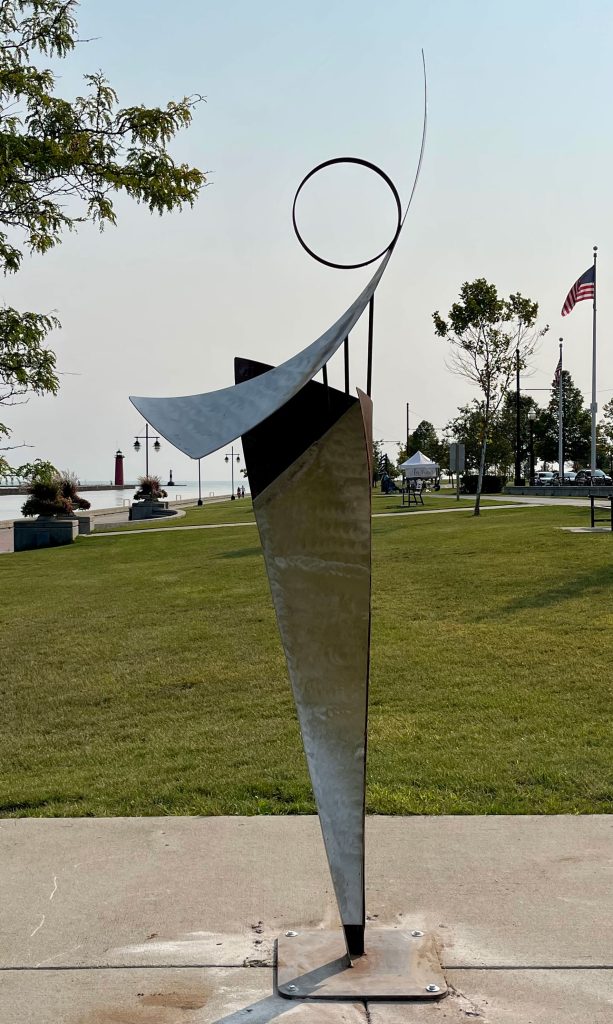 The exhibit was highly anticipated by many local residents, artists and sponsors, who waited an extra year for installation due to the pandemic.
"This year's collection has something for everybody," Sculpture Walk project manager Natalie Strohm said. "There's a lot of sculptures people will recognize and others that are more abstract. It will be interesting to see the interpretation."
"Honestly, this exhibit is a lot of work to put together, but when I come down here and see these pieces go up it amazes me. It's like Christmas."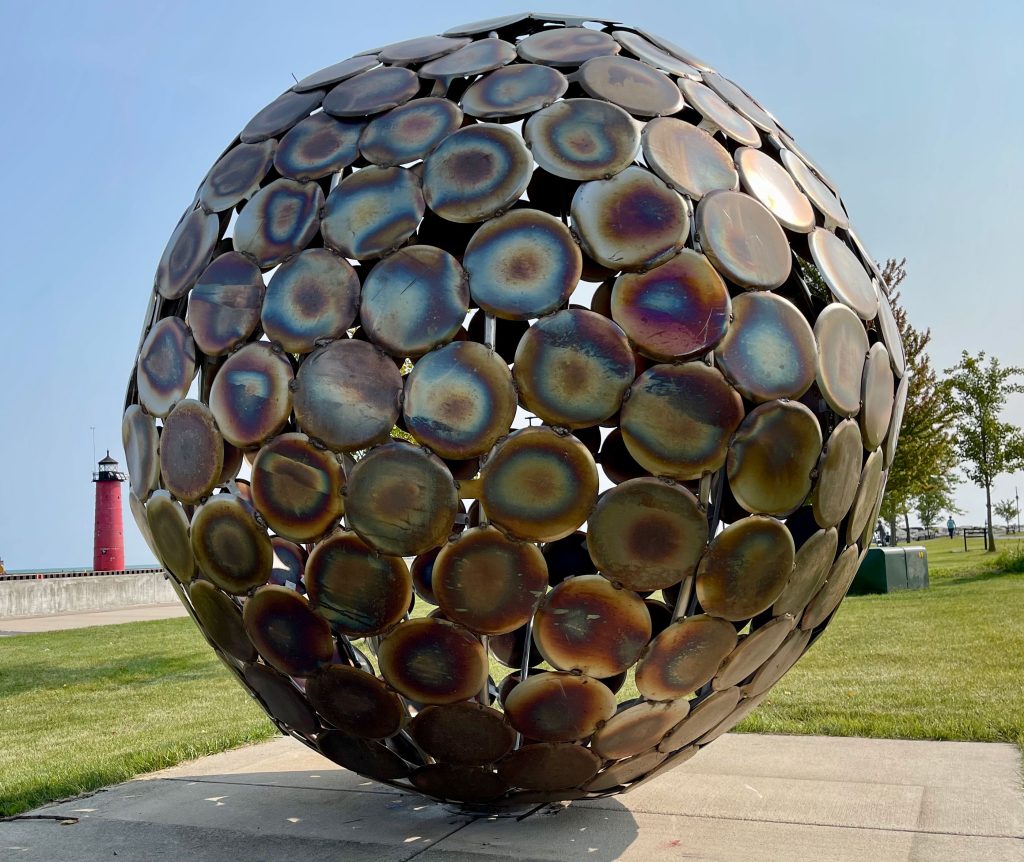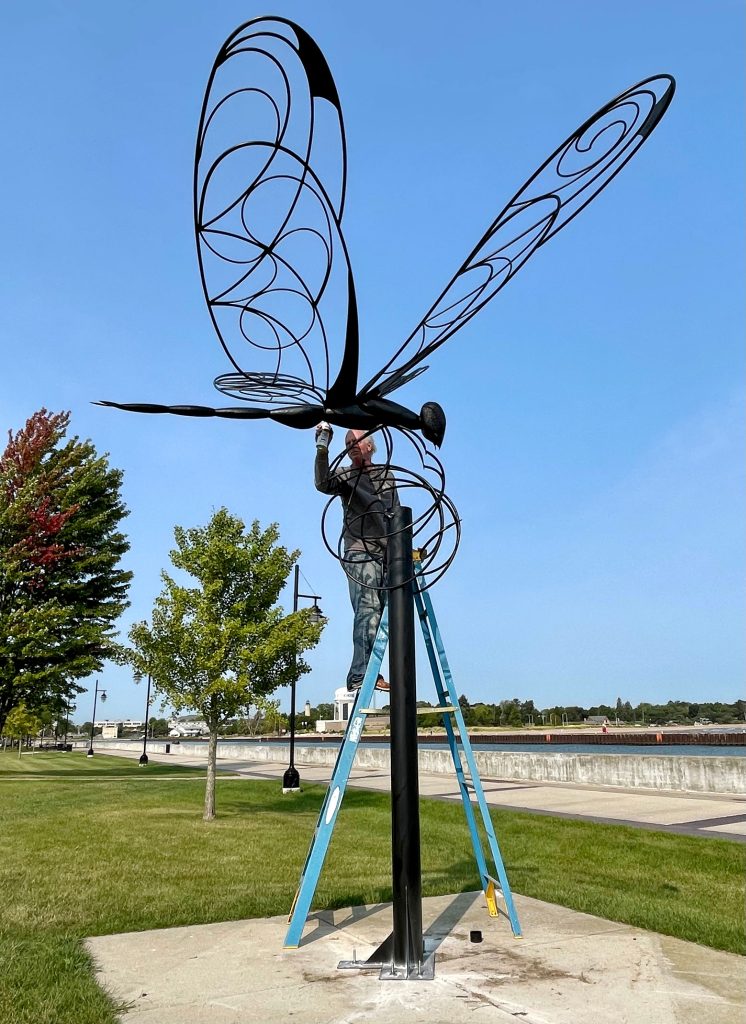 In addition to adding creativity to the lakefront, the sculptures attract tourists and art lovers from all over the country, according to Jennie Tunkieicz of the Kenosha Community Foundation Arts Fund.
"We hear all the time from people who say it adds so much to the aesthetics of Kenosha and our lakefront," Tunkieicz said. "I think people are going to be very pleased with the art selected this year."
The sculptures are sponsored by individuals, businesses and organizations through the Kenosha Arts Fund. The funds support artists who create the sculptures and the local arts community.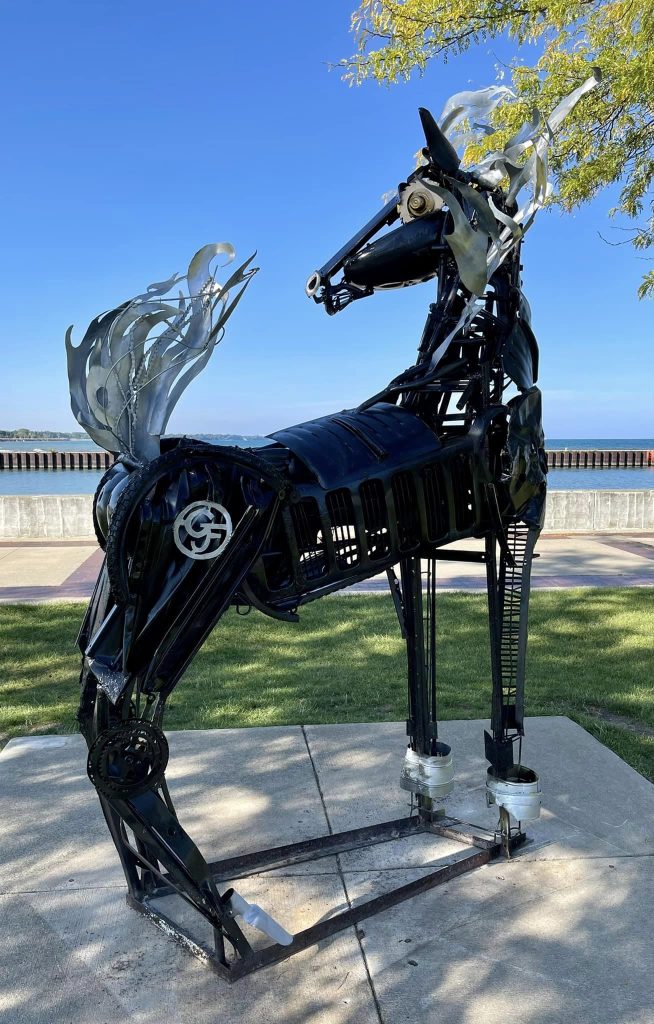 Here is a look at the 10 new sculptures of the Kenosha Community Foundation Arts Fund 2022-24 Sculpture Walk:
"Coming Together" by Bruce Niemi (Sponsor: Mary Tunkieicz)
"A Big Hello" by Craig Snyder (Sponsor: Kenosha Community Foundation)
"Blended Family" by Paul Bobrowitz (Sponsor: Kloss Foundation)
"The Balance Between" by Maureen Gary (Sponsor: Uline)
"Whole of My Heart" by Chris Plaisted (Sponsor: Friends of the Arts)
"Ascending Perspectives" by Craig Snyder (Sponsor: Visit Kenosha)
"Ma Mère" by Joseph Gagnepain (Sponsor: Snap-on)
"Sphere" by Paul Bobrowitz (Sponsor: Patricia Petretti)
"Dragonfly" by Michael Petit (Sponsor: Tom and Ruth Clark)
"Transition" by Bruce Niemi (Sponsor: City of Kenosha)