The field of pumpkin technology is, in every literal sense of the word, a growing one.
Just take a look at the weights.
On Saturday afternoon during a splendid late-summer day at Veterans Memorial Park, Pete Caspers of Peosta, Iowa — right outside Dubuque — brought a pumpkin that weighed in at a whopping 1,633 pounds to claim the title of the Wisconsin Giant Pumpkin Growers weigh-off during the 10th Kenosha Fall Fest.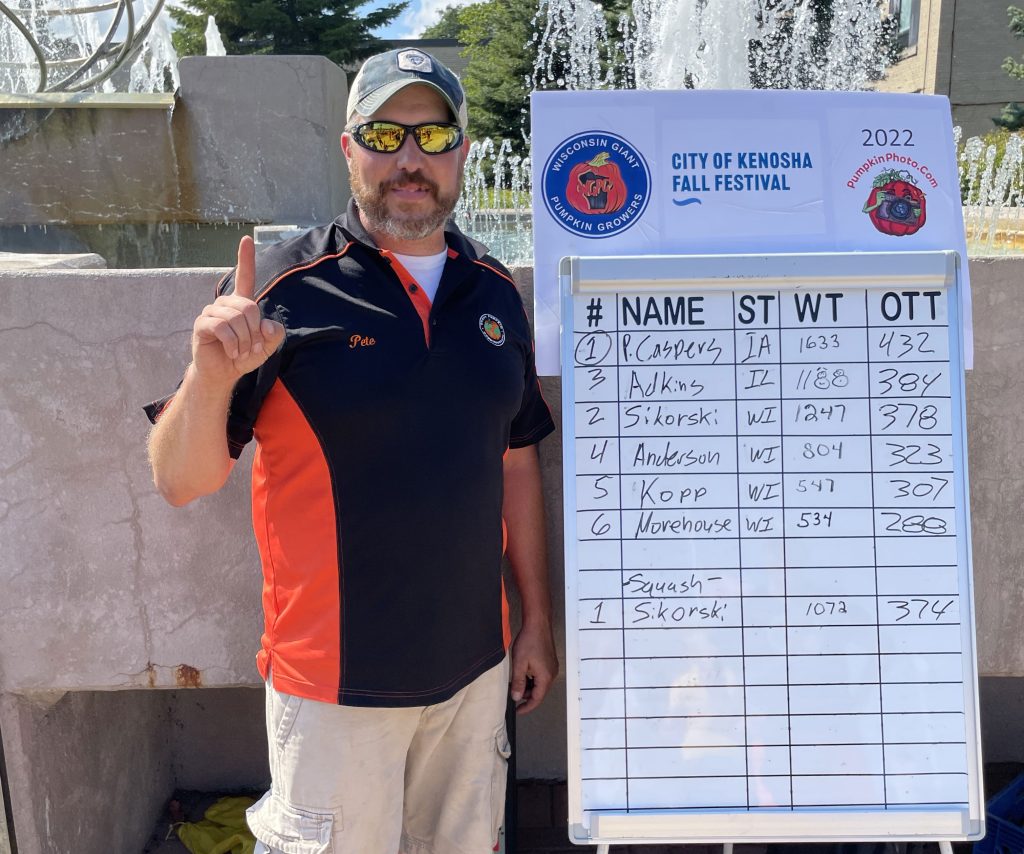 For reference, the Wisconsin Grand Champion pumpkin in 1992 weighed in at 646 pounds. So, in just 30 years, the difference between Caspers' pumpkin Saturday and that one is a staggering 987 pounds.
"It's the seed genetics," Caspers said of the explosion in pumpkin technology in recent times. "We're coming up with different things to make them better. … Getting the dirt just right, moisture. We look at everything."
And Saturday's pumpkin, which reached 90 days old on Saturday, isn't ever Caspers' biggest one.
He said he has four giant pumpkins this season, one of which might be difficult to get out of his field. He said it took a skid loader to get Saturday's winner to Kenosha.
"Last night, the skid loader sank in about a foot, and I was worried about it getting stuck," Caspers said. "I got one at home that's got 600 pounds on this one. I don't know how I'm getting that one out."
Caspers has certainly had a successful pumpkin-growing season thus far. He said he and his daughter, Alba, won the title at the Iowa State Fair in mid-August.
"That was my first win," Caspers said. "This is No. 2."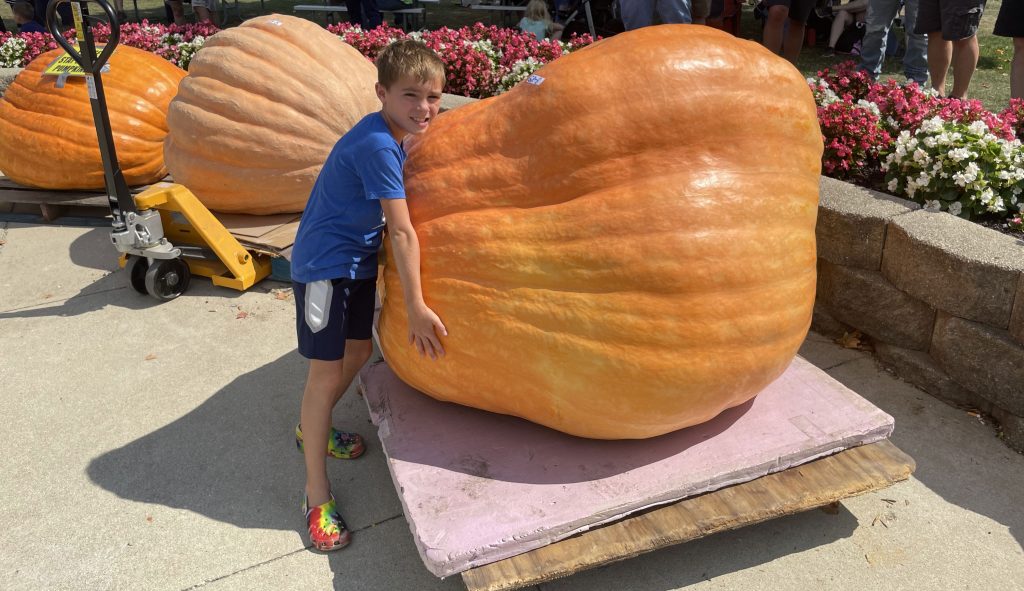 Growing pumpkins is a time-consuming process, too. Caspers said he puts in 16-hour weekdays and 20-hour days on weekends during the growing season. He also said it takes about 400 gallons of water per day between his four giant pumpkins just to keep the moisture at a high enough percentage.
"I have no spare time in the summer," Caspers said.
Caspers' pumpkin Saturday outweighed last year's winner, entered by Caleb Jacobus of Soldiers Grove, by 15 pounds. Caspers finished third in last year's competition.
Caspers, now 42 years old, said he began growing pumpkins in 1994, when he was just 14. He said he'll be entering contests every weekend through the middle of October before preparation for next season concludes around Thanksgiving.
According to guinnessworldrecords.com, the heaviest pumpkin on record in the world was grown by Stefano Cutrupi of Italy, who grew a 2,702-pounder in October 2021.
The pumpkin weigh-in was the featured event of Kenosha Fall Fest, which couldn't have gotten a more beautiful day along the lakefront Saturday.
There was a large selection of arts, crafts and food from local vendors, including a wide variety of homegrown fruit, vegetables and flowers for sale.
Alas, there didn't appear to be any pumpkin pie, just the giant pumpkins this time around.