MILWAUKEE — Like plenty of folks around the area this week, Gavin Lux roused himself out of a comfy bed in his Kenosha home each day, got dressed, hopped in his car and made the quick commute up I-94 toward the Milwaukee area for another work day.
Just another day at the office. Ho-hum, right?
Well, not exactly in this case.
Lux's "office" this week hasn't really been of the cubicle type. And there have been around 30,000 people or more showing up each shift to watch him do his job.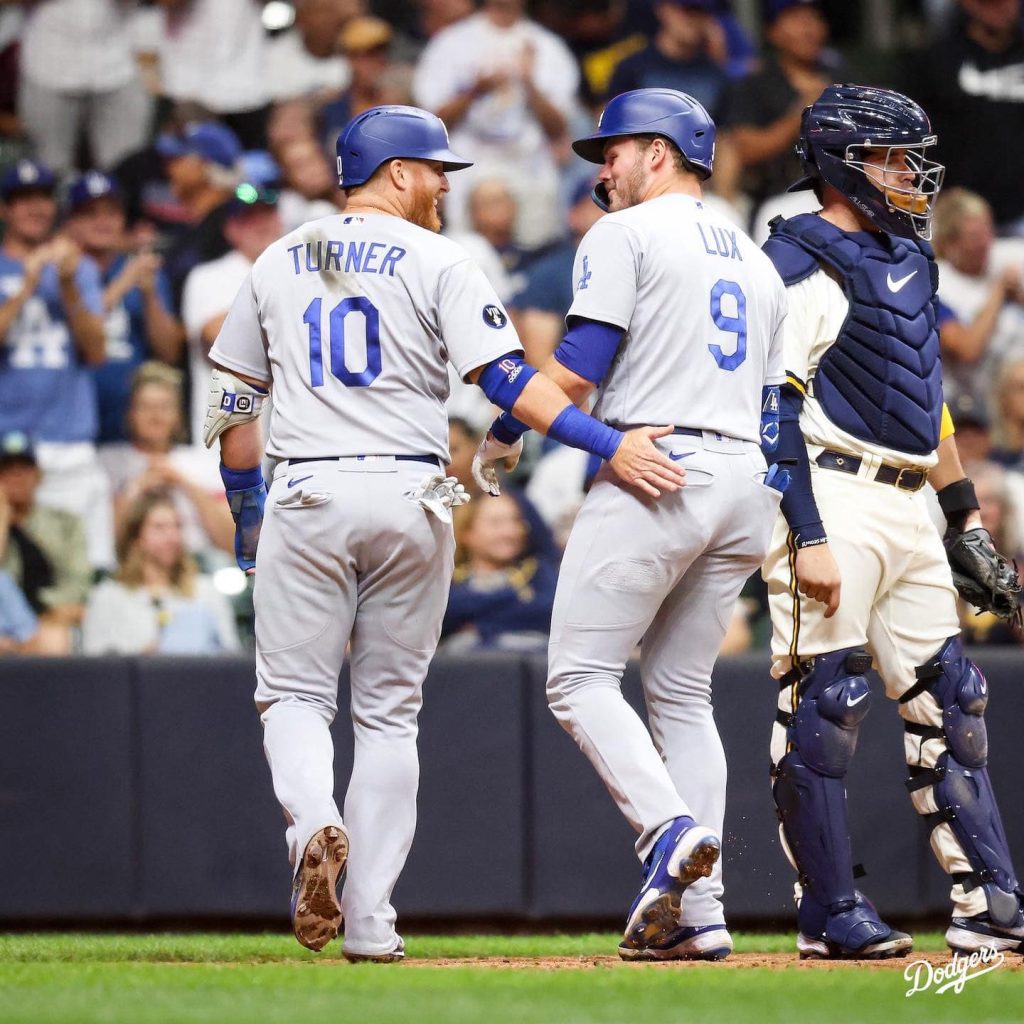 When you're the starting second baseman for the Los Angeles Dodgers — who could enter the conversation of historically great baseball teams when all is said and done this season — there's really nothing "regular" about your 9-to-5 gig. Or anything 9-to-5 about it, either.
For a Kenosha kid like Lux, it's all a dream come true.
Lux, born and raised in Kenosha, used to make the short trek to Milwaukee as a kid and sit in the stands at what was then known as Miller Park to watch the Brewers play, dreaming of one day playing on that same field as a big-leaguer himself.
He was on that field this week — now called American Family Field — as the Dodgers played the Brewers in a four-game series from Monday through Thursday, just about a 30-minute drive up the road from where Lux grew up.
"It's cool," said Lux, this week's Kenosha.com Kenoshan of the Week, from just outside the Dodgers' dugout late Wednesday afternoon as the team warmed up before the third game of the series. "I remember coming to a lot of these games. It's maybe not so much surreal, but it's cool for me.
"Playing in front of your hometown fans, it's cool."
But there's more to it than that for Lux. It's not just that he gets to play in front of a large contingent of family and friends this week, a group which he said numbered around 30 for each of the first two games of the series on Monday and Tuesday.
Lux has also purchased a home in Kenosha, where he still lives during the offseason. So he got to stay there and commute to the ballpark this week, a rare benefit for a big-leaguer during a road series.
"I was texting with my dad (Tuesday), and I said, 'Yeah, it feels weird sleeping in my own bed in August and then driving and playing a game,'" Lux said. "So it's a little weird, but it's a long season, so it breaks it up a little bit, which is nice."
Breakthrough season
Through the first three games of this week's series, Lux certainly ran the gamut of outcomes for a big-leaguer.
On Monday night, Lux, who bats left-handed, belted an impressive two-run, opposite-field home run against Brewers left-handed reliever Hoby Milner, Lux's sixth round-tripper of the season.
Then, on Tuesday, Lux suffered through an 0-for-4 night, striking out all four times.
He was not in the starting lineup for Wednesday night's game, with Eric Lauer — a tough lefty — starting on the mound for the Brewers, and he didn't get into the game in the Dodgers' 2-1 victory.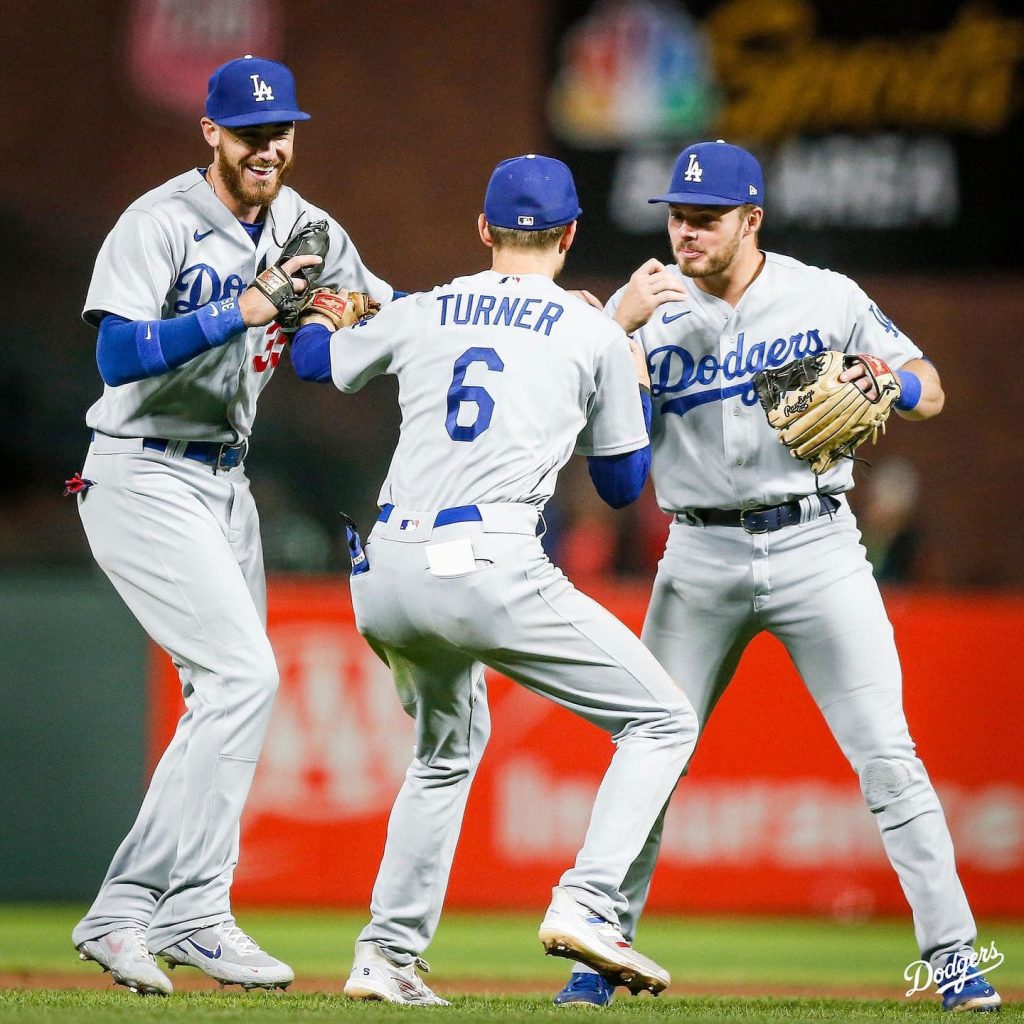 But navigating through the high of Monday's homer followed immediately by the low of Tuesday's four-strikeout night is exactly what Lux is learning to do in what's only his second full season in Major League Baseball.
It is, after all, a game of failure.
Lux, still just 24 years old, said he changed his mindset in that regard prior to this season.
"I just think (I'm) trying to stay off the mental roller coaster as much as possible," he said. "It's such a long year, and you're going to go through stretches where you go 0-for-20. It's part of baseball. You're playing 1-on-9. You've got to expect to fail a little bit.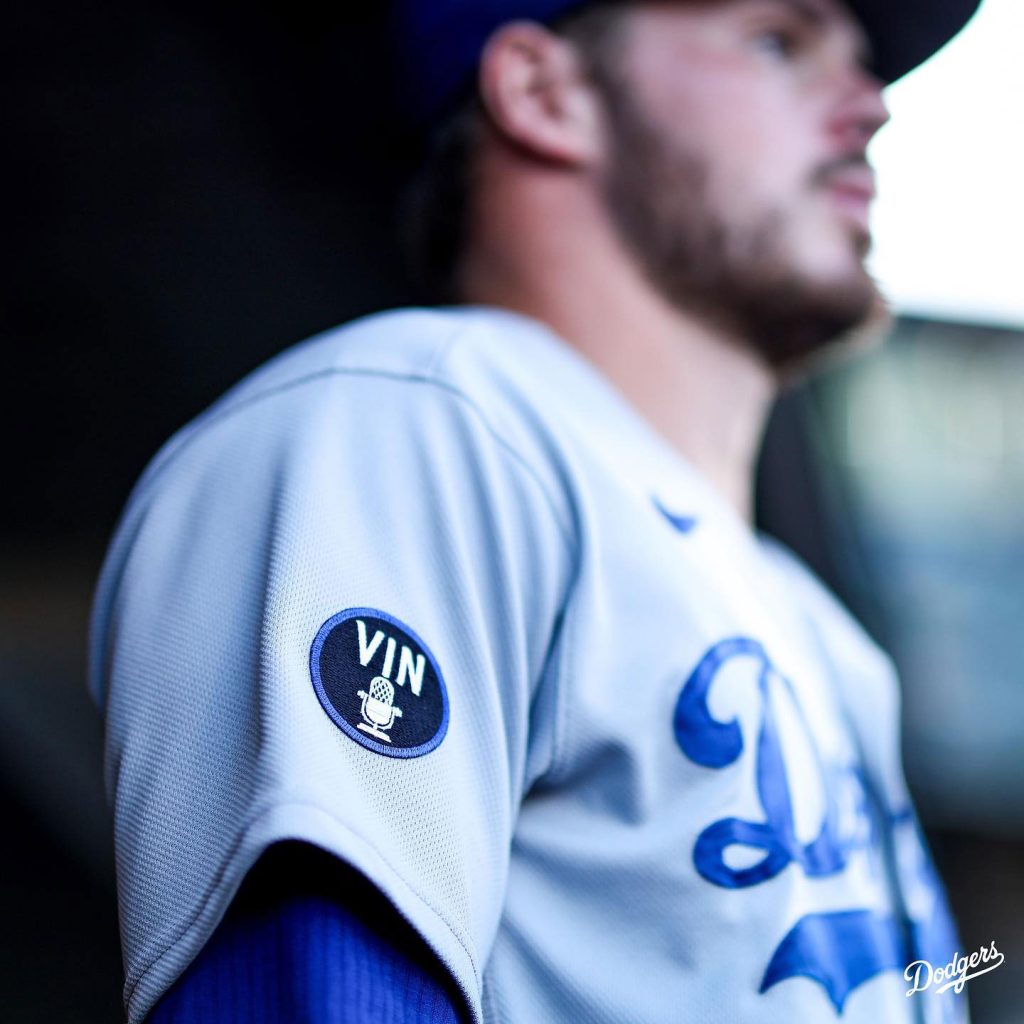 "So I think just having the peace of mind, knowing that you're going to go 0-for-20, then you're going to go 10-for-20, just navigating through the ups and downs of a 162-game season, has been big."
In the past, the Dodgers may have been concerned about Lux's mindset following Tuesday's rough four-strikeout night.
Not anymore.
"I just had a good conversation with him (Wednesday)," Dodgers manager Dave Roberts said from the dugout before Wednesday's game. "He turned the page. That's the thing, is that certain young players, it starts to spiral. But we're far past that point for him."
For Lux, the proof of his mental adjustment is in the numbers.
He entered Thursday afternoon's series finale with a batting average of .293, ninth-best in the National League, and a .371 on-base percentage, tied for fifth-best. He also had 17 doubles, six homers, six triples, 37 RBI, a .432 slugging percentage and an .803 OPS (on-base-plus-slugging).
"This is as much clarity as I've seen him have, as much confidence," Roberts said. "And I do believe that that's what led to the consistent performance. His routine every day, the preparation, is dialed in. The game has finally slowed down for him."
First-round pick
For players as talented as Lux, the game comes easy from a young age.
Lux played four seasons of varsity baseball at Indian Trail High School and Academy, leading the Hawks to the Wisconsin Interscholastic Athletic Association Division 1 State Tournament as a junior in 2015. As a senior and the Hawks' starting shortstop in 2016, Lux was named the Gatorade State Player of the Year, a lofty honor that then-Indian Trail head baseball coach Mike Schmidt pointed out was also won by another talented high school shortstop, Derek Jeter, in 1992 in Michigan.
Lux had already signed a National Letter of Intent to play college baseball at NCAA Division I powerhouse program Arizona State. But as his senior year at Indian Trail wore on and his exposure increased with high-level prospect invites and individual workouts, it was evident that he was poised to go highly in the 2016 MLB Draft and would be likely to turn professional — and immediately gain the hefty contract given to high draft picks — right out of high school.
Sure enough, the Dodgers selected Lux with the 20th overall pick in the first round of the 2016 Draft — coincidentally, five picks before the San Diego Padres selected Lauer, the pitcher who faced the Dodgers on Wednesday — making it an easy decision for him to bypass college and turn pro.
Lux moved to second base and rose quickly through the Dodgers' minor-league system. By 2019, he was already with the Triple-A Oklahoma City Dodgers and ranked as the organization's top prospect and, by some rankings, the top prospect in all of baseball.
Lux was honored with Baseball America's prestigious Minor League Player of the Year award in 2019 and made his Major League debut on Sept. 2 that year. He knocked a single to center in his first big-league at-bat and homered in his first career postseason at-bat later that season, making Lux an instant Hollywood star in Los Angeles.
But the next two seasons didn't go so smoothly.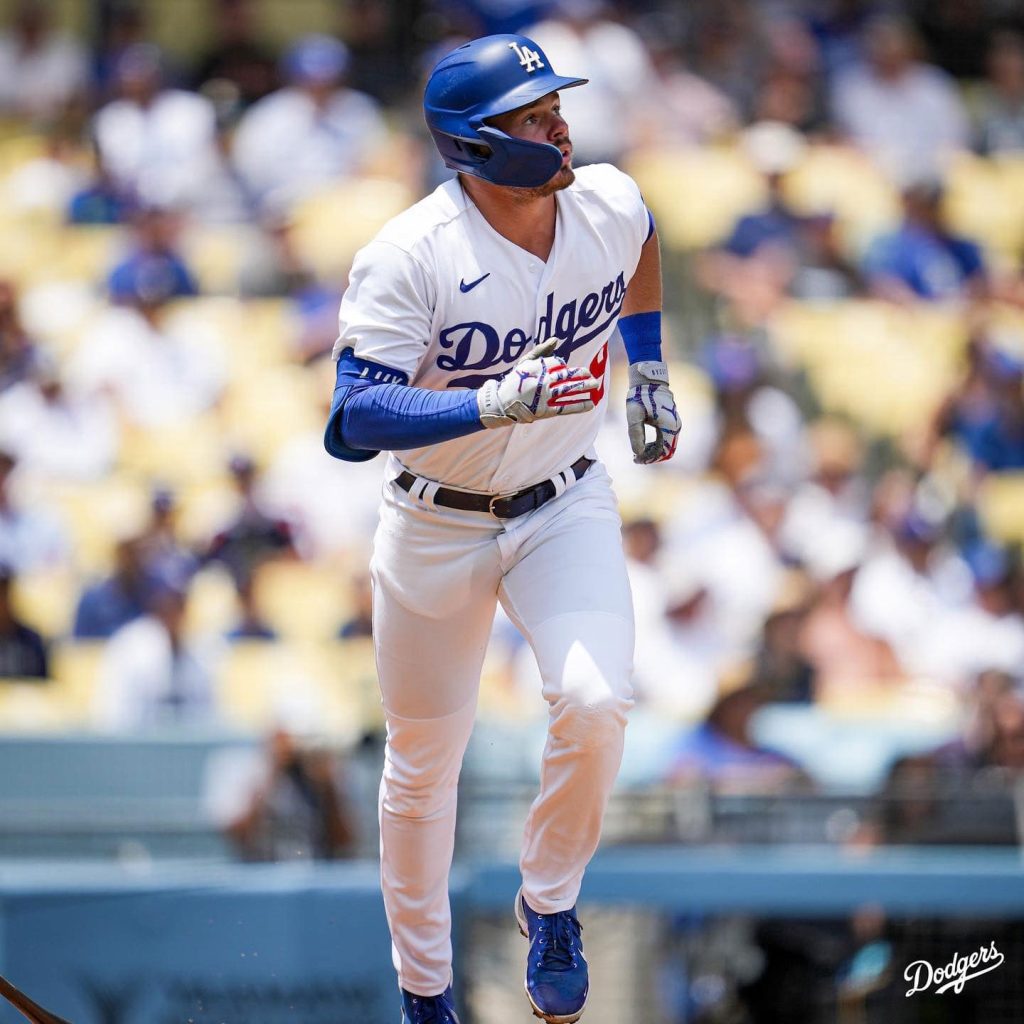 Though Lux did become the first Kenosha native to win a World Series ring when the Dodgers won it all in the 60-game COVID-shortended season of 2020, he was mostly left off the Dodgers' postseason roster and played in just 19 big-league games that year.
In 2021, Lux forged his way into a starting role at times, playing in 102 games. But it was an up-and-down season, and he finished with a .242 batting average and a .692 OPS, respectable numbers, but not quite up to expectations for a top prospect.
This season, though, things have been much different, as Lux has gained a foothold as an everyday player and more than just held his own. Rather, he seems to be coming into his own and realizing his considerable prospect potential.
"My message to him has always been, 'Dominate the defensive side of the baseball and go out there and take good at-bats and try to hit .300,'" Roberts said. "When you do that, have that intent, you're going to control the strike zone, you're going to take walks, you're going to use the whole field. The power, that's going to come.
"Early on in his career, I think he was chasing more slug instead of understanding the foundation of being a good hitter, a major-league hitter, first. And so he's bought into that, and obviously the performance has reflected that. I just couldn't be more proud of — you look back from a year ago to today — what he's accomplished."
After having almost easy minor-league success and then a storybook debut in the majors, Lux simply had to learn that the game isn't so easy at the highest level.
"Early on, I expected almost what I did in Triple-A, I expected to do that on a nightly basis here," Lux said. "That's just not realistic. The competition between Triple-A and here, you can't even compare it. It's night and day."
And, as Roberts pointed out, the next phase of Lux's development is to add more power to his game. He's certainly flashed it, but his slugging percentage ideally can get higher for a player with his offensive talent.
Lux believes that will come.
"There's no freebie at-bats here, so it's just learning how to hit and control at-bats first, and then the power comes later," he said. "I think that's a cliche saying, too, 'Power comes last.' I think that's a fair assessment."
Streaking Dodgers
There's one big part of Lux's improvement this season that can't be overstated: He's playing with some of the best players in the world right now, and some of the best ever, too.
The Dodgers entered Thursday's series finale with a lofty 81-35 record, the best in the majors, and had a massive 17-game lead over the Padres for first place in the NL West.
The Dodgers have All-Stars everywhere, like Freddie Freeman at first base, Trea Turner at shortstop, Justin Turner and Max Muncy in the infield and Mookie Betts in right field, as well as a surefire, first-ballot Hall-of-Famer in starting pitcher Clayton Kershaw.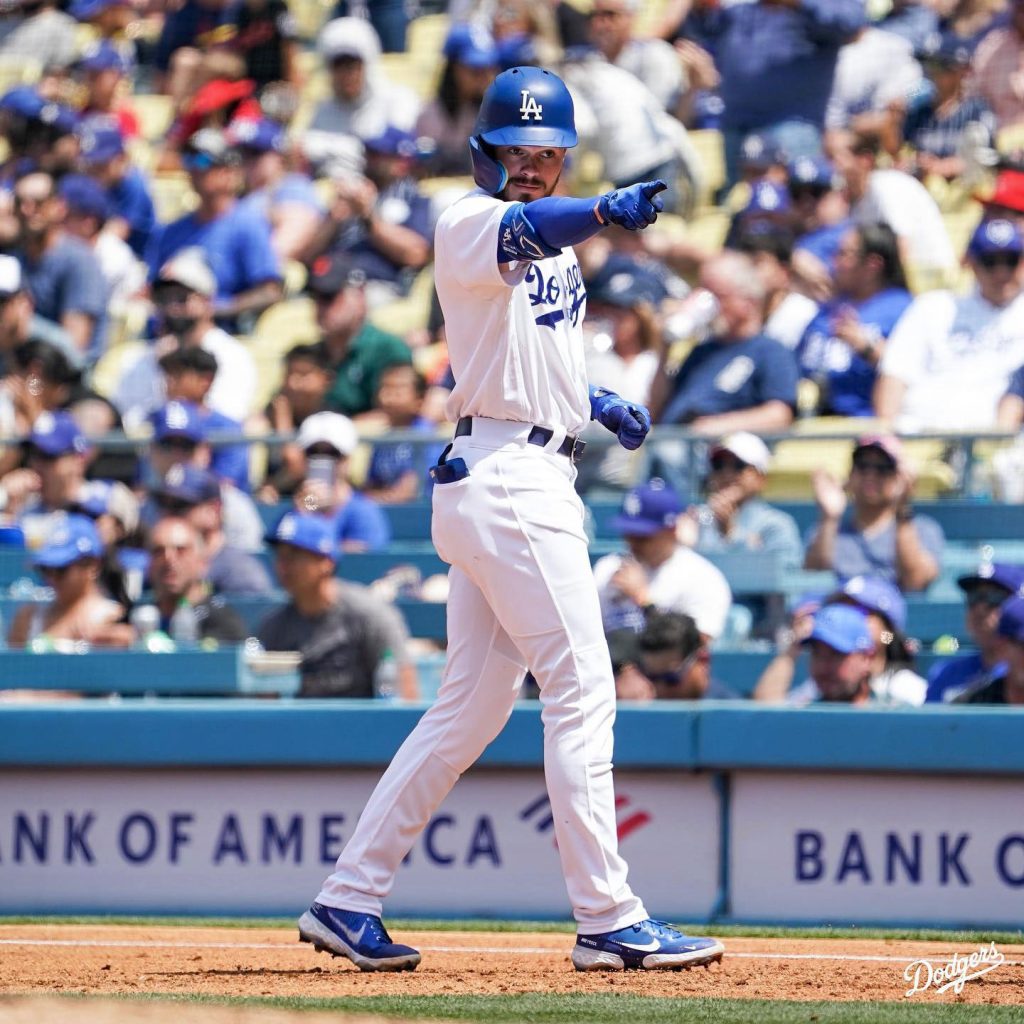 Those are just some of the names on a roster that's the envy of baseball, stacked from top to bottom with talent as it seeks a second World Series title in three seasons.
"There's so many good players," Lux said. "You look in the locker room, to your left or your right, there's MVPs, All-Stars, future Hall-of-Fame players. You feel lucky, for sure, because you get to be around it and pick guys' brains every day, which a lot of teams, you don't get that opportunity to be so lucky.
"It's cool. I definitely try to take advantage of it and learn every day. It's cliche, but that's real."
Nomar Garciaparra, a six-time All-Star who had a 14-year Major League career, is now a Dodgers analyst for Spectrum SportsNet LA. He said Trea Turner, who joined the team at the trade deadline last season, and Freeman, who signed with the team after winning a Word Series with the Atlanta Braves last season, have especially helped with Lux's maturation.
"What I've really seen from him is the change in his approach at the plate," Garciaparra said before Wednesday's game. "I think there's been an incredible influence from certain guys, like Freddie Freeman and Trea Turner, that have joined the team. I think he can, not only just from talking to (them), but I think he can see the way those guys approach (being) at the plate and hitting.
"I think he has embraced doing that. That's really the change, from always looking to have to hit the ball as hard as you can on every single swing to not having to do that, recognizing that contact is key and that the power will still be there."
Playing near home
Lux played in Milwaukee as a big-leaguer for the first time last season, but that series extended from late April into early May, when crowds were still restricted by the pandemic.
This week, that hasn't been the case.
But while playing in front of your family and friends is certainly a thrill, it can also be difficult.
Garciaparra, who hails from Southern California, was in that scenario many times during his long big-league career, in which he played for four teams.
"It can be difficult, no doubt," Garciaparra said. "People that have been supporting you, you want to do well in front of (them), so maybe you add a little more pressure to yourself. And then you also want to make sure you're making time for them to show them how much you appreciate them, as well, and you're excited. So you have that added adrenaline, as well.
"… It's not easy. But you always tell yourself, 'They're still going to love me regardless of what I do.' So that's what's great."
Said Lux: "You can get thrown off your routine a little bit, seeing family and friends and trying to do everything. At the same time, it's a lot of fun, because a lot of people that I don't get to see a lot see me play, and I get to be here, which is always fun."
Belting a homer on Monday night in front of the home fans certainly made it even better.
"He hits a home run, and he goes, 'I get to see my grandparents, who haven't seen me play in so long,'" Garciaparra said. "That's priceless. That's what you remember. I remember the same thing, those moments, looking up in the stands and my friends and family were all (cheering)."
And to relate to what Lux is feeling this week, there's probably no better source than someone like Garciaparra, who once went through everything Lux is going through now.
"You're playing at the highest level," Garciaparra said. "This is your dream."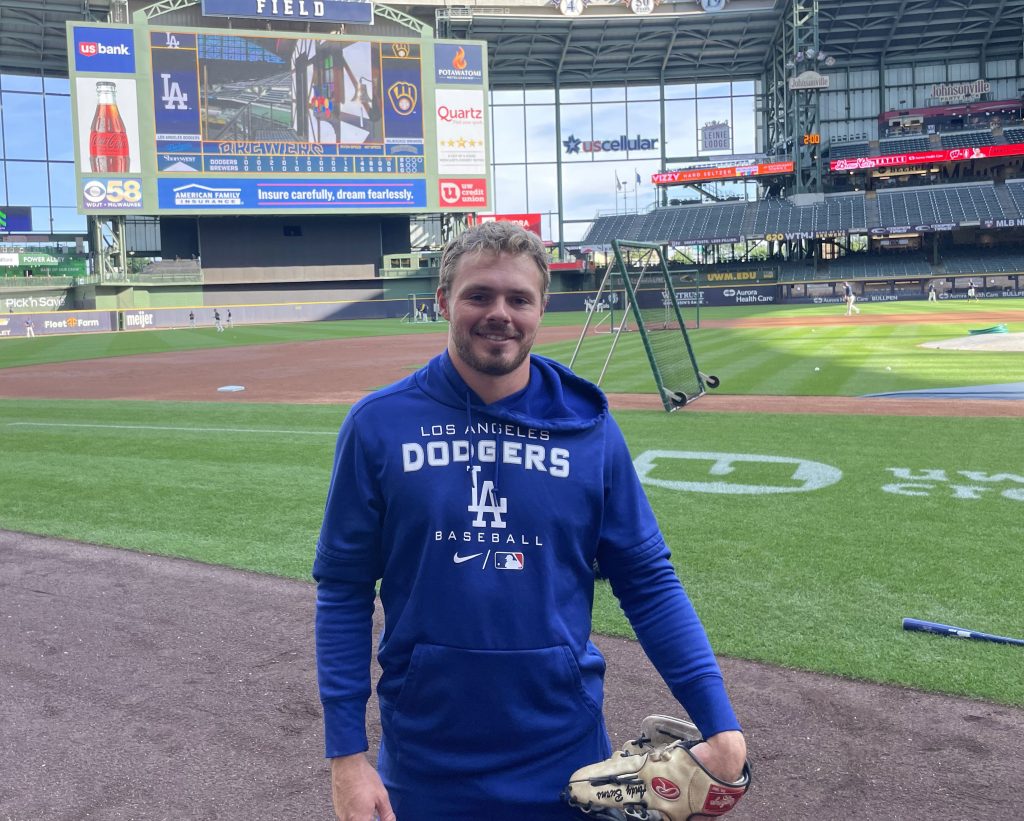 More from Gavin
Lux's uncle and mentor is Augie Schmidt, the longtime head coach of the Carthage College baseball team and himself the No. 2 overall pick in the MLB Draft back in 1982. Does Lux still talk to Schmidt regularly? — "Every day, I talk to him pretty much. We're on the West Coast, the time zone's a little different, but I text him pretty much every morning. Now that we're in the same (time) zone, we talk pretty much every night. He's my go-to guy."
Favorite Brewers player growing up? — "I loved Rickie Weeks. Rickie Weeks was like my favorite player growing up. I loved J.J. Hardy, but Rickie Weeks was like, man, I liked him a lot. I loved Rickie Weeks."
If he got a chance to eat at any of his favorite Kenosha restaurants between games while he was home this week? — "I DoorDash-ed Infusino's my first night here, and that's kind of my go-to spot. But other than that, I haven't had too much time. I've been sleeping a lot. It's August, so we're 120 games in. Just trying to rest as much as possible has been big."
NOTE: To nominate a Kenoshan of the Week click here or email Andrew@Kenosha.com.