One of the best features of summertime in Kenosha is live music.
All throughout the city during the beautiful summer days and nights, a wide variety of live performers send their music wafting through the air, from classic rock-and-roll to blues, jazz, folk music, reggae and even some polka.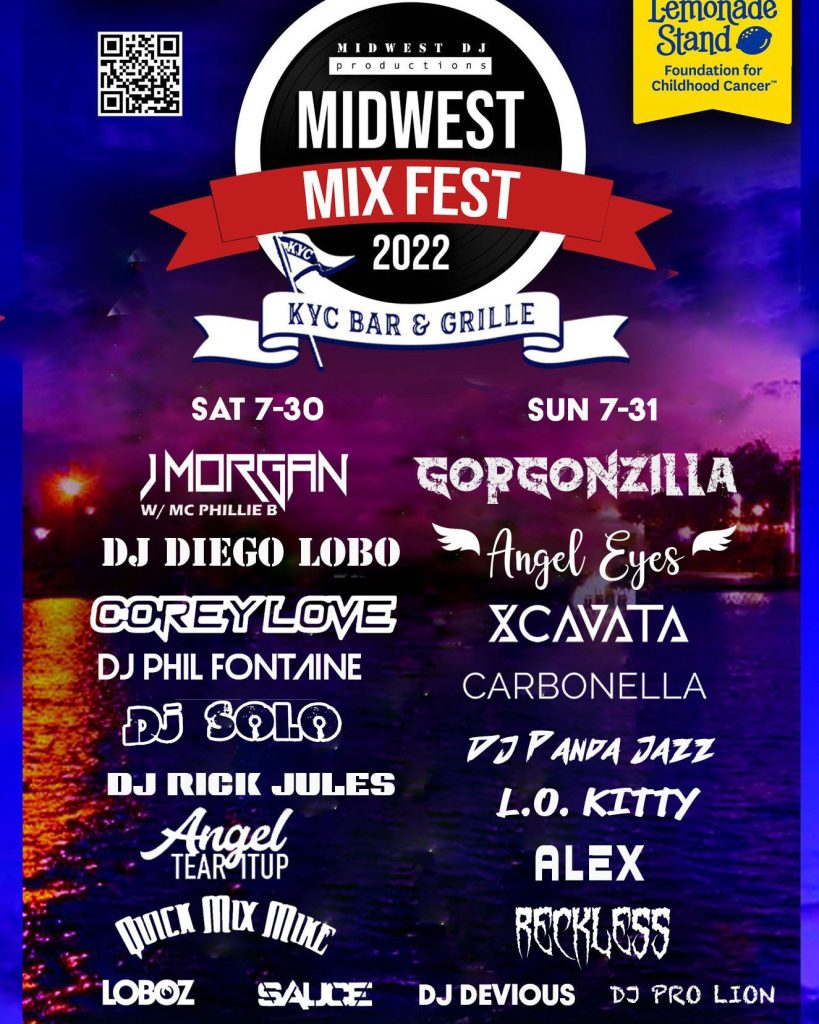 But there's another type of genre that's become increasingly popular in the area over the years, electronic music. And for the second year in a row, Kenosha-based Midwest DJ Productions, owned and operated by the husband and wife team of Diego and Dianna Villalobos, is presenting a fantastic festival of live electronic music to Kenosha, all with the goal of raising money for pediatric cancer research.
Midwest Mix Fest 2022 will bring a talented array of DJs to the Kenosha Yacht Club grounds, 5130 Fourth Ave., on Saturday from 1 to 10 p.m. and Sunday from noon to 9 p.m. All 100 percent of ticket and raffle sales will be donated to Alex's Lemonade Stand Foundation for Childhood Cancer.
Midwest Mix Fest's Facebook page says tickets are $10 per day, with anyone under 18 admitted free. But Diego Villalobos said the fee is really just a suggested donation, so there's no required entry fee.
"We're not going to turn anybody down," Diego said in a phone interview this week.
Featuring DJs
The main feature of Midwest Mix Fest, of course, are the 20 DJs scheduled to perform, 10 each on Saturday and Sunday's lineup, per the event's Facebook page.
Diego said most of the DJs this weekend will be spinning vinyl on their turntables, and they'll represent a variety of styles.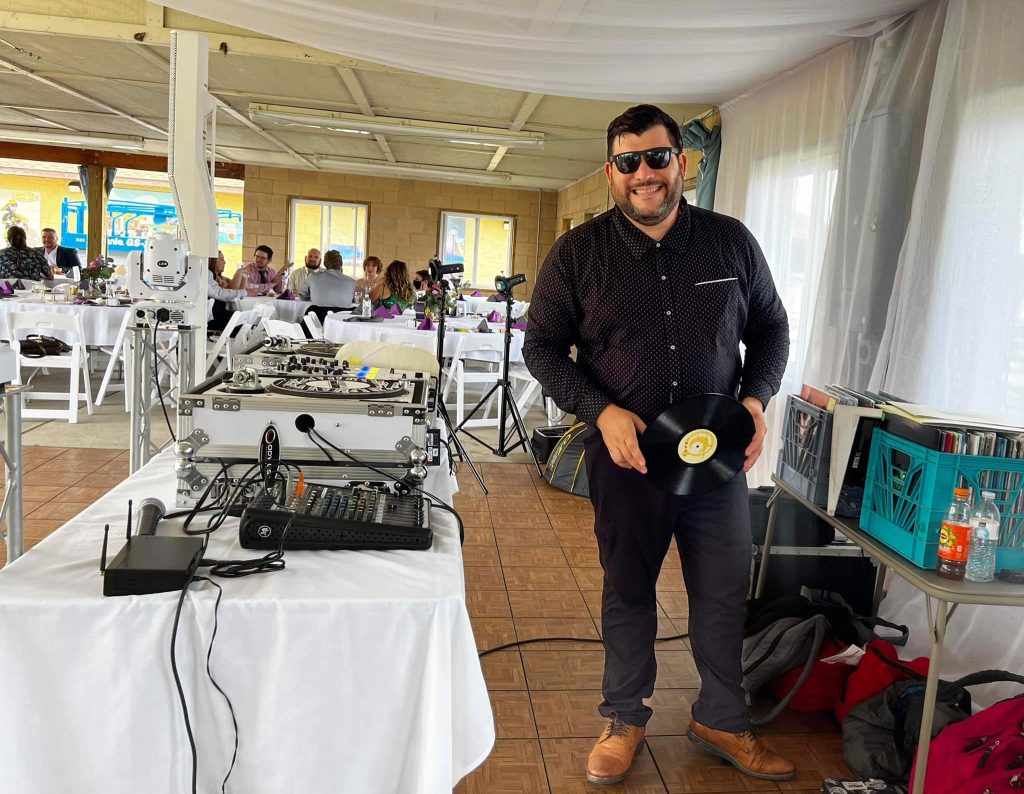 "We're going to entertain you guys with some really good local talent and some guys from around the area," said Diego, who also goes by "DJ Diego Lobo" and is scheduled to perform at 8 p.m. Saturday. "We're mixing it up, too. We have over 20 DJs, so it's not just the same vibe, the same sound. Every hour, you get a different guy up there.
"We play a lot of electronic music. Being that we're so close to Chicago, we have a lot of influences. We've got a little mix of everything going. We're definitely going to have guys throwing in some Latin in there, a little hip-hop, just diversity. A good, nice mix of vibes and music."
Diego and Dianna established Midwest DJ Productions, located on the top floor of Kenosha Creative Space at 624 57th St., in 2008. After more than 20 years overall of providing music for weddings, corporate events and other special events, they've seen the popularity of electronic music grow.
With so many other types of live music featured around Kenosha during the summer, they wanted to create something to feature electronic music.
"We're trying to bring in a little flavor, give our city options," Diego said. "Obviously, folks do enjoy the music, but there are those that enjoy a good DJ in our city. We've been working here in Kenosha for over 20 years, and we've been providing that vibe and that entertainment for over 20 years.
"Now it's getting to the point where it seems like on a more citywide, mainstream basis, that's what they're looking for now. That's what we want to do. We're trying to just give them more options."
Last year's inaugural Midwest Mix Fest, held at TG's Restaurant and Pub, was such a hit, Diego said, that he and Dianna want to now make it an annual event.
"We felt that we got a great response from it," Diego said. "Not just the attendees, but the DJs had so much fun, and all the vendors, everybody was just dying to do it again. So we're going to definitely try to do this on a yearly basis."
Midwest DJ Productions is also getting involved in other local events, including helping to organize Hispanic Heritage Fest, scheduled for Sept. 17-18 at the Pennoyer Park Bandshell.
Food, other entertainment
Of course, a good summer music festival isn't complete without great food options, and Midwest Mix Fest has you more than covered in that regard.
Food vendors for Midwest Mix Fest include Pops Smoke Pit LLC, which will provide a variety of delicious barbecue options and smoked meats, Ashley's Delicious Egg Rolls, 911 Tacos, a popular taco truck, and Snow Boyz Snow Cones, for some sweet refreshment.
The event will also feature something of a "celebrity" turkey leg-eating contest, scheduled for Saturday at 6 p.m. As of this week, three of the contestants scheduled to compete are Kenosha's Porche Bennett-Bey, named Time Magazine's Guardian of the Year in 2020, 10th District Alderperson Anthony Kennedy and Kenosha Police Officer La'Ryan Johnson, a standout football player and wrestler during his time at Bradford High School.
There will also be live graffiti art and a variety of entertainment options for kids, including a clown, balloons and an appearance by the Hot Mess Express, a mobile art bus from Kenosha's Hot Mess Studios LLC.
Additionally, Midwest Mix Fest will be co-hosted by local content creator and social media influencer Koerri Elijah, along with Dianna Villalobos.
Raising money
As previously mentioned, while Midwest Mix Fest aims to bring great electronic music, food and entertainment to Kenosha, the charitable cause is to raise money for Alex's Lemonade Stand Foundation for Childhood Cancer.
Alex's Lemonade Stand was founded by Alexandra "Alex" Scott, who was just four years old when she held her first childhood cancer fundraiser by running a lemonade stand in her front yard, raising over $2,000, according to the organization's website. By the time of her death in 2004, Alex, diagnosed with neuroblastoma, a type of childhood cancer, raised $1 million "and inspired a legacy of hope and cures for childhood cancer."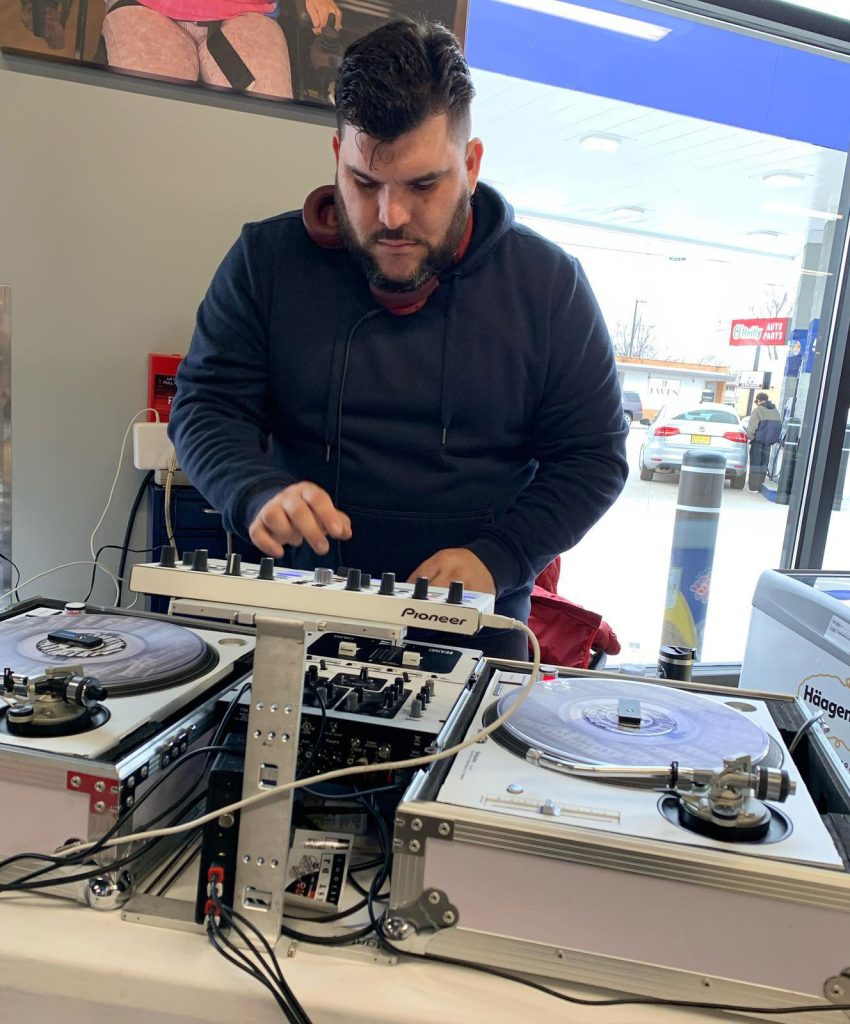 "We've been working with them for quite a while now," Diego said of the foundation. "My wife and her sister, and her family, originally started working with them about 12 years ago, (putting up) lemonade stands."
Great live music, great food and entertainment, all while raising money for a great cause? Midwest Mix Fest sure sounds like a big win-win for Kenosha.
"The main purpose for the festival is, first of all, to try to unite the community and give (people) entertainment, give them something to do, have some good vibes, good energy, good music," Diego said.