Close your eyes, take a deep inhale through your nose and try to imagine the following tastes and smells: Italian sausage, deep-fried meatballs, mozzarella sticks, Italian donuts, home-made egg rolls, cream puffs, pizza, cannolis.
Are you hungry yet?
Those are just some of the delicious foods that will be served up this weekend at the 73rd annual Our Lady of Mt. Carmel Church Festival in Kenosha's Columbus Park, which is located adjacent to the church, 1919 54th St., at 22nd Ave. and 54th St.
The Mt. Carmel festival runs all weekend, on Friday from 6 to 11 p.m., Saturday from 4 to 11 p.m. and Sunday from 2 to 10 p.m. A free shuttle will be available in the Columbus Park area to take patrons to and from the festival.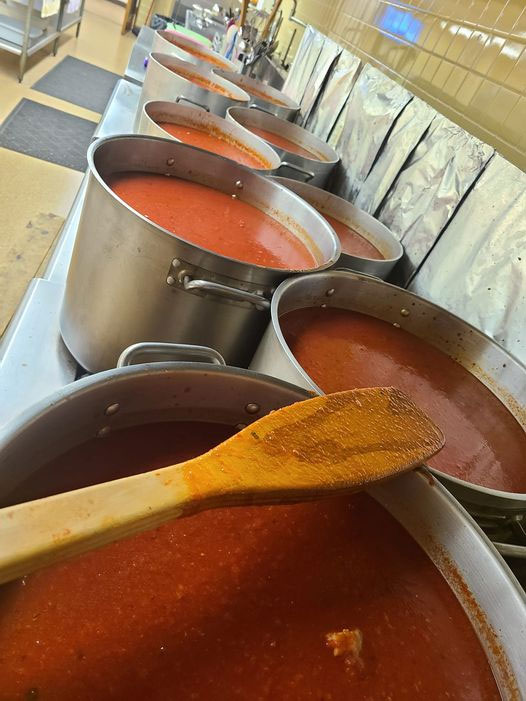 Coming right on the heels of Fourth of July weekend and all the great festivities that entailed, the annual festival at Mt. Carmel is just the start of another great summer-time tradition in Kenosha, the church festival season.
As the flier for the Mt. Carmel festival states, "Come for the food, stay for the entertainment!" There will be plenty of that, including live music.
On Friday, Take 4 will perform from 6 to 8 p.m., followed by Boys & Toys from 9 to 11 p.m.
On Saturday, Serendipity will perform from 5 to 7:30 p.m., followed by The Jersey Girls from 8:30 to 11 p.m.
And on Sunday, The Chevelles will perform from 3 to 5:30 p.m., followed by Tailspin from 6:30 to 9 p.m.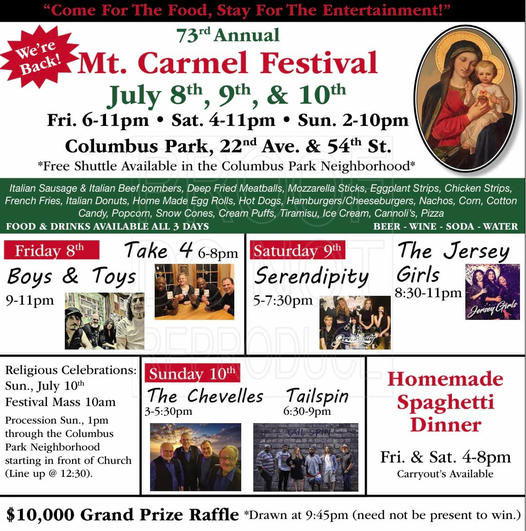 And, as mentioned before, plenty of great food will be available, including Mt. Carmel's famous homemade spaghetti dinner from 4 to 8 p.m. both Friday and Saturday. And in case you can't eat enough spaghetti at the festival, carryouts are available.
Beer, wine, soda and water will also be available all weekend, and games and prizes will be plentiful, like at any church festival. The $10,000 grand-prize raffle will be announced at the end of the festival, at 9:45 p.m. Sunday, and whoever wins does not have to be present at the festival at the time of the drawing.
Mt. Carmel will also offer religious services on Sunday morning, with a festival mass at 10 a.m. and a procession through the Columbus Park neighborhood starting in front of the church at 12:30 p.m.
While Mt. Carmel holds one the longest-running church festivals in Wisconsin, and the longest-running one in Kenosha – this would be its 75th if not for two years missed due to the pandemic – thankfully it's not the only church festival in Kenosha this summer if you're looking for more.
Here's a listing of other church festivals in Kenosha this summer:
St. Therese of Lisieux Catholic Church, 2020 91st St.: July 15-17.
St. Mary Catholic Church, 7307 40th Ave.: July 23-24.
St. Peter's Parish, 2224 30th Ave.: Aug. 5-7.
Our Lady of the Holy Rosary of Pompeii, 2224 45th St.: Aug. 12-14.
To access a complete list of church festivals at parishes throughout the Archdiocese of Milwaukee, which includes Kenosha, Racine, Milwaukee and Waukesha counties, you can visit THIS LINK.