If you've ever heard the phrase "Chamber of Commerce Day," well, that was Sunday morning along Kenosha's lakefront.
The weather was so perfect, so gorgeous, that's the kind of day the Kenosha Area Chamber of Commerce would advertise when selling the city to others.

Which meant that the 44th annual Kenosha YMCA Firecracker Run, presented by Uline, absolutely hit the jackpot when it came to weather conditions.
Held Sunday morning, starting at Library Park and then around downtown and the lakefront before finishing back at Library Park, it's hard to imagine the annual Firecracker Run could ever be more perfect than it was this year.
"Usually I have to stress about the weather all week," said YMCA Member Engagement Director Tenille Fick, also the race director for the Firecracker Run. "This year, I didn't have to stress at all. When does it ever say 8 percent chance of rain?"
This year's race had a multitude of options for competitors. There was a timed 5-kilometer in-person race, along with an in-person untimed 1-mile "fun run." Additionally, there were three virtual options, a 5K, a 10K and a 1-mile "fun run."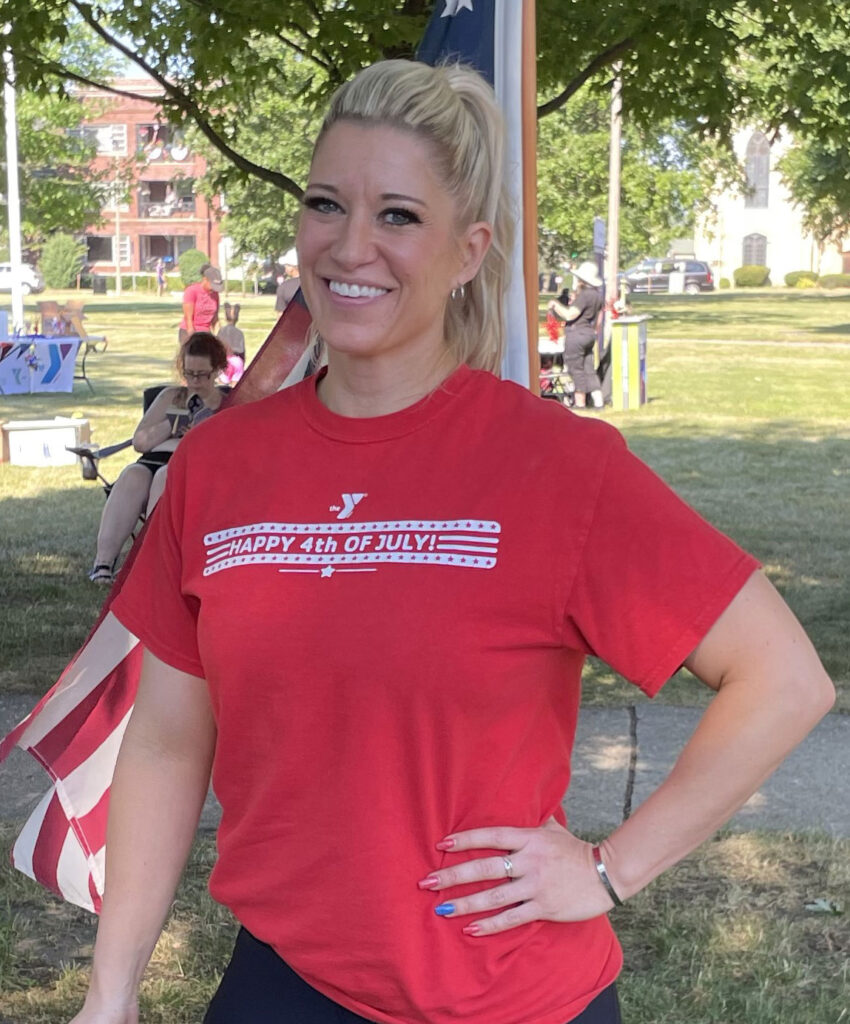 Fick said 371 runners, ranging in age from four to 77, registered in total for all the races, but just a few of those registered for the virtual options. Which means this year's Firecracker Run served as another indicator that things are returning to normal in the wake of the COVID-19 pandemic.
Including families, volunteers and race supporters — and a few friendly dogs, of course — well over 400 people were in and around Library Park on Sunday morning, and all appeared to have big smiles on their faces.
Additionally, reigning Miss Bristol Amanda Palmen sang a nice rendition of the National Anthem before the start of Sunday's race.
"We're not exactly where we were pre-COVID, but we're going to get there," Fick said. "I'm hoping next year. But (this year was) better than last year.
"We have more runners, more participants, less virtual runners, too, so people are opting for the in-person. We're better than last year, and to me, that's a win."
The untimed 1-mile "fun run" was also added as an option this year, and it attracted quite a few families and younger racers. It was a great alternative to the 5K race, which is 3.1 miles.
"For some people who don't want to run three miles, or a little over three miles, and maybe that's too much, we wanted to offer a 1-mile option," Fick said. "It's not timed, it's just for fun. You can run it, you can walk it, and the kids are really liking this one."
Dominic Ruffalo, Kenosha's 16th District Alderperson, once again participated in the Firecracker Run, which he said was "easily" over his 20th.
"Today's a gem," Ruffalo, 71, said. "It's a good turnout. The YMCA does an excellent job.
"… It's wonderful. COVID killed all these events, and they all were virtual. It's good to see the people out in Kenosha enjoying our lakefront."
First-time winners
Both the overall winner and the top female finisher in this year's 5K race were first-time Firecracker Run participants.
Lucas Springstroh, 34, of Fort Atkinson, topped the entire field with a time of 16 minutes, 39 seconds. A competitive runner in high school but not in college, Springstroh said he started to really get back into running during the pandemic.
"Because, what else was there to do?" he said.
Springstroh said he decided to give the Firecracker Run a go this year, and he was definitely impressed.
"It was pretty fantastic," Springstroh said. "Nice finish, nice, long tenth-of-a-mile straight finish. It was good stuff. Very, very well-run race.
"… I'll definitely be back again, because this was really well-run."
Amanda Johnson, 25, of Racine, was the top female finisher in the 5K with a time of 18:19.
Johnson ran at Racine Park High School, graduating in 2015, before competing for six years — including a free year of eligibility granted by the NCAA to all student-athletes because of the pandemic — at the University of Wisconsin-Parkside.
Johnson competed in the Racine YMCA Lighthouse Run the weekend prior to the Firecracker Run, but this year was the first time she's entered the Firecracker Run.
"It's definitely exciting to see people back out in the community competing together once again," Johnson said.
This year's Firecracker Run was timed by J3 Timing. Here are the age-group winners from the in-person 5K. Full in-person 5K race results can be found HERE.
MALE
Overall: Lucas Springstroh, 34, Fort Atkinson, 16:39. 1-14: Eduardo Guzman-Franco, 14, Kenosha, 20:51. 15-19: Dylan Hartnek, 19, Union Grove, 18:19. 20-24: Nathan Glinski, 22, Kenosha, 17:18. 25-29: Ryan Kulwicki, 25, Kenosha, 16:51. 30-34: Quinn McKenzie, 32, Whitewater, 18:02. 35-39: Ray Allen, 38, New Berlin, 21:42. 40-44: Freddy Garcia, 42, Kenosha, 17:12. 45-49: Horacio Martinez, 46, NA, 21:35. 50-54: Todd Yunker, 54, Kenosha, 20:53. 55-59: Garett Sillanpaa, 55, Kenosha, 20:31. 60-64: Dave Bornhuetter, 60, Kenosha, 21:38. 65-69: Ron Hunter, 69, Racine, 28:14. 70-74: Dominic Ruffalo, 71, Kenosha, 37:52. 75-79: Joaquin Roman, 77, Country Club Hills, Ill., 1:03:35.
FEMALE
Overall: Amanda Johnson, 25, Racine, 18:19. 1-14: Jill Herrmann, 13, Kenosha, 25:24. 15-19: Payton Scoggin, Kenosha, 20:45. 20-24: Molly Balch, Kenosha, 22:18. 25-29: Kimiyo Masaka, 28, Oak Creek, 21:07. 30-34: Anna Toth, 34, Kenosha, 22:45. 35-39: Meghan O'Connell, 39, Kenosha, 21:17. 40-44: Deb Scoggin, 43, Kenosha, 27:23. 45-49: Veronica Flores, 49, Kenosha, 22:53. 50-54: Francis Flex, 51, Kenosha, 22:48. 55-59: Cheri Neal, 59, NA, 28:39. 60-64: Arlene Martin, 61, Kenosha, 33:17. 65-69: Connie Rinaldi, 68, Kenosha, 35:10. 70-74: Maria Omori, 70, Crystal Lake, Ill., 38:19.