The Restaurant:
Scoops Ice Cream & Candy, 5711 8th Ave., is a family-run treat shop that has been serving Kenosha quality desserts for over 10 years.
The Featured Dish:
Badger Brownie Sundae — Warm chocolate brownie, two scoops of premium ice cream, whipped cream, chocolate sauce, caramel, chopped nuts and cherries on top.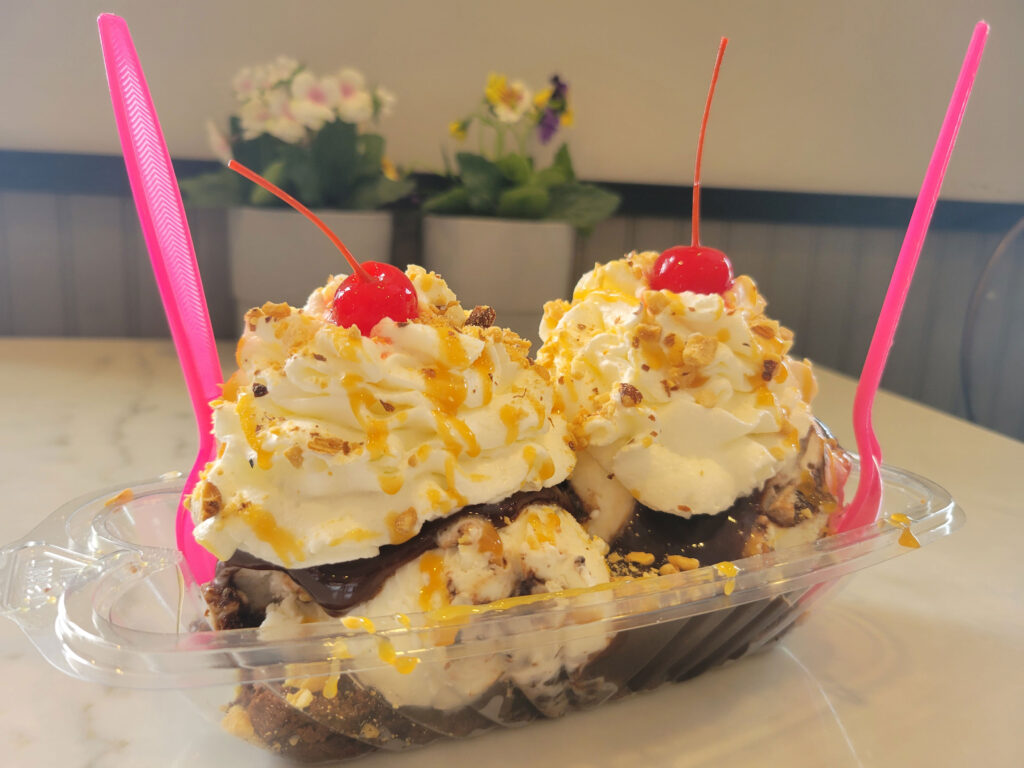 The Flavor and The Story:
Scoops is a must-visit as the weather warms up and outdoor activities begin. 
With over 30 flavors of super premium ice cream, homemade waffle cones, fresh lemonades, and candy galore, it would be near impossible not to find a sweet treat to get excited about.
The colorful assortment and classic displays are a feast for the eyes as well giving the feel of a classic soda fountain with modern amenities and plenty of smiles to greet you as you open the door.
As a locally owned and family run business, it's likely that the people scooping your ice cream are members of the large Scoops family which translates to a wonderful experience with service by folks who love what they do.
The ice cream is delicious, but the atmosphere and attitude add just a little bit of sugar on top to every Scoops visit.
On my most recent visit, I decided to go big or go home and try to tackle one of the signature sundaes, the Badger Brownie.
This mountain of deliciousness starts with a warm, homemade chocolate brownie that is then topped with two scoops of your choice of ice cream. 
You can pick anything from Zanzi-Mint to Cotton Candy, but I committed to one spectacular flavor, Heaps of Love.
Heaps of Love is described as "Everything and everything you could want."
It's vanilla ice cream loaded with Oreos, cookie dough, pecans, and chocolate & caramel ripples.
It's a lot, and it's amazing.
Just this ice cream and brownie alone would be enough to have me singing praises, but of course there's more.
The generous helping of ice cream is loaded with a mountain of fresh whipped cream, chopped nuts, and just the right amount of chocolate & caramel sauces.

Don't worry, they don't forget the most important part. There's always cherries on top.
The Badger Brownie is available every day for $7.25.
Scoops Ice Cream and Candy is currently open for dine-in and also accepts carryout and online orders. You can learn more about this wonderful location and see great photos at ScoopsKenosha.com.