Kenoshans "walking the walk" to celebrate Grace Welcome Center's 5-year anniversary celebration and fundraiser Friday will be in good company.
From Harborside Academy student volunteers to popular local musicians, community members, and the passionate team at GWC, there will be a cast of hundreds raising money and awareness this weekend to ensure that Grace Welcome Center can serve even more people in even more ways for years to come. Given what they've already done, that's saying a lot.
"This means a lot to me because we are not only able to serve other people, but we are also able to serve the people who help others, and it's just an amazing cycle of helping each other," said Harborside 7th grader Maggie King. "Grace Welcome Center does more than just the food pantry. They do showers, they have breakfast, clothing, haircuts. It's crazy how hard everyone works there."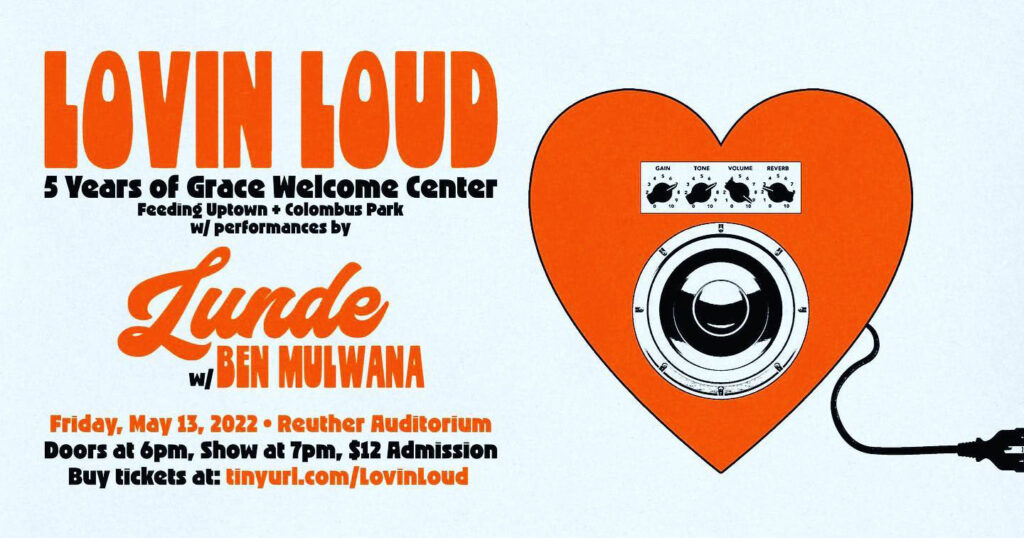 The celebration begins at Grace Lutheran Church, 2006 60th St., from 3-5 p.m. Friday (May 13) with volunteer-guided tours, a gallery of student art and research, family activities, kids' carnival, and a spaghetti dinner. A presentation follows from 5-6 p.m. featuring students and local dignitaries. The celebration then moves downtown for a concert with some big names in local music, Lunde and special guest Ben Mulwana, at  7 p.m. (doors open 6 p.m.) at Reuther Auditorium, 913 57th St. Spaghetti dinner tickets are available at the door, at GWC Thursday and Friday before the event and will also be honored for entry to the concert. Separate concert tickets for those not attending the dinner can be purchased online.
At the heart of the event are more than 100 Harborside Academy 7th and 8th grade students under the guidance of teacher David Underwood, who emphasized that teaming with Grace Welcome Center and Pastor Jonathan Barker perfectly aligns with the school's Expeditionary Learning (EL) focus.
"I believe that this event and everything in it exemplifies what EL is," Underwood said. "It's about learning with a purpose, it's about connecting our learning to our community around us, it's about learning that's not just for a grade. You try to create something for the community, something for an authentic audience. That's where you'll find the magic."
At Friday's event, every Harborside student involved will have a job, whether they serve as greeters, assist with parking, cook pasta, or give tours.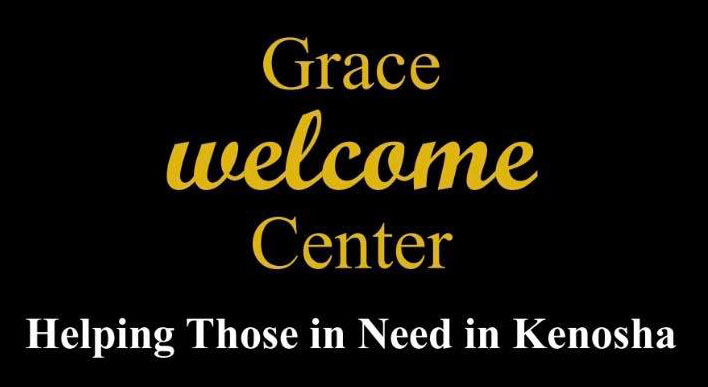 "As people come through, they are going to hear from our students," Underwood said. "It's really designed to give Pastor Barker's team a night to celebrate. I tell the kids we are serving those who serve humanity. And so we are coming together to raise funds so they can do their work."
The Harborside crew also rallied others in the community to assist, with DeRango's donating "gallons and gallons" of spaghetti sauce, PTSO donating funds, staff member Theresa Woods securing vendors for a mini craft fair, and teachers connecting with musicians to put together the culminating concert, all aimed at helping Grace Welcome Center meet the growing needs in our community.
"This means a lot to us," Maggie said. "This isn't just for the parents like a classic school event, this is for the community, it's a whole extravaganza."
The work of the Grace Welcome Center started in 2017 with Barker, who had a coffee maker and the simple idea that he could serve the community with dignity. The journey to what GWC is doing now is best told in their own words on their website:
For the past five years the Grace Welcome Center has been supporting the Uptown Community by providing a warm and caring place for those in need. Grace Welcome Center is a community based, grassroots organization aiming to provide food, shelter, and other services to help the people who need it most. We started our journey by providing free, home cooked breakfast one day a week through our location on 60th Street in Kenosha.
After our partnership with Harborside Middle School four years ago, we now offer breakfast, as well as showers, fresh, clean clothes, and personal hygiene products twice a week to help people stay clean and healthy. In 2019 we added a food pantry as a direct response to our immediate neighbors crying out for food assistance. Our goal is to ensure that no families living in the food desert of Uptown and Columbus Park go hungry. With the help of over 100 volunteers, each Tuesday evening the GWC Food Pantry delivers over three tons of nutritious food to over 140 families in need.
Harborside 7th-grader Jose crunched the numbers for us: "In 2021, they fed 297,000 pounds of food to 16,623 adults 8,623 children and around 520 families," he recalled from memory, with no data in front of him.
"It's more than the food pantry," Jose said. "Not only are you just helping people, by helping them you are emotionally helping yourself as well."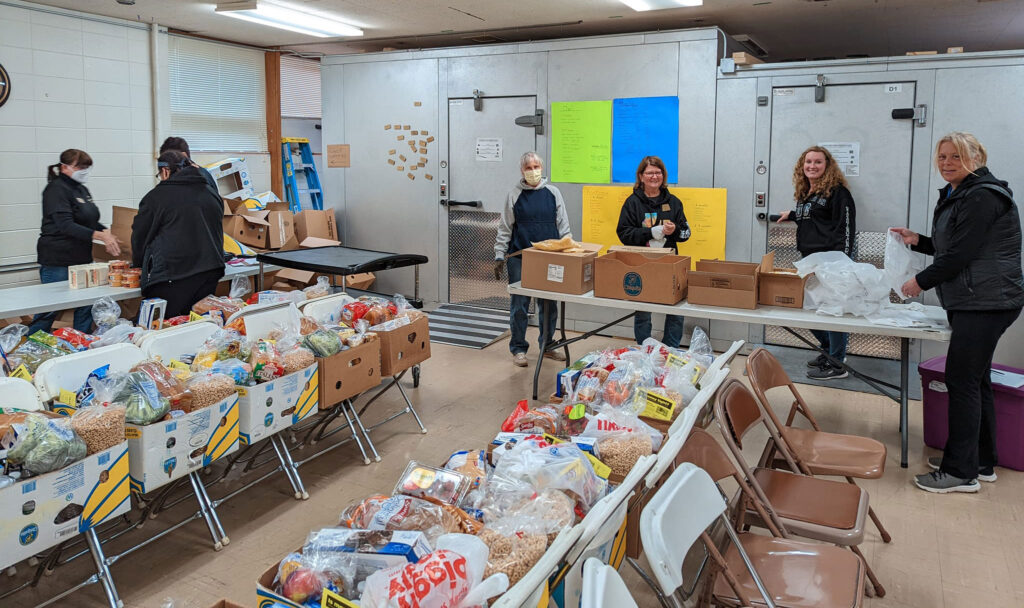 This is not the first time Harborside students threw a party with a purpose for Grace Welcome Center.
The partnership with Harborside started about a year into the welcome center's work. Students responded to the city's homeless crisis which was exacerbated by the closing of First Step shelter, located in the school's neighborhood. After a former client of First Step died, Underwood brought in a guest CUSH (Congregations United to Serve Humanity) to help students understand the tragedy and the underlying issue of homelessness in our community. That led to a listening session with Mayor John Antaramian, and eventually a connection with Pastor Barker.
After learning more about the needs of our community and hearing about people trying to find solutions, Harborside students got to work. In May 2018 they planned a benefit, Railroad to Shelter, featuring the band Cosmic Railroad who donated their time. Students also made posters raising awareness of the homeless crisis in Kenosha.
"Pastor Barker said that event gave them a lot of hope," Underwood said. "They felt really encouraged. We raised about $3,000 and through that event they were able to add another day of breakfast service to do both Thursdays and Fridays. That's where it all started."
As the relationship continued, Grace Welcome Center added a food pantry and Harborside responded by conducting food drives. The number of families served at GWC continued to rise, so students and staff were in the midst of planning another big event and creating calendars to raise funds, when Covid hit.
Throughout the pandemic, the connection never waned; flash forward to 2022, and even the students who had their work put on hold by COVID will be helping Grace Welcome Center in a big way.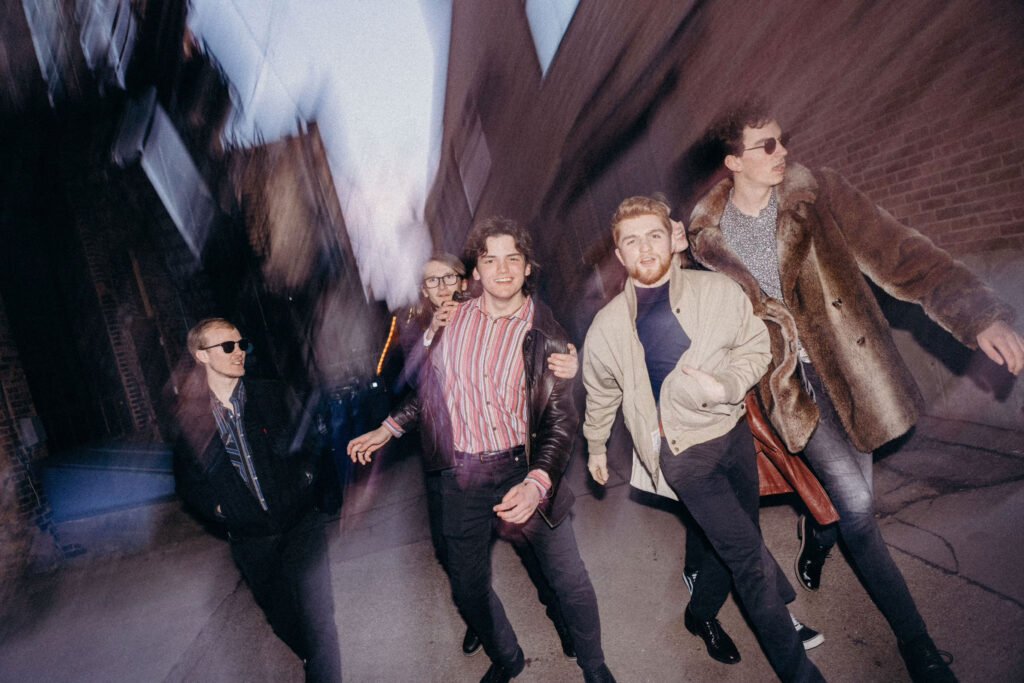 Not only is the calendar project being revived and revised for a fundraiser, one of those students involved back in 2020, Evan Steidtman, will take to the Reuther stage Friday night along with his Lunde bandmates and guest Ben Mulwana, contributing their talents in their Lovin' Loud show.
"David Underwood was one of my teachers, and he had floated the idea of doing a show over a year ago, so it's exciting to be involved with this," guitarist/vocalist Steidtman said.
"When I went to Harborside, their involvement (with GWC) was very embedded in each other, so students and staff would always help out there. It's a pretty important place and they are doing good things."
Lunde enthusiastically jumped on board and was able to provide expertise for the concert portion of the celebration.
"Over the past couple months we worked with them to figure out all the logistics — the venue, the ticket sales and the promotion," said drummer/vocalist Jeremiah Lunde. "It's special to be able to support an organization that so directly helps the community. There are a lot of different non-profits but not all of them are places you can go and serve. You can really see how it impacts the local community."
Lunde added that the band's goal for Lovin' Loud is "to see how many people we can get to come out. The whole theme of the event is celebration and that's where we come in," Lunde said.
It's just another busy week for the band, which just released a music video, "Sticking Around," and have live shows and new recordings coming up. They are also working with another non-profit on a music festival, with an announcement to come in the near future.
The impact of a student returning to continue the work begun at Harborside is no surprise to Underwood, who strives to make connections between the past and present. He even went back centuries to teach students how the past and present are connected.
"The Middle Ages are the Dark Ages, there's a lot of death and destruction. We learned about wars and black death and in English class they investigated what came after it, the Age of Enlightenment. So (in the student gallery) there will be posters of historians, scientists, and leaders from the Enlightenment period," Underwood said.
"This all ties back to the Grace Welcome Center logo," Underwood explained." It's light against a black background. Pastor Barker came in and talked to our kids right when we got started with the projects. He pointed out that we are living in dark times, and the light is how we serve each other, how we serve humanity. So that's the title of our event. 'To Serve Humanity Near and Far.'"
That bigger picture includes awareness of acute needs and events from Kenosha to Ukraine. Art reflecting on the war, complete with student artists' statements, will be on display. Blue and yellow ribbons used in a previous project, "Wrap a Tree for the Free" decorating Civic Center Park trees in the colors of Ukraine, will be on sale as well for individual use.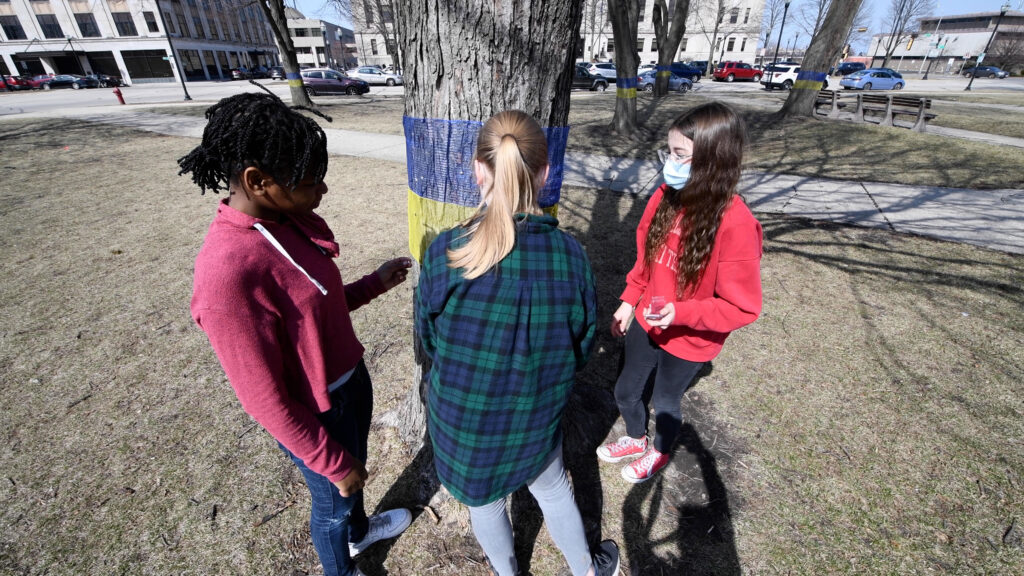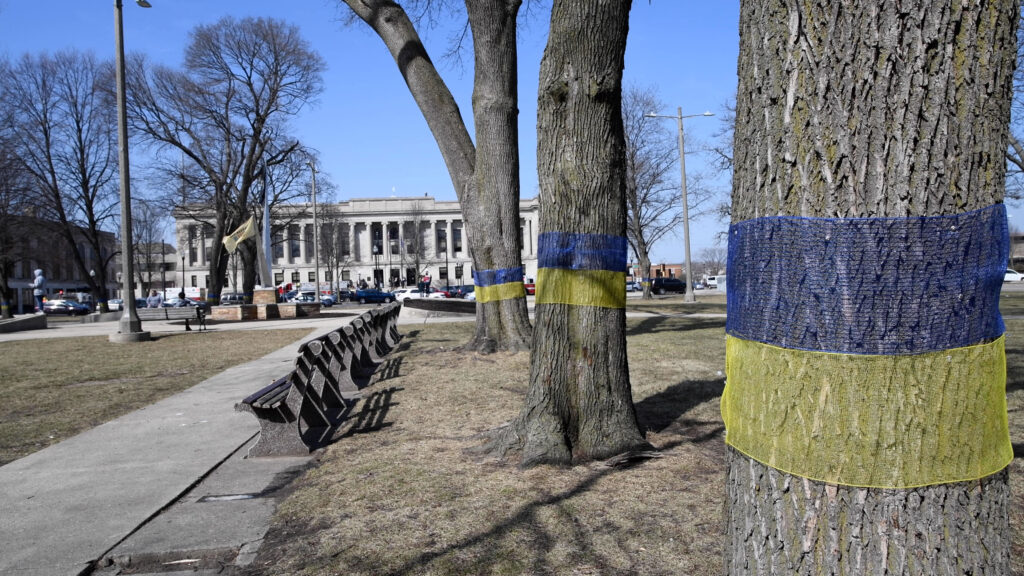 Harborside's deep connection with Grace Welcome Center will continue in full force even after Friday's events is in the books. Students are working on long-term projects that both directly benefit GWC guests and share the center's inspirational story.
The first project is connected to science curriculum, aimed at improving nutrition education. Students created recipe cards to accompany food weekly food distribution, along with a QR code providing families with information on healthy habits.
Research, technology and editing skills are involved in another ongoing project, creating a website documenting the history of Grace Welcome Center that will go live in the future.
"In the five years of the GWC, they have been so busy they did not have time to record their history. A lot has happened in five years," Maggie said. "So all four (7th and 8th grade) classes all took an event from their history and made a website. We really had to dig down deep and we made our own website to add onto the GWC site,"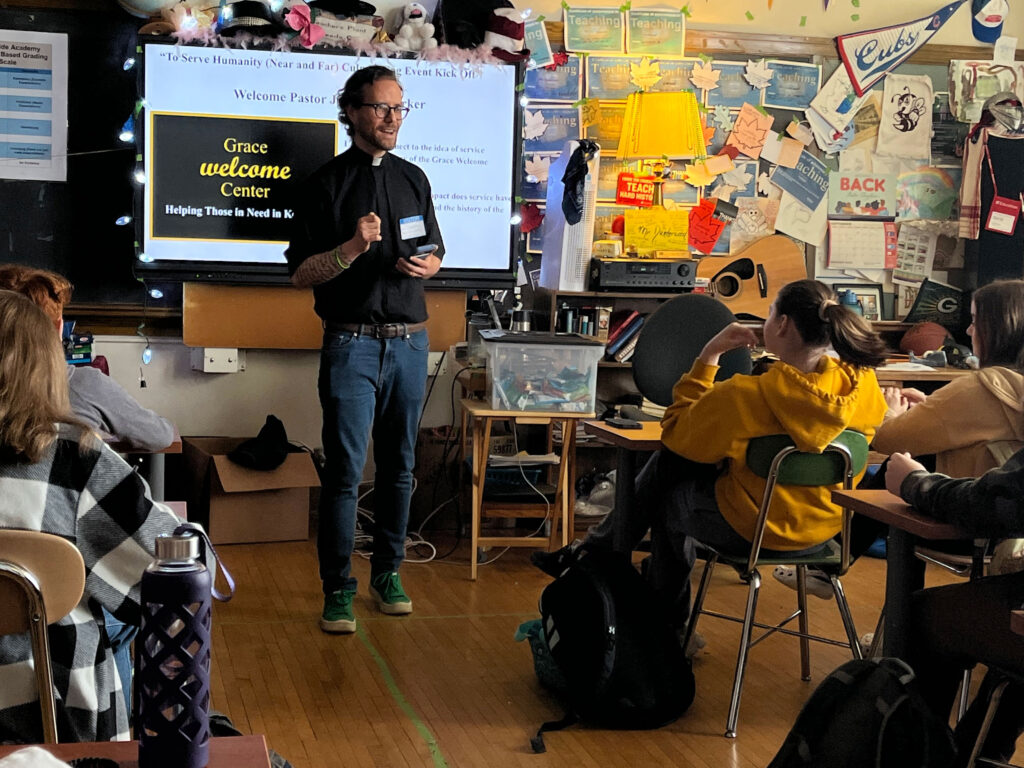 Between the student volunteers, musicians, and creators of everything from artwork to crafts and food, the GWC staff is grateful for the outpouring of love from the community.
"All of us at the Grace Welcome Center are beyond overwhelmed by the tremendous generosity of our community partners, who help us to reach our goals each year," GWC organizers said on their website. "We are super excited to share with our community all of the awesome things we have done and continue to do. Please consider partnering with us to make this truly a memorable event. Let's continue to "Love Loud" in our community!"