Home Renovations on the Rise
More than 70% of U.S. homeowners are planning a home renovation in 2022. Are you one of them?
Perhaps your family has outgrown your home or you're dreaming of a spacious master suite or gleaming new kitchen. Maybe you need an in‐law suite to accommodate aging parents or young adult children moving back home. Or maybe you're looking for a new home office to accommodate remote work.
Remodel or move – decide what's right for you
Whatever your project or plans, the decision to renovate your current home or sell and buy a new home to improve is ultimately up to you, your lifestyle, family and personal goals. However, there are several factors – financially and emotionally – that may impact your decision.
Moving is certainly one solution, but economically and socially, staying put and renovating may be a better choice. Housing inventories are tight and the competition for homes is high.

Al McIlwraith, Vice President, Private Banking, Johnson Financial Group
Considerations
Location, location, location
It may seem cliché, but the old real estate adage about location is solid. "If you love your neighborhood, are situated on a great lot, have friends and family nearby, and access to a good school system, you may want to stay and remodel your home to suit your current needs and tastes," McIlwraith says.
"You already know what works and what doesn't in your home, giving you an edge in planning any renovations."
On the other hand, if you're set on moving to a more desirable location, you can consider purchasing a new home and making improvements right away. The renovations can be financed as part of your mortgage financing process with a Purchase and Renovate loan.
Timing
Before listing your home on the market, consider housing inventories and market conditions. It can also be time-consuming to find a house that meets your desired criteria and budget. Is now a good time to sell and buy or build a new home?
Not only that – is now a good time for you and your family to move? Current and future life events could also impact your decision. Are you ready to change school districts, your commute time and the other changes that a move could bring?
Emotional Attachment
If you already have a home that you love or have lived there a long time, you may want to stay for sentimental reasons. A remodel or renovation can help you retain your memories while still adding the improvements you desire.
Making the right decision
Whether you decide to stay put and renovate your current home or fix up a new home, renovations provide the opportunity to increase your home's value. But not all renovations are created equal.
Before starting a home remodeling project, consider costs and the home's resale value once renovations are complete.
It's important to consider the potential resale value of any renovation. Compared to other home improvement projects, kitchen remodels, bathroom upgrades and additional square footage are generally some of the best projects for recouping your investment. Additionally, with the popular shift to remote work, home offices are becoming another trending investment and an attractive option for many homeowners and potential buyers.

Loren Fellows, Vice President, Mortgage Production Manager, Johnson Financial Group
"Consult with a realtor, appraiser or mortgage loan officer or banker who can provide guidance to ensure you're not over‐improving," says Fellows. "It's important to work with a reputable contractor. Request they bid your project including specifications, blueprints and total cost. Prior to proceeding with the contract, consider sharing the details with your mortgage loan officer or banker. We can order an appraisal based on the after improved value of the home to ensure you're making an informed decision regarding costs and value before the work begins."
Finance Options for Your Home Renovation
Finance your home renovation by choosing a loan option based on your personal goals and financial situation. Here are a few financing considerations to keep in mind with a Home Equity Renovation or Construction Renovation Mortgage Loan.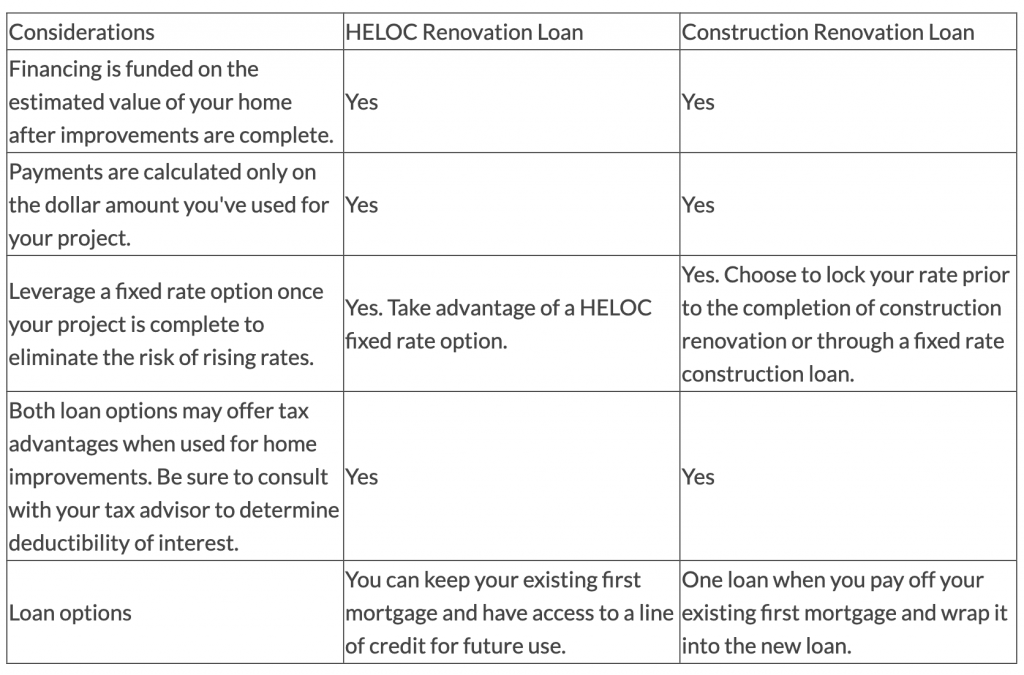 The Capital Gains Tax
"Finally, there are downsides to using cash," McIlwraith says. "If you liquidate an investment to pay for a renovation, you may trigger taxable capital gains. When you use a loan option with a rate that's still historically low with potential tax advantages, why not keep that money working for you instead?"
Make your dream home come true
If you're ready to tackle a home renovation, start talking with our team of mortgage loan officers and bankers, or reach out to your Johnson Financial Group advisor to explore your best options for financing.
Loans are subject to credit and property approval, bank underwriting guidelines, and may not be available in all states. Other loan programs and pricing may be available. Certain conditions, terms, and restrictions may apply based on the loan program selected. The term of the loan may vary based upon program chosen. Property insurance is required; if the collateral is determined to be in an area having special flood hazards, flood insurance will be required.