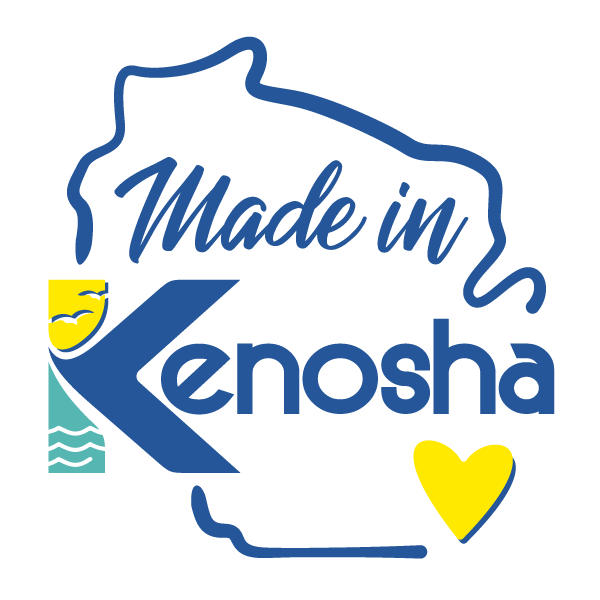 Like many Kenoshans, Sam Kuffel vividly remembers Jan. 7, 2008.
The then-freshman in high school was at basketball practice at St. Joseph when the team received word that a tornado was spotted in the area. The players were to seek shelter immediately.
A tornado? In Wisconsin? In January?
Instead of hunkering down in the locker room, Kuffel, a budding meteorologist, needed to look for herself at what was happening outside Madrigrano Gymnasium.
With the temperature in the 60s, a warm air mass moved into southeastern Wisconsin late in the afternoon and unleashed a rare severe-weather event. An EF-3 tornado ripped through Wheatland in western Kenosha County, destroying 20 homes. Later, a second EF-1 tornado touched down in Somers and the north side of Kenosha, causing damage to at least 75 buildings and homes.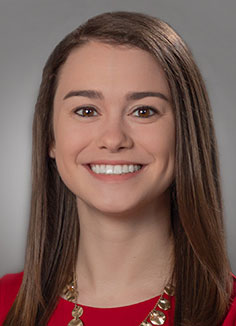 At the time, it was the first confirmed tornado in Kenosha County since 2001 and only the second and third in Wisconsin history in January.
Those unusual January weather occurrences had a profound effect on Kuffel. She went on to receive a degree in Atmospheric Science from UW-Milwaukee and has been a member of the CBS 58 weather team in Milwaukee since December of 2019.
"That day sticks in my mind, even to this day," Kuffel said about Jan. 7, 2008. "Just to see that damage firsthand was eye-opening. The curiosity of 'Why did this happen in January?' really piqued my interest."
The Wheatland tornado went through the backyard of the home of Kuffel's aunt and uncle, Sue and Bruce Lash. The second tornado was just north of her family home on the north side of Kenosha.
"I'm kind of like every other weather nut and was into it since I was a kid," Kuffel said. "There's always a couple of severe-weather or big-weather events that kind of cement it. That is kind of what got me into TV because my aunt and uncle were interviewed afterward by TMJ4. That is when I started watching local news. It all kind of weirdly came full circle."
The second big-weather event occurred three years later — the infamous Groundhog Day blizzard that dumped anywhere from 21 to 26 inches of snow on the area overnight. Feb. 1, 2021, marked the storm's 10-year anniversary.
"I just remember that was insane," Kuffel said. "Living by the lake, we were outside shoveling for hours. The drifts were four or five feet high.
"On the second day, we didn't have school, but we still had basketball practice. I sound like my grandparents when I say this, but I had to put on my boots and walk down to 22nd Avenue for somebody to pick me up so I could go to basketball practice. It really heightened my love for the lake-effect and winter version of severe weather."
While in college, Kuffel worked for Innovative Weather, a private forecasting company that provides more specific forecasts for clients like WE Energies, Summerfest and the Milwaukee Brewers. She also interned for Milwaukee television news meteorology legend John Malan at TMJ4 for two years.
Out of college, Kuffel took a job at WAOW in Wausau and spent three and a half years as the midday meteorologist. She also worked for the weather forecasting and consulting company Great Lakes Weather Service.
"Honestly, when I was in college, I wasn't even planning on going into TV," Kuffel said. "I did the internship with John Malan one night a week. The job at WAOW just kind of popped up — a Monday to Friday gig with banker's hours? I'll take it.
"You are not going to find that in meteorology in the state you want to be in, too. I kind of just took a leap of faith and it worked out. I really enjoyed my time up there. I really got lucky with that job."
Working for the National Weather Service, which operates 122 weather forecast offices in six regions (including one in Sullivan), remains her No. 1 goal — one she has had since she was a little girl.
"That's just because I've always loved severe weather," she said.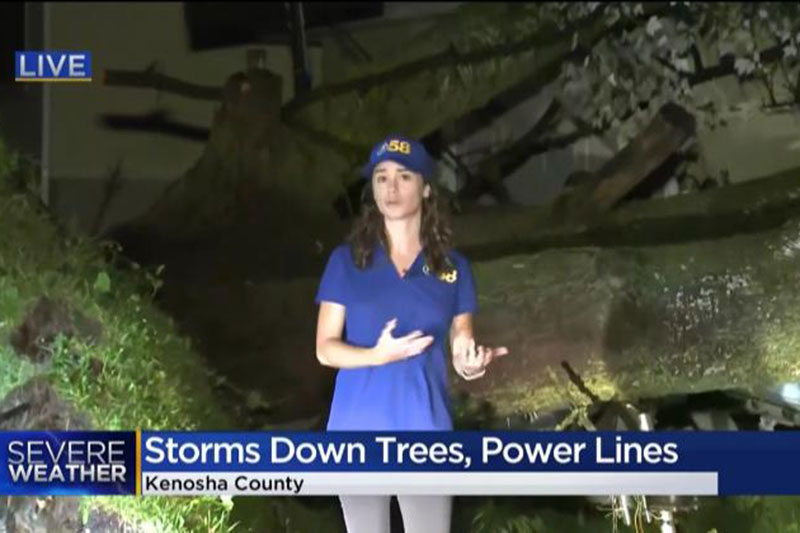 In the summer of 2019, Kuffel was beckoned back to the big city. A job opening at CBS 58 was too good to pass up. Chief meteorologist Drew Burgoyne tabbed the Kenosha native to join his versatile and knowledgeable team, which includes Michael Schlesinger, Rebecca Schuld and Justin Thompson-Gee.
"I did not think it was going to happen this quickly," Kuffel said about working in Milwaukee. "I figured there would be another station in between. They had an opening and it just fell into place. I am really grateful that it did. I work with a great team. I haven't had a team experience like this with a bunch of enthusiastic meteorologists."
The transition was not an easy one, though. Unfortunately, the COVID-19 pandemic exploded not long after her arrival, making for some major adjustments, including broadcasting from home.
"I was only at the station for about three months before I got sent home," she said. "There have been times off and on when we have active weather or severe weather where we will go to the station. Other than that, it has been over Zoom. It will be nice to be able to get back to some normalcy just to see my co-workers again."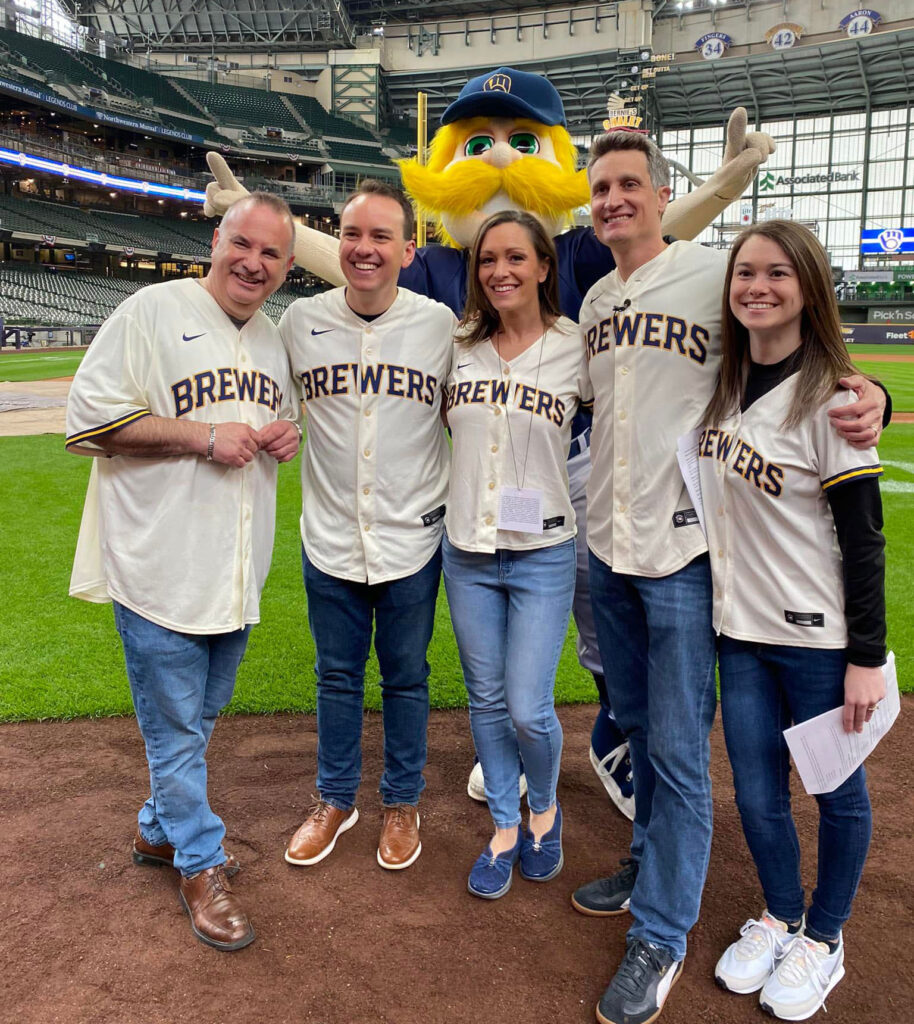 With most of her family in Kenosha and the surrounding viewing area, the daughter of Paul and Nancy Kuffel calls her three grandparents "probably my most loyal viewers."
Active on social media — @SamKuffelWx on Twitter and Meteorologist Sam Kuffel on Facebook — the diehard local sports fan, who puts the Milwaukee Brewers in the top spot, is at ease chatting about weather and sports. She said she will stick with her career choice and keep sports strictly as a hobby.
However, there is a good chance that a forecast will include some weather stats relating to sports.
"I don't think I'd ever go into sports because I like to stay pretty biased toward our Wisconsin sports teams," she said with a laugh. "I take so much pleasure in weather, but it's also a job, so I don't want to have the other thing I really love also become a job."
Going back to 2008, Kuffel was asked if those former high school teammates would be surprised to see her on TV.
"They're not surprised," she said. "Everyone knew I wanted to be a meteorologist and I was the one who always said I'm never going to be on TV. If you tell someone you want to be a meteorologist, they're like, 'OK, we'll see you on TV someday.'
"It is pretty exciting. Friends who don't live in the area anymore, when they come home for holidays and catch a newscast, they get excited and reach out."
Getting to know Sam
Your perfect weather day — "Sunny and 79 degrees during the day with thunderstorms in the evening. The best of both worlds!"
Favorite food — "It's a tie between a ribeye steak and Infusino's mostaccioli."
Three favorite movies — "Moneyball," "42," and "Hitchhiker's Guide to the Galaxy"
Hobbies outside of work — "I'm a huge sports fan, so when we're not in a pandemic I usually spend a lot of time going to Brewers games. It's on my bucket list to see a game in every stadium, so hopefully I'll be able to cross a few more off my list this season. Otherwise, I love doing puzzles." 
Last show you binge-watched — "It's Always Sunny in Philadelphia"
Snow or cold? — "I'd take single digits over 12 inches of snow because if we're in the single digits there's a good chance we also have some sunshine, and I'll take all the sun I can get during the winter!"
Best part of your job — "My favorite part of the job is being able to educate and explain why something is happening while providing the forecast. I also love doing our Tornado Ready school presentations. Seeing kids get excited about storms and learn about the safest places to be during severe weather never gets old. Hopefully we'll be back doing those presentations in person again by the fall, but I'm happy we've figured out a virtual option for the spring so we can still interact with the kids!"
Worst part of your job — "The worst part of being a meteorologist in general is the shift work. No matter if you're in TV, work for the National Weather Service, or private sector, the sleep deprivation is real."