As far as pageants go, Ariana Voyles is persistence and perseverance personified.
In her final year of eligibility due to the Miss Wisconsin Scholarship Organization's age limit, the 25-year-old from Kenosha "just wanted to maximize any opportunity I could" in 2022.
Competing in local preliminary competitions from Jan. 22 to March 19, Voyles finished as the first runner-up in the Miss Kenosha, Miss Madison, Miss Milwaukee, and Miss West Allis pageants. She was also the second runner-up in the Miss Harbor Cities pageant.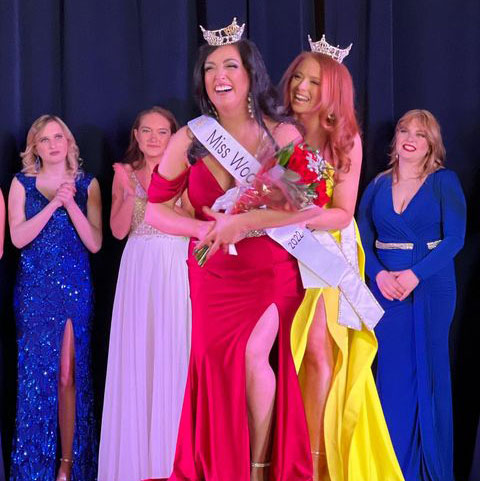 With one more opportunity to secure an elusive victory, Voyles took part in the Wisconsin Sweeps — the final local preliminary competition — on March 27 at Preservation Hall in Racine in which four of the 15 participants would be selected to round out the Miss Wisconsin class of 2022.
After Breah Ostertag (Miss Great Lakes), Grace Stanke (Miss Badgerland) and Lila Szyryj (Miss Sugar Maple) were crowned, there was one name left to be called.
Voyles would not be denied her crown.
The announcement — "Our last Sweeps title holder is Miss Wood Violet. And she is … Ariana Voyles!" — elicited an emotional response one might expect.
"I was anticipating them maybe calling someone else. I didn't want to get my hopes up," Voyles said. "I was just praying up to the heavens.
"I was very, very happy to have been called. It was such an amazing moment. It was so surreal. That moment was truly a dream come true."
Miss Wood Violet (named after the state flower) and 21 other competitors, including Miss Kenosha Jenna Zeihen, will vie for Miss Wisconsin June 15-18 at the Alberta Kimball Auditorium in Oshkosh.
Voyles will be competing at Miss Wisconsin for the second year in a row. She won the title of Miss Great Lakes in 2020 but competed in 2021 after the pandemic postponed the event for a year.
"This competition season was totally a blessing because COVID had taken away that last year of eligibility for a lot of girls in my situation," Voyles said. "It gave me this last year to compete, so I competed in everything I possibly could. I was really successful — other than winning.
"Throughout the season, I've had tremendous support from everyone around me. Girls I've competed with were even rooting for me."
In recognition of her tenacity and determination, Voyles has been selected as the Kenosha.com Kenoshan of the Week.
A 2015 graduate of Indian Trail High School and class valedictorian, Voyles went on to earn a degree in nursing from the University of Wisconsin-Madison. Currently, she works at Ascension St. Joseph in Milwaukee as a neonatal intensive care nurse and commutes from Kenosha. Voyles noted that she spent some time in the NICU herself after she was born.
"I have a really good support system at work," Voyles said. "They're always asking me, 'What are you doing next?' When I finally won, I brought my crown into work, and they were all so proud of me."
Voyles' social impact initiative "Healthy You, No Type 2: A Nursing Approach to Type 2 Diabetes Management and Prevention" is close to her heart. Her father, Brian Voyles, passed away in 2014 at the age of 54 due to complications from Type 2 diabetes.
"I've used that to really make an impact on my community," she said. "I kind of blend my nursing knowledge and what I learned in school about diabetes with my heart for community service. I think it has come together very nicely."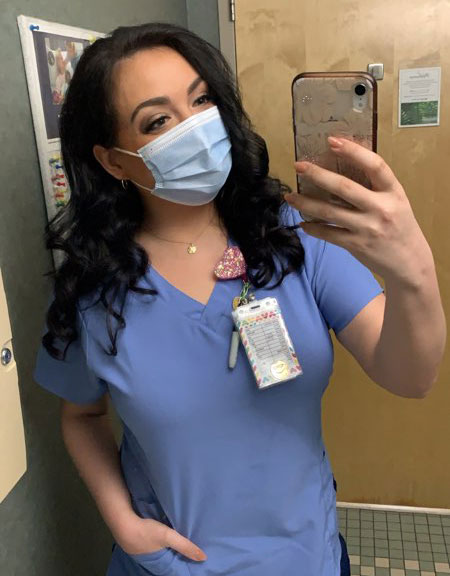 For her talent, Voyles, who was involved in choir and theater in high school, is a flutist. She played a classical song up until recently before changing it to more upbeat rock — "Explosive" by Bond.
"I've overcome my fear of playing the flute in front of other people," she said.
In the upcoming weeks and months, Miss Wood Violet will be out and about in the community. On Saturday (April 16) she plans to be at the Metabolic Health Fair at Harbor Park Health and Fitness.
"Initially, what brought me to the Miss America system was Miss Kenosha and being influenced by Laura Kaeppeler back in the day when she was crowned Miss America," Voyles said.
"Obviously, I never was Miss Kenosha, but the growth I've experienced throughout my time as both Miss Great Lakes and now Miss Wood Violet and the competitions in between has been a tremendous opportunity for me to grow as a person. I am so thankful for that."
NOTE: To nominate a Kenoshan of the Week click here or email Andrew@Kenosha.com.