On this date (Jan. 27) in 1955, the professional football career of Kenosha's Alan Ameche was launched.
Following four years at the University of Wisconsin that made him a legend, Ameche was selected in the first round of the National Football League draft by the Baltimore Colts.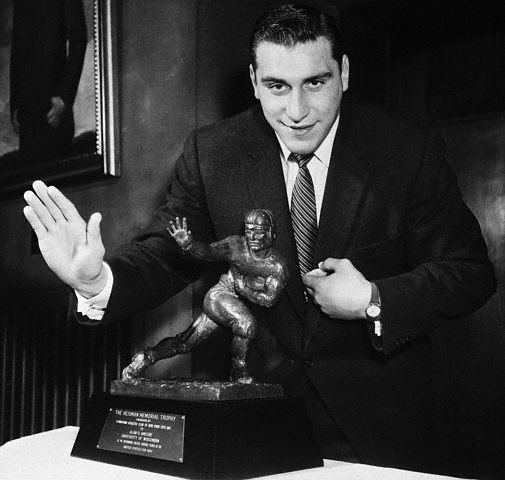 A fullback, Ameche was taken third overall behind Oregon quarterback George Shaw, who also went to Baltimore, and Oklahoma end Max Boydsen, who was taken by the Chicago Cardinals.
The 1951 graduate of Bradford High School was the third player from Kenosha picked in the NFL draft and the first since the Cardinals took end Tom Bieneman (11th round) and guard Ken Huxhold (27th round) in 1951.
Of the nine players with strong Kenosha ties drafted by the NFL, Ameche was selected the earliest. Of all the major sports drafts, only Bradford graduate Augie Schmidt, at No. 2 in the 1982 Major League Baseball draft, was picked higher than Ameche.
Even though Ameche was taken that high, an NFL career was not a certainty for him.
Known as "The Horse" for his hard-charging running style, Ameche played in an era where players weren't getting contracts that resulted in generational wealth. So, it probably was no surprise when reports surfaced that a promoter out of Iowa was willing to pay Ameche $100,000 to join the professional wrestling circuit.
While nothing came of that offer, Ameche did involve himself in pro wrestling as a referee prior to beginning his NFL career.
In addition, the Canadian Football League, in its search for name players, was expressing an interest in the reigning Heisman Trophy winner in the days leading up to the draft.
Like the wrestling talk, nothing came of the CFL rumors so it was onto the NFL for the man who is considered the greatest athlete Kenosha ever produced.
But to which team?
In addition to the wrestling and CFL speculation, there was chatter that Ameche could be traded. Reports of the day had the Detroit Lions interested in college football's all-time leading rusher.
History, though, tells us that the Colts hung on to Ameche.
"COLTS SPURN OFFERS FOR SHAW, AMECHE," blared the Chicago Tribune's post-draft headline of Jan. 28, 1955.
In Ameche's day, the draft was a meeting in New York and not the televised 72-hour spectacle it is today.
So, instead of walking across a stage and being greeted by the NFL Commissioner holding a Colts No. 1 jersey, Ameche learned of his draft fate via a telephone call to his home in Madison — an event which was captured by a Milwaukee Sentinel photographer.
The Colts were hardly the vaunted franchise they morphed into during Ameche's tenure there. The team was entering its third year after going 3-9 in each of its first two campaigns.
"My guess is I would be picked by Green Bay or the Chicago Cardinals," Ameche said in a United Press International story that was published in the Kenosha News.
The Chicago Cardinals would have been an interesting destination for Ameche. It certainly would have made it easier for Ameche's adoring fans from Kenosha to watch him because the Cardinals played at Comiskey Park. It also makes one wonder what the fate of the Cardinals in Chicago would have been if Ameche had gone there. The Cardinals ended their 40-year run in the Windy City with a move to St. Louis in 1960.
"I was a little disappointed the Cardinals didn't pick me," Ameche said in the UPI story.
Ameche signed a two-year contract with the Colts on Feb. 11, ending speculation for sure that he was going to bolt for Canada, become a wrestler or that Baltimore was going to trade him.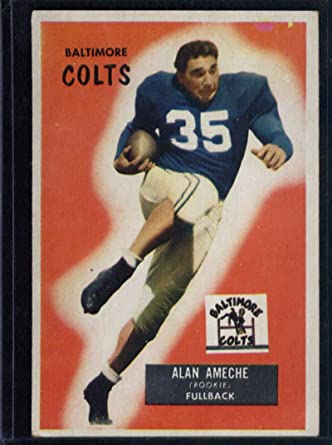 "I am glad that I have signed," Ameche told the UPI. "And I am happy to learn they have no intention of trading me."
Said Colts' President Donald S. Kellett: "We expect the fortunes of the Baltimore Colts to rise like the stock market. We had a fine defensive team and our offensive team needed the kind of help this boy can give us."
It was first estimated that Ameche made the minimum $12,500 but he later revealed that he made $15,000 as a rookie.
And it was a bargain.
Ameche led the NFL with 961 rushing yards, nine rushing touchdowns and 1,102 yards from scrimmage in being named All-Pro and earning the first of his four consecutive Pro Bowl berths.
The Colts steadily got better with Ameche and teammates that included Johnny Unitas, Lenny Moore, Raymond Berry, Art Donovan and Gino Marchetti forming a nucleus that culminated in championships in 1958 and 1959.
Ameche scored the game-winning touchdown in overtime in the 1958 NFL title game, which is generally considered the greatest game ever played. For a Kenosha.com story on that game, click HERE.
Notes: Sources used for this story included news reports of the day from the Kenosha News, the Chicago Tribune and the New York Times and "Alan Ameche: The Story of 'The Horse'" by Dan Manoyan. … Ameche retired after the 1960 season and went on to become a successful businessman until his death on Aug. 8, 1988. … In addition to Ameche, Bienemann and Huxhold, others with strong Kenosha ties drafted by the NFL are St. Joseph's Tom Regner (first round by Houston in 1967), Carthage's Jim Jodat (12th round by the Los Angeles Rams in 1976), Bradford's Tom Braatz (14th round by Washington in 1955), Bradford's Joe Cerne (second round by San Francisco in 1965), Bradford's Trae Waynes (first round by Minnesota in 2015) and Melvin Gordon (first round by San Diego in 2015).
For more information or to comment on this feature, contact the author at dmarran359@aol.com