Tuesday night, Senior Night for the Bradford boys swimming team, Tyler Ernsting will look up and see the banner thanking him and the other senior swimmers. 
His coach will ask him to share his favorite memory, offer advice for underclassmen and talk about his post-high school plans in front of the crowd.
Tyler will then head into the pool to compete.
Just like the rest of the seniors. Just like the rest of the team. Just like he, his parents, his coach and his teammates want it.
Autism will once again not hold back Tyler Ernsting.
"All he wants to do is get out there and do the things he loves," his mother, Belinda Ernsting, said. "He's an inspiration to me. He reminds me of what strength looks like."
That strength has been on full display for the past two years, as Ernsting has been competing with the Red Devil swimmers in backstroke and freestyle events. 
Along the way, he has earned the respect of his teammates, coaches and opponents, through hard work, persistence and perseverance, showing how a special needs student can compete in a varsity sport. His last home meet is against Racine Park on Tuesday (Jan. 18). He was also be competing as the Kenosha.com Kenoshan of the Week.
"I don't think he really realizes how amazing what he is doing really is," second-year Bradford swimming coach Quinton Maydaniuk said. "A lot of people really don't know how to swim … and how to swim fast."
But this is about much more than seconds on a timer for the Ernsting family.
It is about overcoming obstacles to pursue a passion and inspire others.
"After he was diagnosed I thought the future was going to be so limited for him," his mother said. "Now he's going to graduate with a diploma."
Love of sports
Ernsting grew up in Kenosha, attending Stocker Elementary and Mahone Middle School. He has lived with autism his whole life, and been in special education classes since age four.
And, his mother said, "he has always been an athlete."
In addition to swimming, Tyler Ernsting bowls, plays bocce and basketball and competes in track and field for Special Olympics. He bowls for the Bradford club team. "I get 100 every now and then," he said on Sunday. "Today I got a 167 my first game, and a 178. That's amazing."
So is his success in the pool.
"When he was a baby, we put him in a 'mother and baby' swim program. Instantly, he loved the water," Belinda Ernsting said.
Tyler began swimming competitively before high school, winning medals through Special Olympics. Then his Kenosha YMCA instructor suggested he consider joining the high school team, which he did his junior year.
"I wasn't sure I was good enough," he said.
He was.
Maydaniuk called Ernsting "very coachable," that he accepts feedback and makes changes.
"He loves to be in the pool. He loves to be around the team. He is a really good athlete, too," Maydaniuk said, crediting assistant coach Teresa Smith for her work with Ernsting, as well as lessons at the Kenosha YMCA.
Ernsting continues to improve in the pool, including getting more comfortable diving to start races, as well as with his strokes, Maydaniuk said.
He finished in third place for backstroke at his last meet.
"The rules don't change for him," Maydaniuk said. "He is still judged, and at the end of the day he is still getting timed for his effort. Nothing is made special or easier for him."
Indeed, support staff brings him to the pool to start warmups, and coaches offer prompting on what to do. But in the pool, he's on his own.
"At the end of the day he just wants to do the same things the other kids are doing that don't have special needs," his mother said.
Difficult road
It wasn't easy, of course. Belinda cited difficulties Tyler had in speaking and walking growing up, and sometimes aggressive tantrums.
"It was so hard in the beginning," she said. "There were some pretty dark days, but you just keep putting one foot in front of the other."
Tyler had physical challenges too — enduring significant surgeries involving his Achilles tendon and then his jaw in 2020.
"With work and patience, things do get better," she said. "They do change."
His mother remembers a tumbling class Tyler took when he was four, when an instructor questioned if he should be participating.
"It broke my heart," she said. "My husband and I didn't let that get us down."
That coach soon became more receptive — and others along the way have been the same.
"Coaches don't know a lot about kids with disabilities," Belinda Ernsting said. "A lot of parents don't put their kids who have disabilities in typical club or team sports. I didn't want that to stop us."
She added: "Us doing what we're doing, we're showing other families who have special needs students that it can be done. I never really thought of us as leaders in that … but if we can show other parents, 'If you want your child to be in a certain activity or sport, go for it.' It's going to look different. You are going to have to work hard as parents. But it can be done."
"Outside my comfort zone"
The experience has made Maydaniuk a better coach, too.
Maydaniuk is former Special Olympics swimming coach, recognizing the opportunity "to put myself outside my comfort zone and learn from it."
"I wanted to work with a population that I had not had experience with," he said of his work with special needs athletes. "It has certainly helped me."
And Ernsting's teammates.
"They are interacting with people outside of themselves, and they have to step up," Maydaniuk said. "The easy thing would be to not have conversations with Tyler, to not include him in the team because he's different. They do the opposite of that.
"They are doing the hard thing, but it's certainly the right thing."
Still, Maydaniuk said he was nervous about how the other team members would accept Ernsting — recognizing, he said, "high schoolers can be immature, they can be rude and crude" — but those concerns quickly went away.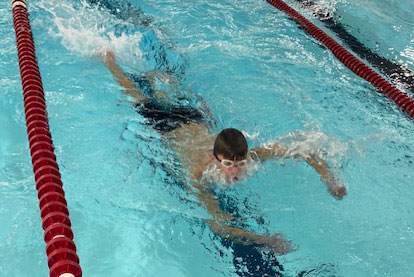 "He's part of the team," he said. "They don't treat him any differently. They banter with him. They all make jokes and they have a good time."
Friends on the team, Tyler said, "help me by getting me ready. They encourage me."
So does Maydaniuk, who Ernsting called "nice."
"He works with me a lot," he said. "He tells me the strokes I need to work on."
Maydaniuk said he would like to see more youth with special needs participate in traditional high school athletics. "I think everybody would be better for it," he said.
"With swimming," Maydaniuk said, "you have an opportunity to provide an experience to everyone. I don't want to discriminate. I am not going to deny someone an opportunity. I don't want to use sports in that way. I want it to be inviting to people, to build community."
To support people like Tyler Ernsting.
"It's my favorite sport," he said. "I like being in the water."
"Just having fun and hanging out," Tyler added.
Like every other 18-year-old. 
NOTE: To nominate a Kenoshan of the Week click here or email Andrew@Kenosha.com.