Creativity, conversation, and connecting the past and present are all vehicles for spreading Dr. Martin Luther King's message of kindness, which is the theme of Kenosha's 26th Annual Kindness Week, Jan. 15-22.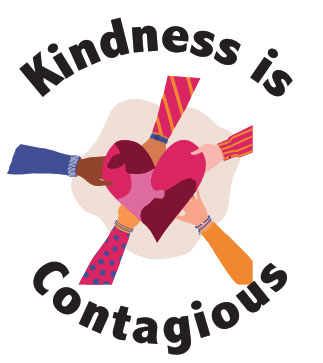 "What started as a couple of activities, including the MLK celebration at Gateway and the dinner at UAW Hall, has evolved to include the whole community and a number of events throughout the week," said Mary Modder, who has been involved with Kindness Week since she retired from teaching in 2012.
The annual collaborative effort is organized by the Coalition for Dismantling Racism, which has been recognizing and celebrating the legacy of Dr. King  in our area for more than a quarter century. 
"Our hope is that our community can be united around the issues that have divided us as human beings in the past. Our goal is that this community comes together and be moved into action that eradicates racism wherever it exists," organizers said on the Coalition of Dismantling Racism's Facebook page.
Kindness Week events range from living history to panel discussions to student achievements and a one-man show.
The official first event recognizes the student winners of the Kindness Committee/Coalition for Dismantling Racism's creative arts contest based on the theme "Spreading Dr. King's Message of Kindness in Kenosha." The virtual awards ceremony is set for 10 a.m., Saturday (Jan. 15) streaming live on the Kenosha Kindness Week Facebook page, and will repeat at 1 p.m., 4 p.m. and 7 p.m.
Kenosha County students were invited to address how they can spread Dr. King's message. Entries could involve traditional written expressions like poetry and short essays, as well as multisensory media such as painting, drawing, sculpture, recorded song, rap or spoken word piece, film and/or animation.
The top three winners from each education level (elementary, middle school, high school) will present their winning entry via performance or video during the virtual ceremony. Honorees also receive a certificate and a gift card.
Another event focusing on Kenosha's young people is Young History Heroes Story Time, 11 a.m. Saturday (Jan. 15) in the Civil War Museum's newly remodeled Resource Room, 5400 1st Ave.
Designed especially for elementary age children, the selected reading is "Be a King: Dr. Martin Luther King Jr.'s Dream and You" by Carole Boston Weatherford.
"This inspirational book follows a class of young students as they begin a school project inspired by Dr. Martin Luther King Jr. and learn to follow his example as he dealt with adversity and never lost hope that a future of equality and justice would soon be a reality," said Museum Education Manager Doug Dammann.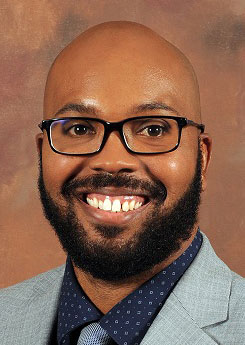 The Young Heroes Story Hour is designed to introduce young readers and students to American historical figures through age appropriate books and activities.
The Civil War Museum will also host The Families' Civil War, at 1 p.m. Saturday (Jan. 15) in Freedom Hall. Presenter Dr. Holly Pinheiro will appear remotely for the scheduled in-person program.
During his Zoom talk Dr. Pinherio will explain how African American Civil War veterans and their families' experienced economic and social instability for years and even generations after soldiers left the battlefield.
Counter to the national narrative which championed the patriotic manhood of soldiering from the Civil War through the 1930s, Dr. Pinheiro's research reveals that African American veterans and their families' military experience were much more fraught. His objective in conducting this research is to humanize the individual soldiers and their families to show how war affected the front lines and the home front simultaneously, thereby revealing how Northern African American families experienced the Civil War.
Kindness Week's centerpiece is the virtual event Gateway's 28th Annual Dr. Martin Luther King, Jr. Celebration: Nonviolence or Nonexistence, set for noon-1 p.m. Monday (Jan. 17).
"Each year, Gateway hosts its annual Dr. Martin Luther King, Jr. Celebration to remember Dr. King's legacy and honor community members who keep his spirit alive by giving back," organizers said.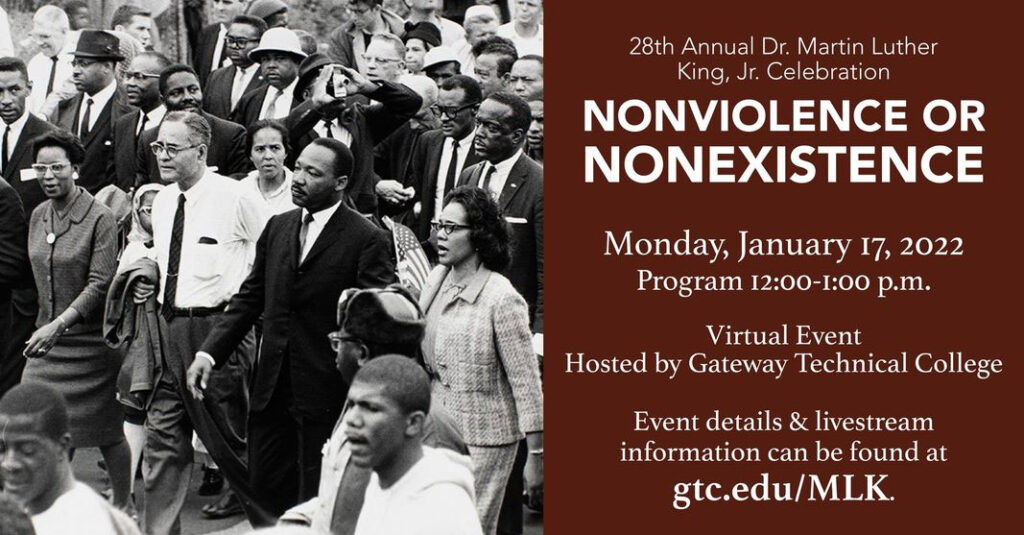 The keynote presentation is a panel discussion on nonviolence in our communities featuring panelists Gregory Bennett Jr., CEO, Peace in the Streets Kenosha; Patrick Kennelly, Director, Marquette University Center for Peacemaking; Katherine Marks, City of Kenosha Community Outreach Coordinator; and Richard Stein, director, Law Enforcement Academy, Gateway Technical College. The panel discussion will be moderated by Adelene Greene, a leader with the Kenosha Coalition for Dismantling Racism.
The program will also feature a spoken word poem by Carthage College student Natalie Lall.
Please note that the event was originally scheduled in-person but has moved to fully virtual. According to a statement on Gateway's website: "Due to the COVID-19 pandemic, this year's event will be held via virtual livestream. There will be no in-person attendance for this year's event. Please check this page on January 17 for a link to view the event livestream."
An award-winning entertainer caps scheduled city-wide Kindness Week events. "Busy Day – A One Man Show" by Rickey Powell is set for 6 p.m. Tuesday (Jan. 18) in Gateway's Madrigrano Auditorium, 3520 30th Ave.
Rickey Powell's journey uses music and memories to transport audiences from his childhood experiences during the heights of the Civil Rights Movement in Birmingham, Alabama to his performances on Broadway and his tours of Europe. He brings the story full circle, relating his deeply-felt need to come home to Birmingham.
In addition to his solo career, Powell has appeared in productions such as "Ain't Misbehavin'" and "The Watsons Go to Birmingham" and is an inductee of the Alabama Jazz Hall of Fame.
The show is sponsored by NAACP Kenosha County, Urban League of Racine and Kenosha, and the African American Chamber of Greater Racine. Tickets are $15, available via Eventbrite.
The Kenosha Public Library will offer Delivering the Message and Changing the World with Martin Luther King, Jr. a virtual event from 6-7 p.m. Presenter Dr. Lynn Brownson re-imagines Dr. King's speeches and highlights key skills required to create a timeless message. The event is free and open to the public. Register here or contact the Kenosha Public Library at 262-564-6151 or ask@mykpl.info.
As the saying goes, "a person is a person, no matter how small," so even the littlest learners can be part of Kindness Week. The Kenosha Public Museum will host Museum Munchkins with entertainment by Mr. Nick (Nick Wiersum) at 9:30 a.m. Wednesday (Jan. 19). Children will learn about animal friends and being kind to one another and the planet. The free, public event will be held in the Museum's Daimler Chrysler Hall, 5500 1st Ave.

The Courageous Conversations series sponsored by the Coalition for Dismantling Racism will tackle the topic "Chaos or Community – How Do We Move Forward?" 6:30-8 p.m. Thursday (Jan. 20). The virtual event is available on the Kenosha Coalition for Dismantling Racism Facebook page. For more information on this free public event, contact Adelene Greene at 262-412-2098 or buflowo@aol.com.
This year's celebration will be bittersweet for organizers without longtime Kindness Week supporter Kay Wikel, who passed away in August 2021. Wikel was a charter member of the Coalition for Dismantling Racism, a member of the Kindness Week committee, Congregations United to Serve Humanity (CUSH), volunteer coordinator for Pringle Nature Center, and she wore many hats along with her husband Denis Wikel as they served the Shalom Center.
Donating to the Shalom Center and other organizations is one way Kenoshans can participate in Kindness Week in a tangible way. Throughout the entire week, the committee asks Kenoshans to donate non-perishable items to a food pantry or homeless shelter. Also, during the first weekend, all faith communities are encouraged to spread Dr. King's message of kindness during services.